'Vampirella Unholy' Interview: Christopher Priest Presides
Apr 08, 2022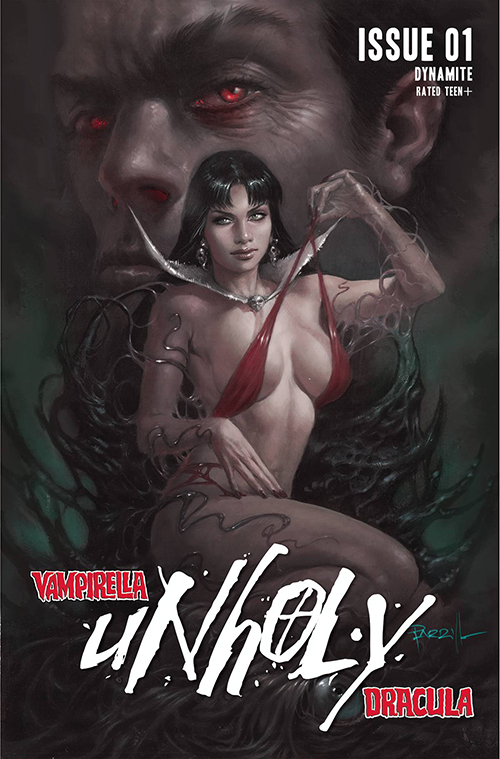 Interview by Nicki Faust
The honeymoon begins! Straight from the pages of Christopher Priest's fan-favorite, chart-topping Vampirella run comes the unholiest of matrimonies.
The adventure of several lifetimes begins as Vampirella and her new husband Matt journey to Castle Dracula in an attempt to cheat fate. It's a wild ride replete with high-tech viruses, ancient curses, and one very famous vampire!
Of course, it comes from the mind of Christopher Priest. And, of course, PREVIEWS sat down with the writer to get as many details as (in)humanly possible.
Keep reading...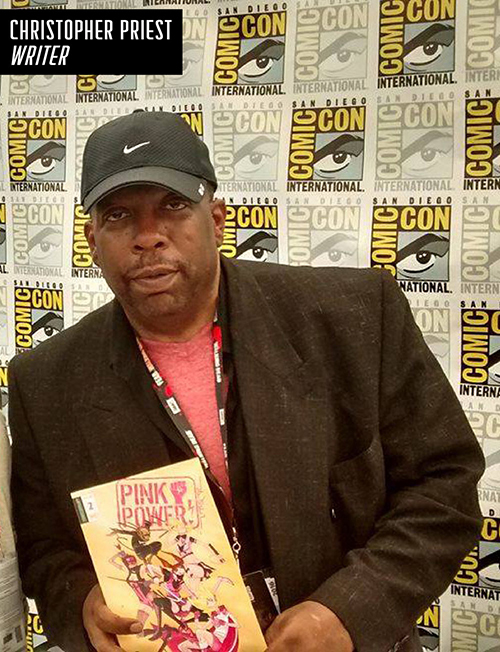 PREVIEWSworld: It's been a long road from that initial Free Comic Book Day issue of Vampirella to here, let alone everything happening in the world off the page. What keeps you tapped into the world of Vampi and wanting to explore more stories?
Christopher Priest: My mortgage.
No, seriously—the book's been much more fun than I imagined it possibly could be. The restraints and cautions and handcuffs and scolding I expected from a publisher or licensor never actually appeared. I kept doing outrageous things and Dynamite kept letting me.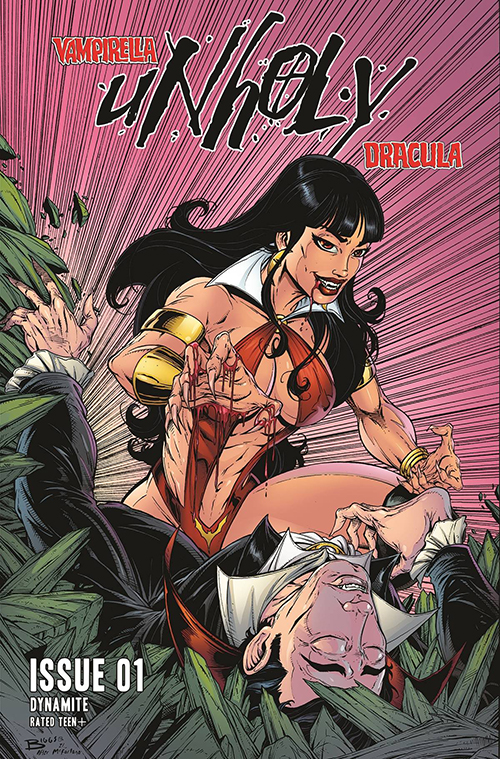 Christopher Priest: Truthfully, I don't think much of what we've done has been all that outrageous. They seemed outrageous at the time because, at most publishers, the standard is changing "no" into "yes." This has been a refreshing experience, to be permitted to explore the character in real depth and with all the implications of her premise, which includes hot topics like sexuality, religion, and social conflict in America.
I had and still have no agenda, as has been suggested. I'm merely doing what a writer should: examine the character as originally created and follow the implications of that premise where they lead. In the case of Vampirella, the destination most often includes whirling knives.
PREVIEWSworld: So... they totally got married, right? Not a twist, not a dream, not an imaginary story?
Christopher Priest: They got married. That's not in question. What is in question, is this guy really Dracula? Or, more accurately, is he destined to become Dracula?
One way or another, the prince of darkness appears in every issue, and in every meaningful sense, it is Dracula himself who is driving the story. But it is an unusual story, one I personally have never read before, about humanity: the humanity in Matt Ecsed Vampirella is desperate to save, Matt's human emotion and genuine love for her which complicates his already very complicated life, and the looming specter of Dracula threatening all of it.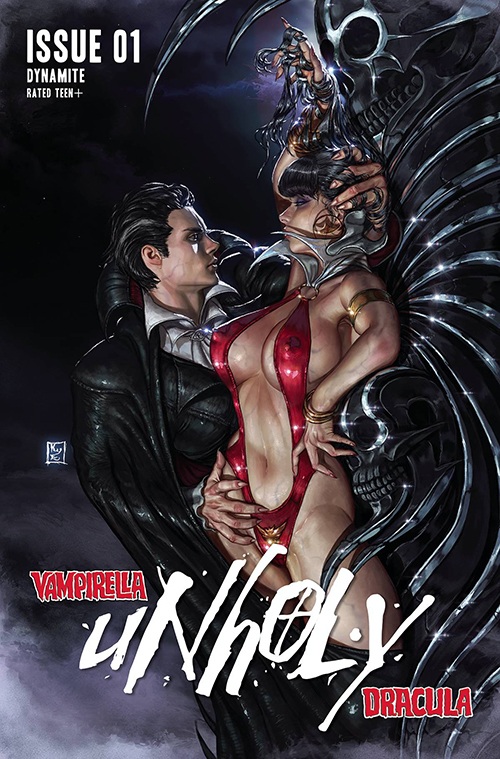 PREVIEWSworld: Though readers can jump right into this series, we are following up from the climactic Vampirella #25 - and developments in issues #23 & 24. What's the quick 411 on what has led to this union?
Christopher Priest: Most of what any reader will need to know will be recapped in UNHOLY #1, but here goes:
Fifty years ago, Dracula took a new bride, a young girl he met, I guess, in a nightclub. Cadiratra, a vampire queen who first appeared in our Sacred Six series, was one of perhaps a legion of Drac's ex-wives. Enraged by jealousy, Cadiratra set out to kill Drac by infecting the local villagers with a virus. Once Drac fed on any of the locals, he contracted the virus and, in our issue #23, Drac died.
Just beforehand, one of the legendary Van Helsings, who'd become a Dracula drone, took a sample of Drac's blood. But Cadiratra defeated Van H and smashed the blood sample, not realizing she hadn't prevented Dracula's resurrection but had guaranteed it by making the "Dracula Virus" airborne.
Over the generations, lots of people have been infected with this virus, which the cultists can literally smell on the host.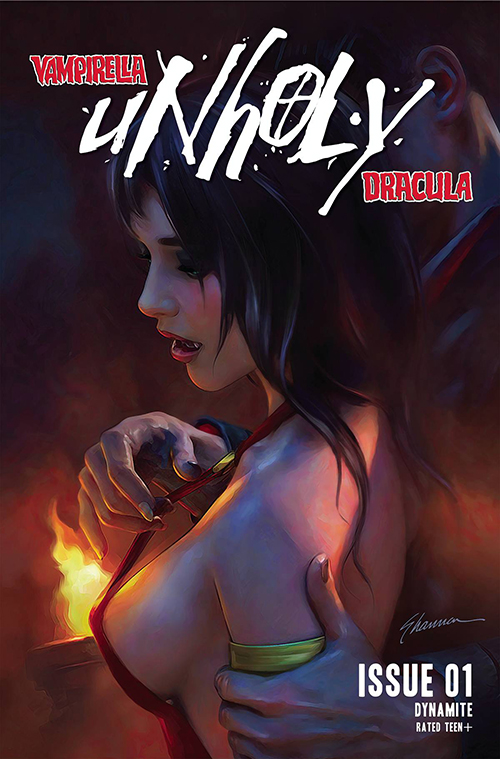 Christopher Priest: Twenty years ago, Vampirella saved a seven-year-old orphan who was being hunted by disparate extremists—vampire groupies who wanted to worship him, vampire hunters who wanted to kill him—because the boy was infected with The Dracula Virus.
Vampi ultimately saved the boy, Matty Ecsed, and a CDC doctor injected the boy with an inhibitor that at least temporarily arrested the virus. Vampi then hypnotized Matty into forgetting the entire episode.
Today, young Matty is rookie FBI Agent Matt Ecsed, who is being tortured by nightmarish visions of Count Dracula. Matt is initially hunted by Shane The First Man, a deranged former Apollo astronaut (long story!) with whom Vampirella had spent eight months trapped on an alternate version of Earth (longer story! see what you miss by not keeping up?). Matt would be Shane's grandson if Shane were from our earth, and once Vampirella learned Shane was out to kill Matt, presumably to destroy the virus, she intervened to stop Shane and rescue Matt--who has no idea who either Vampirella or Shane The First Man are.
Matt is, therefore, thrown into the deep end of the pool when he is kidnapped by Vampi and her allies for his own good while Vampirella consults some vampire voodoo folk about how to save Matt from becoming Dracula.
The answer is a blood ritual and a bonding, thus Vampirella must convince a reticent and disbelieving Matt to marry a woman who is, for all intents, a perfect stranger to him.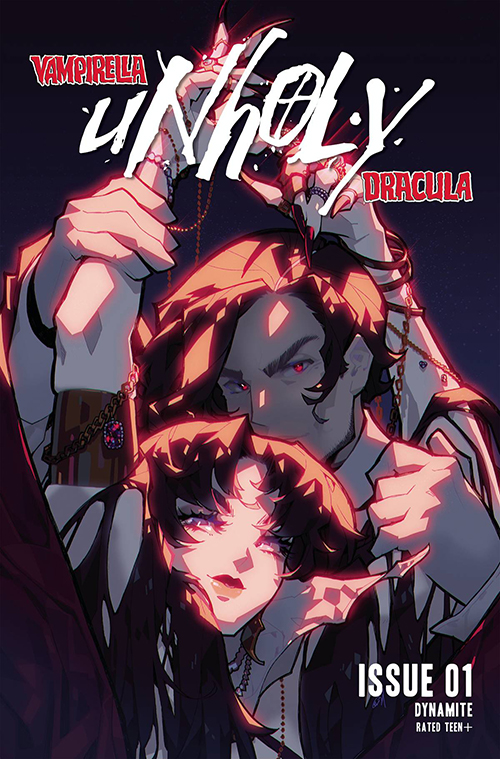 PREVIEWSworld: This is a unique take on the Dracula story, yet you're also using bits and pieces of the established canon such as the newlyweds traveling to Transylvania. How are you approaching that balance?
Christopher Priest: Well, I think if you're gonna do Dracula, then do Dracula—go the whole nine yards. The honeymoon in Transylvania serves a purpose: Vampirella needs soil from Drac's homeland to complete the blood ritual.
I prefer to keep all the Dracula folklore in place and in play, which contrasts against our favorite space vampire who is less constrained by things like daylight and garlic cloves.
PREVIEWSworld: Many talented artists have joined you so far across Vampirella and Sacred Six, including Ergün Gündüz most prominently. For this series, you're teaming up with Indonesian talent Donny Hadiwidjaja. How has it been collaborating with him so far?
Christopher Priest: Donny's layouts and storytelling knocked me out. He has style that is both fresh and classic at the same time. I'm really looking forward to the series and seeing how Donny brings our super unconventional Dracula yarn to life.
Keep an eye on PREVIEWSworld.com's Twitter, Facebook, YouTube, or Instagram for more.