Gerry Duggan Hints at How Gamora Is Going To Be "Big Trouble For The Team"
Feb 28, 2017
We sat down with Gerry Duggan, one of the creators of the Guardians of the Galaxy Free Comic Book day comic, to talk about his take on the Guardians of the Galaxy. Duggan loves all the characters, but there are some specials twists he has in store related to Gamora! Posing the question: how will the Guardians and the whole Marvel universe deal with what's coming! Big trouble is coming to Free Comic Book Day 2017 with this title!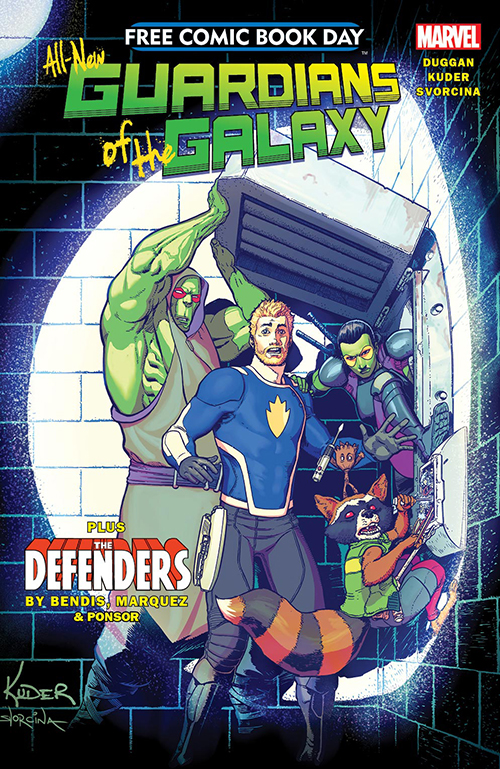 FCBD 2017 ALL NEW GUARDIANS OF THE GALAXY #1
JAN170036
MARVEL COMICS
(W) Gerry Duggan, Aaron Kuder, Ive Svorcina
First, blast off with Star-Lord, Gamora, Drax, Rocket Raccoon and Groot as they head for the stars and right into an all-new ongoing series! Creators Gerry Duggan, Aaron Kuder and Ive Svorcina bring you over-the-top action and out-of-this-world adventure as the stage is set for May's highly anticipated All-New Guardians of the Galaxy #1! As this unlikely band of misfits returns to outer space once more, nothing will prepare them for their first run in with the new Nova Corps! Then, head back down to Earth and the mean streets of Hell's Kitchen as the blockbuster creative team that brought you Civil War II, Invincible Iron Man and Ultimate Spider-Man bring you their next explosive epic in...The Defenders! Superstar creators Brian Michael Bendis, David Marquez and Justin Ponsor unite Daredevil, Jessica Jones, Luke Cage and Iron Fist as they go head-to-head with the new criminal element in the Marvel Universe. What new player is running things in the underworld? Find out here with a 10-page tale that leads directly into The Defenders #1 this June! [TEEN]
---
Free Comic Book Day: Who's your favorite of the Guardians of the Galaxy and which were you most excited to write?
Gerry Duggan: I love them all - for different reasons, but the biggest surprise has been what I found myself bringing to the collaboration for Gamora. It's not what I imagined. She's going to be big trouble for the team...and the Marvel Universe.
What do you hope to bring to the Guardians of the Galaxy mythos that hasn't been done before?
Well, I've been at this for a while now in secret and we're basically plotted for the first 45 issues. We're beginning from a place of familiarity by beginning with a mirror of the characters from the cinematic universe...however we'll quickly head into uncharted territories for these characters. The plots are ginormous. There are plenty of comics in which neighborhoods and cities that are threatened. When things go bad out in space -- entire worlds are at stake. I try to use comedy on one page to set up a gut punch on the next, and I think our Guardians will certainly have that, but in a good way I began outside my comfort zone a bit. The good news is I recently went to an editorial retreat in which some of our biggest and most dangerous ideas were met with enthusiasm. It's been a joy to wrench on these scripts and see the inspired come back from Aaron. He's such a wonderful creator. There are a lot of surprises ahead for Guardians readers. I can't wait to see the reactions to what we're doing.
What got you reading comics? What are some series you're reading today?
My dad commuted to and from Manhattan every day, and on his return trip he'd pick up the late paper for himself and a comic book for me. That was all it took. I was hooked. Then I started riding my bike to the local comic shop.
What books would you recommend to new readers and why?
All New Guardians Of The Galaxy is going to be I hope, my finest collaboration. It's the thing I'm most excited about. If you're really coming into comics cold here are a few of the must-reads: Simonson's Thor, Frank Miller's Daredevil & Batman, anything Kirby, Amazing Spider-Man from start to finish, Alan Moore's collaborations, Remender's X-Force & Black Science. Darwyn Cooke's Parker just to name a few.
Why do you think Free Comic Book Day is important to the comic book community?
I lament the loss of comic books from new stands, gas stations and super market checkout lanes. Free Comic Book Day is a celebration of a great and unique art form. I pull the spinner rack out of my office every Halloween and I give away comic books. Kids go crazy. If you put a comic in a kid's hand you have the chance to break them into a world of imagination that doesn't require a screen. Comics lets your brain fill in the gaps between panels. You're bringing something to a comic book, you're engaged in a unique way.
Why do you think local comic shops are important to the comic book community?
I've sought out comic shops wherever I've gone my whole life, and it's always fun to visit a new city and check out the comic shops. The best ones are not just stores, they're community centers and club houses. What you do with your money counts. I always tried to buy local, and if you pre-order your comics at a shop, you're essentially voting for the continued success of the titles that interest you.
---
For Free Comic Book Day 2017, Gerry Duggan plans to spend his day in Los Angeles. For the Sunday after, he'll be with his partner Aaron Kudor at the Comic Bug in Culver City, CA signing the Guardians Free Comic Book Day Comic. Duggan will also be signing at The Joker's Child in Fair Lawn, NJ on July 5, the comic shop he biked to as a child, and he hopes you'll stop by.