FCBD23 Interview: Kotto Kotorra
Mar 08, 2023
The book follows Kotto, an average Puerto Rican who runs an empanadilla food truck. His daily life is always an adventure,thanks to his boisterous friends.
We caught up with series writer David Alvarez to learn more about what inspired the extraordinary characters, what we can expect from their upcoming titles, AND to rifle through some really fun rapid fire questions!
Check out the full interview below and be sure to head to your local comic shop on Saturday, May 6 to celebrate FCBD in all it's glory! To find a participating comic shop near you, use our FCBD Store Locator.
---
Free Comic Book Day (FCBD): Set up your title for those that might be new to your comic book: What will new readers need to know before diving into your Free Comic Book Day issue?
David Alvarez: What I would like is for readers to share this experience with others. Reading comics was about sharing and I want Kotto to promote that.
FCBD: What are some of the core themes present in your book? What do you hope readers take away from your title?
Dave: Kotto is a "return to classics" kind of book. Classic comics were character-oriented and Kotto is about that. I hope people feel at home with this book.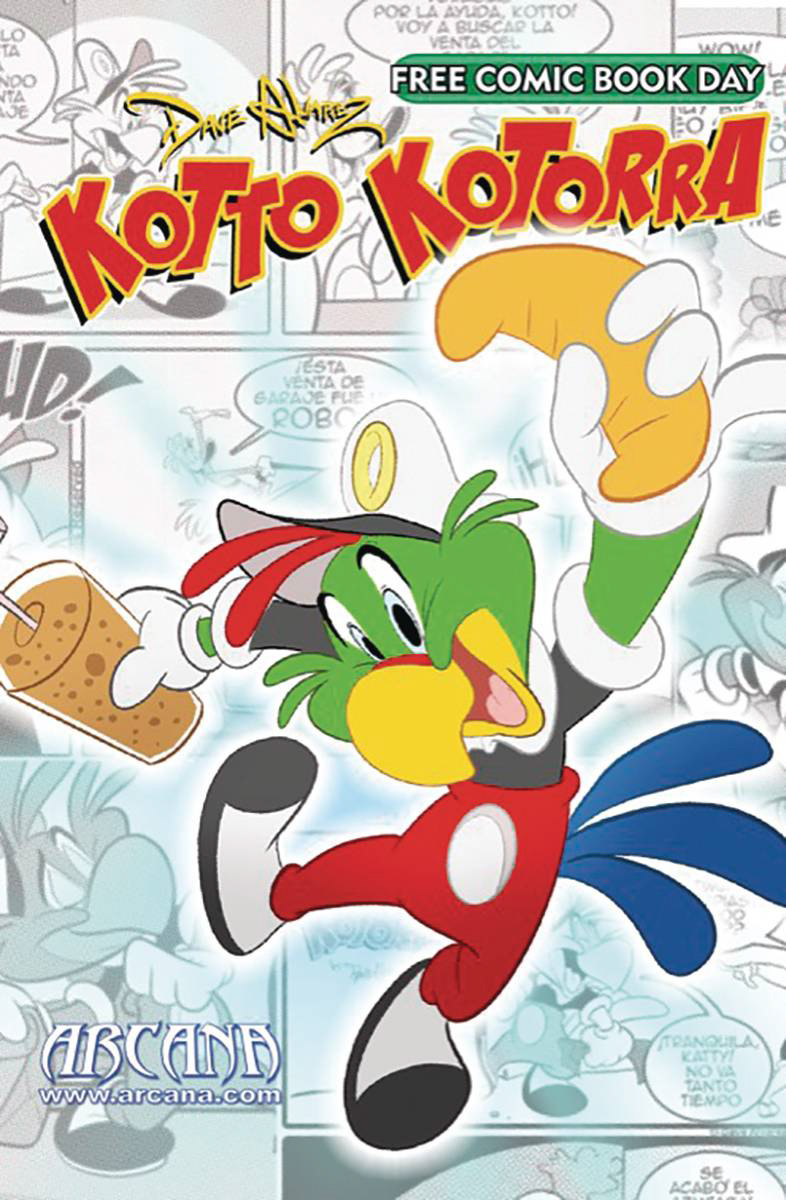 FCBD: What part of the book was most fun to write?
Dave: I enjoyed drawing the Legend of SweetFoot story. The characters played very well with each other on this one.
FCBD: Can you share some of the inspiration behind certain characters, settings, etc.?
Dave: Needless to say, Kotto and friends are inspired on classic Disney characters. I like to call this an "alternate Mickey Mouse Universe." ChickenDuck on the other hand, is inspired in those characters who used to dress up as chickens by putting a glove on their heads and a feather duster on the butt.
FCBD: If you could meet your characters, what would you say to them?
Dave: Don't change. People need you just the way you are!
FCBD:Looking to the future, is there anything you can tease about what's coming up for the title and its characters?
Dave: I'm looking forward to create animated shorts and a kids show.
FCBD: Many newcomers will pick up comics for the first time on FCBD – what was the first comic you remember reading?
Dave: My first comic was a Carl Barks Donald Duck comic book. Peyo's Smurfs being the second.
FCBD: What is your favorite part about working in the comic book industry?
Dave: Creating characters. That's my favorite part.
FCBD: Tell us why everyone should read comic books!
Dave: Because they are the foundation of imagination.
FCBD: Now, we have a series of rapid-fire questions for you! They're, ya know, mostly related to comics... Answer as quickly as you can and try not to over think it!
Do you listen to music while you're creating?
Dave: I do, but mostly I listen to documentaries about famous creators in the animation world.
What's your favorite comic book genre?
Dave: Humor
Are you more productive in the morning or at night?
Dave: In the morning
Do you think you could survive in a zombie apocalypse?
Dave: Of course. I have the tools and the talent.
Would you rather be invisible or have the ability to fly?
Dave: Fly does have it's advantages but being invisible is more convenient.
If you were a comic book character, would you rather be the hero or the villain?
Dave: Villains get all the fun.
What's your favorite comic book or graphic novel?
Dave: Jeff Smith's Bone
{FULLDETAIL-DEC220020}