FCBD22 Interview: Everyday Hero Machine Boy
Apr 20, 2022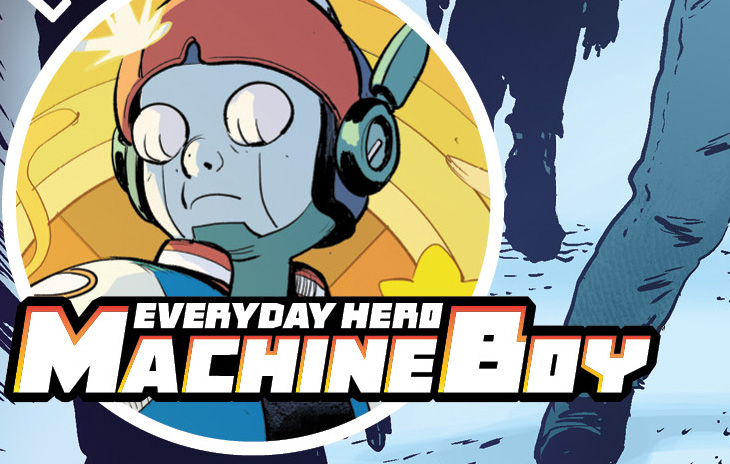 When Machine Boy falls from the sky into the domed city of Mega 416, he leaves a wake of destruction in his path… until Karate Grandpa is able to turn on his heart. Now, Machine Boy wants nothing more than to become a hero! Whether he is fighting giant bugs in the school's basement, rescuing cats from trees, or making the perfect spaghetti sauce, Machine Boy is always looking for the best way to help others. But when his heart begins to interact dangerously with other debris from space, Machine Boy wonders if he can be a power for good after all.
We caught up with series creators Irma Kniivila and Tri Vuong to learn more about what inspired their extraordinary characters, what to expect next in the series, AND to rifle through some really fun rapid fire questions!
Check out the full interview below and be sure to head to your local comic shop on Saturday, May 7 to celebrate FCBD in all it's glory! To find a participating comic shop near you, use our FCBD Store Locator.
---
Free Comic Book Day (FCBD): Set up your title for those that might be new to your comic book: What will new readers need to know before diving into your Free Comic Book Day issue?
Irma Kniivila : Everyday Hero Machine Boy is a robot boy trying to make amends for a troubled past – he tries to do the right thing when it's not always clear what the right thing is. Whether the task is taking care of a pet or battling intergalactic threats, it must be undertaken with care!
Tri Vuong: Everyday Hero Machine Boy is about a little robot boy who falls from the stars and crashes into the sprawling, futuristic city of Mega 416. Now raised by an elderly Karate Master, Machine Boy must navigate the perils of growing up and find the right balance between battling intergalactic threats and saving the neighborhood cat.
FCBD: What are some of the core themes present in your book? What do you hope readers take away from your title?
Irma: I think self-reflection, self-acceptance and home/family? I would hope that readers can disappear into the world of Mega 416 for a bit and find energy to bring to their everyday lives. And this might be lofty, but I'd love to inspire modest acts of kindness.
Tri: Our book deals with themes of family, loss, and trying to find a place where you belong. Mostly I wish for readers to have a good time, but if any of them are going through a difficult period, hopefully the book can remind them that they're not alone and it's the little things that make life wonderful.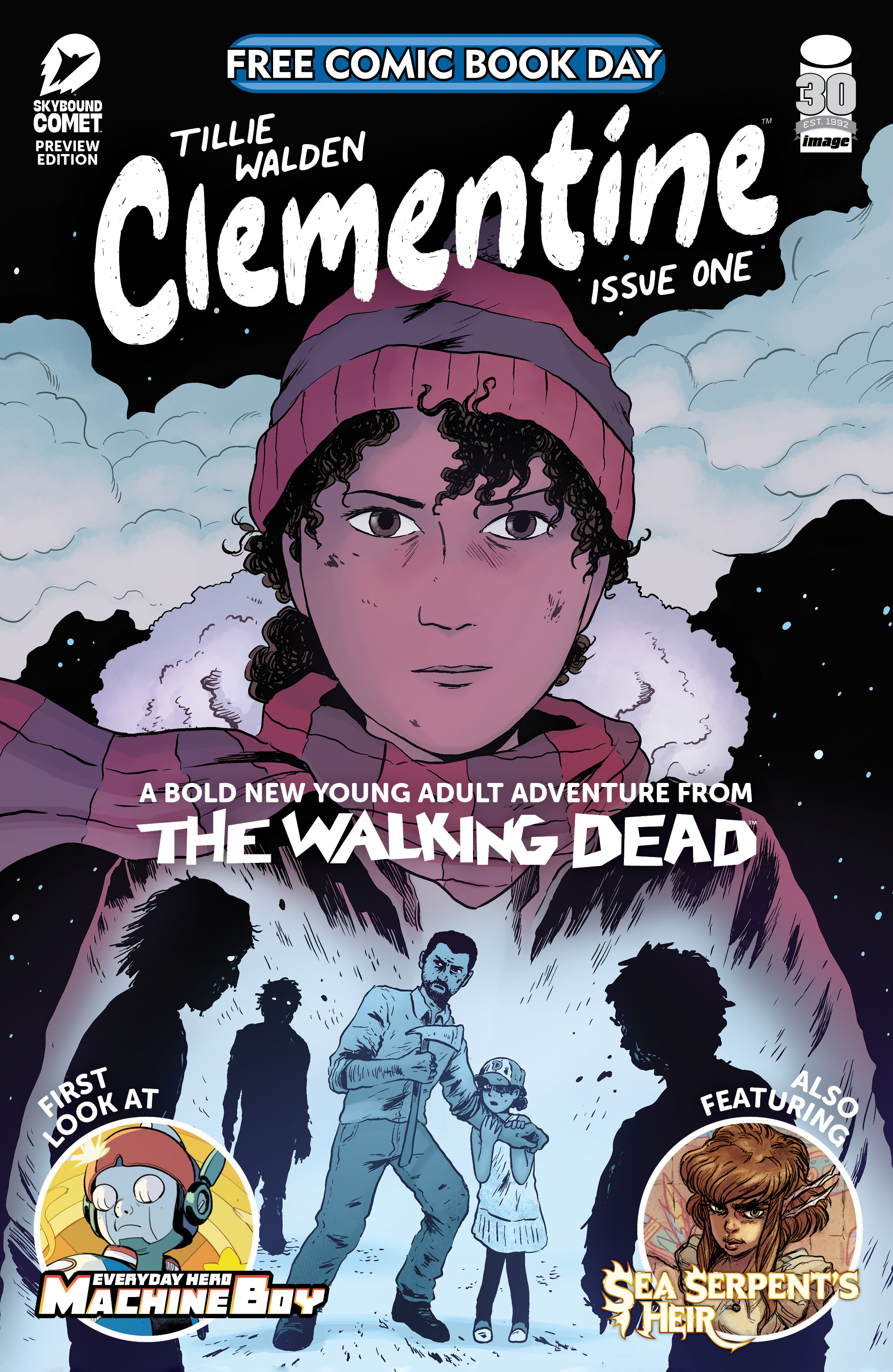 FCBD: What part of the book was most fun to write/draw?
Irma: Probably anything involving Mega 416's premier boy band, Orphan Universe. We laughed a lot while plotting out those sequences
Tri: Everything was fun to write and draw! But I particularly loved drawing the action scenes. And the talking animals, who doesn't like talking animals?
FCBD: Can you share some of the inspiration behind certain characters, settings, etc.?
Irma: We drew a lot of inspiration from 80s and 90s manga and anime, kpop and boy bands in general, and our pets and respective families.
Tri: We were really inspired by the aesthetic of old anime, manga and video games (particularly from the 80s and 90s) as well as the nostalgia of our own childhoods.
FCBD: If you could meet your characters, what would you say to them?
Irma: Can I live in your garage? (It's a pretty sweet garage)
Tri: "Hey, what's life without the internet like?"
FCBD: Looking to the future, is there anything you can tease about what's coming up for the title and its characters?
Irma: Nothing concrete just yet, but we're hoping for many more Machine Boy adventures!
Tri: Machine Boy has a lot more stories to tell and we hope to get the chance to tell them!
FCBD: Let's pivot a little bit here to talk about your personal experience with comics. Many newcomers will pick up comics for the first time on FCBD – what was the first comic you remember reading?
Irma: If we're going way back, then it would be Archie, or maybe newspaper strips? There was a Spider-Ham short in a floppy that had an out-sized impact somewhere in there.
Tri: I believe it was a Chinese translation of Ultraman which I couldn't actually read but spent countless hours marveling at regardless.
FCBD: What is your favorite part about working in the comic book industry?
Irma: I love the infinite possibilities of storytelling – it's possible for a single person or small team to take a single kernel of an idea and pull it out into an entire world and story. And there's such a wonderful range of stories out there!
Tri: The freedom to tell any story you imagine! If you can write and draw it, you can tell it!
FCBD: Tell us why everyone should read comic books!
Irma: Because there's definitely a comic out there for you! The range of comics is so broad – no matter if you're into experimental art or fantasy or science, there's something there. No two people will put images in sequence in the same way, and that's what makes it so fascinating.
Tri: Because they're awesome and there's something for everyone!
FCBD: Now, we have a series of rapid-fire questions for you! They're, ya know, mostly related to comics... Answer as quickly as you can and try not to over think it!
Do you listen to music while you're creating?
Irma: Yes!
Tri: Not when I'm writing, but sometimes when I'm drawing.
What's your favorite comic book genre?
Irma: Autobio – I really like peeking into how other people live their lives!
Tri: I don't have a favorite genre but I do love comics that are a little bit spooky that aren't outright horror. (I'm a coward, you see.)
Are you more productive in the morning or at night?
Irma: Night
Tri: Morning!
Do you think you could survive in a zombie apocalypse?
Irma: Definently not
Tri: Hard to say. I have pretty good cardio but I'm also rather clumsy and may drop my gun (or other zombie killing weapon).
Would you rather be invisible or have the ability to fly?
Irma: Invisible!
Tri: Fly!
If you were a comic book character, would you rather be the hero or the villain?
Irma: I think I try to be helpful in this life, so I guess hero?
Tri: Hero, but one without too many responsibilities and lots of downtime.
What's your favorite comic book or graphic novel?
Irma: Tough question and my answer might be different tomorrow, but Full Metal Alchemist was really formative for me!
Tri: Ah man, this answer changes all the time. Right now it might be… Vagabond by Takehiko Inoue.
{FULLDETAIL-JAN220025}