FCBD22 Interview: Merry Men of Nottingham
Mar 21, 2022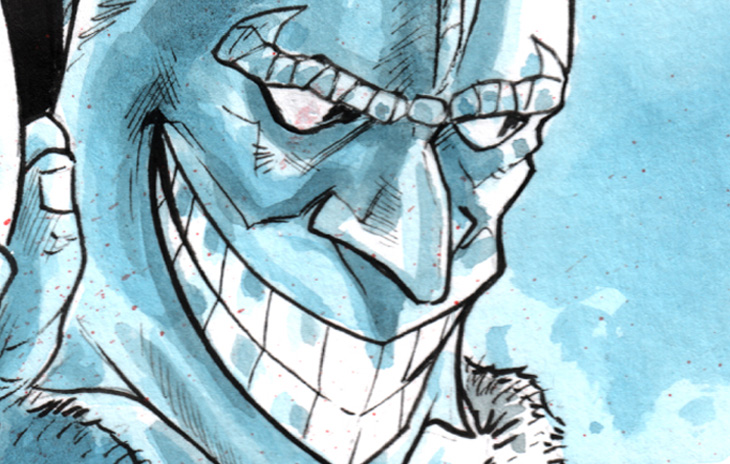 A very Merry Christmas. All eyes are on Everard Blackthorne, the Sheriff of Nottingham, when his predecessor is murdered in cold blood. It's business as usual for Ev, with Hood and the Merry Men pulling the strings and a terrible choice to make as the lives of Alan Dale's wife and son hang in the balance. This special issue of Nottingham takes place in between volumes 1 and 2 of the smash hit series.
We caught up with series writer David Hazan, and artist Andrea Mutti to learn more about what inspired their extraordinary characters, what to expect next in the series, AND to rifle through some really fun rapid fire questions!
Check out the full interview below and be sure to head to your local comic shop on Saturday, May 7 to celebrate FCBD in all it's glory! To find a participating comic shop near you, use our FCBD Store Locator.
---
Free Comic Book Day (FCBD): Set up your title for those that might be new to your comic book: What will new readers need to know before diving into your Free Comic Book Day issue?
David Hazan: This is Nottingham, but not as you remember it. The Sheriff of Nottingham, Everard Blackthorne, is our protagonist here, a kind of medieval detective, and Volume 1 saw him unmask Robin of Locksley as the leader of the brutal Merry Men. This was not without great cost, as his only friend in this world, Alan Dale, took his own life...and with our Free Comic Book Day issue, we pick up directly after those events...Also, it's a Christmas story! A very Merry Christmas!
Andrea Mutti: This is a juicy, can't miss opportunity to explore more of Nottingham!
FCBD: What are some of the core themes present in your book? What do you hope readers take away from your title?
David: Like any good noir, Nottingham centers around a clash between the haves and have-nots, and places its protagonist directly in between those two opposing forces. It features so many people stuck in their own cycles, imprisoned by their own impulses, so I hope it convinces people to break the mold in their daily lives, at least a little bit, especially now. Also, I hope people really consider the power of propaganda and how it affects their perception of the world.
Andrea:The theme of justice and pain... both are strong themes typical of the period.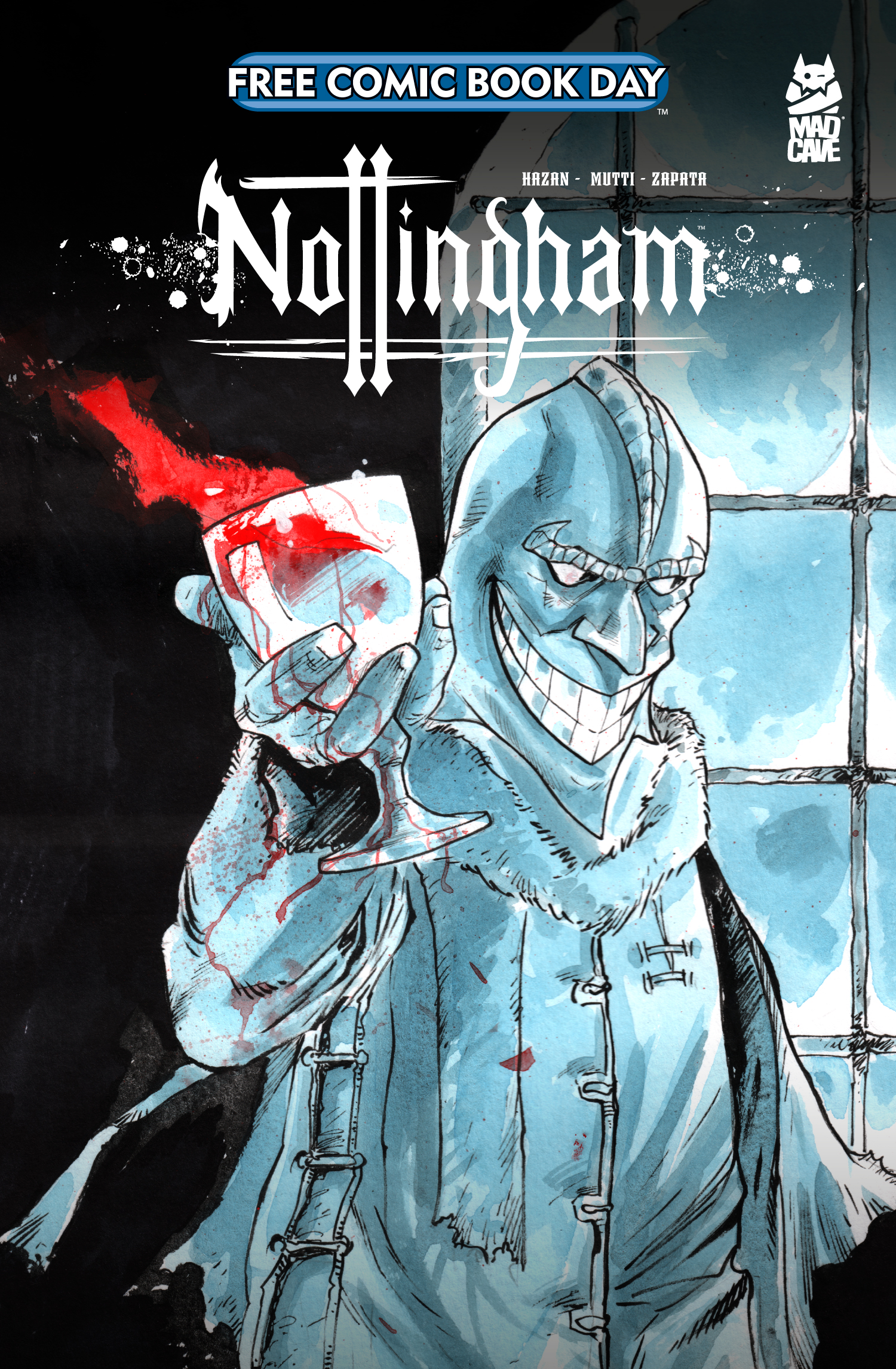 FCBD: What part of the book was most fun to write/draw?
David: Spoilers, but the last few pages. I went into it knowing what I wanted the ending to be and Andrea's art still hit me in the feels when I saw it.
Andrea:The long ride through the snowy woods was really fun. So cool and moody!
FCBD: Can you share some of the inspiration behind certain characters, settings, etc.?
David: Nottingham was inspired largely by my desire to set a noir comic in an unfamiliar setting. The middle ages is the furthest from the kind of mid-century stuff that birthed the noir genre. We've seen some really cool viking noirs in recent years, so I had a think about how the genre came to be and found a corollary for post WW2 anxiety in the Crusades. Suddenly, everything started to fit into place, and we turned the Robin Hood story on its head to create Nottingham
Andrea: Reality is my reference, always… Real forests, real castles, real places. I love giving readers real details, this is the best way to bring them into the story, in my view.
FCBD: If you could meet your characters, what would you say to them?
David: Oh. This is a good one. I'd have to tell the Sheriff to get out of his head, and stop playing by the rules of the nobility and to start charting his own path, if he really wants to help the people...I doubt he'd listen, though!
Andrea: We're friends, right?
FCBD: Looking to the future, is there anything you can tease about what's coming up for the title and its characters?
David: Sprawling adventure, brutal crimes, blood, tragedy and misery. Volume 2, "A King's Ransom" takes our characters to new places and raises the stakes in a huge way.
Andrea: Oh, something really dark for sure!
FCBD: Let's pivot a little bit here to talk about your personal experience with comics. Many newcomers will pick up comics for the first time on FCBD – what was the first comic you remember reading?
David: I didn't grow up reading comics, so the first one I can remember is a Star Wars anthology called "Visions", which had a bunch of high concept stuff, some of which has actually become (at least partially) canon now...
Andrea: ZAGOR, it's an Italian cult title.
FCBD: What is your favorite part about working in the comic book industry?
David: Honestly, the community is so passionate and invested. Sometimes this goes the wrong way, but for the most part, as a writer, it's near impossible to get the kind of immediate feedback and interaction you get with comics in any other medium.
Andrea: Building a universe, and bringing it to life!
FCBD: Tell us why everyone should read comic books!
David: Big swings, high concepts, reimaginings - comics are a place where you get to take risks and experiment with themes and form and storytelling, unlike film, tv or prose, both in genre and non-genre stories.
Andrea: Building a universe, and bringing it to life!
FCBD: Now, we have a series of rapid-fire questions for you! They're, ya know, mostly related to comics... Answer as quickly as you can and try not to over think it!
Do you listen to music while you're creating?
David: Yes, but only music without words!
Andrea: Sure! But mostly documentaries.
What's your favorite comic book genre?
David: Comics aren't about genre for me, I'm an equal opportunist. I just like stories to make me feel things.
Andrea: I don't have a favorite…when a story is great, it's great!
Are you more productive in the morning or at night?
David: Night, for sure.
Andrea: When I have a deadline, there is no day or night!
Do you think you could survive in a zombie apocalypse?
David: Nope, I love my creature comforts way too much.
Andrea: Of course! haha!
Would you rather be invisible or have the ability to fly?
David:Flight, but only if it would help me overcome my fear of heights!!
Andrea: Invisible!
If you were a comic book character, would you rather be the hero or the villain?
David: Can I pick neither? Horrible things happen to people in stories, hero or villain!
Andrea: Damn! Tough question! Mmmm… maybe the hero!
What's your favorite comic book or graphic novel?
David: Mister Miracle, the King/Gerads maxi-series
Andrea: OK… BATMAN YEAR ONE
{FULLDETAIL-JAN220027}