FCBD22 Interview: Who Are Your Enemies?
Feb 25, 2022
Felicity's sure she's going to do something big. Exactly what is still a mystery, but she'll figure it out. Her sister, Letty, teases Felicity that she never finishes stuff, but that's just because Letty is so perfect. Still, life is good with plenty of friends -- drawing with the art club and playing games with her buddies keep her busy. But when she decides to join a contest to show Letty that she CAN get things done, Felicity begins to wonder if friends becoming enemies is easier that she thought. Are they really enemies, though…? What does it even mean to be enemies? And...who is it that she needs the most on her side...?
We caught up with series creator Svetlana Chmakova to learn more about what inspired their extraordinary characters, what to expect next in the series, AND to rifle through some really fun rapid fire questions!
Check out the full interview below and be sure to head to your local comic shop on Saturday, May 7 to celebrate FCBD in all it's glory! To find a participating comic shop near you, use our FCBD Store Locator.
---
Free Comic Book Day (FCBD): Set up your title for those that might be new to your comic book: What will new readers need to know before diving into your Free Comic Book Day issue?
Svetlana Chmakova: Enemies is set at the Berrybrook Middle School and it's about Felicity Teale, who sets out to prove to her family (and herself) that she can be just as cool and accomplished as her little sister. Hilarity and life complications immediately ensue and she ends up having to deal with A Lot More than she expected.
FCBD: What are some of the core themes present in your book? What do you hope readers take away from your title?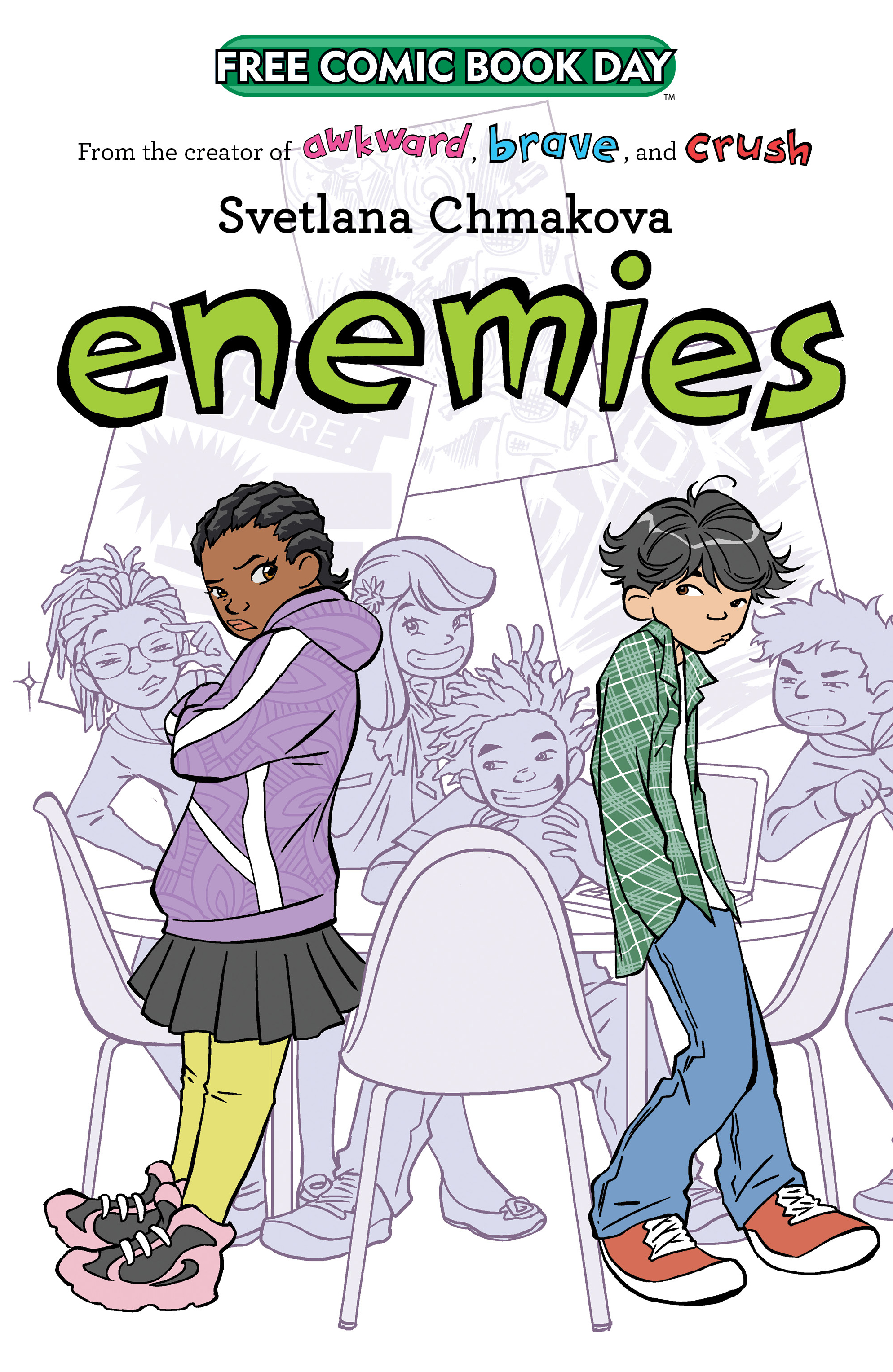 SC: The two core themes of "ENEMIES" are: navigating friendships and working in group projects (which is life in a nutshell, really), and keeping society's pressure to succeed from destroying your every last shred of self-confidence.
FCBD: What part of the book was most fun to write/draw?
SC: Felicity's comic!!! I mean, biker elves, need I say more. I would absolutely read that comic.
FCBD: Can you share some of the inspiration behind certain characters, settings, etc.?
SC: Everything I write is inspired by the questions I had when I was the middle school age. How do I make friends? How do I KEEP friends? How do I tell my crush I like them? Should I even…? How do I avoid making enemies? Is that even possible?! Every Berrybrook book is me exploring some of those questions and trying to see if there are any satisfactory answers.
FCBD: If you could meet your characters, what would you say to them?
SC: You are very hard to draw, all of you.
FCBD: Looking to the future, is there anything you can tease about what's coming up for the title and its characters?
SC: Two more Berrybrook volumes are in the works after ENEMIES, please keep an eye out for those!
FCBD: Let's pivot a little bit here to talk about your personal experience with comics. Many newcomers will pick up comics for the first time on FCBD – what was the first comic you remember reading?
SC: An issue of Disney Tales by various creators, and ElfQuest by Richard and Wendy Pini.
FCBD: What is your favorite part about working in the comic book industry?
SC: The stories I get to tell.
FCBD: Tell us why everyone should read comic books!
SC: The stories AND the art!! You get to not just read but also see the details of the story unfold, it's such a uniquely powerful combination, to have the words and visuals and combine them together to deliver a story moment's impact.
FCBD: Now, we have a series of rapid-fire questions for you! They're, ya know, mostly related to comics... Answer as quickly as you can and try not to over think it!
Do you listen to music while you're creating?
SC: Sometimes, yes, but it has to be something ambient and with no words.
What's your favorite comic book genre?
SC: I really like modern slice-of-life, sci-fi/fantasy, post-apocalyptic stuff and also anything historical. I guess I don't really have just one favorite, there is a lot of stuff I'm really interested in.
Are you more productive in the morning or at night?
SC: Definently at night


Do you think you could survive in a zombie apocalypse?
SC: Probably not but I like to think I'd put up a good fight for at least half a season.
Would you rather be invisible or have the ability to fly?
SC: Fly, absolutely


If you were a comic book character, would you rather be the hero or the villain?
SC: Neither, I would like to be hero's sidekick or some part of their support system.
What's your favorite comic book or graphic novel?
SC: It's a tie between "The Best We Could Do" by Thi Bui and "Skim" by Mariko Tamaki and Jillian Tamaki.
YEN PRESS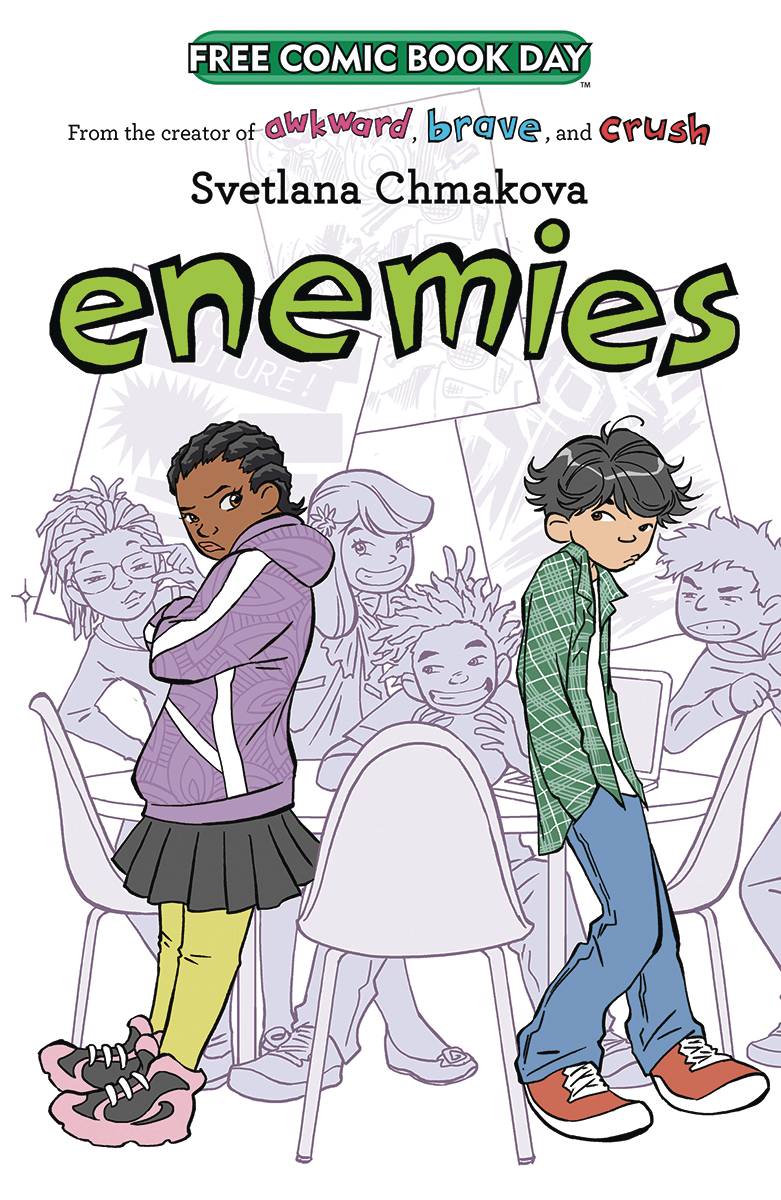 (W) Svetlana Chmakova (A/CA) Svetlana Chmakova
Felicity's sure she's going to do something big. Exactly what is still a mystery, but she'll figure it out. Her sister, Letty, teases Felicity that she never finishes stuff, but that's just because Letty is so perfect. Still, life is good with plenty of friends -- drawing with the art club and playing games with her buddies keep her busy. But when she decides to join a contest to show Letty that she CAN get things done, Felicity begins to wonder if friends becoming enemies is easier that she thought. Are they really enemies, though...? What does it even mean to be enemies? And...who is it that she needs the most on her side...?
Preview Material
Rating: All Ages
In Shops: Apr 13, 2022
SRP: PI
PREVIEWS Page #35