FCBD22 Interview: The Three Stooges with the Three Creators
Feb 17, 2022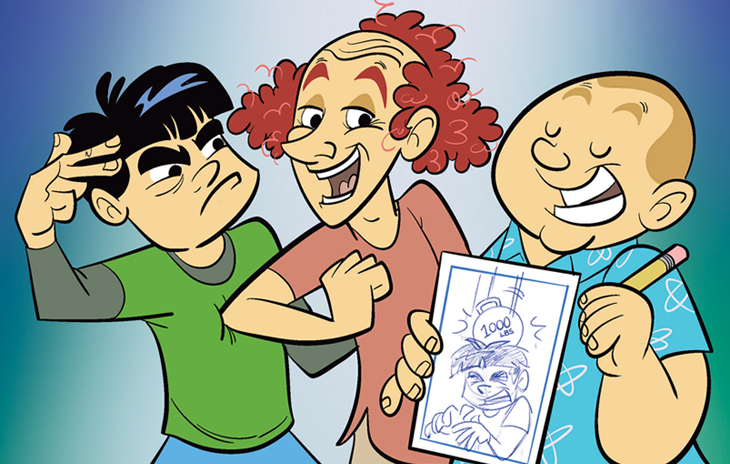 The Three Stooges have been entertaining families for almost a hundred years! Their timeless brand of silly slapstick comedy transcends the ages and appeals to kids from 5 to 100!
This special Free Comic Book Day celebration introduces the wacky world of The Stooges to comic book readers new and old. Take a trip (literally) through the many incarnations of The Three Stooges - Larry, Curly, Shemp, Curly Joe, and even some cartoon capers from those clunky champions, the Robonic Stooges!
We caught up with the series creators S.A. Check, Jordan Gershowitz, and Adrian Ropp to learn more about what inspired them to go back in hisotry with this timeless comedy, what to expect next from the Stooges, AND to rifle through some really fun rapid fire questions!
Check out the full interview below and be sure to head to your local comic shop on Saturday, May 7 to celebrate FCBD in all it's glory! To find a participating comic shop near you, use our FCBD Store Locator.
---
Free Comic Book Day (FCBD): Set up your title for those that might be new to your comic book: What will new readers need to know before diving into your Free Comic Book Day issue?
S.A. Check: We wanted this year's American Mythology FCDB contribution to be 100% total non-stop fun! So, we dipped into the AM catalog of books and found the perfect match with our run with the legendary, the Shemptacular, the greatest comedy trio in the history of comedy trios – The Three Stooges. Everyone – and I mean everyone – can relate to the Three Stooges in some way, either directly or through another family member. They are the definition of legacy characters!
Jordan Gershowitz: I would say the main thing readers need to know when they pick up this issue is that they shouldn't be drinking liquids of any kind because this comic is bound to make them laugh so much they'll do a spit-take!
Adrian Ropp: One of the great things is… it's the Three Stooges! They are known worldwide and their humor transcends language. American Mythology's take on the Stooges is as classic and pure as the original short subjects.
FCBD: What are some of the core themes present in your book? What do you hope readers take away from your title?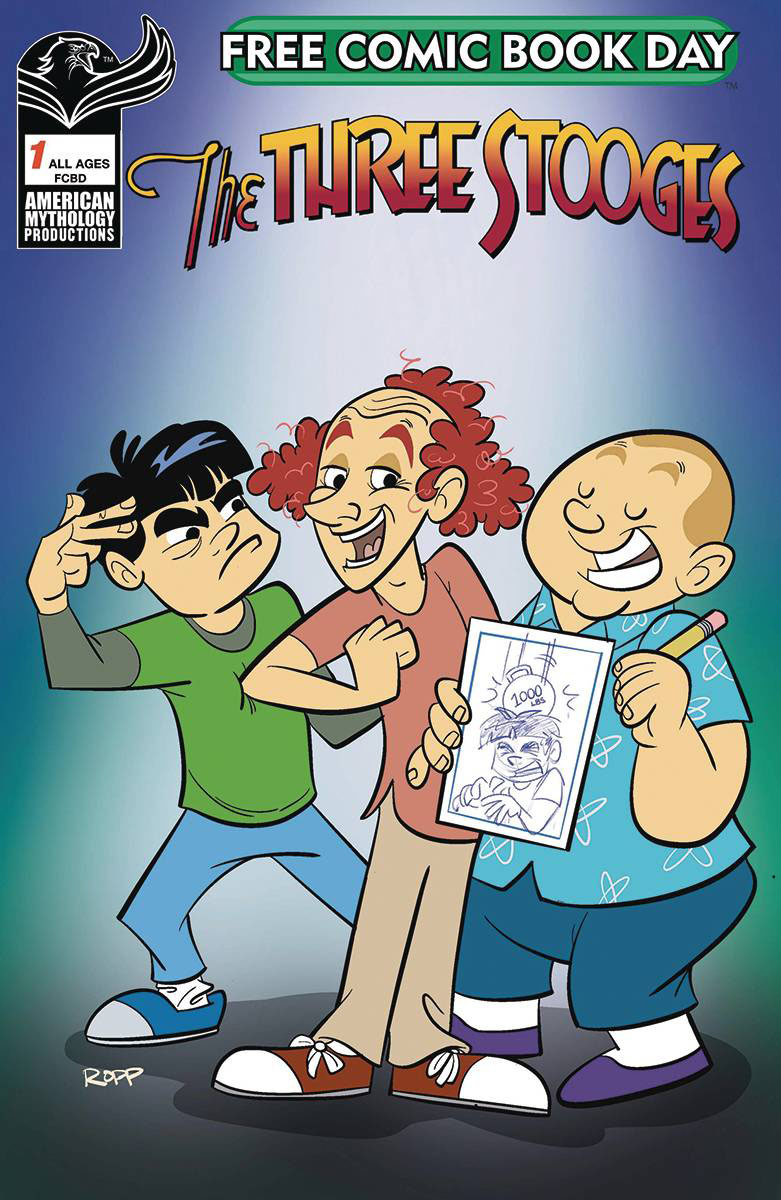 S.A.: The core themes would be pie throwing, nose picking, and a general ridiculousness. Seriously, these books are just there to entertainment readers, so if someone walks away with a smile, we've done our jobs.
Jordan: And in addition to all the yucks, we really want new readers to discover the magic and hilarity of The Three Stooges, just as we all did at various points in our lives. Some of my favorite moments growing up were watching the old shorts and features on TV with my dad. Here's hoping this FCBD issue will introduce the Stooges to a brand-new audience of comedy fans and make current fans smile as well.
Adrian: They are underdogs who never give up. There's something that makes you root for them, even though they are really quite awful to the world around them. Who can't relate to that? Also, I hope the audience gets a real sense of nostalgia and, for those new to the Stooges, they start discovering the brilliant work of the original films.
FCBD: What part of the book was most fun to write/draw?
S.A.: Everything about these stories are a blast! As a writer, I get to crawl around inside the heads of some of the funniest guys ever and try to imagine how'd they'd play out a scene. When it's all clicking, certain pages just seem to take shape on their own, and that's a great feeling.
Jordan: The part where I take credit for all the funny moments. But in all seriousness, I love the collaboration between the creative team. We're always bouncing ideas and gags off each other, trying to one-up the ideas to make sure they have maximum laughs. But when you're reading the stories, just remember the most important thing -- if you liked it, I wrote it.
Adrian: It's always fun for me to adapt the Stooges into my own art style… How do I keep it classic but give it my own spine. They are such iconic characters that it's a fun challenge!
FCBD: Can you share some of the inspiration behind certain characters, settings, etc.?
S.A.: A few years ago, American Mythology president, Jim Kuhoric, and I attended a Three Stooges convention just outside Philly. While we were there, we visited the birth place of Larry Fine, took a tour through a Stooge Museum, and met so many wonderful Three Stooges fans and family members that we were literally blown away by it all! We were welcomed with open arms into the extended Stooge family and it's something I'll never forget. Getting to sit at the dinner table with Chris Diamantopoulos and Will Sasso (who played Moe and Curly in the 2012 Three Stooges movie), while Chris had us bent over laughing with his spot-on Moe impressions was a definite highlight.
Jordan: The inspiration behind my "Stooges on Set" story was to showcase the (somewhat) real side of the boys' lives. Audiences have watched the Stooges be football players, boxers, golfers, knights, doctors, plumbers, and even astronauts! But in the end, the Stooges were really great comedic actors creating movie magic. This story is how those behind-the-scenes moments might have looked – in my mind at least.
FCBD: If you could meet your characters, what would you say to them?
S.A.: Thanks for all laughs, knuckleheads! (Then I'd probably get poked in the eyes by Moe.)
Jordan: Keep your hands where I can see 'em.
Adrian: C'mere, wiseguys!
FCBD: Looking to the future, is there anything you can tease about what's coming up for the title and its characters?
S.A.: We've taken The Boys into space. We've had them meet Frankenstein. Curly ran for president. They went on stoogecation, took over for Santa, turned into guardian angels, fought zombies, and we even revived them as super-heroes in the Robonic Stooges. All that and we're just getting warmed up! The 100 year celebration for the Three Stooges is approaching and we have some special surprises up our sleeves to help celebrate!
Adrian: American Mythology is always looking for new ways to innovate with these classic characters - so I'd say to expect the unexpected!
FCBD: Many newcomers will pick up comics for the first time on FCBD – what was the first comic you remember reading?
S.A.: It wasn't so much the book as the setting for me. I found my love of comics on a white metal spinner rack tucked in the back corner of a grocery store / farmer market right beside the potting soil bags when I was 12 years old. It's a shame kids don't have those same avenues to find books today, but a trip to your local comic book shop with the family is a magical event and great place for families to bond.
Jordan: Classics Illustrated! My third-grade class had a whole rack of them and I loved reading Treasure Island, The Three Musketeers, The Time Machine, and more. I would devour them – but not literally, although, I do remember classmates that would eat paper.
Adrian: When I was about six I started getting a slew of all ages books. Uncle Scrooge, Walt Disney's Comics and Stories, Harvey and Archie. They were and are still my favorite type of comics. I remember the very first comic I read was an issue of Uncle Scrooge in which the Beagle Boys had trained ants with a flute to break into the money bin. I LOVED it.
FCBD: What is your favorite part about working in the comic book industry?
S.A.: Seeing your work come alive on the page and then seeing fans react to it is always a thrill!
Jordan: Having the opportunity to continue the legacy of comedic legends like The Three Stooges and Laurel & Hardy!
Adrian Ropp: Honestly, I have been able to work on some of the world's most iconic characters. But the thing I love most is the power of these characters to create a common bond between creator and fan. I have made some amazing friends that way.
FCBD: Tell us why everyone should read comic books!
S.A.: It's such a unique and wonderful medium for storytelling and blending of so many creative resources. Between the writers, pencils, inks, colorists, letterers, and layout designers, so many talented and creative people contribute to each and every issue to give readers something special.
Jordan: Comics allow your imagination to run wild. Whether you want to be transported to worlds one can only dream of or you hope to save the world, the best comics allow everyone to see themselves represented.
Adrian: Comics are such an accessible form of entertainment! They inspire imagination, create excitement about storytelling, and strengthen bonds across generations. I was an advanced reader in school and I'm sure it was because I read comics every single day.
FCBD: Now, we have a series of rapid-fire questions for you! They're, ya know, mostly related to comics... Answer as quickly as you can and try not to over think it!
Do you listen to music while you're creating?
S.A.: No. I like to lose myself in my stories without any distractions.
Jordan: No music for me. It would drown out the characters' voices that are talking in my head, which is probably a problem to unpack at a later date.
What's your favorite comic book genre?
S.A.: Superhero and Horror
Jordan: Superhero and comics that revolve around slice-of-life scenarios
Are you more productive in the morning or at night?
S.A.: Yes.
Jordan: I am the most productive from 10:30 am – 10:34 am.
Do you think you could survive in a zombie apocalypse?
S.A.: Other than the current one you mean?
Jordan: No. I would be eaten before I could finish typing this --- AAHHH! THEY'RE HERE! THEY'RE EATING ME -- *gurgle*
Would you rather be invisible or have the ability to fly?
S.A.: Flying invisible! Just watch out for migrating birds and low flying aircraft.
Jordan: Yes, and yes.
If you were a comic book character, would you rather be the hero or the villain?
S.A.: Rocky Road! Oh, wait, was that an option?
Jordan: The hero, minus the tragic backstory.
What's your favorite comic book or graphic novel?
S.A.: Whatever book I'm currently working on.
Jordan: Same for me, but not the book S.A. is currently writing. The one I am.
AMERICAN MYTHOLOGY PRODUCTIONS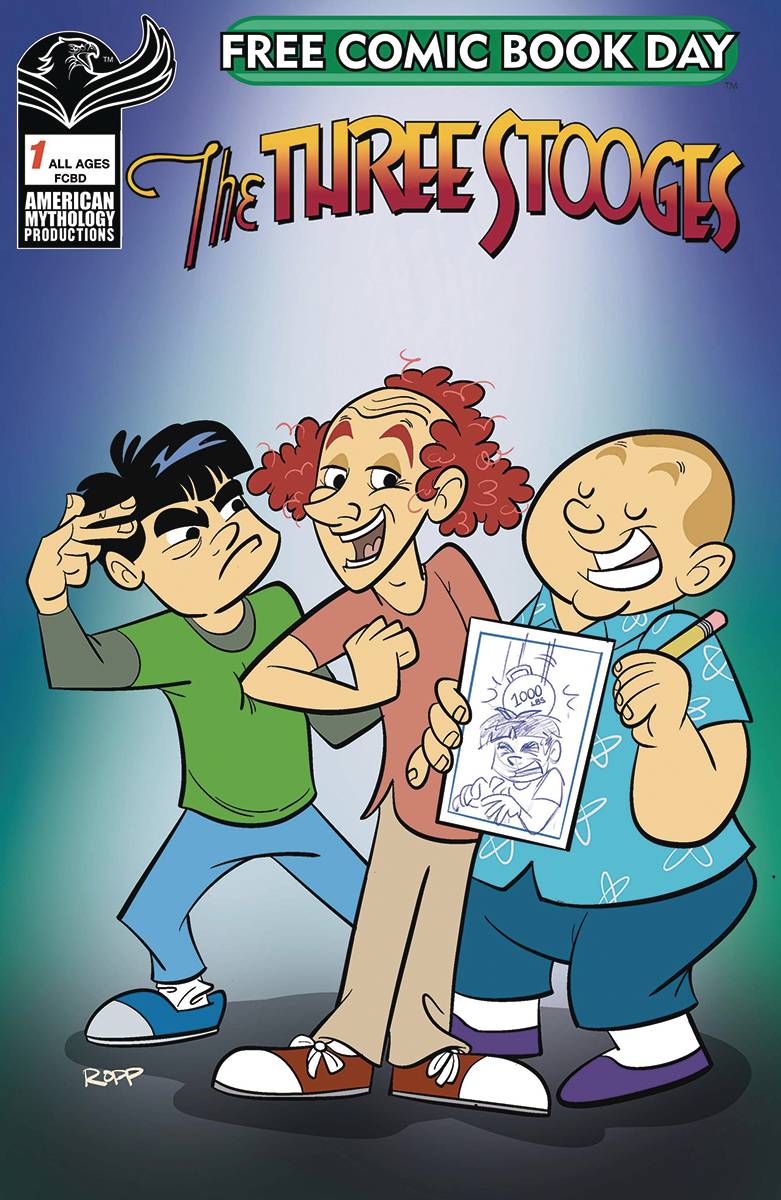 (W) S.A. Check, Jordan Gershowitz, James Kuhoric (A) Jorge Pacheco, Diego Tapie, Various (A/CA) Adrian Ropp
The Three Stooges have been entertaining families for almost a hundred years! Their timeless brand of silly slapstick comedy transcends the ages and appeals to kids from 5 to 100! This special Free Comic Book Day celebration introduces the wacky world of The Stooges to comic book readers new and old. Take a trip (literally) through the many incarnations of The Three Stooges - Larry, Curly, Shemp, Curly Joe, and even some cartoon capers from those clunky champions, the Robonic Stooges! These wonderful stories will make you laugh out loud and share the love of laughter with family and friends. Let Free Comic Book Day introduce you to the funniest comics of 2022 right here!
Reprint Material
Rating: All Ages
In Shops: Apr 13, 2022
SRP: PI
PREVIEWS Page #29