FCBD22 Interview: Dive into Bunny Mask Tales with the Creators
Feb 15, 2022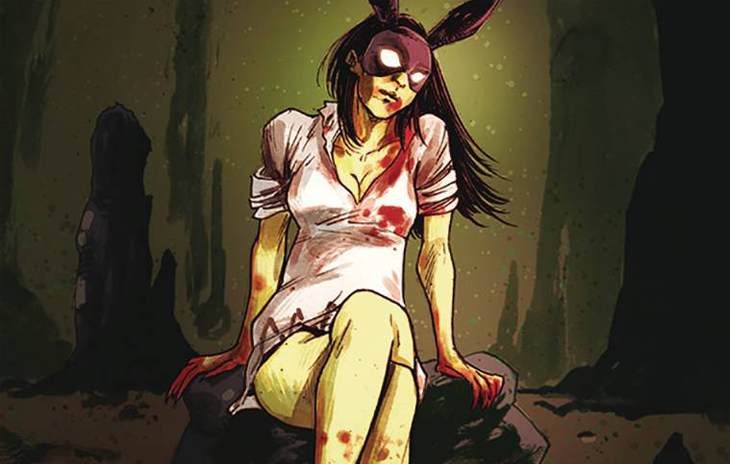 AfterShock Comics has announced their 2022 Free Comic Book Day offering will be "Bunny Mask Tales," a 32-page one-shot featuring two stories from creators Paul Tobin, Andrea Mutti, and Taylor Esposito, as well as "Doctor Who" artist Roberta Ingranata.
The first story will focus on Tyler Severin, the man who accidentally freed the titular entity, and his developing relationship with her, while the second will see Bunny Mask deal with a "a criminally nosy neighbor," who saw "more than he'd thought possible, and far, far too much."
We caught up with the series creators Andrea Mutti, Paul Tobin, and Roberta Ingranata to learn more about what inspired their extraordinary characters, what to expect in the second editiion of Bunny Mask, AND to rifle through some really fun rapid fire questions!
Check out the full interview below and be sure to head to your local comic shop on Saturday, May 7 to celebrate FCBD in all it's glory! To find a participating comic shop near you, use our FCBD Store Locator.
---
Free Comic Book Day (FCBD): Set up your title for those that might be new to your comic book: What will new readers need to know before diving into your Free Comic Book Day issue?
Andrea Mutti: They can't miss such a great opportunity to dive into the world of BUNNY MASK. Lots of sickness out there!
Paul Tobin: BUNNY MASK, the comic, is the story of Tyler Severin, who has become friends, of a sort, with a supernatural creature called Bunny Mask, a creature that's dangerous to everyone, even Tyler himself. Bunny Mask wants to seek out "sickness" and eradicate it from the world, with her idea of sickness being crimes of an extremely unethical nature. But her views and opinions only somewhat align with our own, and her methods (and abilities) are often far past any human comprehension as well. It's sort of like Tyler having the girl from The Ring on his side: every moment is a chance for things to go horribly wrong.
FCBD: What are some of the core themes present in your book? What do you hope readers take away from your title?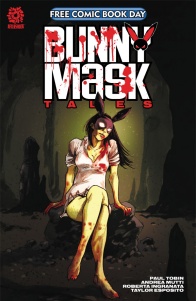 Andrea: We all wear masks…so be yourself and respect other people!
Paul: I suppose horror and mystery are two of the central elements. The line between the sensual and the senses. Morality and ethics play a big part. I want readers to question if Bunny Mask, the woman, is good or not. I want them to question why they, and Tyler, are drawn to her.
FCBD: What part of the book was most fun to write/draw?
Andrea: Every time we see Bunny Mask in action!
Paul: I love writing the dialogue for Bunny Mask herself, and the relationship moments between Tyler and Bee Foster, a woman with a strange connection to Bunny Mask. Mostly, though, I adore working with Andrea. As a friend, he makes me laugh, and as an artist, he gives me the shivers!
Roberta Ingranata: Bunny Mask! But I have to admit that I also happily drew all the plants scattered around the apartment. I'm a huge fan of indoor plants, so it was fun for me!
FCBD: Can you share some of the inspiration behind certain characters, settings, etc.?
Andrea: The REALITY is my reference. This is the best way to pull readers into the story.
Paul: Bunny Mask herself comes from a lot of influences. Celtic symbols. Hammer films of the 1960s and 1970s. The cross between sensualism and danger. Even toss in a bit of the elder ones. For Tyler Severin, I wanted someone who wasn't in their mid-twenties. Someone who already feels a bit lost in life, and then has all this thrown at him. The cave from where Bunny Mask herself was freed, the cave we see in the first series that Leo Foster has hand-dug into a mountain over the course of years, is based on a real-life example from my hometown of Floyd, Iowa!
Roberta: I read the previous issues, drawn by the talented Andrea Mutti, and I let myself be inspired by his pages!
FCBD: If you could meet your characters, what would you say to them?
Andrea: We are friends, right??
Paul: I am very sorry for how difficult I've made your life.
Roberta: To watch your back! ;)
FCBD: Looking to the future, is there anything you can tease about what's coming up for the title and its characters?
Andrea: A few days after our FCBD release, the first issue of the second arc, BUNNY MASK: THE HOLLOW INSIDE, releases in comic shops. We are just getting started…
Paul: In the next arc, we introduce The Hollow. This is a creature as old as Bunny Mask herself, and one who feeds on the literal existence of people who feel meaningless, devouring them so completely that not only do they no longer exist, but they've never existed in the first place. They're wiped from all memory, with no mark left in the world.
Roberta: I don't want to spoil it! But it's definitely an adventure that will keep your eyes glued to the pages!
FCBD: Many newcomers will pick up comics for the first time on FCBD – what was the first comic you remember reading?
Andrea: Zagor, an Italian cult title.
Paul: I was reading comics by the time I was five years old, so my first comics are definitely lost to time. But the first individual comics I can remember reading are Iron Man #90, with the Controller, Amazing Spider-Man #74 and Tales to Astonish #100, the latter two I found while cleaning a garage. But I'd read hundreds of comics before then, for sure!
Roberta: I don't remember the first comic, but I remember that we had many books and comics at home. It was natural for me to leaf through them when I was little. Then I started reading them, and I never stopped!
FCBD: What is your favorite part about working in the comic book industry?
Andrea: Building worlds and bringing them to life!
Paul: The friendships I've made along the way—which sounds like I'm quoting a children's book moral or something, but it's true! So many of my friends are in the industry! And it's always amazing to meet a cool person, and find out about their amazing work, or—the other way around—see some amazing work and then become friends with the creator.
Roberta: I know the best part of being a comic artist should be drawing, and it sure is, but I think the most exciting part is reading the script—when you read it and start imagining the pages, you feel the excitement! I start drawing by imagining all the scenes one after the other in my head! In my opinion, this is the best moment!
FCBD: Tell us why everyone should read comic books!
Andrea: Comics are full of great art and words..words help the mind!
Paul: The simple answer is that most people love art and love stories, and comics are a combo of the two! The deeper reality is that when you can actually SEE the story, you can immerse yourself more thoroughly and feel more of a connection with the characters!
Roberta: I believe everyone should read. Comics, books, magazines, newspapers. Reading helps the mind and imagination!
FCBD: Now, we have a series of rapid-fire questions for you! They're, ya know, mostly related to comics... Answer as quickly as you can and try not to over think it!
Do you listen to music while you're creating?
Andrea: Sure! (But mostly documentaries!)
Paul: Sometimes. Nick Cave. Tom Waits. Caravan Palace. Cramps. Old cabaret and burlesque music. But I can only listen to music during certain stages of writing. For the most part, I write in silence.
Roberta: Sometimes, but not always.
What's your favorite comic book genre?
Andrea: I don't have a favorite…when a story is great, it's great!
Paul: I don't have a favorite. Looking back on my catalog, I think it kind of shows, too. I've had success in pretty much every genre except romance, which I've never tried, though it's a key element in a lot of my projects!
Roberta: Horror/thriller.
Are you more productive in the morning or at night?
Andrea: When I have a deadline, there is no day or night!
Paul: Morning, definitely!
Roberta: Morning! I wake up at 6:00 AM, spend an hour of walking the dog, and then to work!
Do you think you could survive in a zombie apocalypse?
Andrea: Of course, hahaha!
Paul: No. I would definitely be one of those friends who die early, and then you have to fight them later on, as a zombie. Sorry, friends!
Roberta: Nope! I can run fast, but I wouldn't have the strength to kill them! I would certainly be among the first victims!
Would you rather be invisible or have the ability to fly?
Andrea: Invisible
Paul: Flight, absolutely. Flight is freedom, but anything cool you can do with invisibility is ethically questionable.
Roberta: Invisible, of course!
If you were a comic book character, would you rather be the hero or the villain?
Andrea: Hmmm…maybe the hero!
Paul: Hero! (Which isn't to say that's what I WOULD be, but it's what I'd WANT to be!)
Roberta: Neither!
What's your favorite comic book or graphic novel?
Andrea: Too many! Too many! Okay…Batman Year One!
Paul: I can only pick one? (panics) Uh, Corto Maltese in Siberia?
Roberta: I love too many comics for too many reasons that I don't think I have a favorite one! Each comic is my favorite in its own way!
AFTERSHOCK COMICS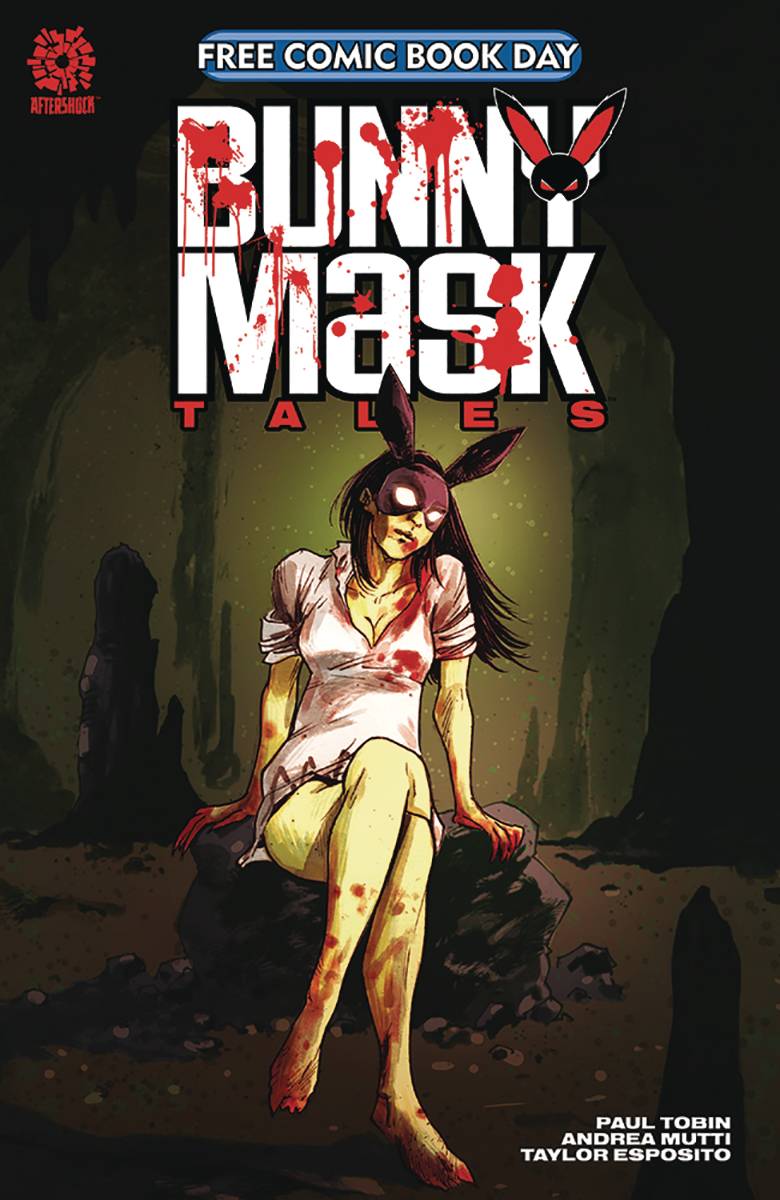 (W) Paul Tobin (A) Roberta Ingranata (A/CA) Andrea Mutti
Two chilling, brand-new Bunny Mask tales! The Snitch has been defeated and a truce has been struck with the mysterious creature known as Bunny Mask, so a hopeful Tyler Severin returns to life as normal, only to learn he's still just a toy in the uncanny games she plays. Meanwhile, a criminally nosy neighbor deals with the consequences of seeing more than he'd thought possible, and far, far too much.
BUNNY MASK creators Paul Tobin, Andrea Mutti and Taylor Esposito return along with artist Roberta Ingranata to further the compelling legend of the strange force of nature fans love to fear.
Exclusive Original Material
Rating: Teen (or Teen+)
In Shops: Apr 13, 2022
SRP: PI
PREVIEWS Page #29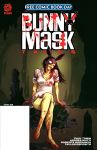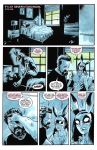 Click to View