FCBD22 Interview: Time Travel Gets a Shake Up in Scout Comics' The Electric Black
Feb 04, 2022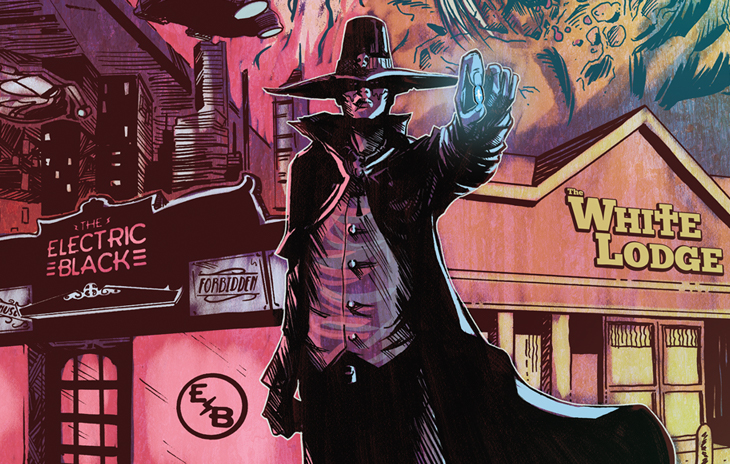 Julius Black and other extraordinary individuals, identifying as the Children of Caine, traverse time and space inside an eerie magic emporium. Their mission? To collect mystical objects and provide a safe harbor for the last of their kind. But a new adversary threatens the intergiry of their mission and their entire existence.
We caught up with series creators Joseph Schmalke and Rich Woodall to learn more about what inspired their extraordinary (if, a little supernatural) characters, what to expect in the pages of the Electric Black, AND to rifle through some really fun rapid fire questions!
Check out the full interview below and be sure to head to your local comic shop on Saturday, May 7 to celebrate FCBD in all it's glory! To find a participating comic shop near you, use our FCBD Store Locator.
---
Free Comic Book Day (FCBD): Set up your title for those that might be new to your comic book: What will new readers need to know before diving into your Free Comic Book Day issue?
Joseph Schmalke: The Electric Black Children of Caine #0 is a horror comic about a curiosity shop run by a shadowy proprietor and extraordinary staff. The shop itself travels through time and space collecting and distributing cursed and magical artifacts. It's a great jumping on point for new readers and If people want to catch up the story it takes place directly after the events of Electric Black Dark Caravan #1.
FCBD: What are some of the core themes present in your book? What do you hope readers take away from your title?
Joe: That the world isn't clear cut and themes of good and evil are challenged regularly in this title.
FCBD: What part of the book was most fun to write/draw?
Joe: I like that with the Electric Black you can be in ancient Babylonia one minute or a futuristic landscape the next. Every issue can be something and somewhere totally different.
FCBD: Can you share some of the inspiration behind certain characters, settings, etc.?
Joe: The Electric Black itself was inspired by themes from Tales from the Crypt and Vault of Horror with Julius initially acting as a sort of Crypt Keeper. Over time that quickly changed as we grew to love the characters we were creating and instead of making a true anthology we have created a horror story with anthology elements. Julius was initially part of another project called Cherry Blackbird. He looked and acted completely different. As we collaborated, we each brought some of the best and worst parts of Julius to the story. Jack was inspired by Brother Theodore (famous comic from the Burbs) and a general love or history and wanting to involve Jack the Ripper in our cast.
FCBD: If you could meet your characters, what would you say to them?
Joe: Please don't kill me.
FCBD: Looking to the future, is there anything you can tease about what's coming up for the title and its characters?
Joe: Nothing is as it seems. You will be surprised by the end of the story arc for Children of Caine.
FCBD: Let's pivot a little bit here to talk about your personal experience with comics. Many newcomers will pick up comics for the first time on FCBD – what was the first comic you remember reading?
Joe: Amazing spider man #252 I was really attracted to the new look of spider man.
Rich Woodall: Classic X-men #17 the image of wolverine on the cover drew me in.
FCBD: What is your favorite part about working in the comic book industry?
Joe: Creative freedom. World can be as big as you want, and you are only limited by your own skill and imagination.
FCBD: Tell us why everyone should read comic books!
Joe: There is a comic out there for everyone. Whatever you are into. Also, stimulate your brain people!
FCBD: Now, we have a series of rapid-fire questions for you! They're, ya know, mostly related to comics... Answer as quickly as you can and try not to over think it!
Do you listen to music while you're creating?
Joe: Yes!
Rich: Yes!
What's your favorite comic book genre?
Joe: Horror
Rich: Superheroes
Are you more productive in the morning or at night?
Joe: Morning! I'm garbage in the late afternoon.
Rich: Both
Do you think you could survive in a zombie apocalypse?
Joe: No
Rich: Not for long
Would you rather be invisible or have the ability to fly?
Joe: Fly
Rich: Invisible
If you were a comic book character, would you rather be the hero or the villain?
Joe: Villain
Rich: Hero
What's your favorite comic book or graphic novel?
Joe: Sandman
Rich: Fantastic Four
SCOUT COMICS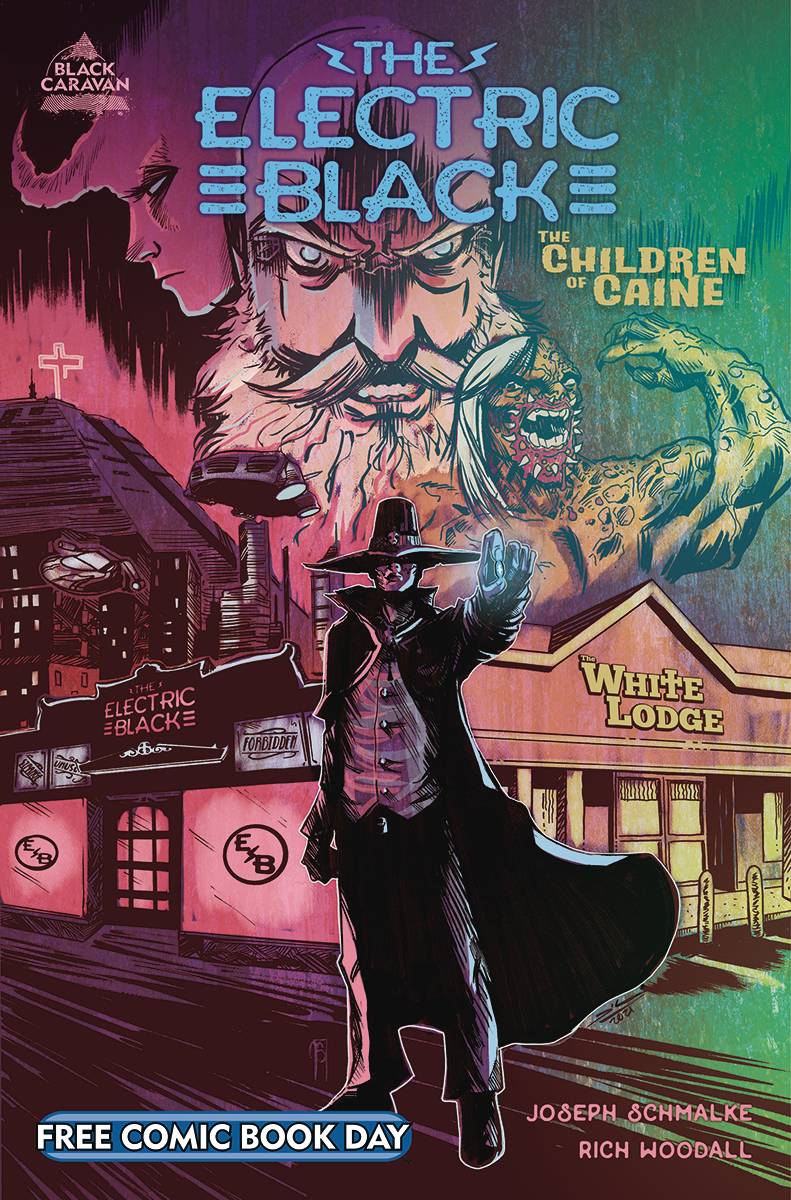 (W) Joseph Schmalke (A) Joseph Schmalke, Rich Woodall
Julius Black and other extraordinary individuals identifying themselves as the Children of Caine traverse time and space inside an eerie emporium. Hunted for centuries to near-extinction, their mission is to collect mystical objects and provide a safe harbor for the last of their kind. The store's original owner, Erebus, has returned with a relic that could change the fortunes of these outcasts. Father Tomaso, the leader of White Lodge, sets a plan in motion to overthrow these Children of Caine and wipe magic from existence. The lines between good and evil, light and dark, are blurred in the continuing story of The Electric Black.
Exclusive Original Material
Rating: Teen (or Teen+)


In Shops: Apr 13, 2022
SRP: PI
PREVIEWS Page #33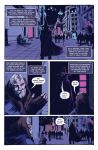 Click to View