Get Graphic: 'Until My Knuckles Bleed' Brings Back The '90s Superhero
Jan 03, 2022
Art by Victor Santos
Interview by Troy-Jeffrey Allen
The 1990s era of superhero comics is a great point of contention in the nerd community. Depending on what side of the argument you fall on, you either feel like it is responsible for the downfall of an industry or it comprises some of your most cherished young adult memories.
Artist Victor Santos (Polar, Filthy Rich) definitely thinks of that period fondly. So much so that his new series Until My Knuckles Bleed asks, "Whatever happened to the prototypical 1990s superhero?"
In the following interview, Victor takes us inside his creative process, talks about his favorite characters from that divisive era, and tells us all about his new series.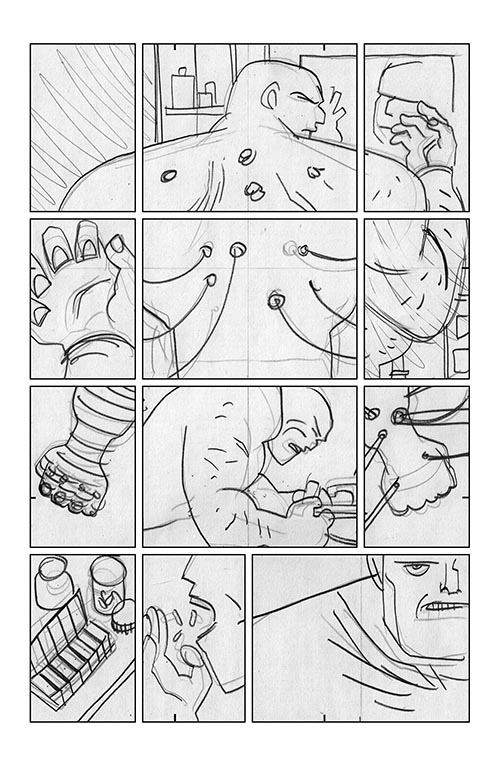 Tell us the story of UNTIL MY KNUCKLES BLEED. What's it about?
The story is about Gabin Hart, a formerly '90s superhero called Damager. He is older now and has a lot of medical issues due to his past life as a hero. He works as a bouncer in a strip club managed by the Russian mob and basically feels miserable. He is questioning if his life choices when he [gets involved with] his former comrades, human trafficking, plasma weapon smuggling, and more. It's a story that mixes noir and superhero genres, in the line of modern classics like Powers or Gotham Central.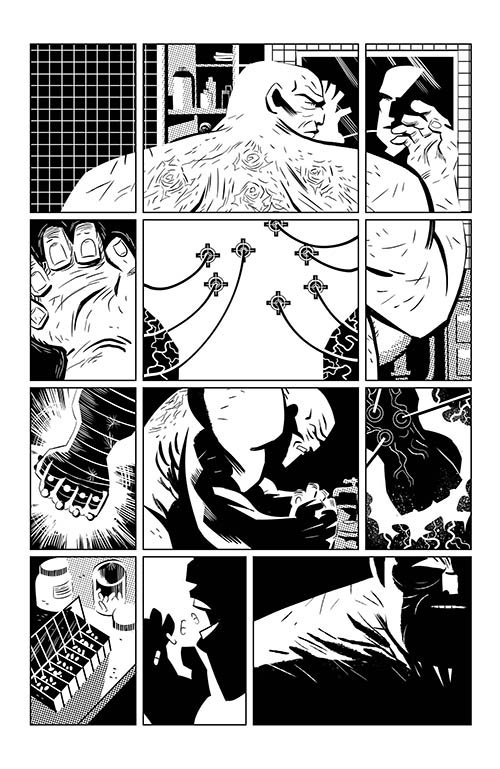 TJA: How did you get the idea behind UNTIL MY KNUCKLES BLEED?
Victor Santos: I have a special predilection for characters "out of their time." My main character from the Polar graphic novels, Black Kaiser, is a spy from the days of the Cold war [but] in a modern context. And thinking about my own superhero readings, I remember that my real contact with the genre was with the Image and Dark Horse comics from the '90s. I was a manga reader then, and when I tried to read Marvel or DC books, they were too obscure, too many references to a past I didn't know. So comics like Spawn, Ghost, Savage Dragon, X, or Wildcats were easier to understand and enjoy. So I began to think about this "grim and gritty" era and how these characters could age, what problems they will have -- like those elite athletes who have a lot of medical problems after retiring. That's the origin of the story.
TJA: How did you get into comic books as a fan?
Victor Santos: My youngest uncle was a comic collector, and I used to enter his room when I was a child visiting my grandma. He was reading all kinds of books, from European albums to comic books. Thanks to him I discovered artists like Jack Kirby, Hergé, Moebius, and John Buscema.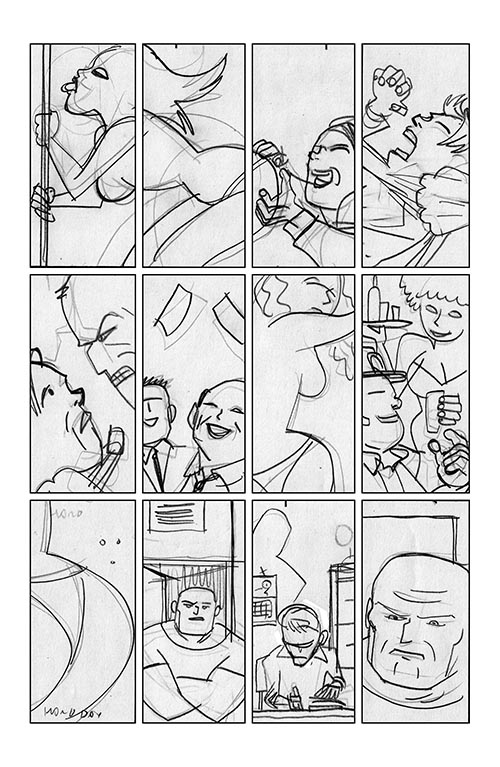 TJA: How did you get into comic books as a professional?
Victor Santos: I began as an independent author in Spain. First self-publishing my books and later working for European publishers until I had the chance to work with Brian Azzarello on the graphic novel Filthy Rich. I have been working in the US market and combining it with publications in Spain, France, Italy, Germany, and recently Japan and China, since then.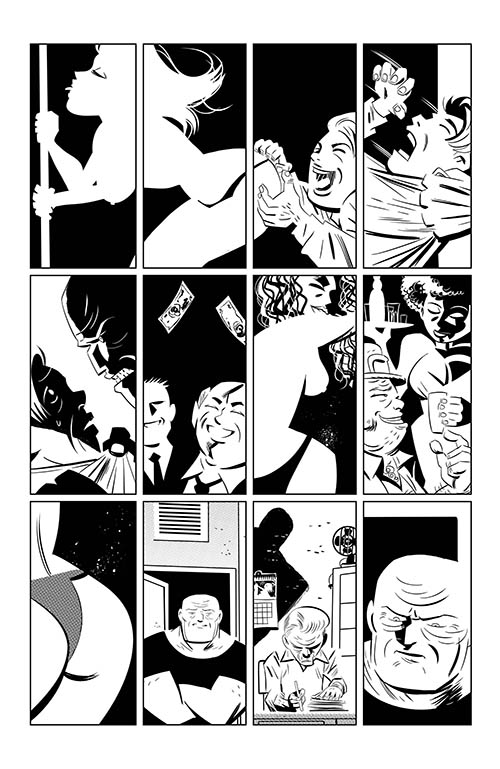 TJA: What tools do you use to create?
Victor Santos: I recently made my transition to digital, so right now my main tool is the Cintiq and the programs Clip Studio and Photoshop. But I continue sketching the pages using traditional pencil and paper. But later I scan the sheets and make adjusts.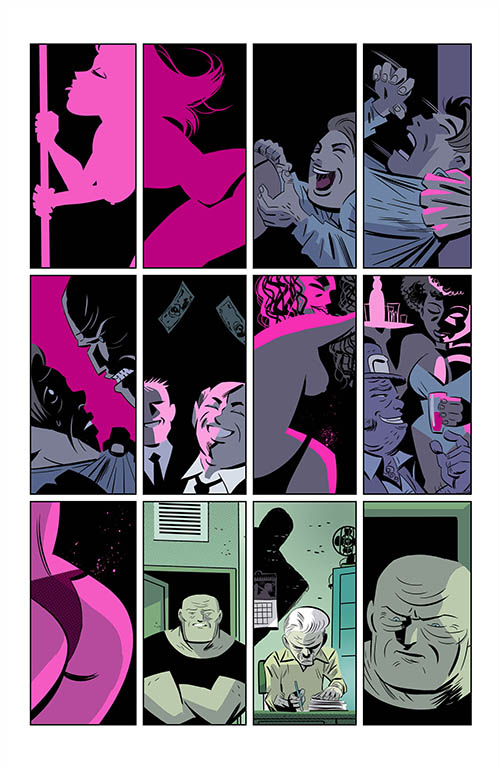 TJA: What's next for you?
Victor Santos: I have some different projects waiting for publication. I have a secret project with my friend Michael Oeming, a graphic novel I finished recently, and I am working on another graphic novel for a European publisher. And I made a digital series titled Paranoia Killer for the platform panelsyndicate.com. You can find it easily.
I have also been working on the development of projects for TV and cinema. One of them, Ezequiel Himes, adapts my own book published in the USA by Amigo Comics.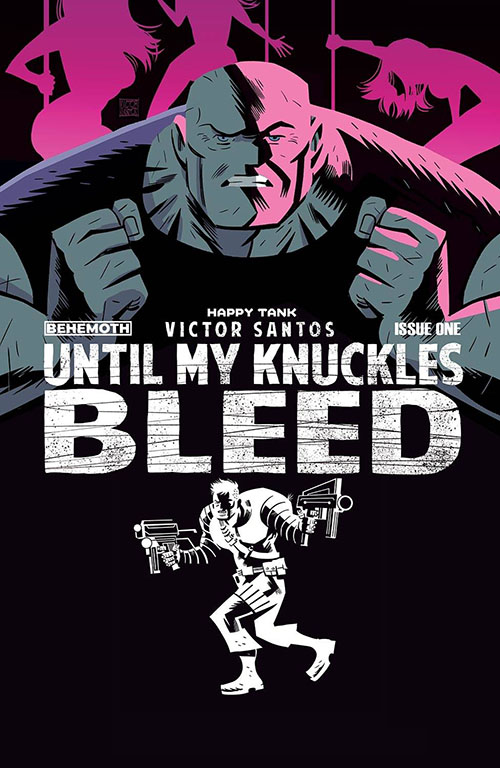 If you want to discover more of Victor's work, be sure to follow him through on social media.
UNTIL MY KNUCKLES BLEED (NOV211197) hits comic shops on January 26, 2022. It will be released monthly from Behemoth Comics/Happy Tank.
Keep an eye on PREVIEWSworld.com's Twitter, Facebook, or Instagram for more artist spotlights!
***
Troy-Jeffrey Allen is the producer and co-host of PREVIEWSworld Weekly. He is also the Consumer Marketing Manager for Geppi Family Enterprises. Troy's comics work includes MF DOOM: All Caps, Public Enemy's Apocalpyse '91, the Glyph Award-nominated Fight of the Century, the Harvey Award-nominated District Comics, and the Ringo Award-nominated Magic Bullet.