#FindYourStory on Free Comic Book Day!
Jun 16, 2021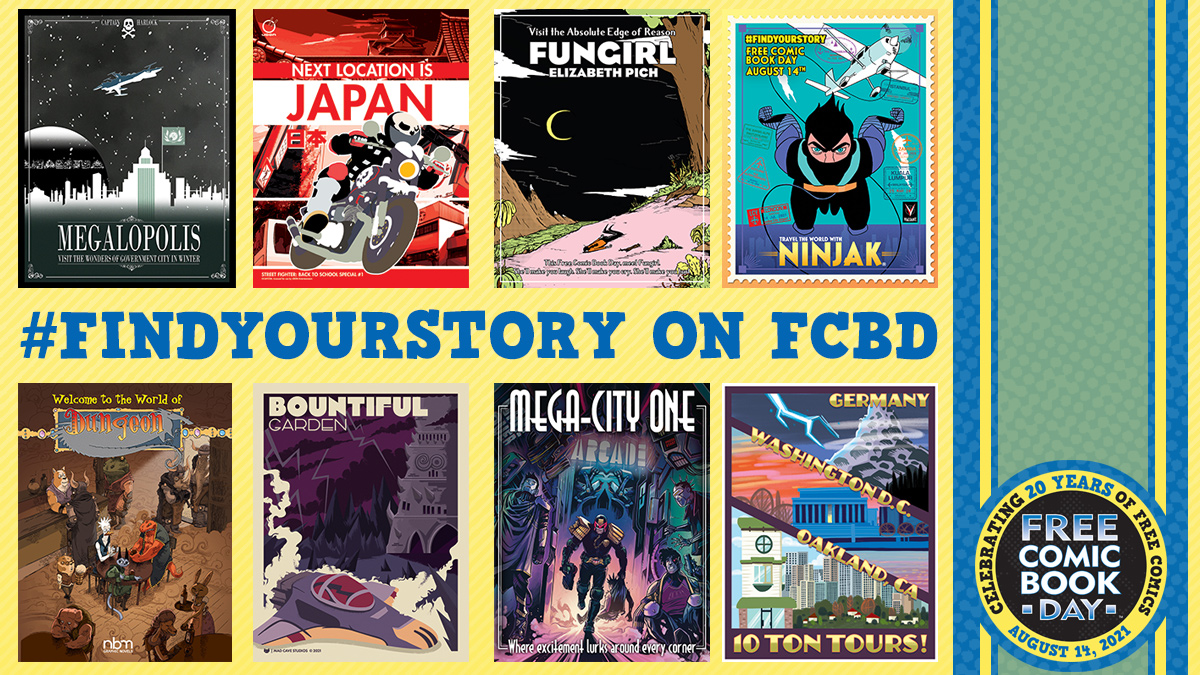 If you could travel absolutely anywhere, where would you go? Maybe a big city or a small town. The depths of the ocean or the reaches of unexplored space. Maybe you'd want to experience a high-tech sci-fi future or the magic of a fantastical medieval past. Whatever it is, crack open the pages of a comic book and you can go there!
Comic books allow you travel to places you could only imagine in your wildest dreams! In the pages of a comic book, unparalleled adventure awaits you and each world comes with its own set of challenges and experiences. You'll be tasked with fighting for justice, discovering the unknown, navigating drama, working as part of a team, and so much more. You'll experience triumph and loss, truth and deceit, love and hate. But all these challenges are what make these worlds unique and exciting and, above all, worth exploring!
In celebration of our 20th anniversary, we want to encourage you to explore new worlds, revisit your favorites, and discover new destinations in the pages of a comic book! Free Comic Book Day is a great way to discover those new destinations, so we're highlighting the exciting locations featured in some of the titles available on FCBD.
In fact, we've partnered with a few of this year's FCBD publishers to bring those locations to a series of art-deco style posters exclusively designed for FCBD's 20th anniversary.
Be sure to check back here and on our Facebook, Twitter, and Instagram, as we'll be spotlighting each location and poster in the weeks leading up to FCBD. We also want to hear from you! Find us on social and tell us your all-time favorite and newly discovered comic book destinations using the hashtag, #FindYourStory.
You can check out the series of posters below and click on them to see them at full size!
There's a comic book out there for everyone and we want to help you explore and #FindYourStory.
10 Tons of Fun!
10 Ton Press
All Star Judge Dredd #1
Rebellion
Valiant Uprising
Valiant Entertainment
Street Fighter: Back to School Special #1
UDON Entertainment
Space Pirate: Captain Harlock
ABLAZE
Bountiful Garden #1
Mad Cave Studios
FunGirl: Tales of a Grown Up Nothing
Silver Sprocket
Dungeon is Back!
NBM Publishing
InvestiGators: Ants in our P.A.N.T.S.
FirstSecond Books