Skottie Young Announced as Commemorative Artist for FCBD's 20th Anniversary
Mar 18, 2021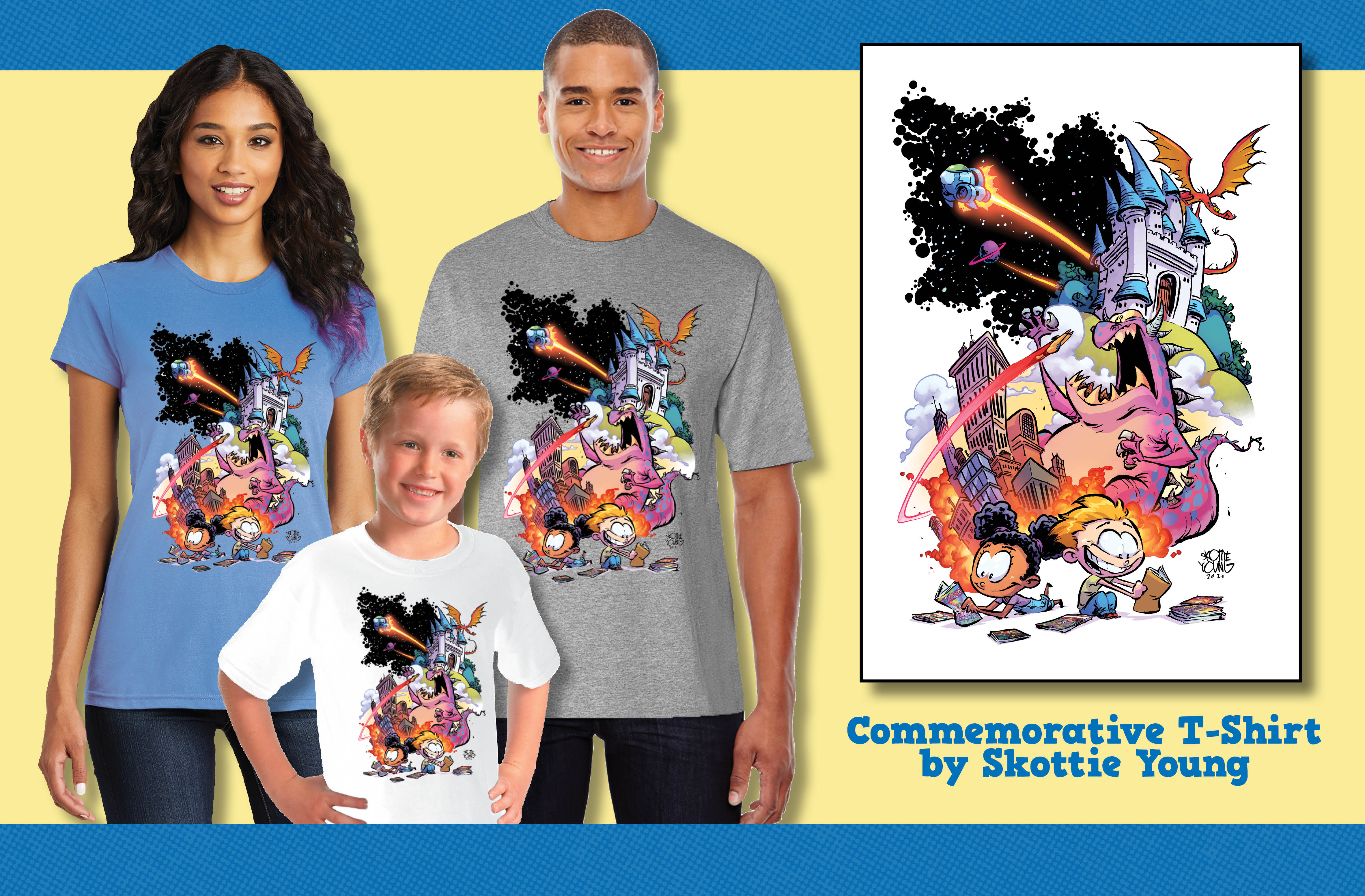 Free Comic Book Day is excited to reveal the commemorative artwork for our landmark 20th anniversary. Beloved artist and writer, Skottie Young, created a one-of-a-kind design emphasizing the power of imagination and the endless possibilities of comic storytelling. The design will serve as the commemorative t-shirt and poster for FCBD 2021.
Skottie Young illustrations are instantly recognizable. There's a cartoonish exaggerated quality to his style that appeals to both the heart and the mind. For kids, it's like seeing a Saturday morning cartoon on the page—full of energy and life, with humor bursting at the seams. To adults, there's a depth of feeling, both passion and pathos. It's little wonder, then, that Young has become one of the most acclaimed and sought-after artists of the last fifteen years. Winner of an Inkwell Award, Young is admired by both peers and fans alike. Whether illustrating Eric Shanower's Oz adaptations for Marvel Comics, working on projects for Marvel such as Rocket Raccoon, illustrating unique, kid-friendly variant covers for Marvel's biggest projects, unleashing his own twisted sense of humor in I Hate Fairyland from Image Comics, and writing stories such as Marvel's Strange Academy and Image's Bully Wars, a Skottie Young comic is always fun to read and beautiful to behold.
"Free Comic Book Day is a celebration of imagination and storytelling," said Commemorative Artist, Skottie Young. "It's a day of discovery for new and old readers and on the 20th anniversary, it is more important than it has ever been!"
Comic books can take readers anywhere, from the big city to the small town, from the depths of the ocean to the depths of space, from the fantastical past to the unimaginable future. Comics do this by engaging the reader's imagination through their unique combination of engaging prose and evocative illustrations. Free Comic Book celebrates the rich legacy of comic books this year and its own 20th anniversary with a special Commemorative Artist T-Shirt featuring art from the incomparable Skottie Young.
The FCBD 2021 Commemorative T-shirt will be available in men's sizes small through XXXL (MSRP: $14.99-$17.99) in heather gray and blue, in women's sizes small through XXL (MSRP: $14.99-$17.99) in heather gray and blue, and in youth sizes small through large (MSRP: $11.99) in blue and white. The shirt, along with a complete listing of all the FCBD 2021 comic book titles and exclusive collectibles, can be found in the April issue of the PREVIEWS catalog, available in comic shops on March 24, 2021.
For more FCBD news and updates, visit freecomicbookday.com and become a fan on Facebook and follow us on Twitter and Instagram!