FCBD20 Interview: InvestiGatoring One of the Best Kids Comics Available on Free Comic Book Day!
Feb 26, 2020
Sorry, couldn't resist using the animal pun in our headline!
Meet Mango and Brash! Two alligator detectives tasked with investigating the oddest cases known to man (and alligator) kind! In their Free Comic Book Day story, Mango and Brash are out to thwart their archnemesis, the evil Crackerdile, but as sewer lines back up and the codes to the Combinotron – a machine capable of combining any two objects – fall into the wrong hands, it's up to them to stop the Crackerdile and save the day before the whole city is under water (and possibly combined with something else)!
First Second Books celebrates Free Comic Book Day 2020 with a beautifully crafted kids comic that highlights the importance of teamwork, perseverance, and learning to deal with mistakes. Check out our interview below with series creator John Patrick Green to learn more about what to expect in the pages of First Second's InvestiGators: Take the Plunge Sneak Peek!
---
Free Comic Book Day (FCBD): Set up your title for those that might be new to your comic book: What will new readers need to know before diving into your Free Comic Book Day issue? Who are the characters and what's the storyline?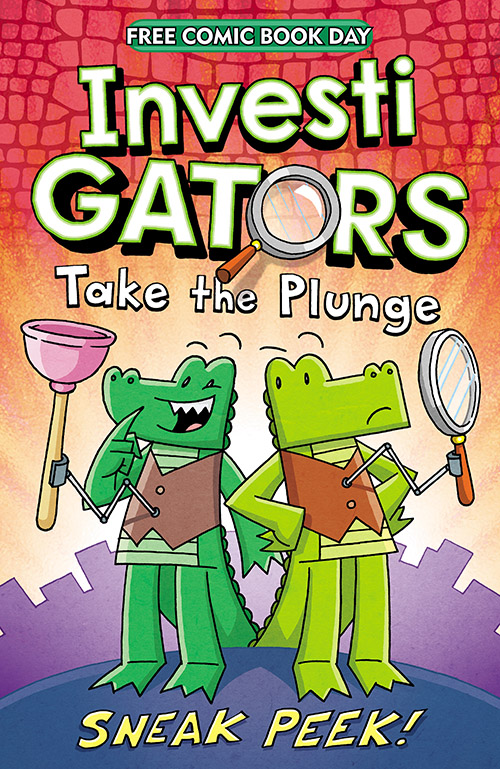 InvestiGators is about two alligators, Mango and Brash, who wear vests and solve crimes. But these aren't ordinary vests, they're V.E.S.T.s: Very Exciting Spy Technology! These fancy articles of clothing contain all sorts of gadgets customized for different assignments. You see, Mango and Brash are agents of S.U.I.T. (Special Undercover Investigation Teams), a secret organization that handles cases that are too tough or weird for local law enforcement. And nothing is weirder than their archenemy: a former S.U.I.T. agent who fell into a vat of radioactive saltine dough, and now he's half-cracker, half-crocodile. He's CRACKERDILE! And now he wants revenge!
FCBD: What are some of the themes of your book and what do you hope readers get out of it?
Teamwork and friendship are the major themes, but also learning to deal with mistakes, and never giving up!
FCBD: What did you enjoy most about writing/drawing this comic? Can you share some of the inspiration behind certain characters/settings/etc.?
The most enjoyable part for me is the interaction between the main characters. Mango is a bit of a goofball, and Brash is very hard-nosed, so they have something of an odd couple relationship. This comes through with how they each have different approaches and responses to whatever situation they find themselves in, and provides plenty of opportunities for funny dialog and visuals. As for inspiration, there's a little taken from everything: James Bond, Inspector Gadget, Star Trek, the foods I eat, G.I. Joe, LEGOs, Mission Impossible… the list goes on and on. There are many subtle homages to things that are really just there for me. It's not required for the story that anyone will recognize a reference, but if they do, hopefully they get a kick out of it.
FCBD: What was one of the most surprising things you learned while working on this book?
The most surprising thing about making InvestiGators is actually just how much fun it's been! I first started drawing my own comics when I was about 11 years old, and while I've pretty much been working on comics nonstop since then, making this series comes closest to feeling exactly what creating comics as a kid felt like. I just hope all the joy I've had making it comes through for the people reading it.
FCBD: What other comic books would you compare to this title? "If a comic reader likes _______ , they should pick up my title?"
The most obvious answer is Dav Pilkey's DOG MAN books. If you like wacky stories about animals with human jobs, then this is for you. I'd also add Judd Winick's HILO series, which has similar humor and adventure sensibilities; Aaron Blabey's series THE BAD GUYS (not a comic book, but it's about a variety of scary and dangerous animals who WANT to be good guys); and going way back, fans of SPIDER-HAM (in particular, the pun-based superhero names.)
FCBD: Looking to the future, is there anything you can tease about what's coming up for the title and its characters?
Well, holding true to comic book tradition (and quite a few Bond villains), I will say that no one's ever really gone. But on a more exciting level, thing's will only get bigger and wilder for Mango and Brash and the rest of the cast of InvestiGators from here on out. Bigger villains! Wilder crimes! Punnier puns!
FCBD: What got you into reading comics?
From a very young age I really enjoyed drawing. And when I was young I didn't have the best health. I missed LOTS of school, and didn't have much to do at home all day. One thing I did enjoy was reading newspaper comic strips, most of all Garfield. My mom figured reading comics is still reading, so she bought me collections of Garfield books each time they came out. Since I liked drawing so much, naturally I started making my own comic strips. Not long after, my brother, who's a couple years older, found comic BOOKS for sale at a local convenience store, and when he brought those home I was instantly hooked. We soon found an actual comic shop in the next town over and the rest is history.
FCBD: Many newcomers will pick up comics for the first time on FCBD—what was the first comic you remember reading?
I forget what the first comic book I read was, as it was probably one of my brothers. Most likely an issue of G.I.Joe (the original Marvel run). My dad apparently had a pretty impressive collection, but his mom threw out all his comics when he went to college, so we didn't get any hand-me-downs and basically discovered comic books on our own. I do recall that early on we'd get a mix of Marvel and D.C., but I quickly became an almost exclusively Marvel reader, outside of miniseries like The Dark Knight Returns and Watchmen. But we also read a lot of indie books like Love and Rockets and Teenage Mutant Ninja Turtles.
FCBD: What are some of the titles you're reading today?
Mostly other kids comics and YA graphic novels! The Breakaways, by Cathy G. Johnson. Chronin, by Alison Wilgus. I've been cooped up drawing comics for so long it's been quite awhile since I've had a chance to follow a monthly book. Usually by the time I get around to them is when they've been collected in trade paperbacks. I've enjoyed The Unbeatable Squirrel Girl, but need to catch up. I'm also looking forward to reading the rest of Cecil Castellucci's and Jim Rugg's THE PLAIN JANES, which has finally been completed and collected into a single volume. Oh, and on the non-fiction side, anything by Box Brown.
FCBD: What is your favorite part about working in the comics industry?
Honestly, it's got to be that I rarely have to leave the house or even put on pants.
FCBD: Tell us why everyone should read comic books!
So many reasons! Why shouldn't everyone read comics? It's almost easier to come up with reasons not to. Like, maybe you're a fish? Comics are hard to read underwater. The paper gets all soggy, the inks will run. And you can't read digital comics underwater, your device will short out. Though I guess there might be some way to waterproof a phone so a fish could read a comic. Wait, what am I saying? Fish don't have phones! And they can't read!
FCBD: What is your favorite part about Free Comic Book Day?
I love that Free Comic Book Day gives anyone who's curious about comics a chance to sample a bit of what's out there. It's a great way to attract new readers, who might otherwise be committed to other hobbies or just not have comics on their radar. It's also like a day of celebration, where everyone is just excited about how wonderful comics are. And like the best holidays you get presents in the form of free comics! It's like Halloween, but instead of candy you get comics. And likely some people in costume, too.
FCBD: Where do you plan on spending Free Comic book Day?
Hopefully at a comic shop or two! Though, if I'm being responsible, I should stay at home and work on the next InvestiGators. I mean, there's nothing I love more than making comics, but even the fear of missing a deadline isn't enough to keep me away. I just have to remember to put on pants this time.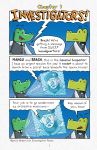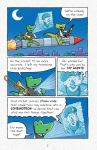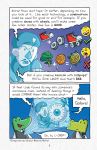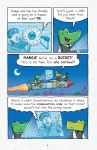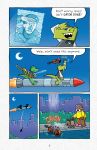 Click to View