FCBD19 Interview: Scholastic Creator Discusses the Finer Points of Pizza, Comic Books, and Teamwork
Mar 07, 2019
Working on a project with your siblings is an interesting task… it either goes extremely well because you're on the same wavelength, or it's an outrageous disaster complete with bickering!
In Scholastic's Wolfie Monster and the Big Bad Pizza Battle, when monster brothers Wolfie, Jackson, and Roy team up to save their pizzeria, it falls into the "outrageous disaster" category. Bu they'll have to get it together and quick, if they want to save their pizza parlor and the WHOLE town from the total domination of evil Lord Mudpant and his addictive products! Buuuuut if they can actually stop bickering long enough to be productive and save the town remains to be seen.
Wolfie Monster and the Big Bad Pizza Battle is a funny and compelling all-ages tale that will immediately pull readers into Wolfie's colorful hometown of Oak Hollow and thrust them into the delightful dysfunction of Wolfie and his two brothers. We spoke with creator Joey Ellis who explored what that dysfunction could mean for Wolfie and his bros, as well as why everyone, ESPECIALLY kids, should read comic books! Make sure you check out some of the preview pages of the book at the end of the interview and head to your local comic shop on Saturday, May 4 to get your copy of Wolfie Monster!
---
Free Comic Book Day (FCBD): Set up your title for those that might be new to your comic book: What will new readers need to know before diving into your Free Comic Book Day issue? Who are the characters and what's the storyline?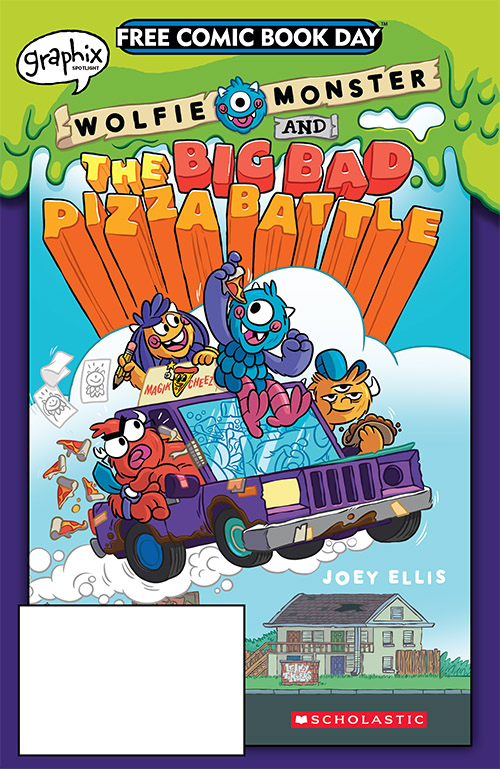 Monster brothers Wolfie, Jackson, and Roy are in for some serious competition when the gigantic corporation, Happy Leaf, moves into their hometown of Oak Hollow and wants to buy their pizza parlor. But not all is on the up-and-up when they discover the villainous CEO, Lord Mudpant, wants to turn the townspeople into zombies. Can the boys set aside their squabbles long enough to thwart Mudpant's nefarious plans?!
FCBD: What did you enjoy most about writing/drawing this comic?
I had a tremendous amount of freedom with both the writing and the drawing, so all of it felt like a stream-of-conscience (even though it took about 2-3 years to plan and write the book) experiment. My style of humor is very contemporaneous/spur of the moment/reactive so keeping that spirit throughout was a lot of fun. The end result is a very funny, fast-paced, easy read that I'm very happy with.
FCBD: Why should people pick up this Free Comic Book Day title?
Because it's free. Duh. I think Wolfie Monster is a great character to introduce new readers to the graphic novel format. I also think that it's a very easy book to get into from the first page. You literally are thrown right into the mix with Wolfie's daily life and the adventure starts from there. This book is about as unpretentious as you can get.
FCBD: What other comic books would you compare to this title? "If a comic reader likes _______ , they should pick up my title?"
Captain Underpants or Dogman are good titles to compare it to. I also think if you enjoy watching shows like SpongeBob or Amazing World of Gumball, this book will be right up your alley.
FCBD: Looking to the future, is there anything you can tease about what's upcoming for the title and its characters?
Wolfie Monster and the Big Bad Pizza Battle will be released as a full, 144-page graphic novel on June 25, 2019. If you enjoy the Free Comic Book Day preview, then you are legally obligated to buy 10 copies of the book.
They're bright, fun and colorful. As a kid, comics were WAY more appealing than picture books or chapter books. It felt like I was in the middle of a big movie, but I got to choose the voices and pacing.
FCBD: Many newcomers will pick up comics for the first time on FCBD—what was the first comic you remember reading?
I have always read comics, but I remember being particularly excited about Transformers comics from the 80s, as well as my "mail away" Real Ghostbusters comics (that I earned by buying the cereal). I also loved Harvey comics, especially Hot Stuff and Baby Huey.
FCBD: What are some of the titles you're reading today?
I love Spider-Man so I'm always up-to-date with Amazing Spider-Man. I've also been reading the new Miles Morales Spider-Man title which is great. I've also enjoyed Bully Wars and Outer Darkness... all great titles! I'm also a big Dick Tracy fan... they're super cheesy but I love them. As far as graphic novels go, I just read Sheets and Relish... both fantastic.
FCBD: What is your favorite part about working in the comics industry?
I am more of an illustrator / designer than a "comic book artist" so Wolfie Monster is really my first title. When it comes to the comic book industry, I'm certainly on the outside, looking in!
FCBD: Tell us why everyone should read comic books!
Comics are a great way to introduce kids to reading, who otherwise may struggle with being interested in other picture books or chapter books. I also think comics are able to take you to amazing worlds and settings that can only be realized through the medium. Plus, most issues are the price of a cup of coffee and can be shared with friends for years and years. I love comics!
FCBD: What is your favorite part about Free Comic Book Day?
The free comics, right?
FCBD: Where do you plan on spending Free Comic book Day?
Heroes Aren't Hard to Find in Charlotte, NC!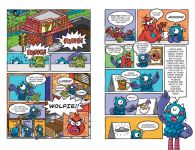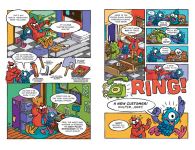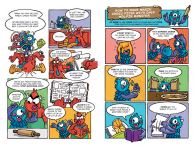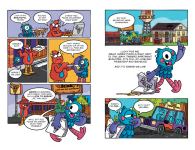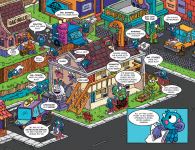 Click to View