FCBD19 Interview: Valiant Team Explains Why FCBD is the Best Time to Join the Valiant Universe
Feb 18, 2019
Free Comic Book Day is the perfect opportunity to discover new titles and jump in to stories you otherwise may not have found. For that reason, many publishers choose to tailor their stories to a broader audience, so new readers can jump right in and understand the story without feeling lost.
The team at Valiant Entertainment has taken full advantage of this opportunity and created two larger-than-life stories that serve as perfect jumping-on points for new and old readers. In their Bloodshot story, creators Tim Seeley and Tomás Giorello fashion an over-the-top action story focused on the iconic one-man army: Bloodshot. In Fallen World, Dan Abnett and Juan José Ryp build a sci-fi world set in the 41st century, where Earth is under the protection of the formidable cyborg, Rai.
Check out our interview below with the Valiant team to find out more about what makes these stories so compelling, and why you should pick them up on Free Comic Book Day! The writers and artists behind these stories also gave us a look into some of their favorite things about working in comics and working on these two stories in particular. Make sure you check out our PREVIEW Prevue of FCBD Bloodshot Special!
---
Free Comic Book Day (FCBD): What is the focus for this FCBD Bloodshot title? Does it serve as an introduction to the character and his history, or are we thrust into an all-new storyline?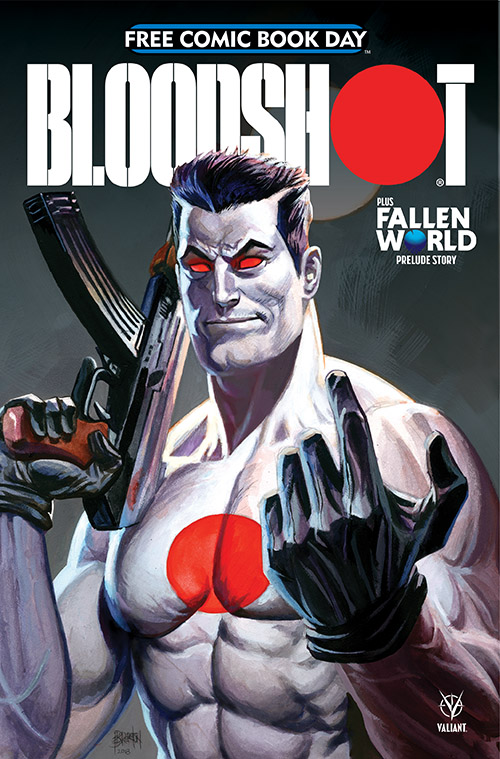 Robert Meyers (Valiant Senior Editorial Director): The Valiant Free Comic Book Day Bloodshot story features an all-new jumping-on point for readers both new and old. The story is self-contained and will point readers to [REDACTED].
FCBD: Will there be any additional information in the book about the upcoming 2020 Bloodshot movie, which is intended to be the first film in the Valiant Cinematic Universe?
Fred Pierce (Valiant Publisher): The Bloodshot movie is in great hands with Sony Pictures and Vin Diesel starring. As to what will be in our FCBD book, we need to coordinate with everyone and are not allowed to say just yet!
FCBD: What can you tell us about the character of Rai, from Fallen World? Can you let on anything about why he is protecting Earth?
Meyers: Rai is a cyborg entity from the far future, instilled with a code of honor and principles that guide his actions. Formerly the protector of the nation-state of New Japan, Rai's new mission finds him pulling the disparate forces on Earth together to bring about a new era of innovation and adventure.
FCBD: Set up your title for those that might be new to your comic book: What will new readers need to know before diving into your Free Comic Book Day issue? Who are the characters and what's the storyline?
Meyers: The Valiant 2019 Free Comic Book Day issue is designed for readers old and new. Anyone who loves comics will be able to pick it up and enjoy both original stories, without any prior knowledge. Warning: You'll be hooked on Valiant after reading this issue.
FCBD: Why should people pick up this Free Comic Book Day title?
Meyers: The beautiful thing about FCBD is that you can try something new at no cost! It's a fun, easy way to get a big pile of comics. The Valiant Free Comic Book Day features TWO all-new stories from Tim Seeley, Dan Abnett, Tomás Giorello, and Juan José Ryp – amazing creators telling incredible stories.
FCBD: What other comic books would you compare to this title? "If a comic reader likes _______ , they should pick up my title?"
Meyers: First and foremost, the Valiant Free Comic Book Day book is for new readers. Bloodshot by Tim Seeley and Tomás Giorello features our iconic action hero in an all-new adventure. This one is for fans of "Die Hard," The Punisher, and Metal Gear Solid.
For those who love big, world-building science fiction, the Fallen World prelude story from Dan Abnett and Juan José Ryp is tailor-made for you. Big, epic sci-fi in the vein of Horizon Zero Dawn, "Aliens," and "Star Wars."
FCBD: Looking to the future, is there anything you can tease about what's upcoming for the title and its characters?
Meyers: I'm so excited for what comes after Breakthrough in 2019. A new [REDACTED] series, a new [REDACTED] series, the return of [REDACTED], and because fans demanded it, a brand-spanking new [REDACTED] series.
FCBD: What did you enjoy most about writing/drawing this comic?
Tim Seeley (Writer of Bloodshot): It's pure action which isn't typically the kind of story I usually do. And it's very much a comic book story – it's totally unashamed to be a big, crazy fight with colorful characters.
Tomás Giorello (Artist of Bloodshot): I enjoyed drawing Bloodshot a lot, and the vibe and atmosphere in this short action story in the middle of a blizzard was very fun to work with!
Dan Abnett (Writer of Fallen World): For me, it was taking my first steps into this "new world," finding the tone, and realizing what extraordinary potential there was in the Valiant 4002 A.D. Universe and its characters...and how much fun it was going to be exploring that potential over the issues to come. This one story, which was great to work on, fired me up so much!
Juan José Ryp (Artist of Fallen World): For me, the thing I enjoy the most about drawing comics is telling a story with my art. Moreover, in this case, we were creating a new story, a new series, new characters, new scenery – all-new content! It was a joy to start from scratch to "create a universe" and a great responsibility, but I totally had a lot of fun!
FCBD: What got you into reading comics?
Seeley: Spider-Man, basically! I was watching him in cartoons and on "The Electric Company" and I needed more of him.
Giorello: First of all, the art! Second, the art! And then I really started to read them. I was a kid and have never stopped since then.
Abnett: I grew up in the United Kingdom, so the comics I was first aware of were the UK weekly kids comics, which tended to be "war and adventure" comics or things like The Beano and The Dandy. But when I was about eight years old, my best friend at school showed me the comics he collected: the black-and-white British Marvel reprints (which ran, in weekly form, the classic '60s Marvel stories). That blew my mind. And he gave me a huge stack of them (which I still have), which was the stuff he didn't have space for. I read them over and over again and thus began a lifelong love of the medium. I guess that was my "free comic book day."
Ryp: I always liked to draw; my brother drew and I imitated him. We were both passionate about comics. As far as I can remember, my room was always full of comic books. I even learned how to read with comics, for sure!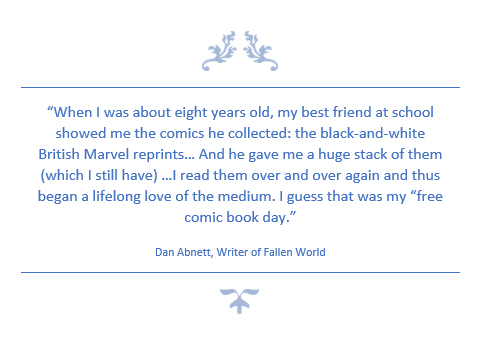 FCBD: Many newcomers will pick up comics for the first time on FCBD—what was the first comic you remember reading?
Seeley: Amazing Spider-Man #230: "To Fight the Unbeatable Foe!"
Giorello: I remember finding a Conan reprint in an Argentinian magazine in the early '80s – it was an adaptation of the movie done by Eduardo Barreto. It blew me away so I immediately tried to find more! I ended up drawing Conan comics for eight years and it felt great to come full circle after being on the other side of the fence as a fan!
Abnett: Well, it was those early Marvel books my friend gave me – Don Heck's Avengers, Kirby's FF, Ditko's Doctor Strange. But I do also remember reading and loving The Trigan Empire, a full-color, fully painted sci-fi comic strip that ran two pages a week in a UK kids' comic/magazine called Look and Learn. The artist was Don Lawrence, a true giant. His work is amazing.
Ryp: The first? It's impossible for me to remember. I do remember the first comic that really hit me hard, The Amazing Spider-Man story of the death of Gwen Stacy. I think I read it until I wore out the lettering on the pages!
FCBD: What are some of the titles you're reading today?
Seeley: I read Tom King's Batman, and a lot of Image and Vertigo titles. I've been enjoying almost the entire Valiant line, too!
Giorello: I must admit that between my kids and my work I don´t have much time left to read, so I try to follow those characters I'm drawing like X-O Manowar or Bloodshot. I wish I could read a lot more but there´s no time!
Abnett: Everything I can get my hands on. I'm particularly enjoying Warren Ellis's The Wildstorm, Si Spurrier's Coda, Bendis on Superman, Grant's Green Lantern, Scott's JLA. I often look for specific creators, but I also like to find new things, and I really enjoy "universes" with a very cohesive feel like DC, and Valiant's recent titles. And I always, always read 2000 AD – whether I'm in it or not!
Ryp: I don't have much time to read because I have a lot of pending tasks. But recently, I read Faith #11, Generation Zero #9 (both from Valiant, of course), Vagabond Volume 10 by Takehiko Inoue, and Made in Abyss Vol. 3 by Akihito Tsukushi.
FCBD: What is your favorite part about working in the comics industry?
Seeley: Conventions are pretty great. And I like the other creators a lot.
Giorello: I think that other than having the chance to draw like crazy, what I like is meeting other artists and learning from their different approaches to art. It's always a humbling experience!
Also, I like the freedom it gives me while I work. I really like being in my studio surrounded by art from artists I admire, listening to good music, and traveling with my mind getting into the story I'm drawing!
Abnett: I love writing – and I love writing novels – but it can be very solitary. With comics, there's a wonderful collaboration with the artist, colorist, letterer, and editor. And the mode of storytelling is so different. I kinda thought my comic output would decline as my novels became more successful, but I can't quit it. I love comics and the very particular thing they do (in so many varied ways), and I still get a huge kick out of making them even after all this time.
Ryp: Oh, my God! To tell stories! And to tell them in the way I know best: through my art. I love comics, I love everything that surrounds this world, but above all, it's a means of expression. I've been drawing comics almost all my life. I don't know what I'd be doing if I wasn't drawing comics.
FCBD: Tell us why everyone should read comic books!
Seeley: They're the purest form of human communication – words and pictures delivering pure imagination.
Giorello: I think everyone should read comic books because they open your mind, feed your imagination, give you the chance to explore other worlds and the human experience, live fantastic adventures, allow you to find a great character you can really relate to, and enable you to find a lot of people like you with the same vibe!
Abnett: Because they're great? I won't turn this into a lecture on comic storytelling, but comics – with their combination of images and words – can do things that no other medium – not books, not TV, not movies – can do. I honestly thing it takes a little while to properly get the "hang" of reading comics, despite the fact that everyone thinks they're so "simple." People truly underestimate how sophisticated and satisfying comics can be, and you need to read a little to find the things you really like and get immersed in the form. It's so worth it. And FCBD is a great way to start that process.
Ryp: Because it is the perfect medium! The ideal combination is good art and good writing, what else would you want? Seriously, I think comics are where the best stories are produced today. I guess I'm not very impartial, but frankly, it's what I think.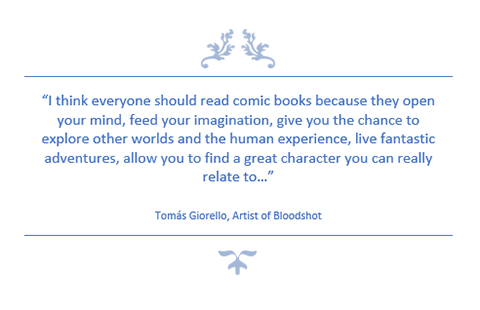 FCBD: What is your favorite part of Free Comic Book Day?
Seeley: The kids. I love how many kids come in.
Giorello: Getting the chance to catch up with the rest of the industry and seeing what else is going on and being blown away by GREAT talents!
Abnett: Uh…the free comics? Was it a trick question? Actually, it's the excitement and enthusiasm it generates. Seeing comics engage people and take hold.
Ryp: The free comics, of course! Hahaha! Seriously though, I don't usually go to bookstores – I live in a tiny town away from any kind of "civilization," and therefore far from any comic book store, but I understand there are great parties on Free Comic Book Day. That's cool! It's important that we fans have "our day."
FCBD: Where do you plan on spending Free Comic book Day?
Seeley: Not sure yet! Valiant will most likely send me somewhere.
Giorello: After a fast incursion into my local comic book store, I'll probably have to spend the rest of the day producing more comic book material!
Abnett: You'll find me at my local comic shop, joining in the fun.
Ryp: Well, I'll be working, as always. I envy the lucky ones who do get to go. For all of you, I'm sending out a huge hug!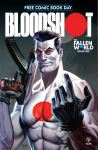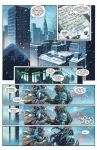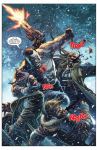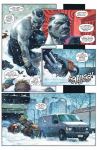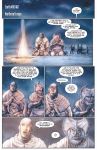 Click to View