Marvel Previews Savage Avengers in Free Comic Book Day Title
Feb 14, 2019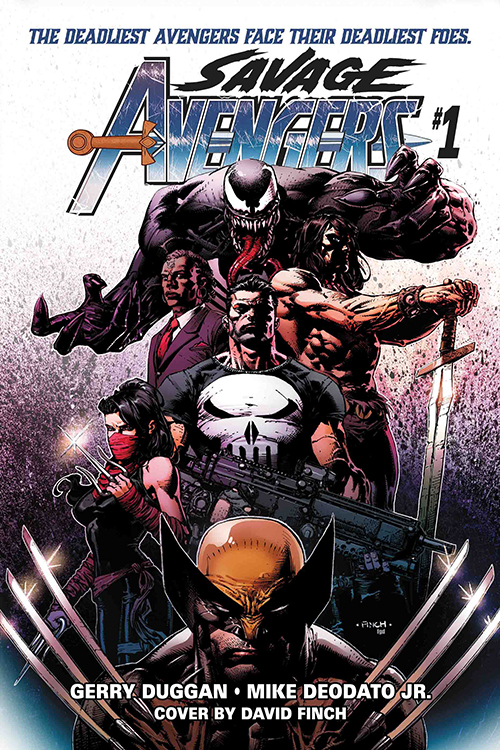 Conan the Barbarian will be playing a key role in the upcoming Savage Avengers series this May, and you can get the story that will launch the ongoing series on Free Comic Book Day!
Following his critically acclaimed and sold-out Savage Sword of Conan series, writer Gerry Duggan, along with his best-selling Infinity Wars artist Mike Deodato, will embark on a new and epic adventure this May in Marvel's all-new series Savage Avengers! Spinning out of the events of Avengers: No Road Home, Savage Avengers will find Conan fighting alongside an "unsanctioned team of heroes" in the Marvel Universe – including Wolverine, Venom, Punisher, Elektra, and Brother Voodoo!
"The Marvel heroes have not quite seen the likes of Conan before, but when you turn it around and look at Conan viewing this, he's very skeptical of a lot of it because he's so magic-averse," Gerry Duggan told Entertainment Weekly in an exclusive interview. "His interpretation of the Venom symbiote, when he first sees it, is that it must be an evil genie. There's real fun to be had there. At one point Conan believes that Logan hails from somewhere called Pabst, and that's a well-earned miscommunication. That's where a lot of fun comes from. Conan is a fish out of water, but everyone will come to respect the skills they're all bringing to the fight."
"Savage Avengers is just what it says on the label—it's all of the biggest badasses of the Marvel Universe brought together uneasily in one explosive series—and with Conan as a wild card," SVP and Executive Editor Tom Brevoort told Marvel.com. "It's big, it's brash, it's explosive, it never slows down—the only scenes in Savage Avengers that involve a table is when somebody is being thrown through one."
Make sure to head over to your local comic shop on Free Comic Book Day to pick up FCBD AVENGERS for an all-new 10-page Savage Avengers story launching the ongoing series!