FCBD19 Interview: Lion Forge Creator Discusses Unlikely Friendships and Accepting Yourself
Feb 14, 2019
When you think of ghosts, one of your first thoughts is probably their proclivity for haunting. Ghosts seem to get a bad rap, like they're always up to no good. So much so that we have to differentiate our friendly ghosts (like Casper, who also has a story available on Free Comic Book Day) from the regular "bad" ghosts. Well, we have another friendly one to add to the list, even though he does get up to some haunting…
Meet Wendell, an eleven-year-old coping with his own death in land where ghosts take the form of sheets. When he escapes that land, he meets seventh grader, Marjorie Glatt, and they form a friendship complete with adventures and life lessons.
Check out our interview below with Sheets creator Brenna Thummler to learn more about what to expect in the pages of her Free Comic Book Day title, A Sheets Story – a spinoff of the original Sheets graphic novel, further exploring the adventures of Wendell and Marjorie. Then, make sure to read through our PREVIEWS Prevue of the comic to get your fill of A Sheets Story preview pages!
---
Free Comic Book Day (FCBD): Set up A Sheets Story for those that might be new to your comic book: What will new readers need to know before diving into your Free Comic Book Day issue? Who are the characters and what's the storyline?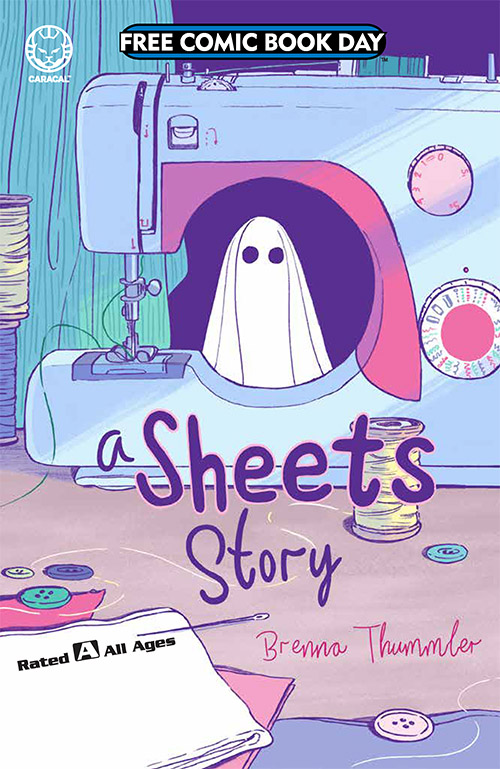 You may recognize some characters from my graphic novel Sheets. For those who haven't read it, Sheets tells the story of Marjorie Glatt, a seventh grader who has recently lost her mom and is now tasked with running the family laundromat. Meanwhile, eleven-year-old Wendell is coping with his own death in the Land of Ghosts, where ghosts take the form of sheets. When he escapes and finds himself in Marjorie's laundromat, he causes many problems at first, but eventually the two form a friendship. A Sheets Story is a spin-off adventure that occurs a few months after the original graphic novel took place. The Glatts, along with Wendell, visit their grandmother in the Ohio countryside for Mother's Day. Marjorie is struggling with the social pressures of middle school, while Wendell gets himself into a blunder.
FCBD: What did you enjoy most about writing and drawing this comic?
I loved continuing the journey with Marjorie and Wendell. It was a great way to further explore their friendship away from the laundromat. I also enjoyed capturing the nostalgia of holidays at Grandma's house, especially as my own grandparents lived in the countryside. Adding new characters to an already established world is exciting because the more you expand the world, the more real it becomes.
FCBD: Why should people pick up this Free Comic Book Day title?
If you're a fan of Sheets and want more of Marjorie and Wendell, you don't want to miss this comic! But you certainly don't need to read Sheets in order to enjoy A Sheets Story. It's a sweet, fun tale of family and friendship that features a ghost, apple pie, and country life. Readers young and old can enjoy the adventures of a smart, determined girl and a lively ghost. The age for comics is limitless.
FCBD: What other comic books would you compare to this title? "If a comic reader likes _____, they should pick up my title"?
This title is sure to please readers of middle-grade comics and graphic novels, both with elements of fantasy or with more relatable narratives. Lumberjanes is a great example, with its fantastical elements but also real, lovable characters and stories of friendship. If readers enjoy graphic novels from the minds of Raina Telgemeier (Smile, Ghosts), Vera Brosgol (Be Prepared), and Jen Wang (The Prince and the Dressmaker), they should pick up A Sheets Story! Similar to mine, these comics feature strong female leads, but appeal to all genders.
FCBD: Looking to the future, is there anything you can tease about what's upcoming for the title and its characters?
The adventures of Marjorie and Wendell are not yet finished! Delicates, the sequel to Sheets, is my next project and is expected to be released late 2020. You'll recognize many faces in book two, but will also be introduced to some new characters.
FCBD: What got you into reading comics?
To be honest, I never really read comics as a kid. I read my first graphic novel in 2015, just a couple months before I was asked to illustrate my first. I had stumbled into a thrift store and amidst hundreds of books, was drawn to the spine of This One Summer by Mariko and Jillian Tamaki. I discovered what I had been missing as I dove almost blindly into the creation side of comics. Since then, reading them has become much more prominent in my life.
FCBD: Many newcomers will pick up comics for the first time on FCBD—what was the first comic you remember reading?
When I was really young, I did enjoy the Sunday funnies, especially Calvin and Hobbes and Peanuts. My parents would get the Sunday paper, and each week I was eager to get my hands on that page of colorful illustrations.
FCBD: What are some of the titles you're reading today?
I just started reading On a Sunbeam by Tillie Walden. Some of my recent favorites are The Prince and the Dressmaker and Be Prepared. I also follow comic strips online, such as Wallace the Brave, Nancy, Calvin and Hobbes, Peanuts, and Sarah's Scribbles.
FCBD: What is your favorite part about working in the comics industry?
There's so much to love about working in this industry. First and foremost, I get to combine two things I love: drawing and storytelling. I get to create my own world of characters, sculpt their stories, throw obstacles at them and help them achieve their goals. And every day is a challenge. Working on graphic novels challenges me as an artist and I've grown so much since I began my career. But it also challenges me as a person, and I feel fortunate to be in a business that forces me to constantly look deeper into myself. And of course, there's the added bonus of working with an incredible team of people who are passionate about books and stories and care so deeply about what they do. There's a mutual understanding and kinship that is difficult to find.
FCBD: Tell us why everyone should read comic books!
There is no form of literature like comics. They speak in two different languages: verbal and visual. So much of our language day to day is visual, as we use our bodies and facial expressions to convey things that words never will. I believe that comics allow readers to better understand the human experience—to have more compassion and empathy and awareness of social cues. Comics also invite readers to dive deeper and watch the narrative come alive before their eyes. They are similar to movies in their visual storytelling, but you can indulge at your own pace and spend more time getting to know the characters.
FCBD: What is your favorite part about Free Comic Book Day?
Free Comic Book Day offers such a variety of graphic literature—there's something for everyone. It's also a great opportunity to read outside your comfort zone. With so many options available for free, it's easier to discover something you may have never purchased for yourself. Plus, it brings people into bookstores and comic shops, promoting both reading and local business. Any day that encourages society to engage in comics is a good day.
FCBD: Where do you plan on spending Free Comic Book Day?
I'll be stopping in my local bookstore, Tattered Corners! I was there for last year's Free Comic Book Day, and I'm looking forward to checking out their selection this spring.