Free Comic Book Day 2019 Gold Sponsor Comics Announced
Dec 17, 2018
The Free Comic Book Day (FCBD) Committee has selected the twelve Gold Sponsor comic book titles for the comic book industry's most anticipated annual event: Free Comic Book Day! FCBD happens each year on the first Saturday in May at participating comic book shops worldwide, with next year's event taking place on May 4, 2019.
The titles were curated by over twenty comic shop retailers who make up the FCBD Selection Committee and the comics feature something for everyone: from superheroes, to popular films and television shows, to beloved franchises, and all-ages favorites. The Gold Sponsor titles come from the industry's top publishers, including DC Comics, Marvel Comics, Dark Horse Comics, IDW Publishing, Image Comics, Archie Comics, BOOM! Studios, TOKYOPOP, Valiant Entertainment, Vault Comics, Titan Comics, and VIZ Media.
"The quality of titles from publisher applicants made for some tough choices," said Ashton Greenwood, Free Comic Book Day spokesperson. "It's a solid indicator that Free Comic Book Day is truly the greatest event to showcase the best and brightest titles you can find in comic book shops. We can't wait to once again share the FCBD experience with fans and everyone who loves comic books."
The full line-up of this year's comic books will be announced later this week, when thirty-nine additional FCBD Silver Sponsor titles will be announced on Thursday, December 20. A complete listing of all fifty-one FCBD titles can also be found in the January issue of Diamond Comic Distributors' PREVIEWS catalog, on sale at all comic book shops December 28, 2018.
For more FCBD news and updates, visit www.freecomicbookday.com and become a fan on Facebook and follow us on Twitter and Instagram!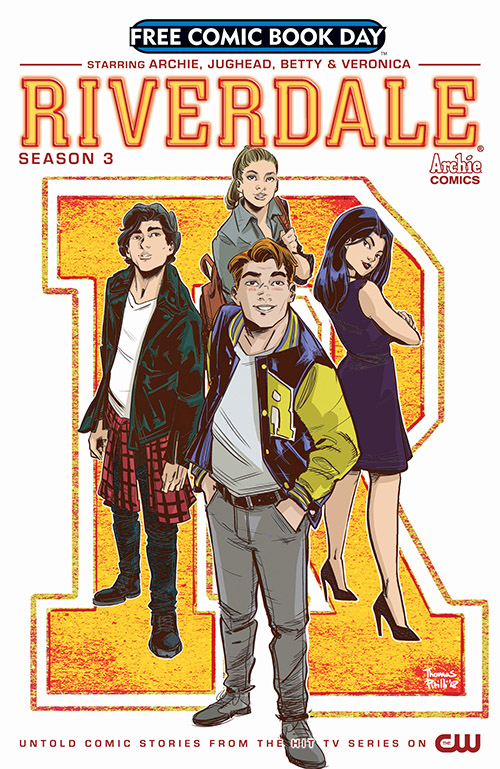 RIVERDALE SEASON 3 SPECIAL — FREE COMIC BOOK DAY 2019
Archie Comics
(W) Micol Ostow (A) Thomas Pitilli, Andre Szymanowicz (CA) Thomas Pitilli

See where it all begins in this brand-new story based on the smash-hit CW series, Riverdale! Micol Ostow (Riverdale: The Day Before) and Thomas Pitilli (Archie) bring fans into the world with a never-before-seen tale that presents all-new drama and intrigue set between episodes of the show! Plus, get a sneak peek at Scholastic's original Riverdale novels coming soon to comic shops.
Rating: Teen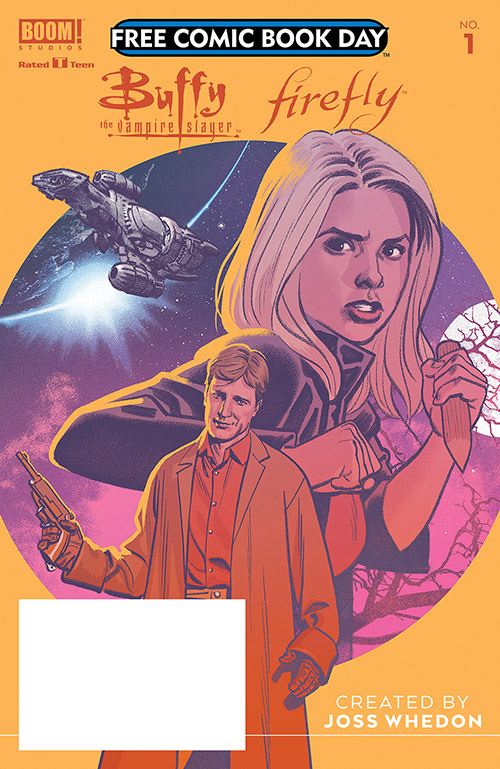 WELCOME TO THE WHEDONVERSE — FREE COMIC BOOK DAY 2019
BOOM! Studios
The perfect jumping-on point for the Whedonverse with all new stories from the worlds of BOOM! Studios' hit series Buffy the Vampire Slayer and Firefly! First, Captain Malcolm Reynolds and his first mate Zoe Alleyne Washburne have a bond that was forged in blood during the war that shaped the 'Verse, but when the awful secret at the core of that bond is finally revealed and they're called to answer, the people who love them are left to pick up the pieces. And, there's something evil lurking under Sunnydale High School, namely a gateway to a hell dimension that's been foretold to destroy the world as we know it. Buffy and the gang have mostly got it under control… as long as there are no twists, turns, or misunderstood prophecies. Easy peasy!
Rating: Teen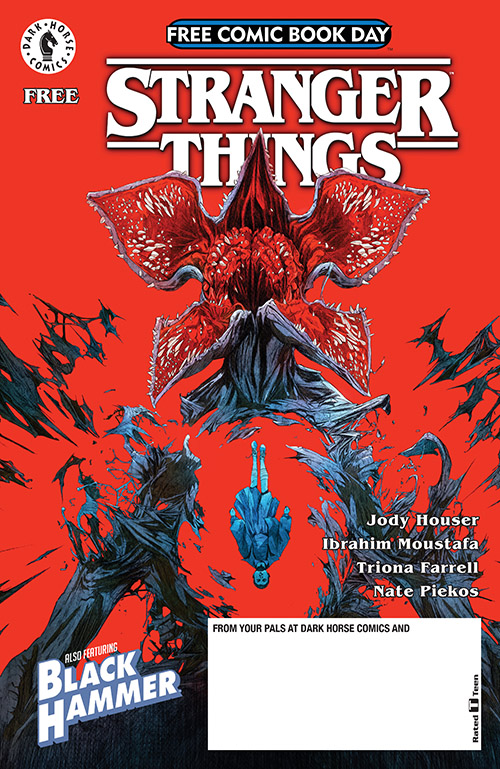 STRANGER THINGS & BLACK HAMMER — FREE COMIC BOOK DAY 2019
Dark Horse Comics
(W) Jeff Lemire & Various (A) David Rubin, Ibrahim Moustafa (CA) Chun Lo

Tales from two diverse worlds! In Stranger Things, Eleven and the Demogorgon have disappeared from Hawkins, Indiana. Steve and Nancy try to cheer Mike up, encouraging him to get the adventuring party back together again. Then, in the world of the Eisner Award-winning Black Hammer series, Madame Dragonfly takes the reader on an EC-style tour through her mysterious Cabin of Horrors to witness two groups of brand new heroes from the past!
Rating: Teen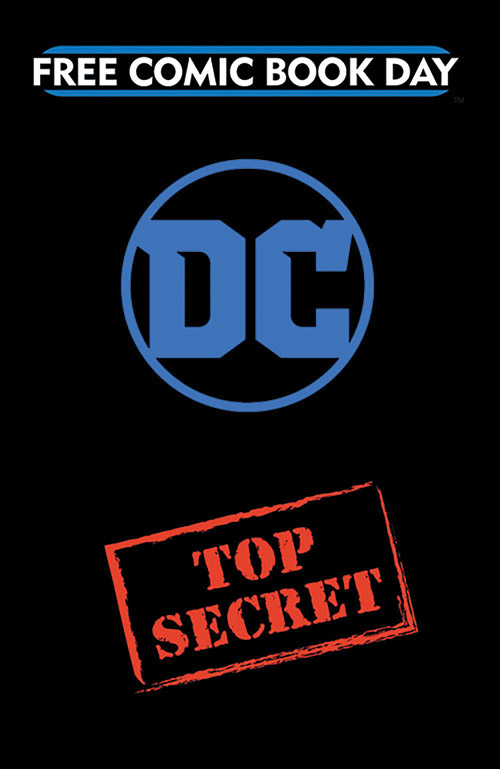 DC ENTERTAINMENT TOP SECRET GOLD TITLE — FREE COMIC BOOK DAY 2019
DC Comics
A special, top secret project too big to announce! Stay tuned in the months to come for exciting announcements about DC Entertainment's Gold title in the February PREVIEWS and on freecomicbookday.com!
Rating: Teen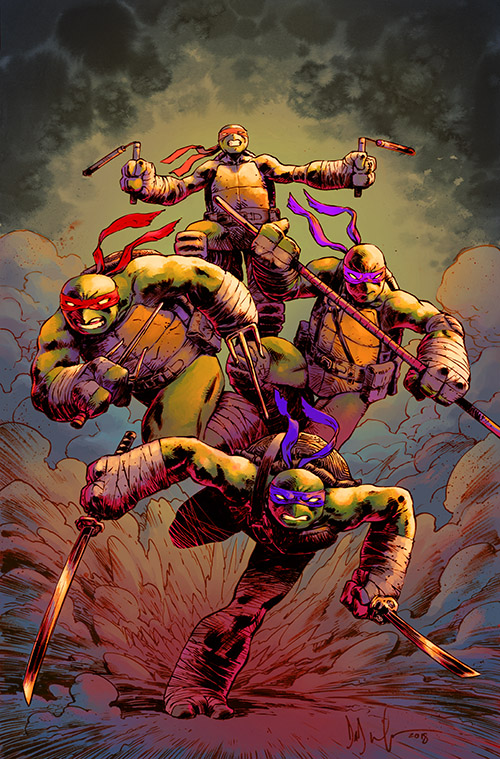 TEENAGE MUTANT NINJA TURTLES: CASUALTY OF WAR — FREE COMIC BOOK DAY 2019
IDW Publishing

(W) Tom Waltz, Kevin Eastman (A) Dave Wachter (CA) Dave Wachter
The road to Teenage Mutant Ninja Turtles' 100th issue begins! New York City has just erupted into war as Splinter battles Karai for control of the Foot Clan with the Turtles caught in the middle! Find out how the Turtles got to this point as they battle some of their fiercest foes in this special FCBD offering!
Rating: Teen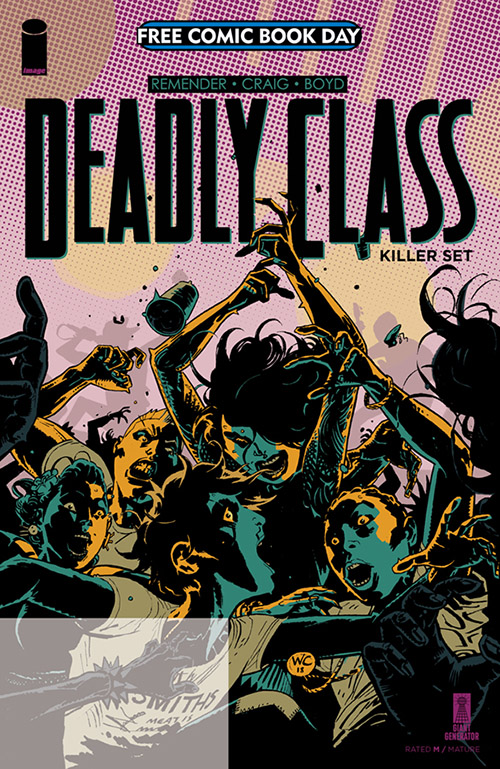 DEADLY CLASS: KILLER SET ONE-SHOT — FREE COMIC BOOK DAY 2019
Image Comics
(W) Rick Remender (A/CA) Wes Craig

It's not Summer Break yet! FCBD fans will be treated with a special one-shot standalone Deadly Class story. Readers of the ongoing comic series by Rick Remender and Wes Craig, viewers excited about SYFY channel's adaptation from Executive Producers the Russo Brothers (directors of Avengers: Infinity War), and new readers alike, will enjoy entering the world of King's Dominion School for the Deadly Arts, where the world's top crime families send the next generation of assassins to be trained. Murder is an art. Killing is a craft. At Kings Dominion School for the Deadly Arts, the dagger in your back isn't always metaphorical.
Rating: Mature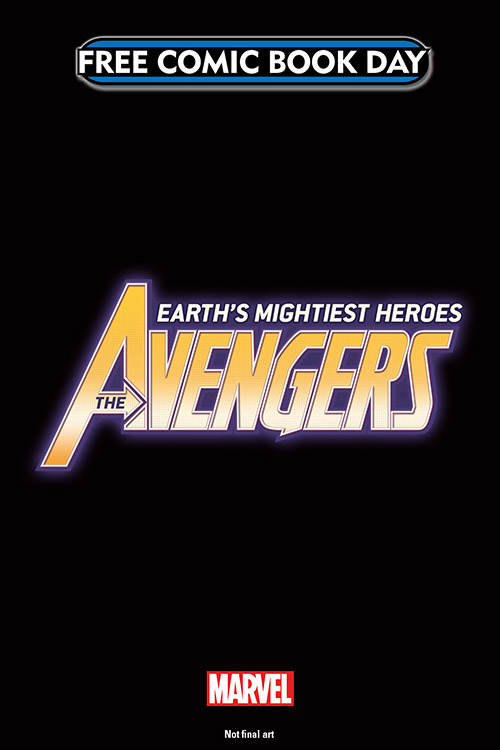 AVENGERS — FREE COMIC BOOK DAY 2019
Marvel Comics
Don't miss this year's Free Comic Book Day titles from Marvel, each featuring two 10-page stories that set the stage for upcoming game-changers in the Marvel Universe. Plus, a can't-miss special guest!
Rating: Teen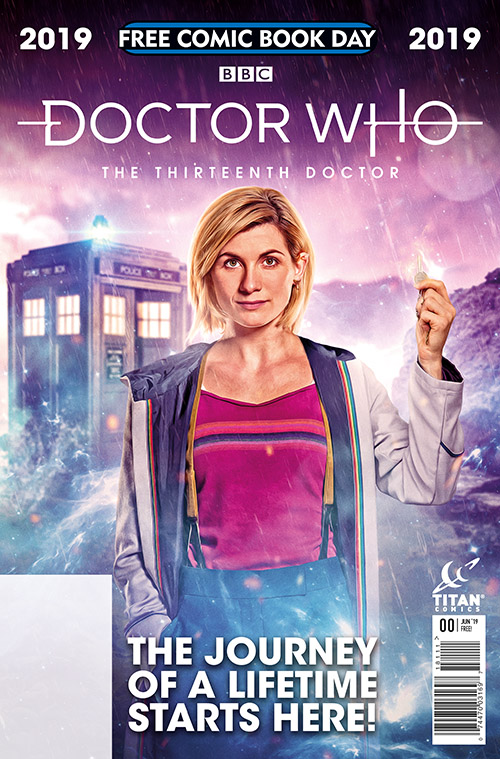 DOCTOR WHO: THE THIRTEENTH DOCTOR — FREE COMIC BOOK DAY 2019
Titan Comics
(W) Jody Houser (A) Rachael Stott, Giorgia Sposito, Arianna Florean (CA) Enrica Eren Angiolini

Jump aboard the TARDIS with Jodie Whittaker's Doctor and her companions on Free Comic Book Day! A perfect introduction to the hit new series from Eisner-nominated comics writer Jody Houser, where readers leap through time and space in fun, fast-paced adventures!
Rating: All-Ages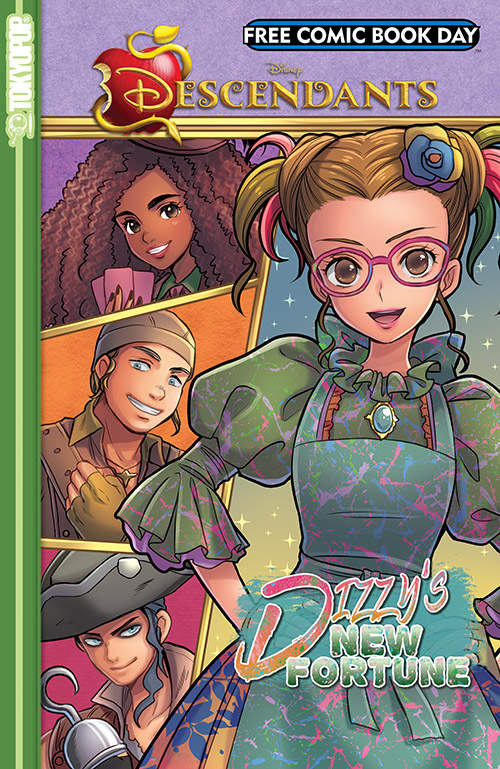 DISNEY DESCENDANTS: DIZZY'S NEW FORTUNE CHAPTER 1 PREVIEW — FREE COMIC BOOK DAY 2019
Tokyopop
(W) Jason Muell (A/CA) Natsuki Minami

A full-color, manga-style graphic novel telling a brand-new story in the world of Disney Descendants, starring Dizzy, the granddaughter of Lady Tremaine, and featuring a host of Villain Kids from the Isle of the Lost! This is the first chapter of Disney Descendants: Dizzy's New Fortune.
Rating: All-Ages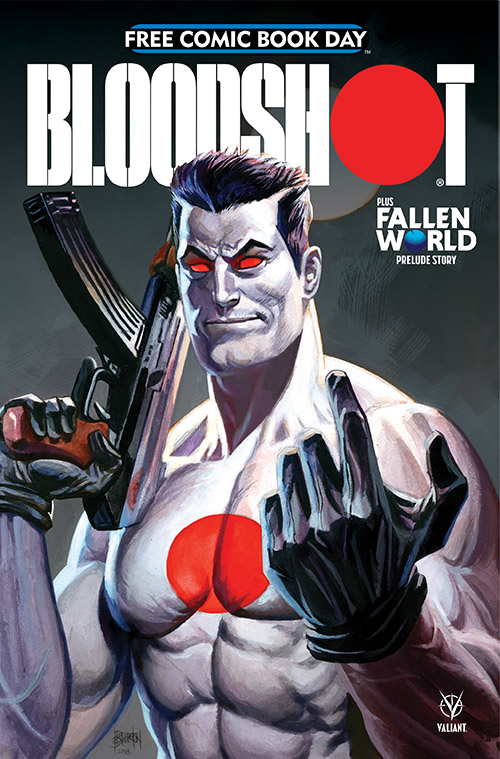 BLOODSHOT SPECIAL — FREE COMIC BOOK DAY 2019
Valiant Entertainment
(W) Tim Seeley, Brian Hurtt (A) Tomás Giorello, Juan José Ryp

Prepare yourself as the most ambitious moment in Valiant's history launches forward with two original stories, exclusive to Free Comic Book Day 2019! Before Sony's live-action Bloodshot blockbuster film takes movie theaters around the globe by storm in 2020, discover a breathtaking new tale of Valiant's brutal one-man army from superstar writer Tim Seeley (Nightwing, Batman Eternal) and groundbreaking artist Tomás Giorello (X-O Manowar)! Then, the 41st century dawns anew with a pulse-pounding prologue to Fallen World, a shocking new event series starring Rai — the formidable protector of a future Earth — by acclaimed comic creator Dan Abnett (Guardians of the Galaxy) and incendiary artist Juan José Ryp (Britannia) that launches just days before Free Comic Book Day!
Rating: Teen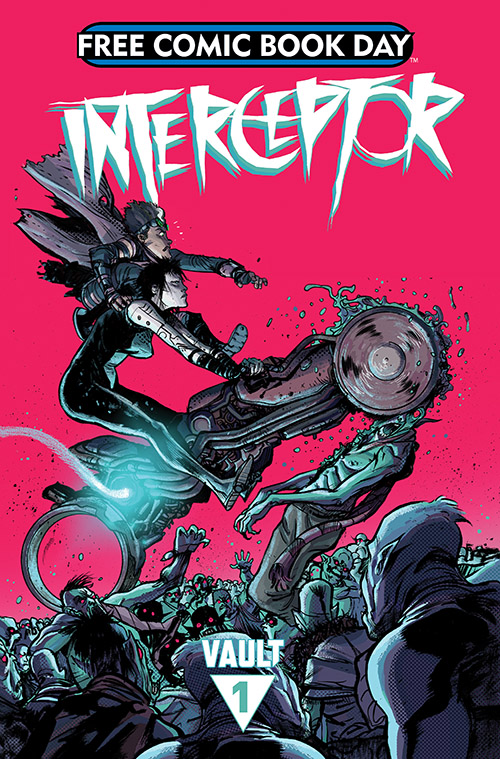 INTERCEPTOR #1 — FREE COMIC BOOK DAY 2019
Vault Comics
(W) Donny Cates (A) Dylan Burnett (CA) Daniel Warren Johnson

Poli has a mech suit and a mission. Weep has machine guns and a temper. Together they lead a band of freedom fighters on a planet populated exclusively by blood-sucking vampires. A planet called Earth. Donny Cates (Venom, God Country) and Dylan Burnett (Cosmic Ghost Rider, X-Force) bring you neon-drenched, blood-sooked, all-out vampire warfare. #DeathBeforeUndead
Rating: Teen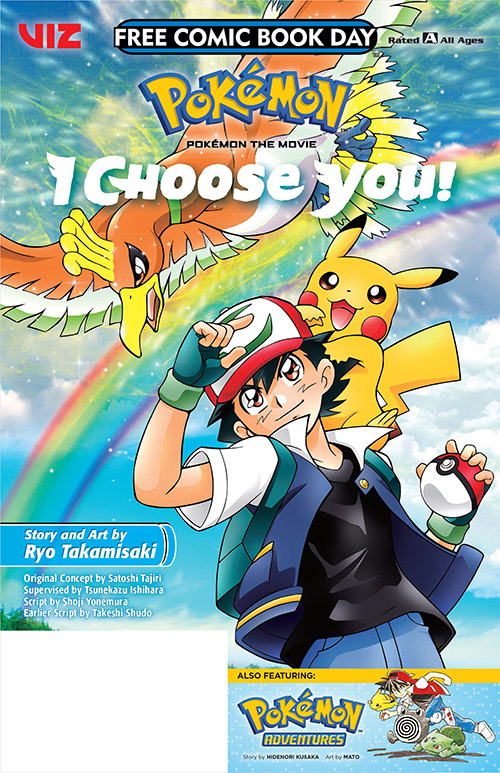 POKÉMON: I CHOSE YOU & POKÉMON ADVENTURES — FREE COMIC BOOK DAY 2019
VIZ Media
(W) Ryo Takamisaki, Hidenori Kusaka (A) Ryo Takamisaki, Mato (CA) Mato, Ryo Takamisaki

Two tales from the world of Pokémon! Pokémon: I Choose You!: When Ash Ketchum oversleeps on his 10th birthday, he ends up with a stubborn Pikachu instead of the first partner Pokémon he wanted! But after a rocky start, Ash and Pikachu become close friends and true partners-and when they catch a rare glimpse of the Legendary Pokémon Ho-Oh in flight, they make plans to seek it out together. Pokémon Adventures: Red doesn't just want to train Pokémon, he wants to be their friend too. Bulbasaur and Poliwhirl seem game. But independent Pikachu won't be so easy to win over!
Rating: All-Ages