#NCBD 12/5/18: FCBD's 10 Comics for New Comic Book Day!
Dec 05, 2018
Every Wednesday is New Comic Book Day (#NCBD) in comic book shops, where new comics release hit the shelves of comic book shops for eager fans to pick up.
We've highlighted ten comics that are perfect recommendations for anyone looking to get into comics! Some of them directly tie into comics you got on Free Comic Book Day 2018!
In this week's list for comics coming out 12/5/18, there's definitely something for everyone: The X-Men mourn their fallen brother in X-Men Exterminated, Batman takes on a new partership with the Penguin in Batman, the world's greatest roleplaying game meets reality's most dysfunctional animated series in Rick and Morty vs. Dungeons and Dragons, and more!

What will you be picking up at the comic shop? Let us know on Facebook or Twitter!
---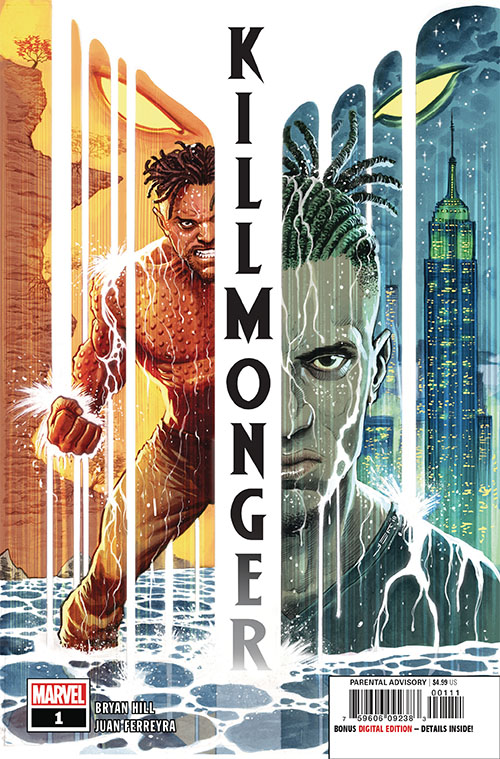 Killmonger #1

OCT180803

(W) Bryan Edward Hill (A/CA) Juan Ferreyra

THE BRUTAL TALE OF A MAN WHO WILL STOP AT NOTHING FOR FREEDOM...
One day, Erik Killmonger will rise up and attempt to steal the throne of Wakanda. The throne he believes he is owed. But long before he became "Killmonger," there was a boy known as N'Jadaka. A boy who was stolen from his home and taught only the world's cruelties. A boy who knew the Black Panther only as a fairy tale, a whisper from strangers. This is the story of a man who driven by revenge. This is the legend of Killmonger.

PARENTAL ADVISORY

In Shops: December 5, 2018

SRP: $4.99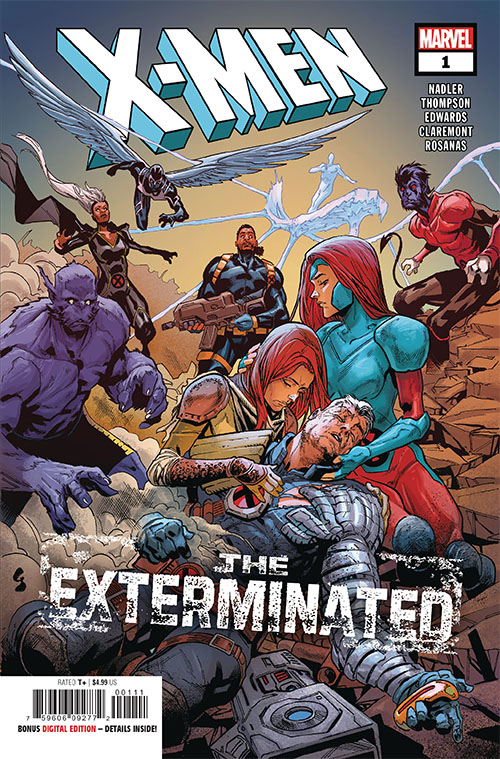 X-Men Exterminated #1

OCT180763

(W) Zac Thompson, Lonnie Nadler, Chris Claremont (A) Neil Edwards, Ramon Rosanas (CA) Geoff Shaw

EXTERMINATION AFTERMATH!

A Death in the Family!

In the aftermath of Extermination, the X-Men mourn for their fallen brother, Cable. But no one is taking it harder than his adopted daughter, Hope Summers. Will Hope be able to cope with the loss, or will she be led down a dark path that she won't be able to return from? Only Jean Grey can save Hope from herself! Plus, celebrate the life of Nathan Summers with a story from his past by Chris Claremont!

Rated T+

In Shops: December 5, 2018

SRP: $4.99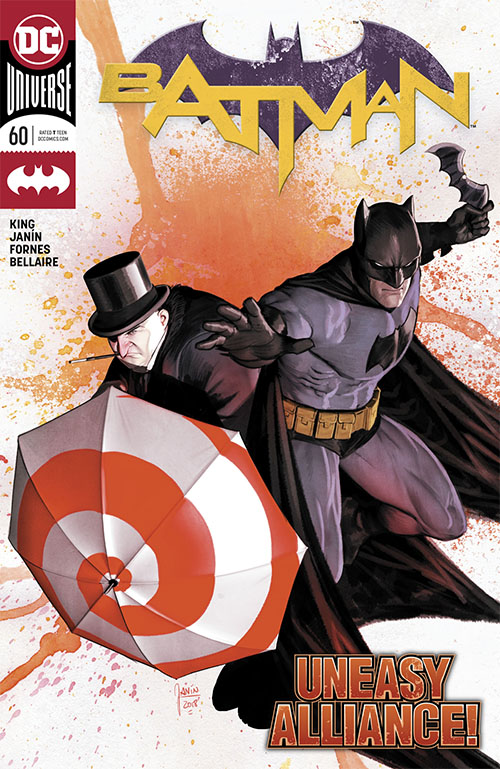 Batman #60

OCT180483

(W) Tom King (A/CA) Mikel Janin

Batman takes on a new partner, and it's...the Penguin? After rejecting Bane's crime-boss co-op, Cobblepot finds himself in the crosshairs of some very teed-off villains. The feathered felon turns to his old foe to snitch on Bane's scheme, but has to prove his intentions to avoid a Bat-beatdown. Along the way, this Gotham odd couple begins to bond-could there be a new bird joining the Bat-Family? Not if Bane has anything to say about it...

In Shops: December 5, 2018

SRP: $3.99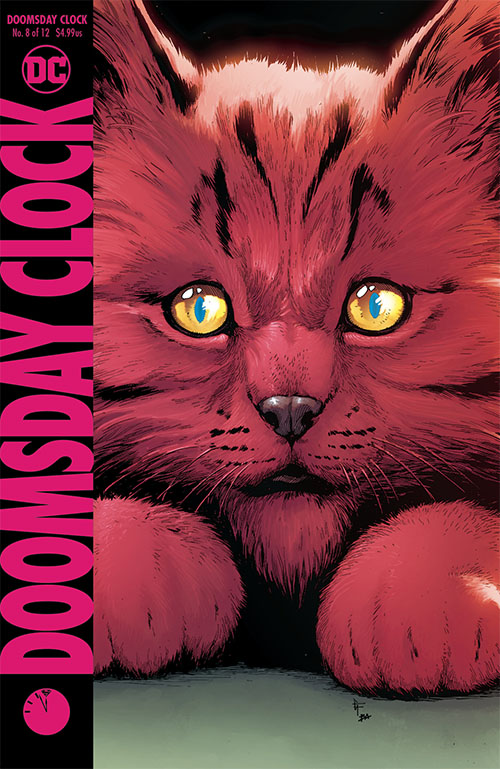 Doomsday Clock #8 (of 12)

SEP180426

(W) Geoff Johns (A/CA) Gary Frank

The critical and commercial hit series by Geoff Johns and Gary Frank continues following the shocking revelations of last issue. As the truth behind Dr. Manhattan's actions against the DC Universe are revealed, Ozymandias turns to the only being who can stop him: Superman.

In Shops: December 5, 2018

SRP: $4.99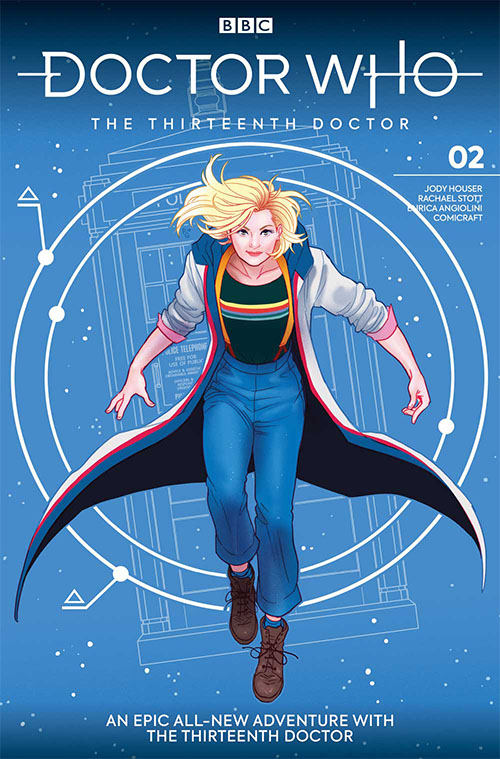 Doctor Who: The Thirteenth Doctor #2

SEP182031

(W) Jody Houser (A) Rachael Stott, Giorgia Sposito (CA) Paulina Ganucheau

Eisner-nominated writer Jody Houser (Faith, Mother Panic, Stranger Things) leaps in with mind-blowing adventures for the Thirteenth Doctor and her brand new companions! A mysterious new time traveller appears - but can he be trusted when he says he's human?

Illustrated by award-winning artist Rachael Stott (Doctor Who, Motherlands) and colorist Enrica Angiolini (Shades of Magic, Warhammer 40,000)!

In Shops: December 5, 2018

SRP: $3.99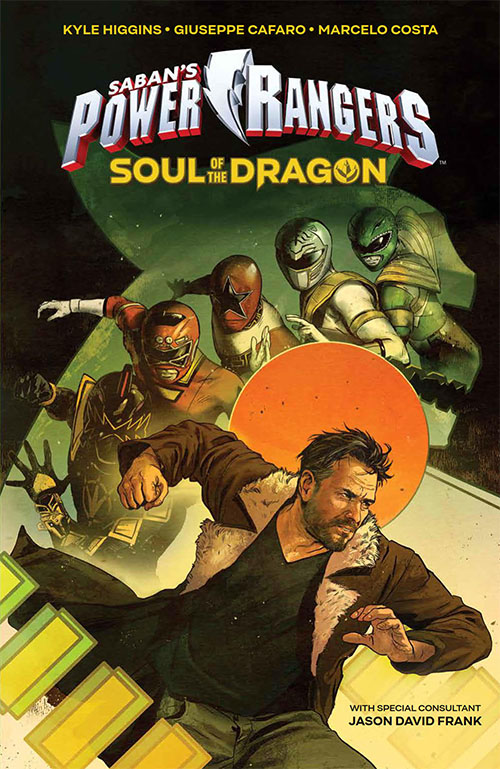 Saban's Power Rangers Soul of the Dragon Original Graphic Novel

AUG181366

(W) Kyle Higgins (A) Giuseppe Cafaro (CA) Nick Robles

It's morphin time in this powerful next chapter for Tommy Oliver, one of the most iconic Power Rangers in history.

It's been a long time since Tommy Oliver laid down the mantle of the original Green Ranger, and now he leaves protecting the world to Space Patrol Delta.

But when his son goes missing, Tommy will call on all his training, his friends, and maybe even some of his enemies as he sets out on one last mission: find his son and bring him home.

From Kyle Higgins (Mighty Morphin Power Rangers, Nightwing) and artist Giuseppe Cafaro (Suicide Squad), with special consultant Jason David Frank, the original Green Ranger, comes the next adventure in the life of history's mightiest Power Ranger.

In Shops: December 5, 2018

SRP: $19.99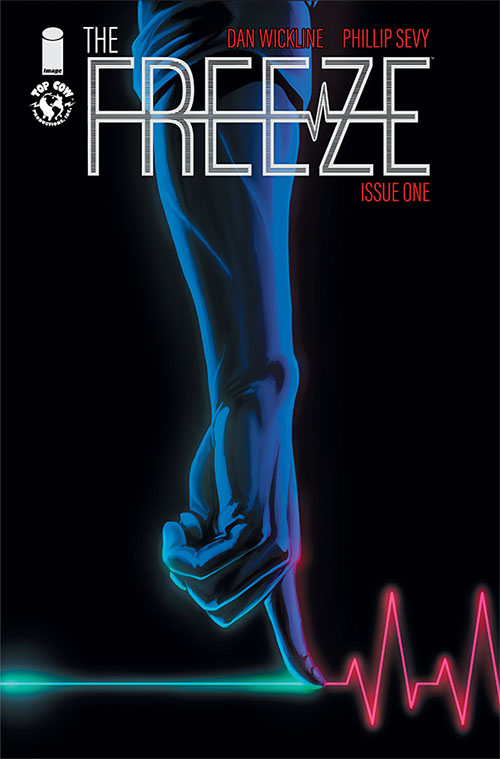 The Freeze #1

OCT180028

(W) Dan Wickline (A/CA) Phil Sevy

SERIES PREMIERE! The entire human population is frozen by a mysterious global event... all except Ray, and only he has the power to unfreeze them. Now with the fate of the world in his hands, he must figure out what is going on, how to set things right again, and answer the question: does everyone deserve to be saved?

In Shops: December 5, 2018

SRP: $3.99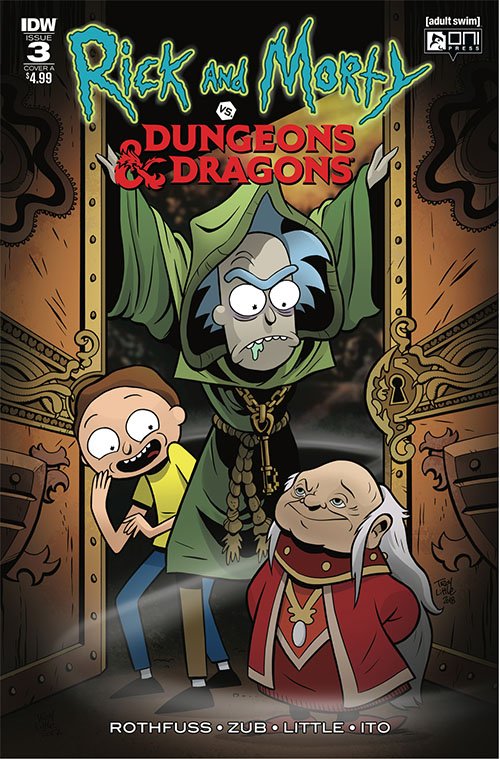 Rick & Morty vs. Dungeons & Dragons #3 (of 4)

SEP180735

(W) Patrick Rothfuss, Jim Zub (A/CA) Troy Little

A dimension where the Dungeons & Dragons paradigms are real. The rules are absolute... or, at least, they were... until Rick and Morty make their mark. Get ready to plead the fifth (edition) in this unlawful, chaotically evil story of family friction and fantasy frolics.

The world's greatest roleplaying game.
Reality's most dysfunctional animated series.
What could go wrong?

Presented in conjunction with Oni Press!
Patrick Rothfuss, the multiple award-winning, bestselling author of The Kingkiller Chronicle series, joins Dungeons & Dragons fan-favorite author Jim Zub (Avengers, Wayward) on a tri-dimensional fantasy adventure!
Rick and Morty is one of the most popular shows in Adult Swim history, with a steady fan following since it debuted in 2013. This is the first official Rick and Morty team-up story and should have deep traction in fan circles!
Dungeons & Dragons 5th Edition sales continue to grow each year and the Baldur's Gate video games have sold millions of copies around the world. D&D has returned as a cultural force in bookstores and online.

In Shops: December 5, 2018

SRP: $4.99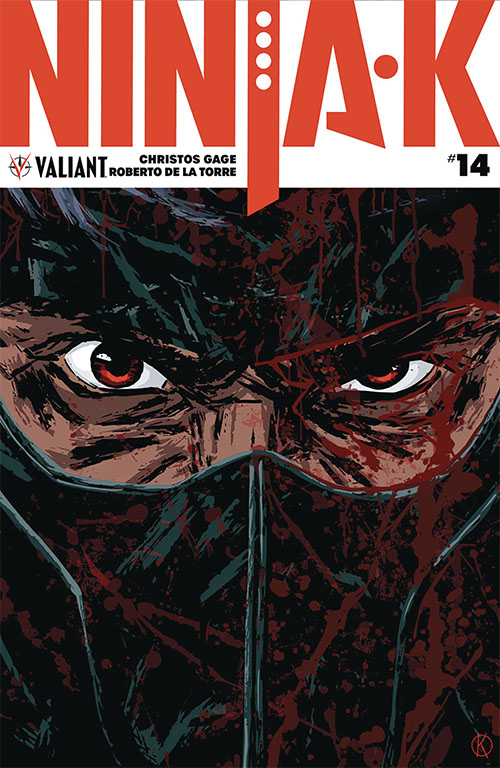 Ninja-K #14

OCT181997

(W) Christos Gage (A) Roberto De La Torre (CA) Kano

England's top spy is about to go rogue!

His mission with the Eternal Warrior now completed, Ninjak must follow through on a promise to MI6 - to hunt down Livewire, Ninjak's former lover and a wanted terrorist, by any means necessary. But after a lifetime of manipulation, where do Colin King's loyalties truly lie?

Incendiary writer Christos Gage (Netflix's Daredevil) and death-defying artist Roberto de la Torre (SHADOWMAN) set the stage for a shocking conclusion of spine-tingling proportions!

In Shops: December 5, 2018

SRP: $3.99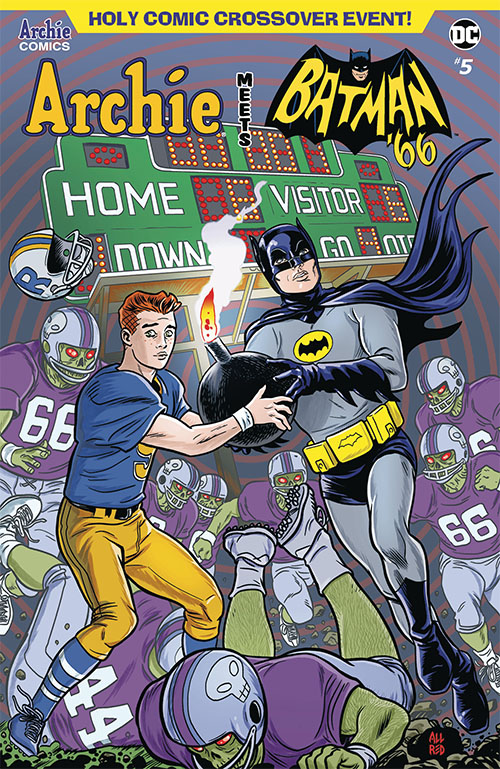 Archie Meets Batman '66 #5

OCT181432

(W) Jeff Parker, Michael Moreci (A) Dan Parent, J. Bone (CA) Michael Allred, Laura Allred

With the Gotham villains set to take over Riverdale, it's up to Archie and his pals 'n' gals to work together with Batman to save their town! But will they be able to go toe-to-toe against their own parents and teachers?

In Shops: December 5, 2018

SRP: $3.99