#NCBD 11/21/18: FCBD's 10 Comics for New Comic Book Day!
Nov 21, 2018
Every Wednesday is New Comic Book Day (#NCBD) in comic book shops, where new comics release hit the shelves of comic book shops for eager fans to pick up.
We've highlighted ten comics that are perfect recommendations for anyone looking to get into comics! Some of them directly tie into comics you got on Free Comic Book Day 2018!
In this week's list for comics coming out 11/21/18, there's definitely something for everyone: The Penguin must make a difficult decision in Batman, a team of your favorite Spider-Heroes assemble in Spider-Man: Enter The Spider-Verse, the biggest pickle-sized character in pop culture comes to comics in Rick and Morty Presents: Pickle Rick, and more!

What will you be picking up at the comic shop? Let us know on Facebook or Twitter!
---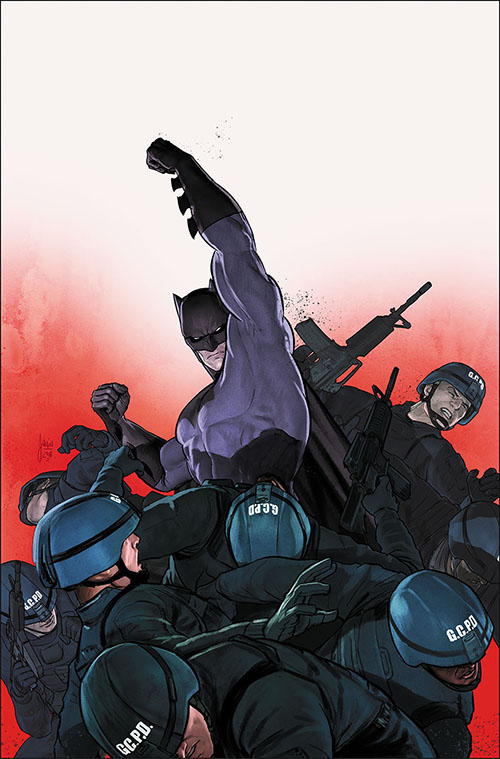 Batman #59
SEP180452

(W) Tom King (A/CA) Mikel Janin

Caught between Batman and his unseen enemy, the Penguin has to think on his feet to avoid being taken down by either side. If he chooses one way, he goes to jail; if he chooses the other, he ends up dead. Then again, the choice seems obvious. Is Batman ready for a new kind of avian sidekick?

In Shops: Nov 21, 2018

SRP: $3.99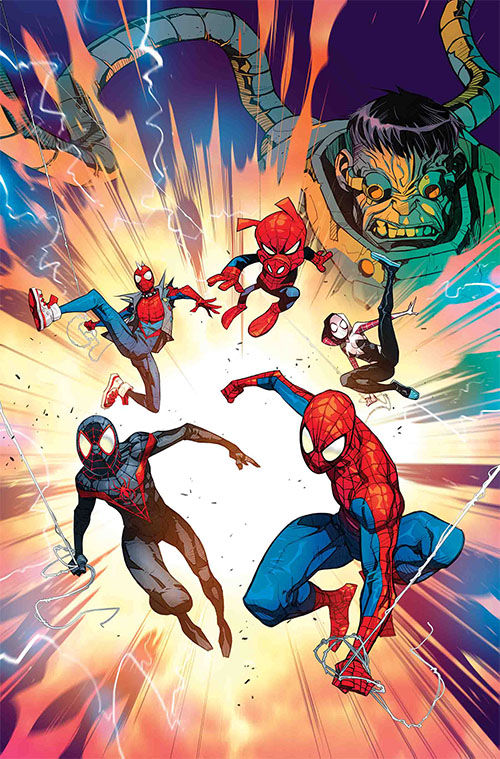 Spider-Man: Enter The Spider-Verse #1

SEP180922

(W) Ralph Macchio (A) Flaviano (CA) Eduard Petrovich

STEP INTO THE SPIDER-VERSE WITH A CADRE OF SPIDER-HEROES!

• With his ability to traverse the Multiverse, SPIDER-MAN assembles a team to track down a loose end from his past: the fate of the mighty GOG!
• Get ready for the upcoming film with this standalone adventure featuring some of your favorite Spider-Heroes: PETER PARKER! MILES MORALES! SPIDER-HAM! SPIDER-GWEN! SPIDER-PUNK!
• Also featuring a special presentation of SPIDER-MAN (2016) #1 - Miles Morales' first adventure in the Prime Marvel Universe!

In Shops: Nov 21, 2018

SRP: $4.99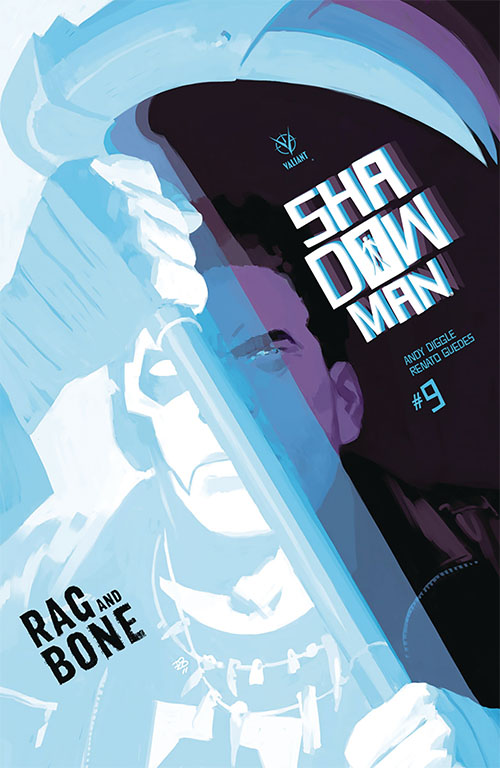 Shadowman #9

SEP182084

(W) Andy Diggle (A) Renato Guedes (CA) Tonci Zonjic

Every family has skeletons in their closet...but these ones are ready to kill!
As Jack Boniface and Alyssa Miles hunt for the remains of Master Darque, their search brings them to the enchanted home of his sorceress sister - none other than Sandria Darque herself! Face to unearthly face with the sorceress responsible for binding his fate to that of the deadly shadow loa, Jack now stands at a crossroads... Will he achieve his greatest desire and free himself from the monster within?

Renowned writer Andy Diggle (Green Arrow: Year One) delivers a powerful portent of horror as "RAG AND BONE" creaks onward, gorgeously rendered by artist Renato Guedes (BLOODSHOT SALVATION)!

In Shops: Nov 21, 2018

SRP: $3.99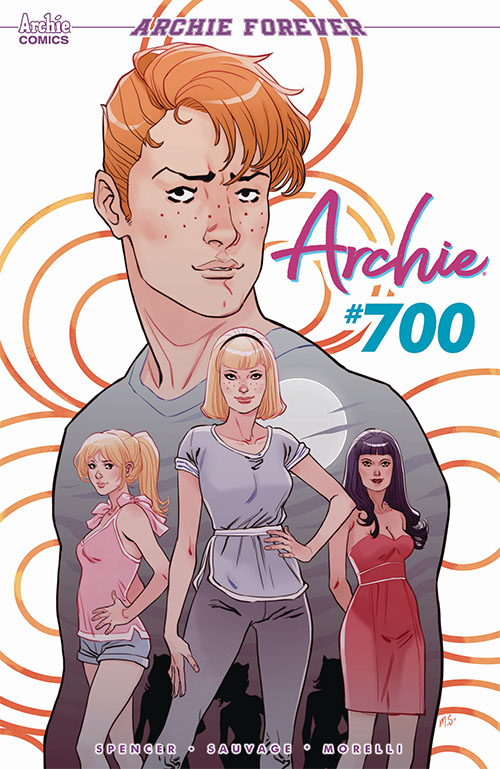 Archie #700

SEP181483

(W) Nick Spencer (A) Jack Morelli (A/CA) Marguerite Sauvage

A brand new era of ARCHIE begins in this landmark 700th issue of our flagship series! Join the new creative team of writer Nick Spencer (The Amazing Spider-Man) and artist Marguerite Sauvage (DC's Bombshells) as they take a trip to Riverdale and bring Archie, Betty & Veronica, Jughead, and the rest of the town along for a wild ride complete with new mysteries, new relationships, and much more!

In Shops: Nov 21, 2018

SRP: $3.99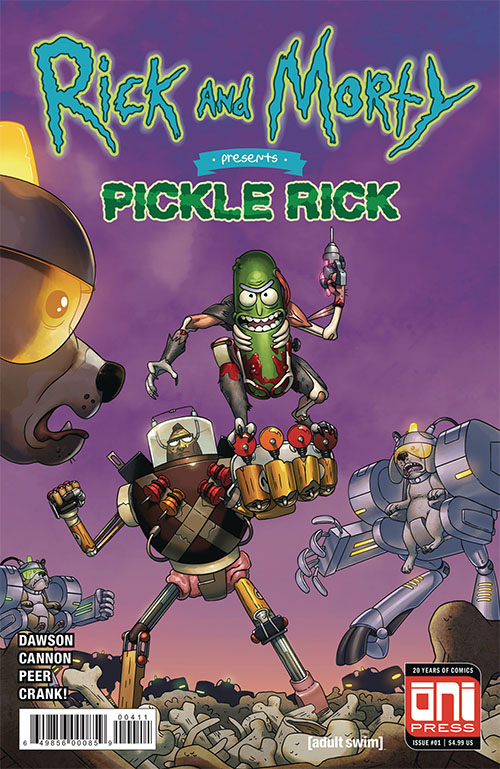 Rick & Morty Presents: Pickle Rick #1

SEP181899

(W) Delilah Dawson (A) Nick Filardi (A/CA) CJ Cannon

The biggest pickle-sized character in pop culture comes to comics! In this reimagined version, written by Delilah S. Dawson (Star Wars) and with art from series artists CJ Cannon and Brittany Peer, Rick gets out of some much-needed family therapy time by inventing a fruit gun, which he uses on himself, and things go...poorly. Yes, cucumbers are fruits! Plus, Jaguar's back and he's on a mission to save his daughter.

In Shops: Nov 21, 2018

SRP: $4.99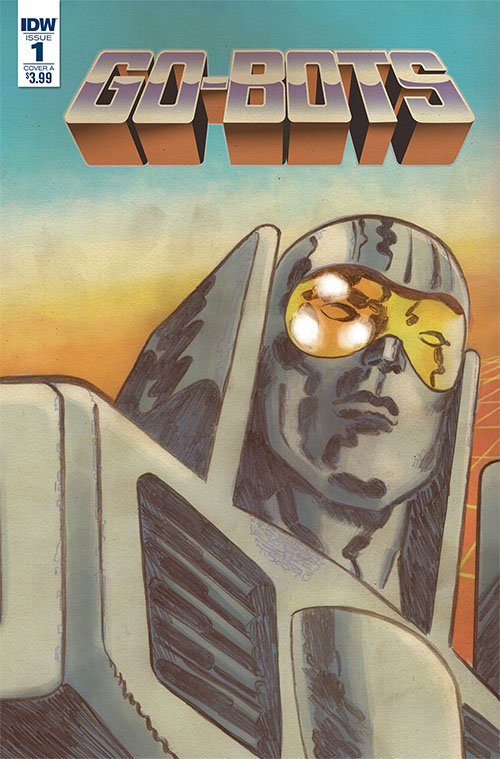 Go-Bots #1

SEP180716

(W) Tom Scioli (A/CA) Tom Scioli

Go-Bots have changed our way of life. Leader-1 is a self-aware fighter jet on a hostage rescue mission with his partner, Commander Nick Burns. Scooter is the personal transport and best friend to undergrad A.J. Foster. Turbo is Matt Hunter's transforming race car in the hottest sport in America, Go-Bot Racing. Cy-Kill is the champion of the illegal, underground Go-Bot Fighting League. A sophisticated sci-fi epic from the visionary creator that brought you Transformers vs. G.I. JOE. They say they're here to help us, but are they here to replace us?

From the creative mind that brought you IDW's Transformers vs. G.I. JOE!

Visionary creator Tom Scioli unleashes his imagination on the bizarre, absurd, and wonderful world of Go-Bots!

In Shops: Nov 21, 2018

SRP: $3.99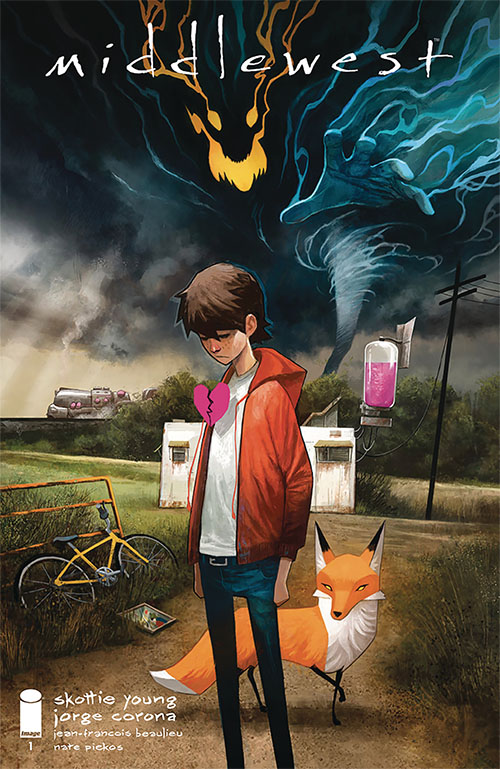 Middlewest #1

SEP180050

(W) Skottie Young (A) Jorge Corona (CA) Mike Huddleston

The lands between the coasts are vast, slow to change, and full of hidden magics. Mistakes have been made, and in this NEW ONGOING SERIES, an unwitting adventurer searches for answers to quell a coming storm that knows his name.

From author SKOTTIE YOUNG (I HATE FAIRYLAND, Deadpool) and artist JORGE CORONA (NO. 1 WITH A BULLET, Feathers, Big Trouble in Little China: Old Man Jack) comes the tale of Abel, a young boy who must navigate an old land in order to reconcile his family's history.

In Shops: Nov 21, 2018

SRP: $3.99



Black Hammer: Age of Doom #7

SEP180276

(W) Jeff Lemire (A/CA) Rich Tommaso

As Colonial Weird tries to figure out the new world he's found himself on, the character's he's met explain not only their origins, but potentially the origins of all things. Weird's time is running out, and the events of this issue will change the way he sees the
world forever!
o Winner of the Eisner Award for Best New Series.

"I didn't think something could be thrilling and sad at the same time but now there's Black Hammer proving me wrong. Amazing, just flat-out amazing."-Patton Oswalt

In Shops: Nov 21, 2018

SRP: $3.99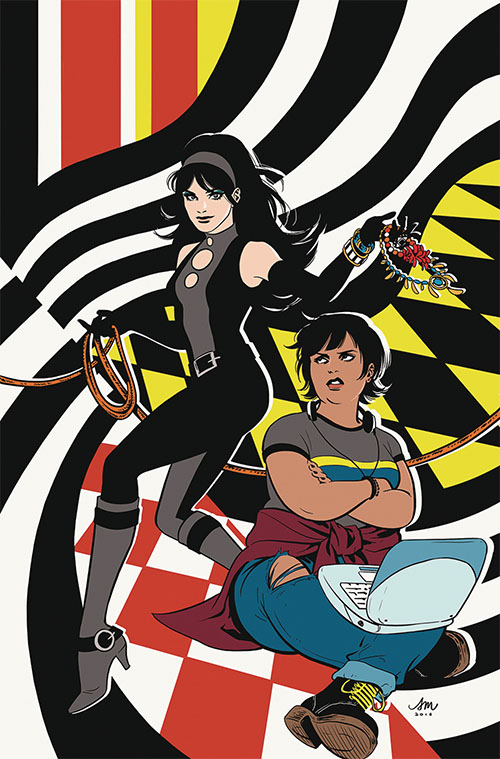 Smooth Criminals #1

SEP181283

(W) Kurt Lustgarten, Kirsten "Kiwi" Smith (A) Leisha Riddel (CA) Audrey Mok

There are certain things Brenda expects to find while hacking: money, secrets, occasional pictures of cats. She is NOT expecting to find a cryogenically frozen master thief from the 60s. Mia is everything Brenda is not-cool, confident, beautiful. And utterly unprepared for the digital age. Despite their differences, the two will need to team up to find out what happened to Mia-and how to pull off the heist of the century. Kiwi Smith and Kurt Lustgarten (Misfit City) team with breakout artist Leisha-Marie Riddel (Goldie Vance) in a story about felonies and friendship.

In Shops: Nov 21, 2018

SRP: $3.99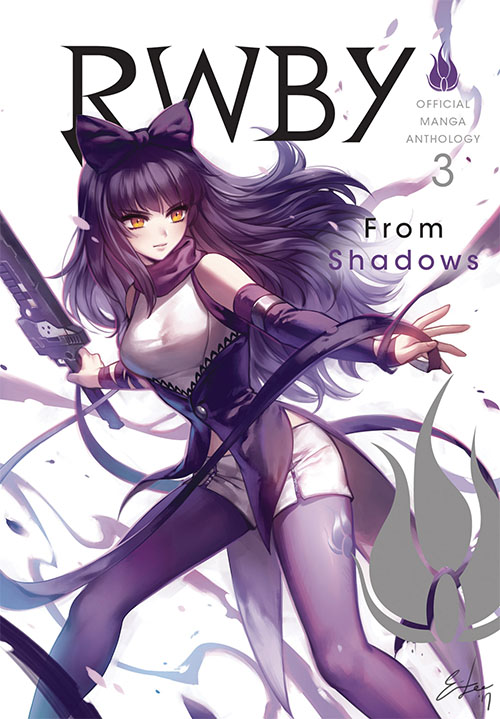 RWBY Official Manga Anthology, Vol. 3: From Shadows

SEP182171

(W) Monty Oum, Various (A) Various

All-new short stories set in the world of RWBY from no less than 20 different manga creators in one single volume! Includes a full-color four-page story and four full-color illustrations. This volume focuses on Blake Belladonna from TEAM RWBY.

In Shops: Nov 21, 2018

SRP: $12.99