#NCBD 11/14/18: FCBD's 10 Comics for New Comic Book Day!
Nov 14, 2018
Every Wednesday is New Comic Book Day (#NCBD) in comic book shops, where new comics release hit the shelves of comic book shops for eager fans to pick up.
We've highlighted ten comics that are perfect recommendations for anyone looking to get into comics! Some of them directly tie into comics you got on Free Comic Book Day 2018!
In this week's list for comics coming out 11/14/18, there's definitely something for everyone: The X-Men are drawn into what might be their final adventure in Uncanny X-Men, the next startling new Avenger is revealed in Avengers, a new era of Wonder Woman begins, and more!

What will you be picking up at the comic shop? Let us know on Facebook or Twitter!
---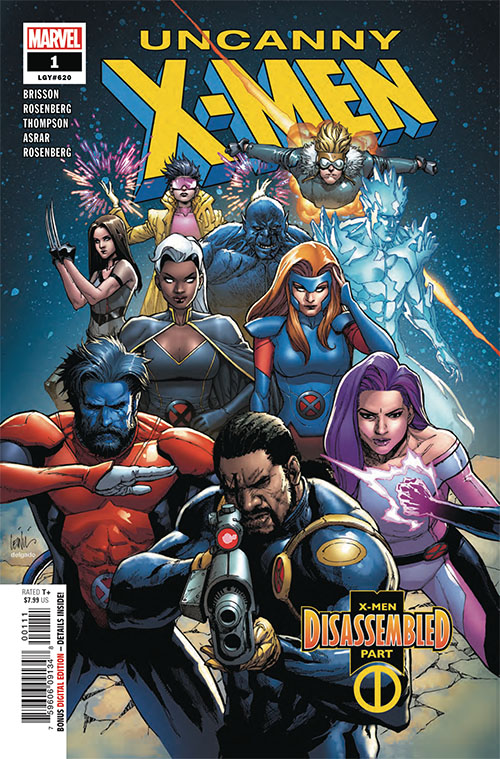 Uncanny X-Men #1

SEP180791

(W) Ed Brisson, Kelly Thompson, Matthew Rosenberg (A) Mahmud A. Asrar, Mark Bagley, Mirko Colak (CA) Leinil Francis Yu

THE CHILDREN OF THE ATOM ARE BACK!

New ongoing series kicking off with a 10-part weekly epic, the flagship X-Men series that started it all is back and better than ever! Starting with a mysterious and tragic disappearance, the X-Men are drawn into what might be...their final adventure?! X-Fan favorite writers Ed Brisson (EXTERMINATION), Matthew Rosenberg (PHOENIX RESURRECTION) and Kelly Thompson (MR. & MRS. X) and all-star artists Mahmud Asrar (X-MEN RED), R.B. Silva (X-MEN BLUE), Yildiray Cinar (WEAPON X) and Pere Pérez (ROGUE AND GAMBIT) join forces to bring you...X-MEN DISASSEMBLED?!

Rated T+

In Shops: November 14, 2018

SRP: $7.99


Avengers #10

SEP180829

(W) Jason Aaron (A) Ed McGuinness, Adam Kubert, Andrea Sorrentino (A/CA) David Marquez

THE EARTH'S MOST HATED HEROES?!

After 700 issues of saving the world, you'd think the Avengers would be due some celebration. But instead the whole world seems to be gunning for them, especially Namor's fearsome new Defenders of the Deep and the reimagined Russian Super-Soldiers of the Winter Guard. And that's not to mention the shocking surprise the U.S. government has in store for our heroes. Plus: The all-new Agents of Wakanda! The mystery of the Avengers of 1,000,000 BC deepens! A key revelation concerning the resurrection of Wolverine! And the next startling new Avenger is revealed!

Rated T+

In Shops: November 14, 2018

SRP: $5.99


Wonder Woman #58

SEP180440

(W) G. Willow Wilson (A) Cary Nord (CA) Terry Dodson, Rachel Dodson

"THE JUST WAR" part one! A new era of Wonder Woman begins as best-selling writer G. Willow Wilson (Ms. Marvel) makes her return to DC with art star Cary Nord (Conan, THE UNEXPECTED) joining the series!

Far below Themyscira, Ares, the God of War, has been imprisoned for generations, repenting his past sins. But his new cellmate Grail may have an unexpected effect on him...and the plan they've come up with will change Themyscira-and the world- forever! When Wonder Woman rushes to Eastern Europe to rescue Steve Trevor from a mission gone wrong, she'll find herself face-to-face with a very new, very different God of War!

In Shops: November 14, 2018

SRP: $3.99


Transformers Unicron #6 (of 6)

AUG180712

(W) John Barber (A/CA) Alex Milne

EARTH WAR! With Unicron's ultimate goal revealed, the shaky alliance of Autobots and Decepticons is all that stands between Earth and the planet-eater. Heroes will rise-and fall-as Optimus Prime journeys into the dark heart of Unicron for the final confrontation with evil. At stake: the soul of a universe.

This is it! The end of an era! Finishing off 13 years' worth of continuity with a bang!

A double-sized story for the ages!

Don't miss the cover by the man who introduced the IDW age of Transformers: E.J. Su!

In Shops: November 14, 2018

SRP: $7.99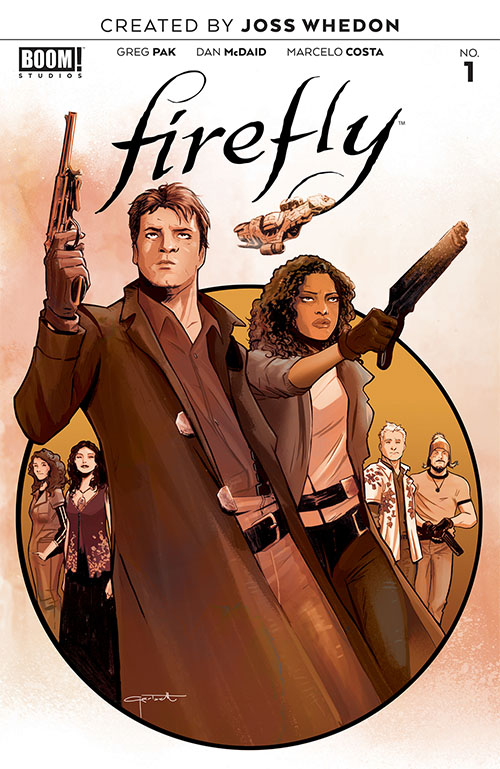 Firefly #1

SEP181285

(W) Greg Pak (A) Dan McDaid (CA) Lee Garbett

BOOM! Studios, along with visionary writer and director Joss Whedon (Buffy the Vampire Slayer, The Avengers), presents an all-new era of the pop culture phenomenon Firefly, as one of the most demanded stories in the franchise's history is revealed for the first time! Captain Malcolm "Mal" Reynolds, a defeated soldier who opposed the unification of the planets by the totalitarian governed Alliance, will undertake any job-legal or not-to stay afloat and keep his crew fed. Find out now how his story began as BOOM! Studios delves into Mal's past, how he met his first mate Zoe and the real truth about the War of Unification.the intergalactic civil war that divided friend and family alike. Focusing on family, loyalty, identity, and the price of redemption, writer Greg Pak (Mech Cadet Yu, Totally Awesome Hulk) and artist Dan McDaid (Judge Dredd: Mega City Zero) take you back to the battleground where Mal's journey began.

In Shops: November 14, 2018

SRP: $3.99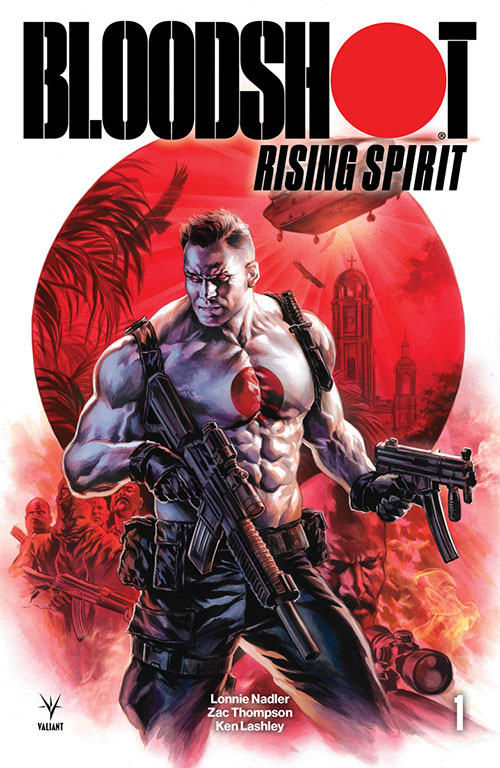 Bloodshot: Rising Spirit #1

SEP182076

(W) Lonnie Nadler, Zac Thompson, Kevin Grevioux (A) Ken Lashley (CA) Felipe Massafera

New ongoing series! Discover the true origin of Valiant's most unrelenting hero!

Before a weapon is deployed in battle, it must be designed, refined, field-tested. Bloodshot was no exception. In the early days of the private military contractor Project Rising Spirit, the nanite-infused super-soldier who would one day become their most violent and valuable asset was a resource to be mined - and it was up to one enterprising employee to ensure he did what he was told. But memory is a tricky thing...and the manBloodshot used to be won't let go of his past so easily...

Critically acclaimed writing duo Lonnie Nadler and Zac Thompson (Cable), along with Eisner Award nominee Kevin Grevioux (New Warriors) team up with distinguished artist Ken Lashley (Black Panther) to open a door once closed and reveal answers to questions that Bloodshot himself would never think to ask!

In Shops: November 14, 2018

SRP: $3.99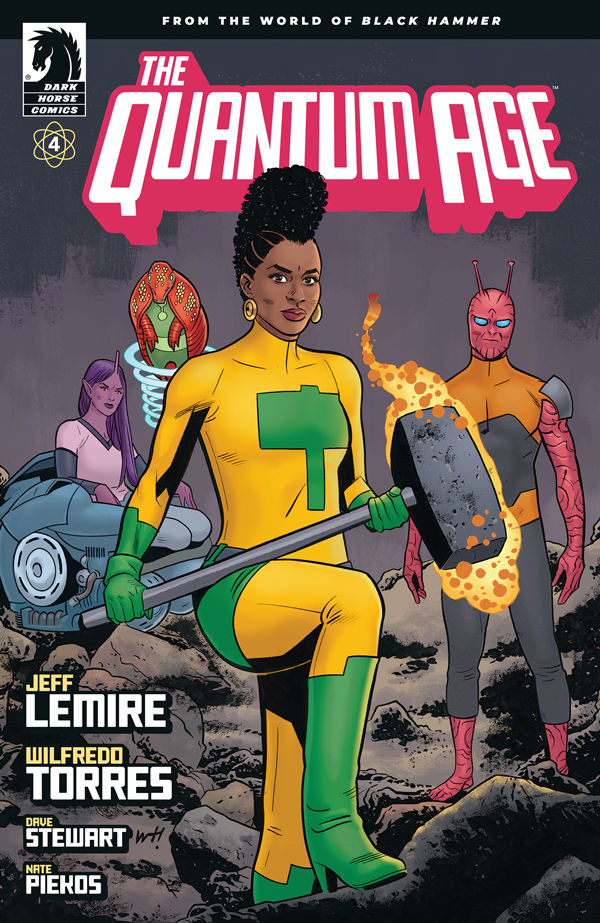 Quantum Age: From The World of Black Hammer #4

AUG180330

(W) Jeff Lemire (A/CA) Wilfredo Torres

With their original plan seemingly foiled, the current rag tag team of Quantum Leaguers travels to a mysterious land and discovers a long forgotten foe with crucial ties to the Eisner-winning Black Hammer series.

In Shops: November 14, 2018

SRP: $3.99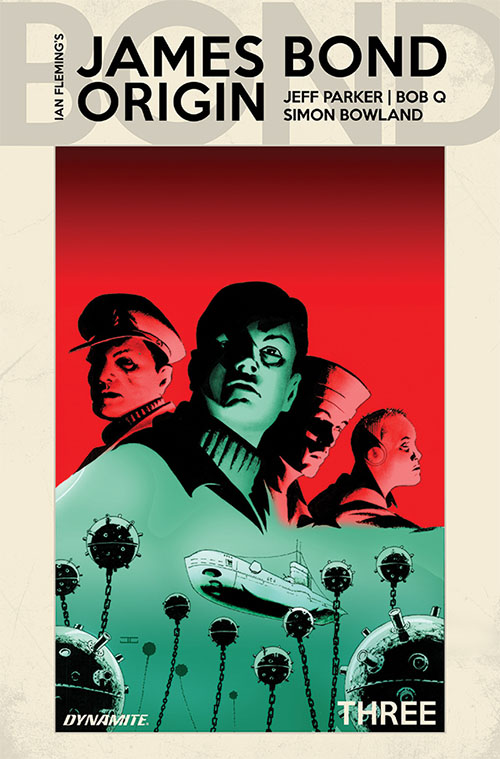 James Bond Origin #3

SEP181132

(W) Jeff Parker (A) Bob Q (CA) John Cassaday

"CHAPTER THREE: ROCKET SEA"

The epic account of James Bond's exploits during World War II continues, by superstar JEFF PARKER (Suicide Squad, Fantastic Four) and BOB Q (The Lone Ranger)!

Aboard a Royal Navy submarine, Lieutenant James Bond and crew encounter deadly German warships and bombers! Can the British crew keep their nerve and evade...or will they sink into a watery grave?

In Shops: November 14, 2018

SRP: $3.99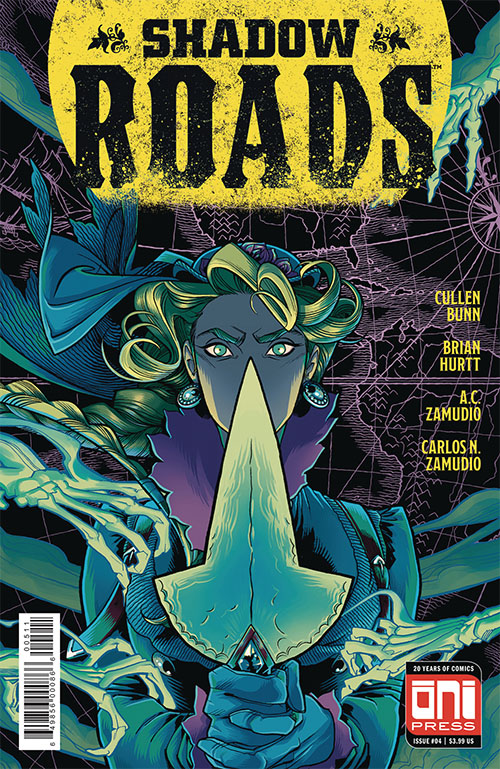 Shadow Roads #5

SEP181905

(W) Cullen Bunn, Brian Hurtt (A/CA) A.C. Zamudio, Carlos Zamudio

The Hunter has stolen the power of the Crossroads for himself, and he uses it to battle Abigail, Henry, and Isabella around the globe. Not all of our heroes will survive this fateful, final encounter with the soulstealing monster!

In Shops: November 14, 2018

SRP: $3.99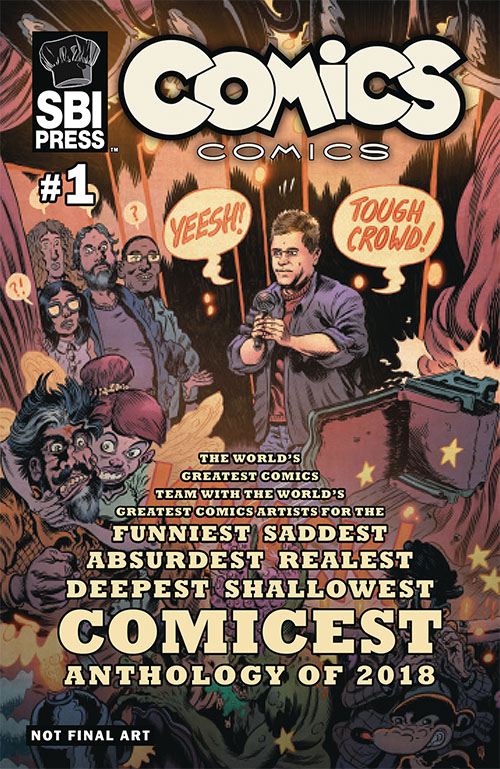 Comics Comics Quarterly #1

AUG182206

(W) Patton Oswalt, Jackie Kashian, Eliot Rahal, Sara Benincasa, Carolyn Main, Rose Matafeo (A) Robert Hack (A/CA) Troy Nixey, Carolyn Main

The comic-est anthology of 2018! Comedians love comic books, cartoonists love comedy, and our idiot editor used to mix up comics who tell jokes and comics that have pictures. Now his perpetual confusion has led to the creation of Comics Comics, a quarterly anthology teaming comedy's best with funny books' brightest! Headlined by Patton Oswalt (MST3K, Happy!), issue #1 features hilarious original stories from comedians Jackie Kashian (The Dork Forest), Sara Benincasa (Getting Wet with Sara Benincasa), Eliot Rahal (New Comic Book Day), and Rose Matafeo (Funny Girls), with art by Troy Nixey (Vinegar Teeth), Robert Hack (Chilling Adventure of Sabrina), Carolyn Main (Pitch, Please!), and more!

In Shops: November 14, 2018

SRP: $4.99