#NCBD 11/7/18: FCBD's 10 Comics for New Comic Book Day!
Nov 07, 2018
Every Wednesday is New Comic Book Day (#NCBD) in comic book shops, where new comics release hit the shelves of comic book shops for eager fans to pick up.
We've highlighted ten comics that are perfect recommendations for anyone looking to get into comics! Some of them directly tie into comics you got on Free Comic Book Day 2018!
In this week's list for comics coming out 11/7/18, there's definitely something for everyone: The Dark Knight waddles into a turf war with the Penguin in Batman, "The Escape" begins in Star Wars, the Doctor regenerates into her most thrilling incarnation yet in Doctor Who: The Thirteenth Doctor, and more!

What will you be picking up at the comic shop? Let us know on Facebook or Twitter!
---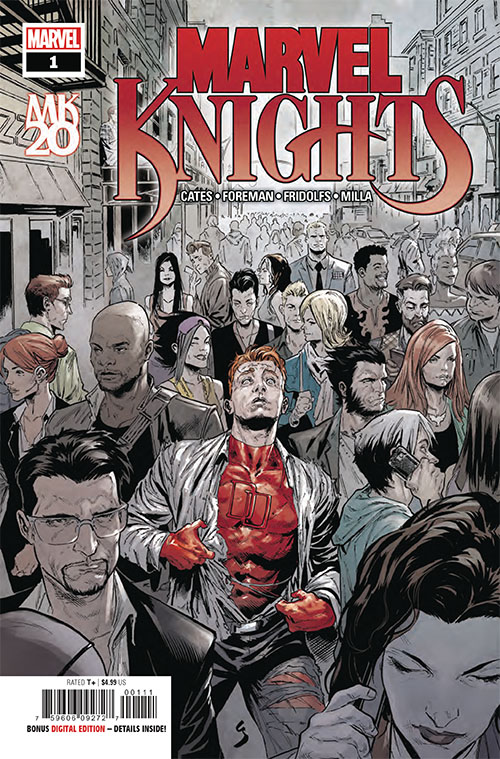 Marvel Knights 20th #1

SEP180812

(W) Donny Cates (A) Travel Foreman (CA) Geoff Shaw

In celebration of the legendary imprint founded by Marvel's CCO Joe Quesada, a new crop of talent stands poised to tell a groundbreaking story across the Marvel Universe!
In the cemetery, the blind man does not know who he is, or why he has come to this particular grave at this moment.
He doesn't know the burly police officer with the wild story who has approached him.
Or the strangely intense man who sits in the rear seat of the patrol car, his eyes flashing green.
But all of that is about to change.
Because Matt Murdock is beginning to remember...
In a colorless world without heroes, the spark of light...must come from the dark...

Rated T

In Shops: November 7, 2018

SRP: $4.99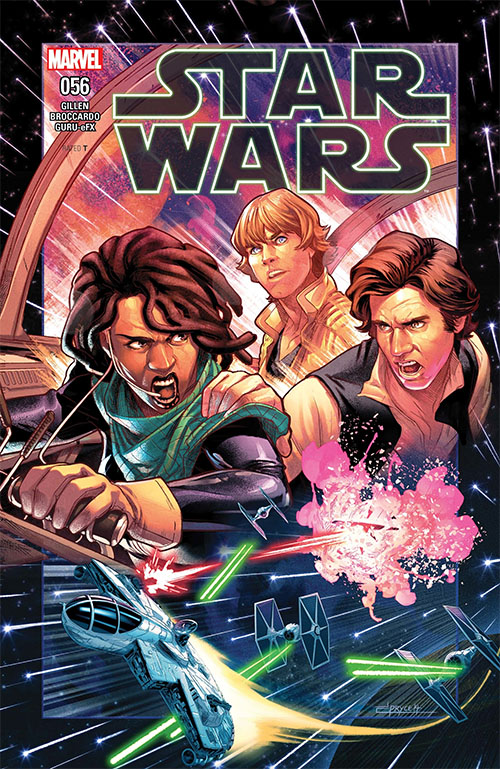 Star Wars #56

(W) Kieron Gillen (A) Andrea Broccardo (CA) Jamal Campbell
"THE ESCAPE" BEGINS!
• After the disaster of "HOPE DIES," our heroes are on the run.
• Can they escape the patrols? No. They're trapped on a distant world.
• Where have they been abandoned? How can they possibly survive?
Rated T
In Shops: November 7, 2018
SRP: $3.99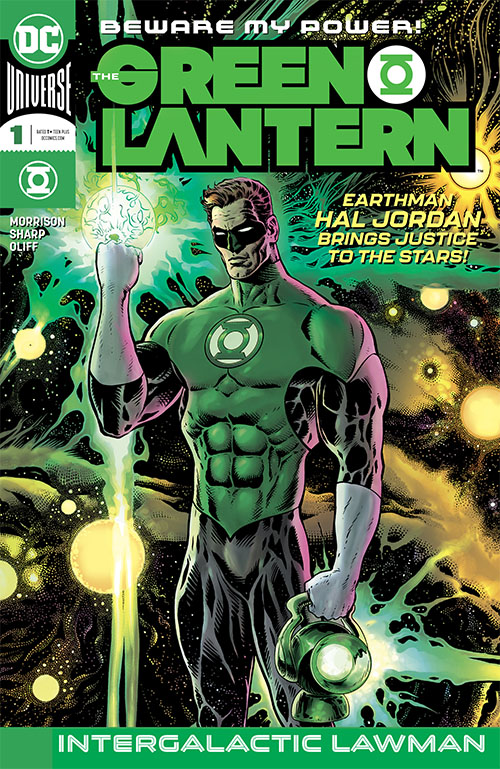 Green Lantern #1

SEP180430

(W) Grant Morrison (A/CA) Liam Sharp

Superstar writer Grant Morrison (Batman, All-Star Superman) returns to DC alongside red-hot artist Liam Sharp (The Brave AND the Bold, Wonder Woman) to launch a new, ongoing series: THE GREEN LANTERN!

In this debut issue, when Earth's space cop, Hal Jordan, encounters an alien hiding in plain sight, it sets off a chain of events that rocks the Green Lantern Corps-and quite possibly the Multiverse at large-to its very core. There's an inter-galactic conspiracy afoot, as well as a traitor in the GL Corps' ranks, so strap in for more mind-bending adventures in this masterpiece in the making.

In Shops: November 7, 2018

SRP: $4.99

Batman #58

SEP180450

(W) Tom King (A/CA) Mikel Janin

The Dark Knight waddles into a turf war with the Penguin! Still reeling from the attacks on his Bat-Family and reputation, the Caped Crusader looks to track down the mysterious operator lurking behind the scenes in Gotham City. As the hunt rages on, Batman runs "a fowl" of Oswald Cobblepot. But the Penguin is on Batman's side for once, and the crime boss sees dangerous things on the horizon. How can he convince the Caped Crusader he's on the level?

In Shops: November 7, 2018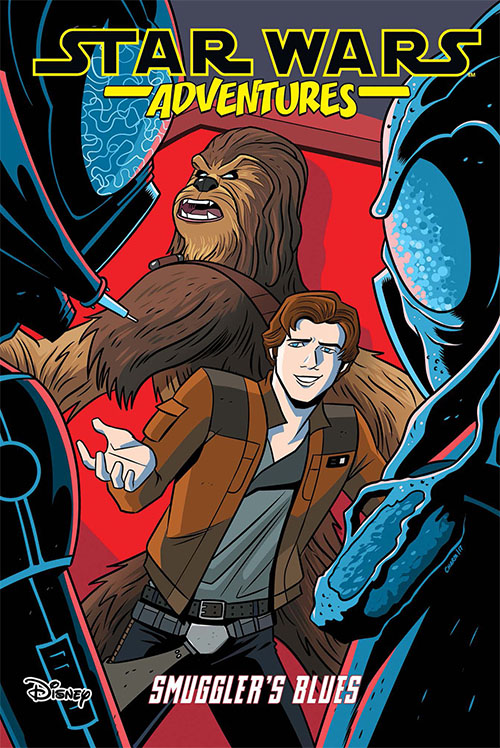 Star Wars Adventures, Vol. 4: Smuggler's Blues

JUL180878

(W) Cavan Scott, Elsa Charretier, Pierrick Colinet (A) Elsa Charretier (A/CA) Derek Charm

Set before the events of Episode IV: A New Hope, join everyone's favorite stuck-up, half-witted, scruffy-looking nerf herder on a daring new caper! Feared bounty hunters Zuckuss and 4-LOM are hot on the heels of the most notorious scoundrels in the galaxy, Han Solo and Chewbacca! To evade their pursuers, Han and Chewie will risk landing on a mysterious planet that somehow shuts down all electronics. With the Millenium Falcon unable to take off, how will the boys escape? Collects Star Wars Adventures issues #10 and #11, plus the 2018 Free Comic Book Day issue.
Advance solicited for October release!

Contains a multi-chapter story featuring characters from Solo: A Star Wars Story with Blu-ray in stores late summer early/fall.

In Shops: November 7, 2018

SRP: $9.99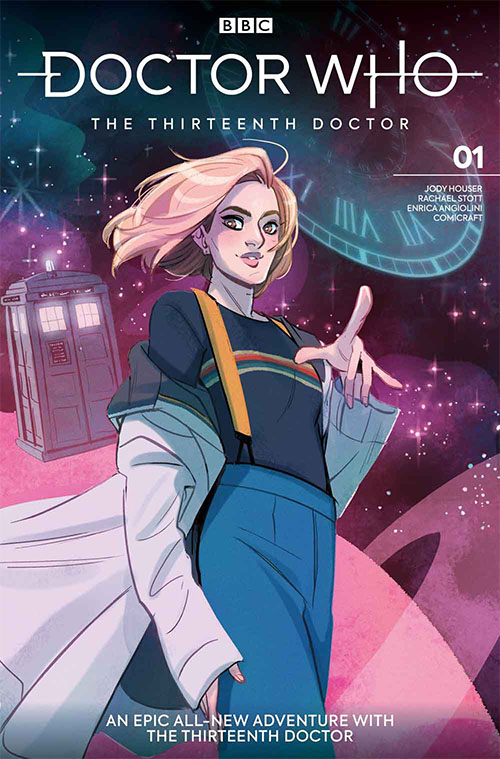 Doctor Who: The Thirteenth Doctor #1

AUG182221

(W) Jody Houser (A) Rachael Stott, Enrica Eren Angiolini (CA) Babs Tarr

The Doctor regenerates into her most thrilling incarnation yet - played by Jodie Whittaker, and traveling alongside three brand new companions: Graham (Bradley Walsh), Yasmin (Mandip Gill), and Ryan (Tosin Cole)!

Experience mind-blowing challenges and dynamic adventures through time and space - right alongside the Doctor and her friends!
A new series for a new era on the TARDIS, from a creative team of astounding women - Eisner-nominated writer Jody Houser (Faith, Mother Panic, Star Wars: Rogue One, Spider-Man: Renew Your Vows, Orphan Black, The X-Files: Origins), art by Rachael Stott (Doctor Who, Motherlands, Star Trek/Planet of the Apes) and colors from Enrica Angiolini (Shades of Magic: The Steel Prince, Warhammer 40,000)!

Commemorate this once-in-a-lifetime regeneration with thirteen variant covers, from a variety of astounding women comics artists!

In Shops: November 7, 2018

SRP: $3.9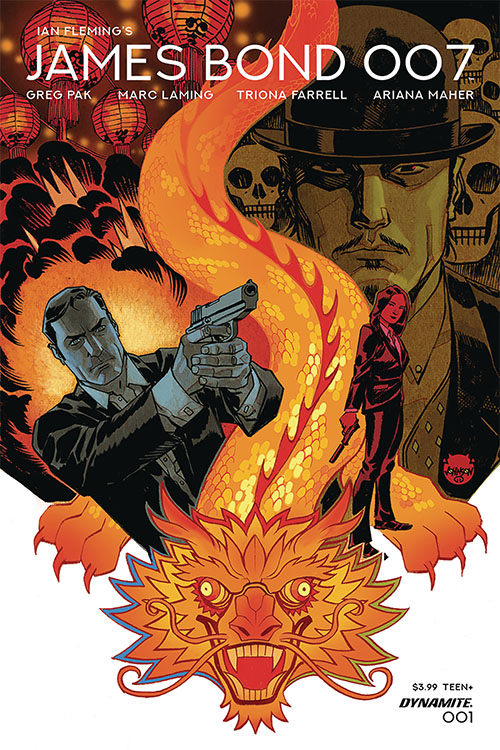 James Bond 007 #1

SEP181041

(W) Greg Pak (A) Marc Laming (CA) Dave Johnson

The ODD JOB epic begins in a new ongoing James Bond comic series by superstars GREG PAK (Planet Hulk, Mech Cadet Yu) and MARC LAMING (Star Wars, Wonder Woman)! Agent 007 tracks a smuggler into Singapore to secure a dangerous case, contents unknown. But a Korean mystery man wants the case as well, for very different reasons. And if Bond and this new rival don't kill each other, the ruthless terrorist organization known as ORU will be more than happy to finish the job.

In Shops: November 7, 2018

SRP: $3.99



Street Angel vs. Ninjatech HC

SEP180117

(W) Brian Maruca, Jim Rugg (A/CA) Jim Rugg

After a hard fight with Ninja Carl, the deadliest girl alive seeks revenge! ... against the company that manufactured his dangerous weapons. Street Angel makes some friends, kinda; helps out a witch, sorta; and fights the Assassin of the Future™: the Ninja 6000 ® by Ninjatech. Join Street Angel as she declares war on the ninja industrial complex. Sure is convenient that it's bring your daughter to work day!

In Shops: November 7, 2018

SRP: $19.99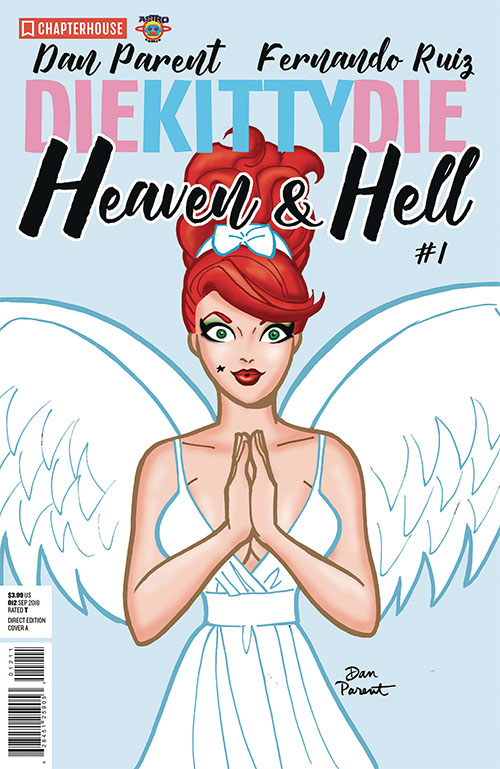 Die Kitty Doe: Heaven & Hell #1

JUL181724

(W) Dan Parent, Fernando Ruiz (A/CA) Dan Parent, Fernando Ruiz

Kitty Ravencraft returns! The last time we saw her, her new comic book series was a huge success and she was once again the talk of the comic shops! Kitty's sleazy publisher managed to get a Hollywood film deal based on her series, but she soon found herself in danger once again! So much so, that she gets shot and killed by a mystery killer! Now, we'll see Kitty go on trial, taking a visit to Heaven and Hell... then going on a mission from God to seek out her killer! And when you see who her killer is, you will be shocked! But where will she end up? And what will happen to her killer? Find out in the wackiest, funniest Kitty story yet!

In Shops: November 7, 2018
SRP: $3.99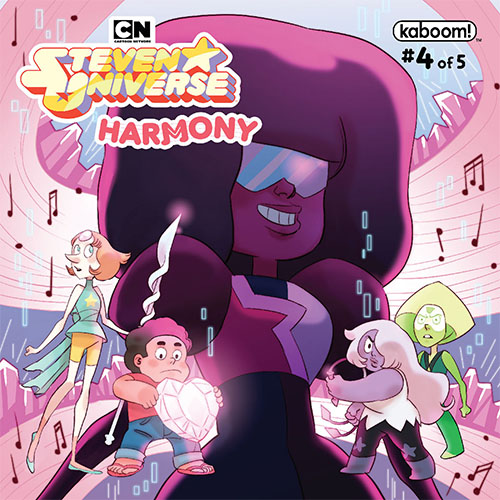 Steven Universe Harmony #4

SEP181342

(W) Shane-Michael Vidaurri (A) Mollie Rose (CA) Marguerite Sauvage

With the Harmony Core subduing more and more of Beach City, Steven and the remaining Crystal Gems must find a solution-and fast!

In Shops: November 7, 2018

SRP: $3.99