#NCBD 10/31/18: FCBD's 10 Comics for New Comic Book Day!
Oct 31, 2018
Every Wednesday is New Comic Book Day (#NCBD) in comic book shops, where new comics release hit the shelves of comic book shops for eager fans to pick up.
We've highlighted ten comics that are perfect recommendations for anyone looking to get into comics! Some of them directly tie into comics you got on Free Comic Book Day 2018!
In this week's list for comics coming out 10/24/18, there's definitely something for everyone: Kaine has stepped forward for the deadliest mission in all of SPIDER-GEDDON in Spider-Force, the Ocean Lords invade the Earth with an alien army and flood the globe in Justice League – Aquaman: Drowned Earth, Jack Boniface is about to discover the long-hidden history of the supernatural power in Shadowman, and more!

What will you be picking up at the comic shop? Let us know on Facebook or Twitter!
---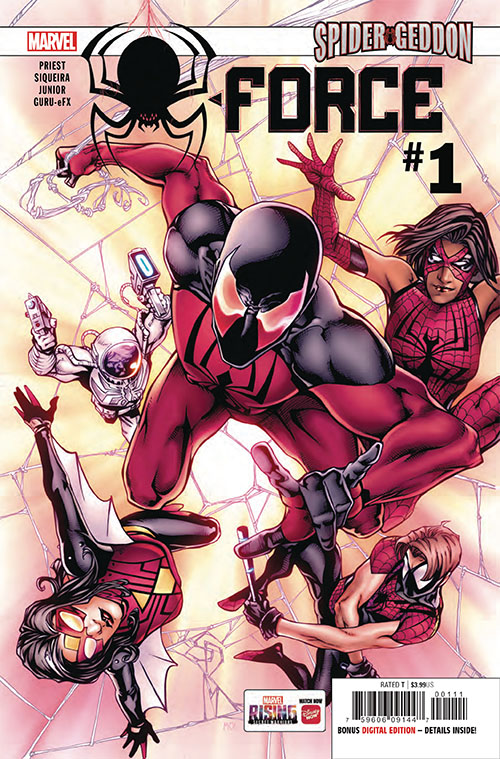 Spider-Force #1
(W) Priest (A) Paulo Siqueira (CA) Shane Davis

A SPIDER-GEDDON TIE IN!
The deadliest mission in all of SPIDER-GEDDON has come up and Kaine has stepped forward for what he's sure will be a suicide mission. But he can't do it alone and Jessica Drew, A.K.A. Spider-Woman has signed on to help, but has Kaine told her the whole truth? With Ashley Barton, from the OLD MAN LOGAN universe, and two new characters (Astro-Spider and Spider-Kid), Kaine's team is complete and their first mission may be their last!
Rated T
In Shops: October 31, 2018
SRP: $3.99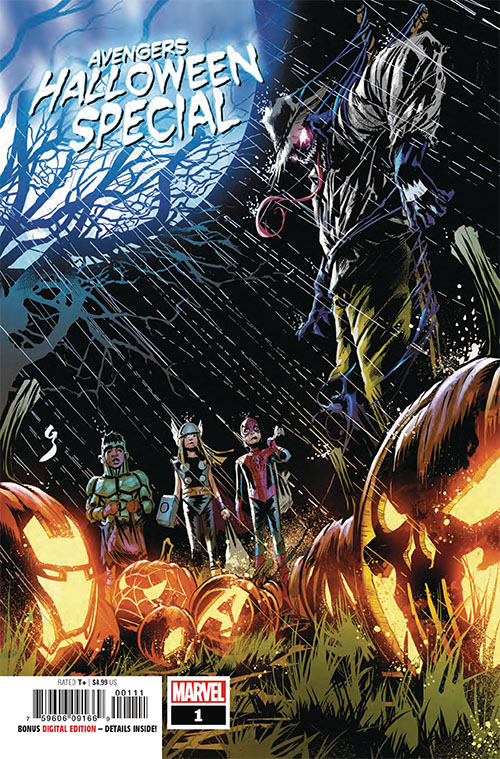 Avengers: Halloween Special #1
(W) Gerry Duggan, More (A) Laura Braga, Luca Pizzari, Robert Quinn (CA) Geoff Shaw
TRICK OR TREAT, TRUE BELIEVERS!
PLUS! Spooky stories starring the X-Men & Doctor Doom!
Epic thrills and ghastly horror awaits in these all-new twisted tales! Spanning the breadth of the Marvel Universe, through the macabre lens of a murderer's row of writers and artists assembled here, see your favorite heroes and villains as you've never seen them before!
Also including the Marvel Comics writing debut of Jay Baruchel (This is the End; Goon)!
Rated T
In Shops: October 31, 2018
SRP: $4.99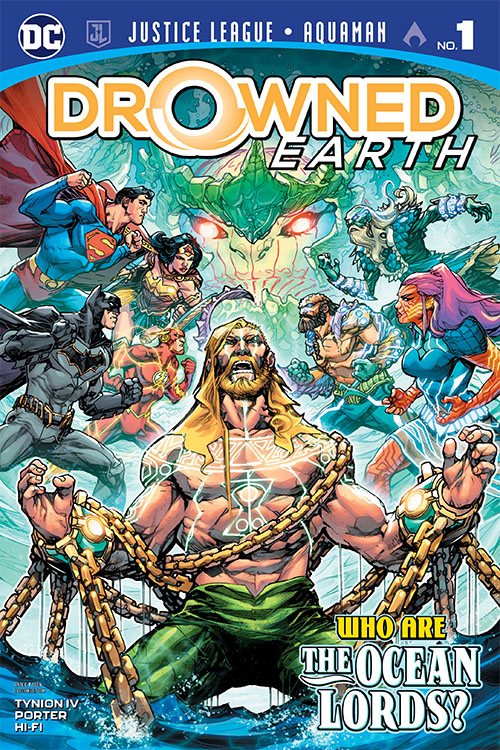 Justice League – Aquaman: Drowned Earth #1
(W) James TynionIV (A/CA) Howard Porter
"Drowned Earth" part one! The Ocean Lords-ancient sea gods with a grudge against Aquaman and Wonder Woman-invade the Earth with an alien army and flood the globe. As Batman, Superman and the Flash race to stop the waters from rising and turning everyone into aquatic monsters, Mera seeks the advice of an old enemy, and Arthur must face down Black Manta...or lose his connection to the ocean forever!
In Shops: October 31, 2018
SRP: $4.99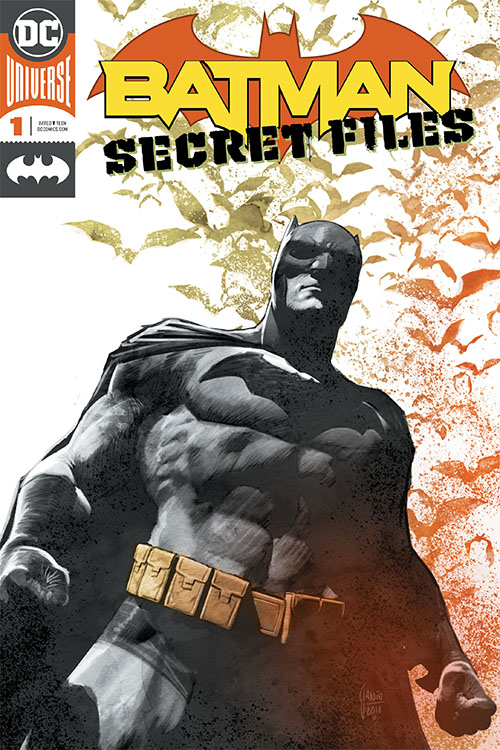 Batman: Secret Files #1
(W) Tom King, Jodie Bellaire, Ram V., Cheryl Lynn Eaton, Tom Taylor (A) Jorge Fornes, Elena Casagrande, Brad Walker (A/CA) Mikel Janin
Delve into Batman's case histories and discover brand-new stories by some of comics' most exciting talents. The BATMAN team of Tom King and Mikel Janin provides a framing sequence, setting up our hand-picked teams of creators to take a look at Bat-mysteries past and present. Featuring a bevy of Batman villains, including a look at how the Scarecrow's fear toxin affects the common man, and a special story written by Tom Taylor with art by Brad Walker that teams the Dark Knight Detective with Detective Chimp.
In Shops: October 31, 2018
SRP: $4.99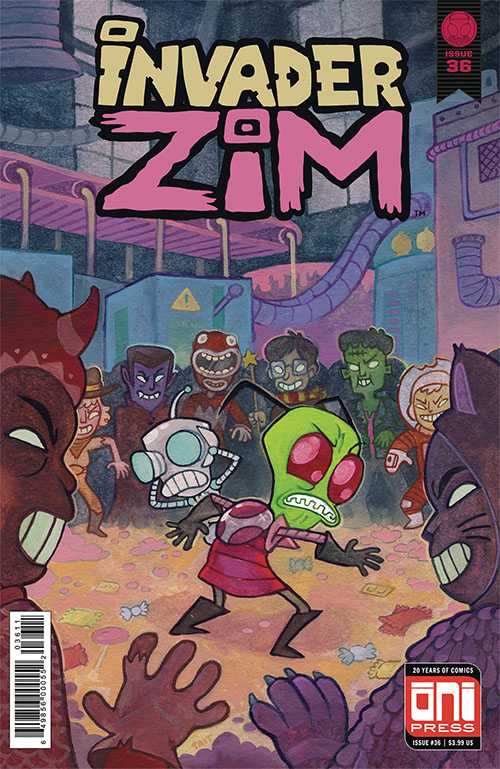 Invader Zim #36
(W) Tait Howard, Matthew Seely (A/CA) Matthew Seely, Tait Howard
Halloween! All Hallow's Eve! Scare-Topia 2000! Whatever you call October 31st, ZIM doesn't quite understand it. All he knows is that the candy given out on this terrible day must have some kind of mind-control substance inside of it (that he will, of course, exploit for world-taking-over purposes). When his investigation leads him to an abandoned factory and a band of feral children living off its sweet, sweet reserves, he'll learn the hard way that some things are better left unknown.
In Shops: October 31, 2018
SRP: $3.99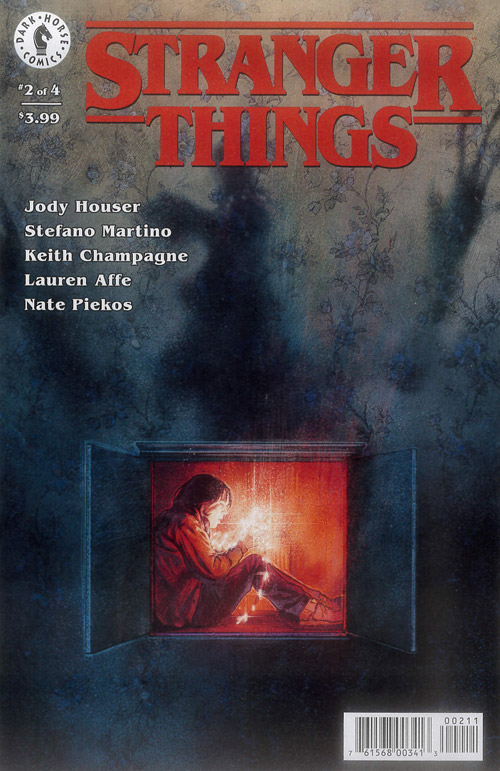 Stranger Things #2
(W) Jody Houser (A) Stefano Martino (CA) Aleksi Briclot

Stuck in the mysterious Upside Down, Will Byers is cold, scared and starving. He uses his last bullet to temporarily drive away the Demogorgon. Drawing on lessons learned from D&D, Will hunts for food and supplies to prepare for whatever lies ahead. After discovering he can affect the lights in his family home, brief excitement turns to terror when he realizes he isn't the only one that wants to break through to the other side.
o Written by award-winning comics veteran Jody Houser (Faith, Orphan Black, Mother Panic).
o Based on Will's unseen journey during season 1 of hit Netflix show Stranger Things.
In Shops: October 31, 2018
SRP: $3.99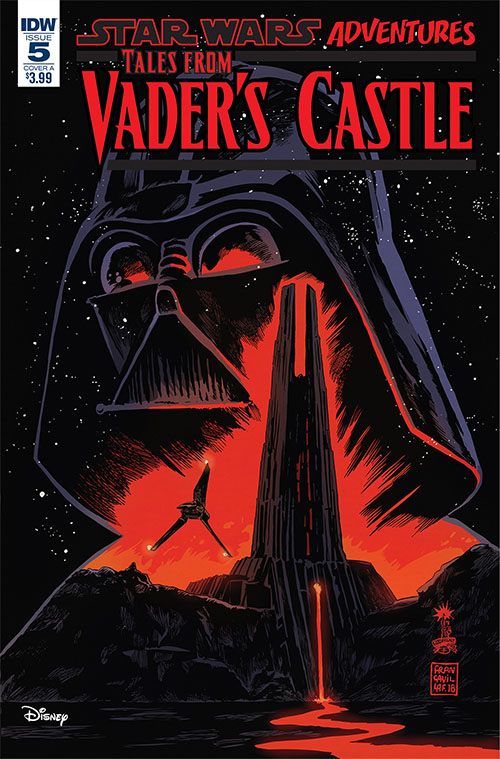 Star Wars: Tales from Vader's Castle #5 (of 5)
(W) Cavan Scott (A) Derek Charm, Charles Paul Wilson (CA) Francesco Francavilla
Tales from Vader's Castle puts a spooky spin on your favorite characters from a galaxy far, far away...
This exciting weekly series explores the hidden corners of the Star Wars universe and features Rebels stars Hear, Kanan, and Chopper; Obi-Wan Kenobi and Count Dooku; Han Solo and Chewbacca; the Ewoks; and of course, Darth Vader -all under the shadow of Vader's Castle!
Fans will be excited to discover these creepy stories by fan-favorite writer Cavan Scott with art by the greatest talent from across the galaxy, including Derek Charm, Kelley Jones, Chris Fenoglio, Corin Howell, Robert Hack, and Charles Paul Wilson III!
Covers by Eisner-winning artist Francesco Francavilla! Collect all five!
Featuring your favorite Star Wars characters in classic spooky stories!
Ask your retailer about the ultra-rare variant cover by Derek Charm!
In Shops: October 31, 2018
SRP: $3.99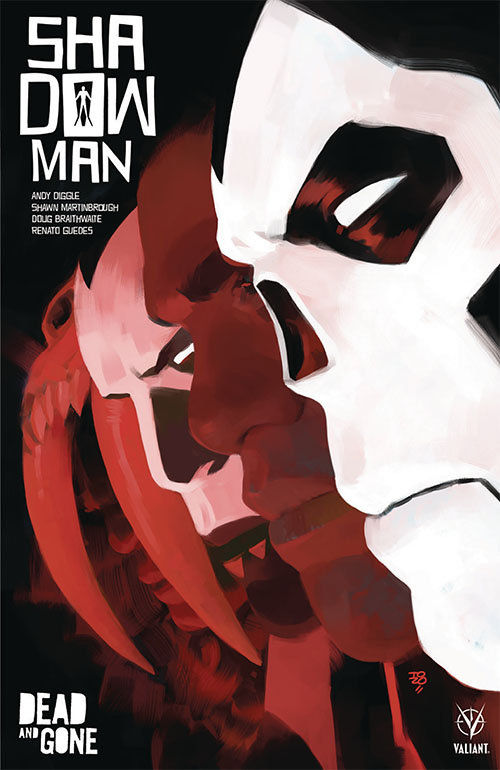 Shadownman, Vol. 2: Dead And Gone
(W) Andy Diggle (A) Shawn Martinbrough, Doug Braithwaite, Renato Guedes (CA) Tonci Zonjic
A legend-fueled odyssey into eons past!
For years, Jack Boniface believed that he knew the true story of the Shadowman loa - the true story of the curse inside him. He was wrong.
For the first time, Jack Boniface is about to discover the long-hidden history of the supernatural power that became his birthright... Unmoored in time and space, the loa is about to reveal its untold dimensions...and now, the last defender of the wall between our realm and the Deadside is falling backwards through the astral void, finding himself face to face with his forebears across the centuries - from the paranoia-addled alleyways of 1940s New York to the fire-scorched plantations of the Civil War...all the way back to the primeval height of the African savannah in 40,000 B.C.!
Master storyteller Andy Diggle (Green Arrow: Year One) leads a cast of superstar artists - including Shawn Martinbrough (Thief of Thieves), Doug Braithwaite (Justice), and Renato Guedes (Wolverine) - to reveal the full scope and power of the Shadowman mythos.
In Shops: October 31, 2018
SRP: $14.99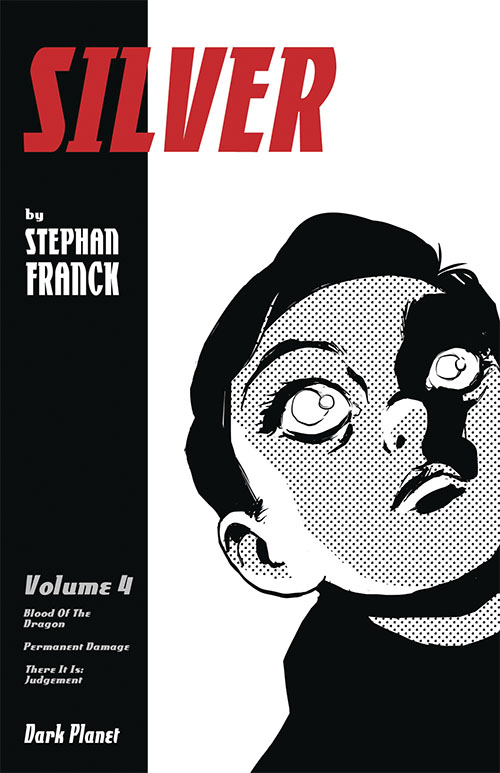 Silver TP Vol. 4
(W) Stephan Franck (A/CA) Stephan Franck
As Silver's 4th and final volume begins, pulp-era conman James Finnigan, Rosalynd "Sledge" Van Helsing, and their team are in a race against time to get out of dodge before Dracula figures out how they made The Silver Dragon, his massive treasure, disappear. After much suspense, the team finally heads off on the getaway train, only to find that the train has one extra passenger... a very deadly one. Silver concludes with its most suspenseful, action-packed and disclosure-heavy volume yet, and an epic finale that will keep you guessing until the very end!
In Shops: October 31, 2018
SRP: $16.99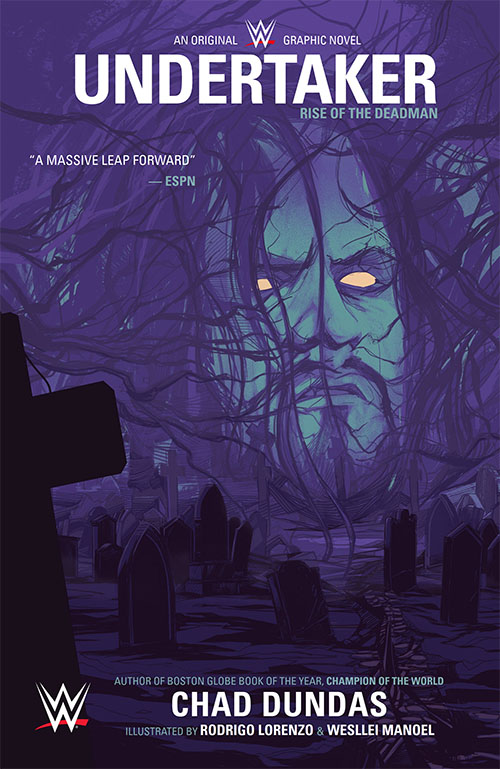 WWE Undertaker Original Graphic Novel
(W) Chad Dundas (A) Rodrigo Lorenzo (CA) Oliver Barrett
Acclaimed journalist and author Chad Dundas ( Champion Of The World ) teams with illustrator Rodrigo Lorenzo ( WWE ) for the definitive tale of one of WWEfs greatest Superstars.
The Dead Man. The Phenom. The Legend who dominated Sports Entertainment for over twenty-five years. For the first time, the unrivaled career of the Undertaker is chronicled in graphic novel form from WWE and BOOM! Studios.
In Shops: October 31, 2018
SRP: $19.99