#NCBD 8/29/18: FCBD's 10 Comics for New Comic Book Day!
Aug 29, 2018
Every Wednesday is New Comic Book Day (#NCBD) in comic book shops, where new comics release hit the shelves of comic book shops for eager fans to pick up.
We've highlighted ten comics that are perfect recommendations for anyone looking to get into comics! Some of them directly tie into comics you got on Free Comic Book Day 2018!
In this week's list for comics coming out 8/29/18, there's definitely something for everyone: an origin of everyone's favorite symbiote is revealed in Venom: First Host #1, roleplaying gaming is taken to the next level with Rick and Morty/Dungeons & Dragons #1, the Force prevails in Star Wars Adventures #13, and more!

What will you be picking up at the comic shop? Let us know on Facebook or Twitter!
Venom: First Host #1
JUN180823

(W) Mike Costa (A/CA) Mark Bagley
Before the AMAZING SPIDER-MAN...before VENOM... There was the FIRST HOST. And that First Host has returned in need of Venom's help — only by reuniting can the two avert cosmic ruin! Can Eddie and the symbiote trust one another long enough to save the galaxy, or will the FIRST HOST prove to be Venom's undoing?

Rated T+

In Shops: Aug 29, 2018

SRP: $3.99
The Joker/Daffy Duck Special #1
JUN180449

(W) Scott Lobdell, Joey Cavaleri (A) Brett Booth & Various (CA) Norm Rapmund, Brett Booth
When Daffy Duck pays a call to the Acme corporate headquarters in Gotham City, he finds the company long gone and their abandoned building now occupied by The Joker. With a hit in progress, Daffy tries to sneak away, only to find himself in the clutches of the Clown Prince of Crime. But Joker decides that there's some potential in this manic bird and forces Daffy to join his gang. Will he find a way to escape...or will he become The Joker's new right-hand duck?

In Shops: Aug 29, 2018

SRP: $4.99


Star Wars Adventures #13
JUN180698

(W) Elsa Charretier, Pierrick Colinet (A/CA) Elsa Charretier
Anakin Skywalker and Padme Amidala embark on an adventure filled with danger and romance in a story by fan-favorites Elsa Charretier and Pierrick Colinet!

In Shops: Aug 29, 2018

SRP: $3.99


Starcraft Avengers #2
JUN180349

(W) Jody Houser (A/CA) Gabriel Guzman
Terran space scavengers find several shocking surprises on the derelict protoss ship they're hoping to pillage. Will Caleb, a newcomer to this group, discover their leader's secret mission? Writer Jody Houser (Mother Panic, Faith) and artist Gabriel Guzmán (Mass Effect: Discovery, Star Wars) join forces for a new series that expands the universe of Blizzard's hit game.

In Shops: Aug 29, 2018

SRP: $3.99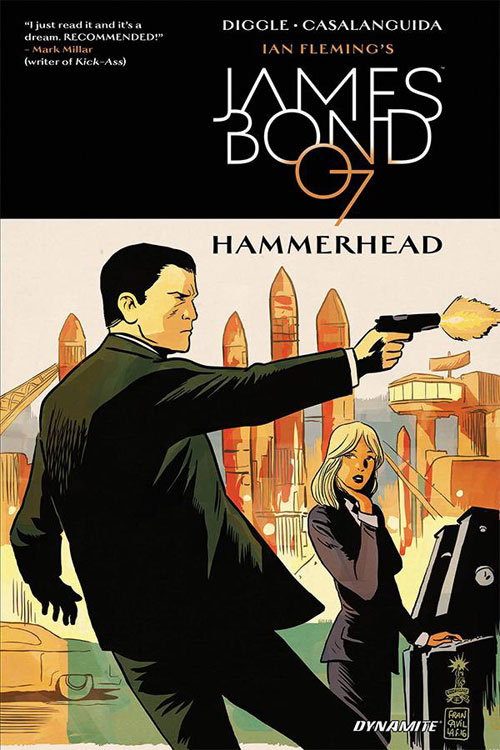 James Bond: Hammerhead TP

JUN181106

(W) Andy Diggle (A/CA) Luca Casalanguida
Bond is assigned to hunt down and eliminate Kraken, a radical anti-capitalist who has targeted Britain's newly-upgraded nuclear arsenal. But all is not as it seems. Hidden forces are plotting to rebuild the faded glory of the once-mighty British Empire, and retake by force what was consigned to history. 007 is a cog in their deadly machine - but is he an agent of change, or an agent of the status quo? Loyalties will be broken, allegiances challenged. But in an ever-changing world, there's one man you can rely on: Bond. James Bond.

In Shops: Aug 29, 2018

SRP: $19.99
Mighty Morphin Power Rangers: Shattered Grid #1

JUN181222

(W) Kyle Higgins (A) Daniele Di Nicuolo, Diego Galindo (CA) Jamal Campbell
The epic conclusion to the first Power Rangers comic book event. Everything changes here!
In Shops: Aug 29, 2018

SRP: $7.99
Dissension: War Eternal #2
JUN181463

(W) Chrisopher Fielder (A/CA) Jordan Gunderson
In the not so distant future. A new thread tying the past to the present emerges as Saravati, a heavenly angel tasked with a seemingly insurmountable mission, ventures to earth in search of answers. As Saravati begins to form an alliance with an unlikely ally, Delphi and her team of freedom fighters face new challenges and considerable losses as they continue their journey toward stopping the coming apocalypse. Meanwhile, the Syndicate of renegade angels has settled into a new home, making an unlikely, and uneasy, new alliance of their own. The role the Syndicate plays in the chaos now growing on Earth becomes clear as they plot their next move in regaining their dominance over the human race.

In Shops: Aug 29, 2018

SRP: $3.99


Lady Mechanika: Dame Sans Merci #2
JUN181502

(W) Joe Benitez, M. M. Chen (A) Joe Benitez, Martin Montiel (CA) Joe Benitez
Lady Mechanika's investigation of her forgotten past leads her into a deadly ambush, and her usually reliable associate Mr. Lewis is nowhere to be found. What could have happened to Mr. Lewis that he should abandon his best friend in her time of need? And how will Lady Mechanika manage to escape the trap all on her own?

In Shops: Aug 29, 2018

SRP: $3.99

Rick And Morty Vs. Dungeons & Dragons #1
JUN180636

(W) Patrick Rothfuss, Jim Zub (A/CA) Troy Little
Patrick Rothfuss & Jim Zub (w) o Troy Little (a & c)
When Morty needs to learn how to play D&D to keep up with the cool kids, his hard-drinking, old school-gaming, mad science-making grandpa is happy to teach him how to roll the dice, but neither of them is prepared for the saving throws they're about to fail or the true quest yet to come. Strap on a +1 longsword and grab your 10-foot pole, because this is going to be a gaming gauntlet like no other!

In Shops: Aug 29, 2018

SRP: $3.99
Tank Girl All Stars #3
JUN182019

(W) Alan Martin (A) Brett Parson, Jim Mahfood (CA) Brett Parson
Continuing the party-tastic birthday celebrations! Tank girl takes on a troupe of girl scouts, Sub Girl drops her bra in the punch, and Booga scares everyone away by eating his own hand!

In Shops: Aug 29, 2018

SRP: $3.99
---

See all the New Releases for this week here!

Get these comics at your local comic shop!