#NCBD 8/15/18: FCBD's 10 Comics for New Comic Book Day!
Aug 15, 2018
Every Wednesday is New Comic Book Day (#NCBD) in comic book shops, where new comics release hit the shelves of comic book shops for eager fans to pick up.
We've highlighted ten comics that are perfect recommendations for anyone looking to get into comics! Some of them directly tie into comics you got on Free Comic Book Day 2018!
In this week's list for comics coming out 8/15/18, there's definitely something for everyone: Spider-Punk is back and better than ever in Edge of Spider-Geddon, Shattered Grid rages on in Mighty Morphin Power Rangers, Cold Day continues in Batman, and more!

What will you be picking up at the comic shop? Let us know on Facebook or Twitter!
---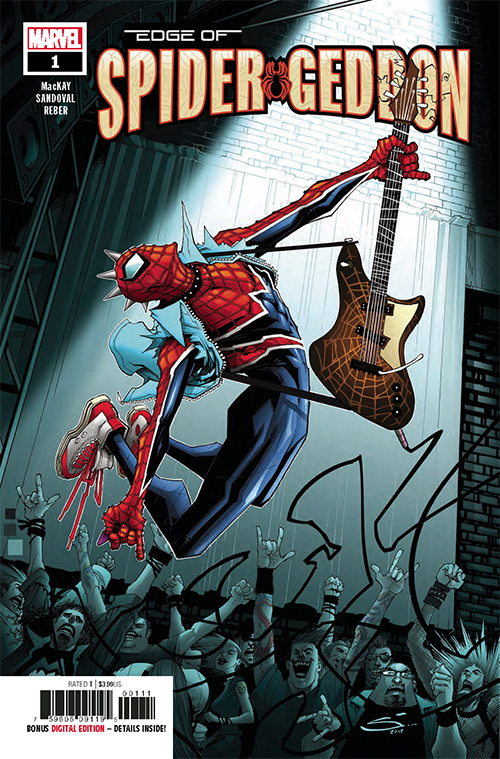 Edge of Spider-Geddon #1
(W) Jed MacKay (A/CA) Gerardo Sandoval
SPIDER-GEDDON IS COMING!
Spider-Punk is back and better than ever. After SPIDER-VERSE, Hobie Brown was a Web Warrior, but that didn't mean things back in his universe were solved. The writer of the SPIDER-PUNK story in SPIDER-VERSE is back and joined by VENOM'S Gerardo Sandoval! Spider-Punk's Earth is under attack both on the ground and from space, meaning his responsibility seems to outweigh his power. Don't miss this first shot of the SPIDER-EVENT of 2018!
Rated T+
In Shops: August 15, 2018
SRP: $3.99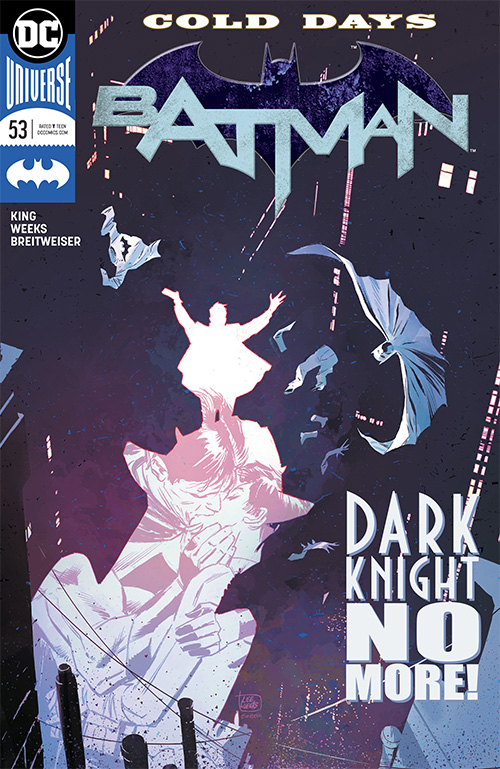 Batman #53
(W) Tom King (A/CA) Lee Weeks
"Cold Days" continues! The jury in the Mr. Freeze trial is hopelessly deadlocked because one man won't vote guilty-and that man is Bruce Wayne. Freeze's defense is that Batman used excessive force, making his arrest illegal, and Bruce is the one man who actually knows for sure what went down between Batman and his ice-cold nemesis. And if Bruce is right, that means everything he's devoted himself to as the Caped Crusader is a lie; he is hurting more than helping. With Dick Grayson putting the Batsuit back on to keep Gotham City safe while Bruce is sequestered, could this be the out Bruce needs to discard the cape and cowl forever?
The Eisner Award-nominated team of Tom King and Lee Weeks reexamine the relationship between hero and foe, as Batman relives not just that one violent night when he took down the King of Cold, but every time the two have come to blows.
In Shops: August 15, 2018
SRP: $3.99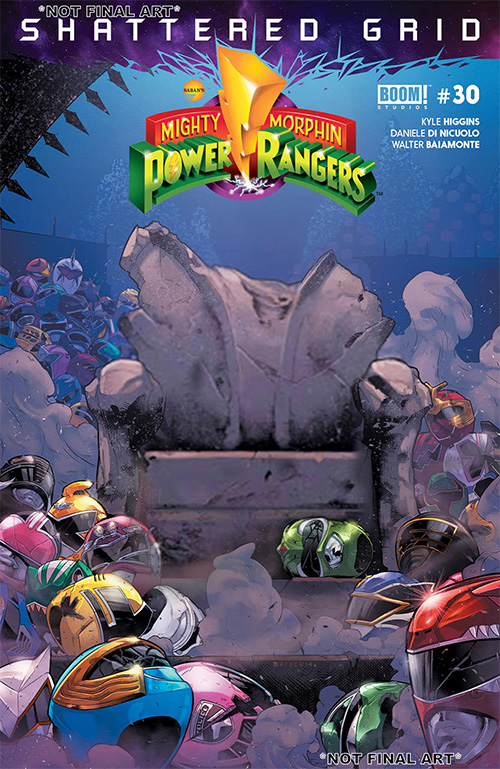 Mighty Morphin Power Rangers #30

JUN181216

(W) Kyle Higgins, Ryan Ferrier (A) Daniele Di Nicuolo, Bachan (CA) Jamal Campbell

This is it. The team up between every Ranger left standing against the unrivaled power of Drakkon, while a covert team led by Grace embarks on what might be their last mission ever.

In Shops: August 15, 2018

SRP: $3.99

Nuway #2

JUN181461

(W) J. T. Krul (A/CA) Alex Konat

For Zihao, all his struggles and all his training has been leading up to this moment - a chance to upgrade his flesh and bone with the steel and circuitry of cybernetic enhancements in order to fight in the big arena. But, now that the moment of truth has arrived, he must decide once and for all if he's willing to the pay the ultimate price. There's no going back. Just ask Cassi. Don't miss this exciting new chapter of an electrifying story in a bold new world! Aspen is proud to partner with ZMX Entertainment on their landmark project created by J.T. Krul, Yuyan Song, and Dinna Wu, and featuring the stellar creative team of Alex Konat, Mark Roslan, John Starr, and Sal Cipriano.

In Shops: August 15, 2018

SRP: $3.99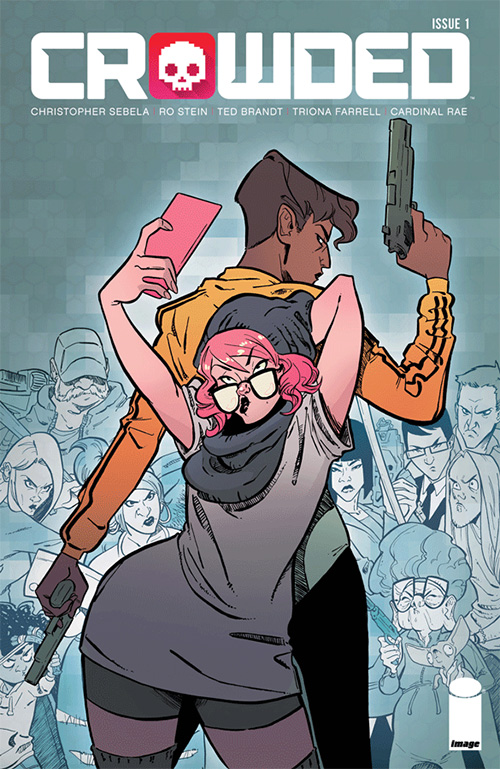 Crowded #1

JUN180046

(W) Christopher Sebela (A/CA) Ro Stein, Ted Brandt

SERIES PREMIERE! Ten minutes in the future, the world runs on an economy of job shares and apps, including Reapr: a crowdfunding platform to fund assassinations. Charlie Ellison leads a quiet, normal life until she's suddenly targeted by a million-dollar Reapr campaign. Hunted by all of Los Angeles, Charlie hires Vita, the lowest-rated bodyguard on the Dfend app. As the campaign picks up speed, they'll have to figure out who wants Charlie dead before the campaign's 30 days-or their lives-are over.

From Eisner-nominated writer CHRISTOPHER SEBELA (Heartthrob, We(l)come Back, Harley Quinn), RO STEIN & TED BRANDT (Captain Marvel, Raven: The Pirate Princess), TRIONA FARRELL (Runaways, Mech Cadet Yu), and CARDINAL RAE (BINGO LOVE, ROSE).

In Shops: August 15, 2018

SRP: $3.99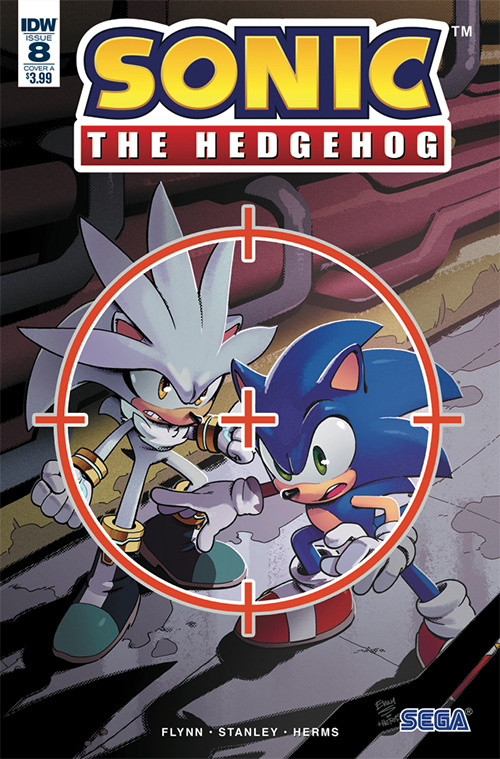 Sonic The Hedgehog #8

JUN180691

(W) Ian Flynn (A/CA) Evan Stanley

Hush! You hear that? It sounds like Sonic's racing off to another adventure and he's not alone! But who is this "Guardian Angel" and why does everybody talk about her in a Whisper?

In Shops: August 15, 2018

SRP: $3.99

The Terminator: Sector War #1
JUN180316

(W) Brian Wood (A) Jeff Stokely (CA) Robert Sammelin

Two Terminators went back in time to 1984, one to kill Sarah Conner, and another targeting NYPD Officer Lucy Castro, a rookie cop assigned to one of the worst sections of the city. Isolated and unable to call for backup, Castro faces off against the relentless T800, relying on unlikely allies to see her through to dawn.
o Brian Wood delves into the world of Terminator.

In Shops: August 15, 2018

SRP: $3.99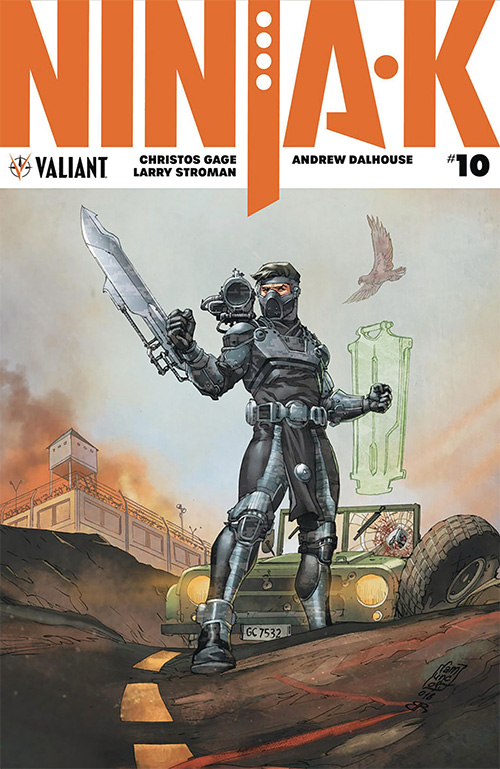 Ninja-K #10
JUN182074

(W) Christos Gage (A) Juan Jose Ryp (CA) Giuseppe Camuncoli

A BLOCKBUSTER NEW JUMPING-ON POINT! In Margaret Thatcher's Britain, meet the future of espionage: the hard-hitting, brutalizing super-spy codenamed NINJA-H!

From the encrypted files of The Ninja Programme, another secret chapter revealed! The Cold War is in full swing and the United Kingdom's top-secret intelligence unit has come to a crossroads. As their once-elite collection of secret agents finds itself outmatched by the escalation of the United States' H.A.R.D. Corps division, the spymasters of MI6 are about to develop a new kind of soldier for their never- ending war of global gamesmanship and international intrigue. Part man, part machine, and bound together with the most extreme
technological enhancements that the 1980s have to offer, NINJA-H is faster, stronger, and deadlier than any who have come before...

Now, for the first time, the metal-crunching saga of MI6's one-man, super-powered strike force - and his tragic fall from grace - can finally be told as renowned writer Christos Gage (Netflix's Daredevil) teams with comics legend Larry Stroman (X-Factor) to declassify the next standalone shadow-laden chapter in the history of Ninjak's fellow Ninja Programme agents!

In Shops: August 15, 2018

SRP: $3.99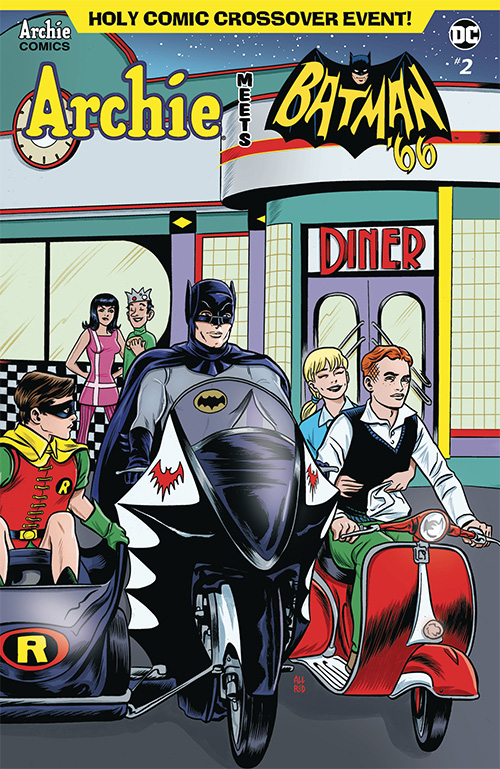 Archie Meets Batman '66 #2

JUN181431

(W) Jeff Parker, Michael Moreci (A) Dan Parent, J. Bone (CA) Michael Allred, Laura Allred

THE HISTORIC CROSSOVER MINI-SERIES CONTINUES!
Batman's received a panicked call from Riverdale and he sends Robin and Batgirl with one caveat-they must disguise themselves as high school transfer students!

In Shops: August 15, 2018

SRP: $3.99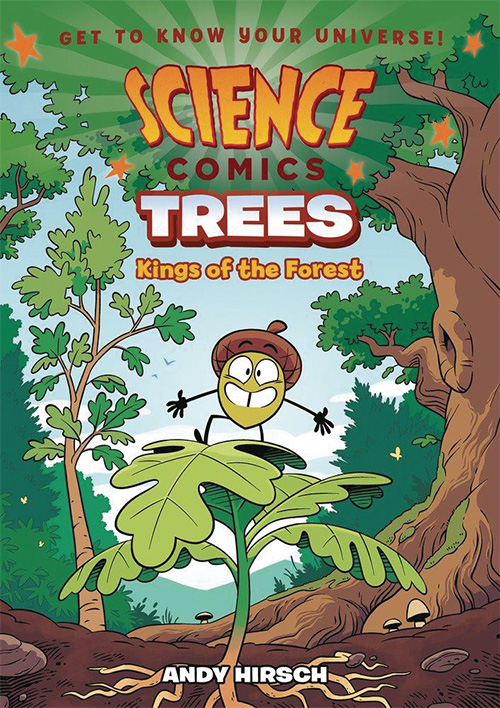 Science Comics Trees GN
JUN181777

(W) Andy Hirsch (A/CA) Andy Hirsch

Branch out! Discover the importance of trees with Andy Hirsch in this volume of Science Comics, the action-packed nonfiction graphic novel series for middle-grade readers! In Trees we follow an acorn as it learns about its future as Earth's largest, longest-living plant. Starting with the seed's germination, we learn about each stage until the tree's maturation, different types of trees, and the roles trees take on in our ecosystem. Each volume of Science Comics offers a complete introduction to a particular topic. Whether you're a fourth grader doing a natural science unit at school or a thirty-year-old with a secret passion for airplanes, these books are for you! Available in softcover and hardcover editions.

In Shops: August 15, 2018

SRP: $12.99
---

See all the New Releases for this week here!

Get these comics at your local comic shop!