#NCBD 6/13/18: FCBD's 10 Comics for New Comic Book Day!
Jun 13, 2018
Every Wednesday is New Comic Book Day (#NCBD) in comic book shops, where new comics release hit the shelves of comic book shops for fans to pick up.
We've highlighted ten comics that are perfect recommendations for anyone looking to get into comics!
In this week's list for books coming out 6/13/18, there's definitely something for everyone: begin reading a whole new direction for Thor, Plastic Man is back for DC, Dib returns in Invader Zim, and more!

What will you be picking up at the comic shop? Let us know on Facebook or Twitter!
---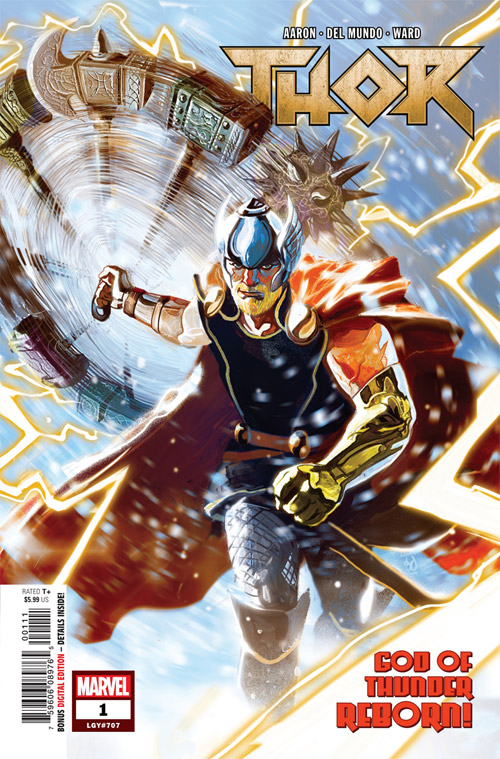 Thor #1
APR180649

(W) Jason Aaron (A) Christian Ward (A/CA) Michael Del Mundo
JASON AARON & MIKE DEL MUNDO TAKE THE PRINCE OF ASGARD IN A WHOLE NEW DIRECTION!

Thor Odinson has regained his mantle - and with it, a wild new world of trouble on his mighty hands! The artifacts of Asgard have been scattered across the earth, and to reclaim them, Thor will have to face some ugly truths. Like the production cost of hundreds of new hammers! And the Thunder God is going to need every last one of them if he's going to stop the unstoppable Juggernaut. Jason Aaron takes the Prince of Asgard in a whole new direction with YOUNG GUN artist Mike Del Mundo joining him at the helm! And don't miss the latest chapter of the King Thor saga with acclaimed BLACK BOLT artist Christian Ward, as the Thor of the far future encounters an old friend who's undergone some startling changes.

Rated T+

In Shops: June 13, 2018

SRP: $5.99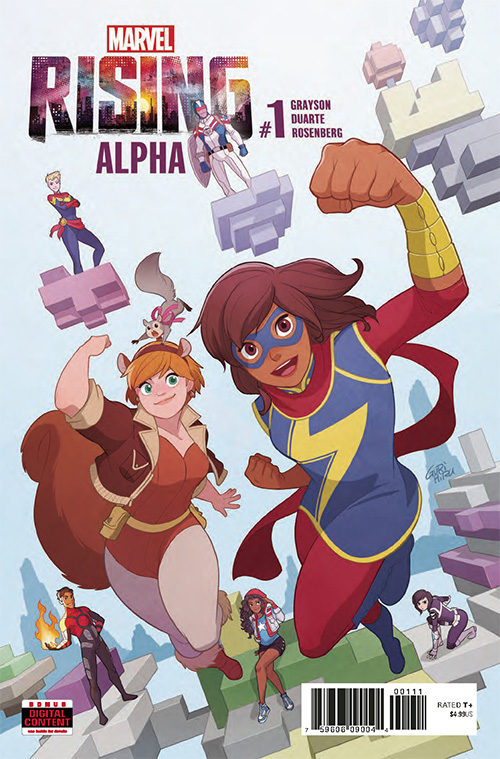 Marvel Rising Alpha #1
APR180720

(W) Devin Grayson (A) Georges Duarte (CA) Gurihiru

This summer, SQUIRREL GIRL meets MS. MARVEL - for the very first time! When Doreen Green (also known as the Unbeatable Squirrel Girl) volunteers as head counselor for an extracurricular computer programming class, little does she know that junior counselor Kamala Khan moonlights as crimefighting super hero Ms. Marvel! But this coding configuration is more than just ones and zeros when a mysterious new super villain shows her face! Will our heroes be able to save the day without blowing their secret identities? Join Ms. Marvel and Squirrel Girl (with some special guest appearances) as they learn what it truly takes to become the next generation of Marvel heroes!

Rated T+

In Shops: June 13, 2018

SRP: $4.99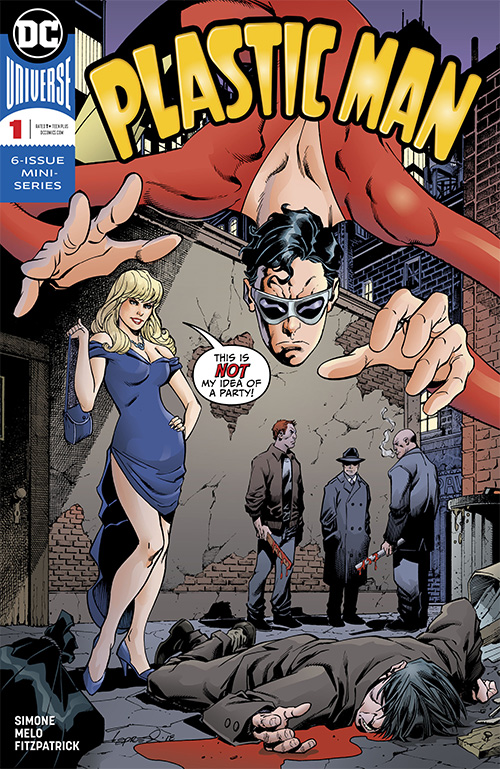 Plastic Man #1

APR180151

(W) Gail Simone (A) Adriana Melo (CA) Aaron Lopresti

Meet Eel O'Brian: a petty thug, thief and con artist who runs a strip club. Hey, he's also dead, at least according to the gang that tossed him out like last week's garbage. Literally. Don't worry, though-he bounced back from all that, and now he's trying to make a new life for himself, but the effort is stretching him pretty thin. How can he get revenge on his old boss, keep a street kid out of trouble, make a dancer fall in love with him and stop a mysterious society from taking over the world? Eel has no idea!

In Shops: June 13, 2018

SRP: $3.99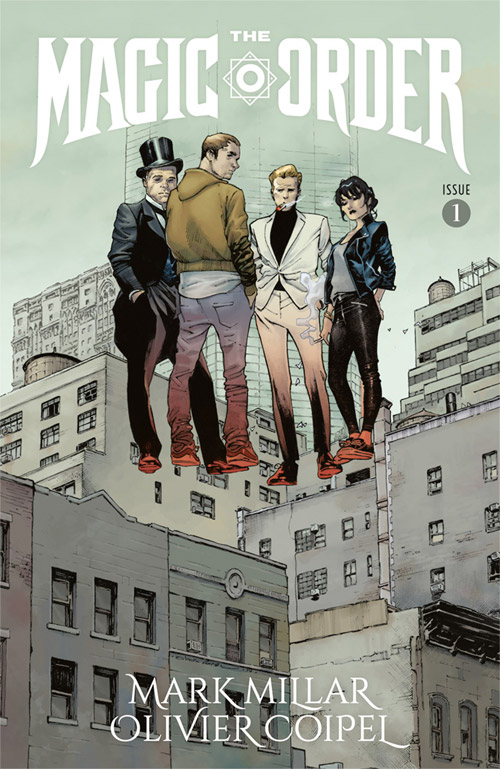 The Magic Order #1
(W) Mark Millar (A/CA) Olivier Coipel

We live in a world where we've never seen a monster, and The Magic Order is the reason we sleep safely in our beds. Magic meets the mob in THE MAGIC ORDER, as five families of magicians-sworn to protect our world for generations-must battle an enemy who's picking them off one by one. By day, they live among us as our neighbors, friends, and co-workers, but by night, they are the sorcerers, magicians, and wizards that protect us from the forces of darkness...unless the darkness gets them first. MARK MILLAR's first NETFLIX comic book, drawn by the incredible OLIVIER COIPEL (Amazing Spider-Man, Thor).

In Shops: June 13, 2018

SRP: $3.99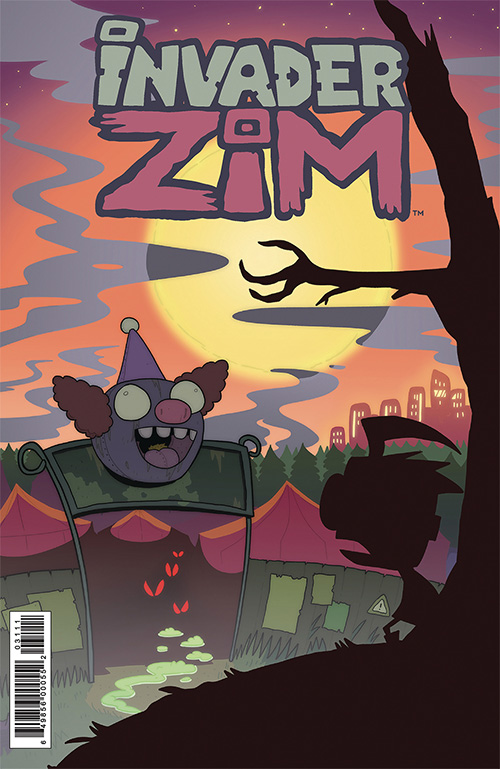 Invader Zim #31
MAR181800
(W) K.C. Green (A) Anthony Clark (A/CA) K.C. Green

Hey, have you missed Dib? He's back! In Dib form! And he's tearing up the world of cryptids by doing an extreme exposé of a local abandoned amusement park, which is TEEMING with supernatural creatures. Hopefully it'll raise his rank with the Truthshrieker posters... but Dib doesn't expect to bust open the biggest conspiracy since HAMGATE (when President Man lied about EATING HAM). Special one-shot issue from KC Green (Gunshow, Back, Graveyard Quest) and Anthony Clark (Nedroid, Back)!

In Shops: June 13, 2018

SRP: $3.99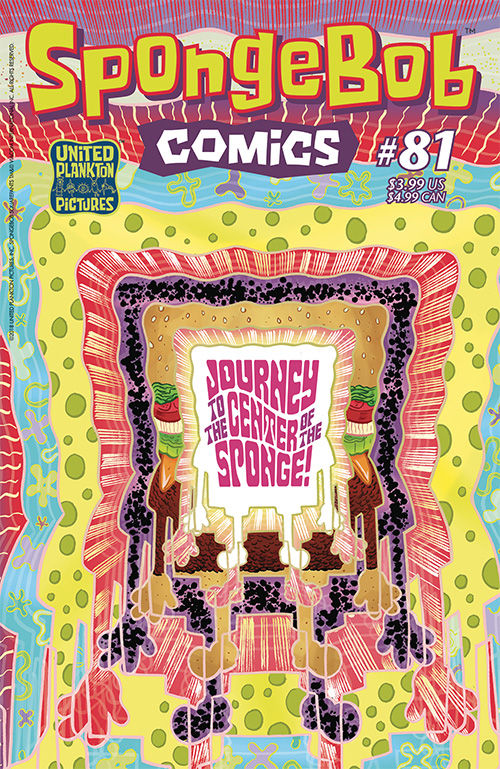 Spongebob Comics #81

APR181392

(W) Chuck Dixon, Brian Smith, David Lewman (A) Stephanie Yue, Vincent DePorter (A/CA) Brian Smith

Squidward is all set to find inner peace with a famous spiritual yoga master-until he's joined by guru-curious SpongeBob and Patrick! An inner journey turns into an ordeal of psychic stupidity. See an infinity of SpongeBobs! Witness the nothingness within Patrick! Can Squidward possibly find oneness while surrounded by dumbness? You'll see in "You're Not My Swami!" Then in "Pennies for Patties," Mr. Krabs' quest for a super-rare penny turns the Krusty Krab into a giant bin of copper coinage! But what if one of his employees finds the rare penny first? All this plus "SpongeFunnies" by James Kochalka and ocean facts from Maris Wicks!

In Shops: June 13, 2018

SRP: $3.99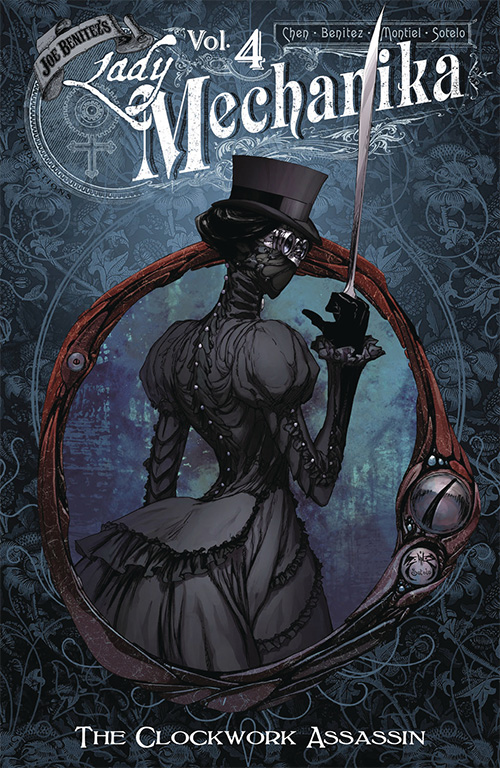 Lady Mechanika Vol. 4: Clockwork Assassin

APR181371

(W) Joe Benitez, M. M. Chen (A) Martin Montiel, Peter Steigerwald, Beth Sotelo, Mike Garcia (A/CA) Joe Benitez

When a series of brutal murders linked to Mr. Lewis' past leads Detective Inspector Singh to Lady Mechanika's doorstep, the Inspector is finally forced to consider: is Lady Mechanika a crime-fighting hero or a cold blooded killer? 2017 Diamond Gem Award Nominee for Comic Book of the Year $3.99 or Under (Lady Mechanika: Clockwork Assassin #1).

In Shops: June 13, 2018

SRP: $9.99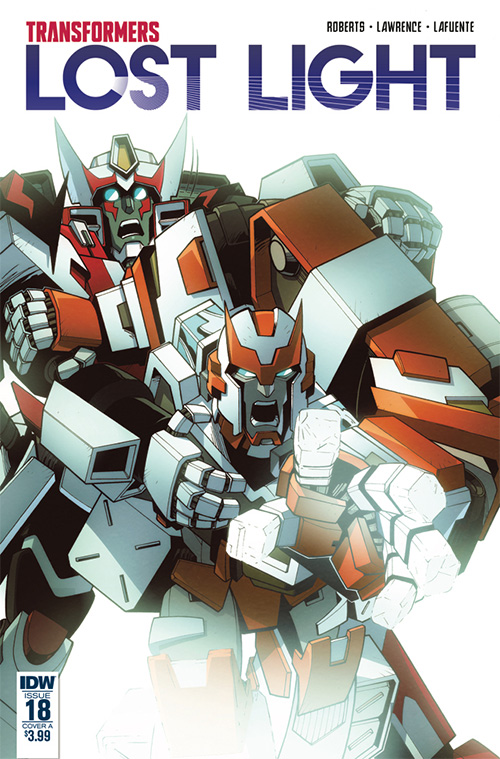 Transformers Lost Light #18
(W) James Roberts (A/CA) Jack Lawrence

LIGHTS OUT! The Everlasting Voices trilogy concludes with an explosion of hope, a grave betrayal... and more answers than you can handle! Events of the last six years build to a frenzy of revelations, casting everything that's gone before in a new-and deadly-light. No exaggeration, no hyperbole: there has never been a more important issue of Lost Light. Leads directly into the biggest story in the history of the Lost Light!

In Shops: June 13, 2018

SRP: $3.99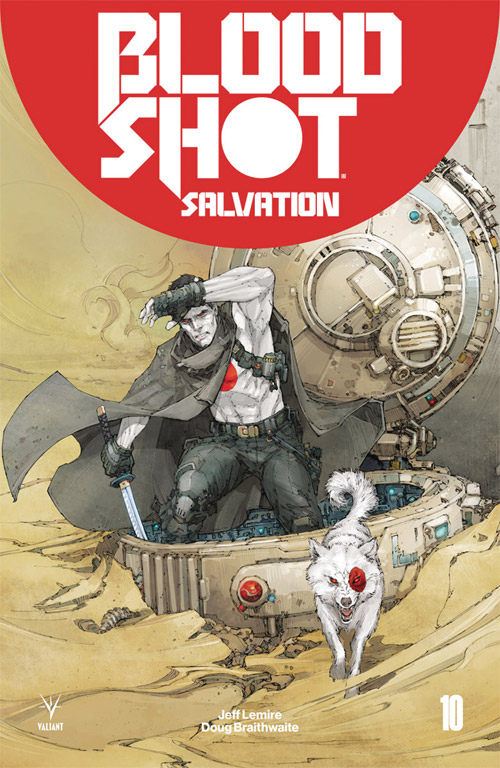 Bloodshot Salvation #10

APR181859

(W) Jeff Lemire (A) Doug Braithwaite (CA) Kenneth Rocafort

ALL-NEW ARC! ALL-NEW JUMPING-ON POINT! "THE BOOK OF REVELATIONS" - PART ONE!
Two thousand years in the future - in the year 4001 A.D. - the man once known as Ray Garrison is no more...but the microscopic nanites inside him live on. Enter Bloodshot 4001 - a strange, gunslinging echo of Bloodshot's mind, body, and soul that is now more machine than man. But when our century's Bloodshot finds himself delivered to the dawn of the 41st century with one last mission to fulfill, two Valiant legends will finally come face to face...just as the secret revelation that binds them together across the ages will forever reshape Bloodshot's place at the center of the Valiant Universe!
From superstar writer Jeff Lemire (The Terrifics, Black Hammer) and artistic powerhouse Doug Braithwaite (X-O MANOWAR, Journey into Mystery), Valiant's Eisner Award-nominated superhero saga goes back to the far, far future for the ultimate meeting of man and machine at the crossroads of tomorrow and today!
In Shops: June 13, 2018

SRP: $3.99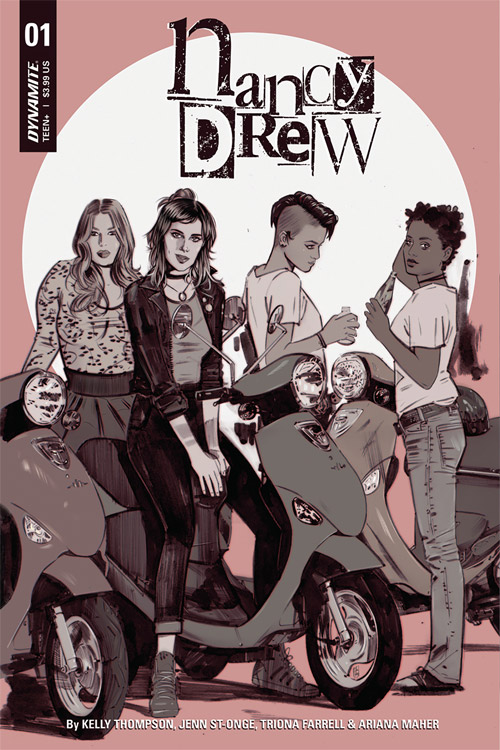 Nancy Drew #1

APR180901

(W) Kelly Thompson (A) Jenn St. Onge (CA) Tula Lotay

Nancy Drew is seventeen and good at everything...ESPECIALLY solving crimes. But her totally-in-control-and-obviously-running-perfectly-smooth-(but-not-really) life hits a snag when a mysterious message drags her back to the hometown she left behind. There she'll have to find out which of her friends are still her friends, which are enemies, and who exactly is trying to kill her...and (hopefully) stop them before they succeed. KELLY THOMPSON (Hawkeye, Star Wars, Rogue & Gambit) and JENN ST-ONGE (Giant Days, The Misfits) team up to present an all-new modern spin on a classic mystery icon!

In Shops: June 13, 2018

SRP: $3.99


---
See all the New Releases for this week here!

Get these comics at your local comic shop!