#NCBD 5/16/18: FCBD's 10 Comics for New Comic Book Day!
May 16, 2018
Every Wednesday is New Comic Book Day (#NCBD) in comic book shops, where new comics release hit the shelves of comic book shops for fans to pick up.
We've highlighted ten comics that are perfect recommendations for anyone looking to get into comics!
In this week's list for books coming out 5/16/18, there's definitely something for everyone: the next chapter of Shattered Grid happens in Mighty Morphin Power Rangers, Kitty Pryde and Colossus are finally about the tie the knot in The X-Men Wedding Special, Barrier continues it's weekly release with very special "silent" issue, and more!

What will you be picking up at the comic shop? Let us know on Facebook or Twitter!
---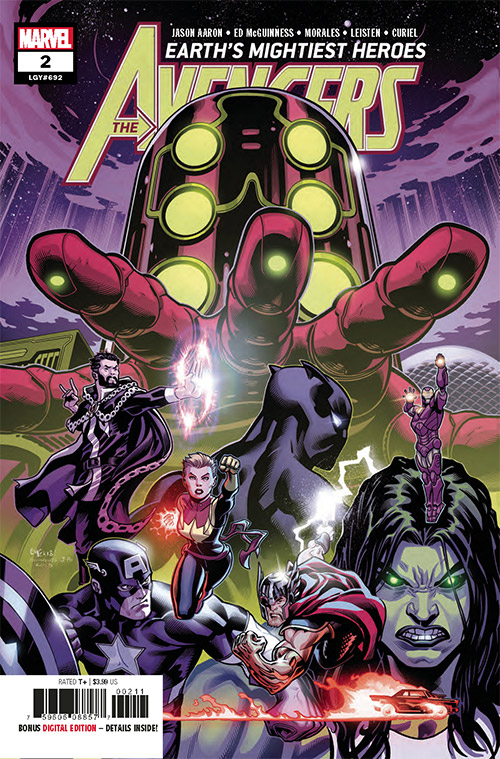 Avengers #2
(W) Jason Aaron (A/CA) Ed McGuinness
• Black Panther and Dr. Strange battle for their lives deep within the earth...
• Captain Marvel battles death and destruction raining down from the skies...
• ...while Thor, Iron Man and Captain America lead the valiant (yet hopeless) fight against the Final Host of Dark Celestials.
• And Ghost Rider and the Savage Hulk make brutal war against...each other?
• Plus, you can't have a gathering of Avengers without a certain Prince of Lies, now can you?
Rated T+
In Shops: May 16, 2018
SRP: $3.99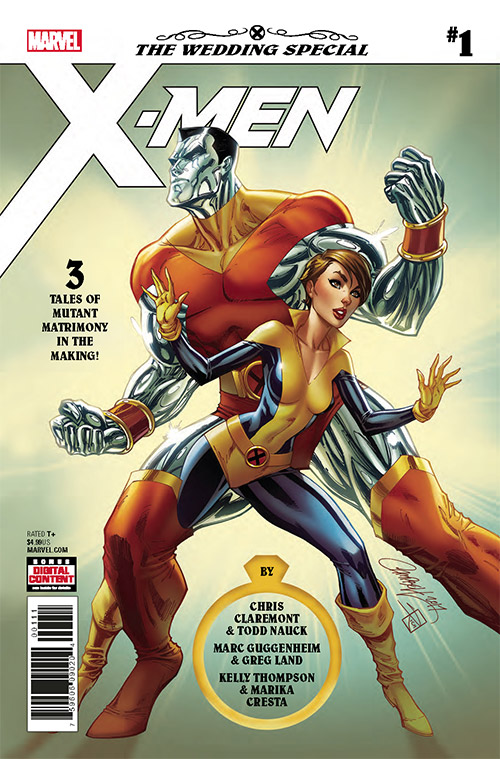 The X-Men Wedding Special #1
(W) Marc Guggenheim, Kelly Thompson, Chris Claremont (A) Greg Land, Cresta, Marika, Todd Nauck (CA) J. Scott Campbell
CHRIS CLAREMONT RETURNS TO THE X-MEN!
One of the biggest milestone events in X-Men history is almost here! Kitty Pryde and Colossus are finally about the tie the knot...but what's a wedding without the respective bachelor and bachelorette parties? Join Marc Guggenheim and Kelly Thompson for two parties that can only be celebrated Marvel style! All this, plus, a Kitty and Colossus story by legendary X-Men scribe, Chris Claremont!!!
Rated T+
In Shops: May 16, 2018
SRP: $4.99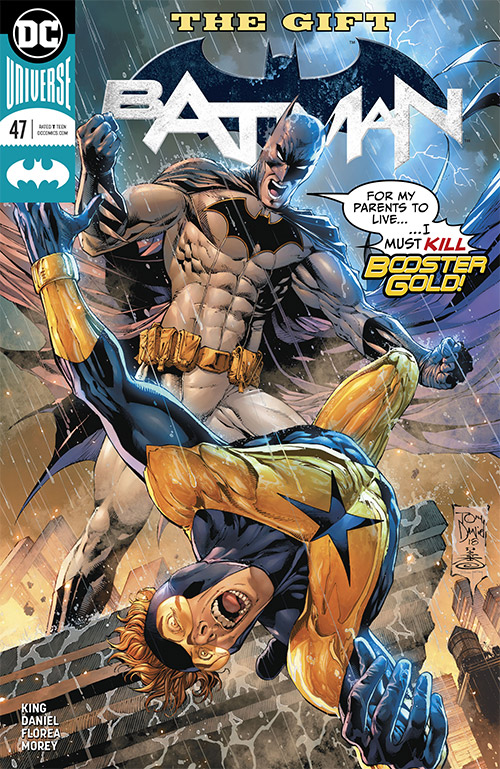 Batman #47
(W) Tom King (A) Sandu Florea (A/CA) Tony S. Daniel
"THE TRAVELERS" part three! As Booster Gold, Batman and Catwoman zero in on the time anomaly, what they find and their actions to correct it will have ramifications on all of the DC Universe. Tom King and Master Class artist Tony S. Daniel end their first story with a bang that will tee up the next big development in the Batman/Catwoman romance.
In Shops: May 16, 2018
SRP: $2.99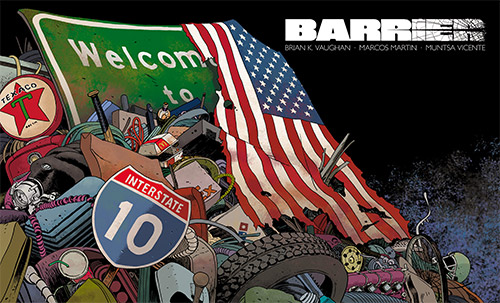 Barrier #3 (of 5)
(W) Brian K. Vaughan (A/CA) Marcos Martin, Muntsa Vicente
A very special "silent" issue! This is the first wordless comic ever from either BRIAN K. VAUGHAN or MARCOS MARTÍN.
In Shops: May 16, 2018
SRP: $3.99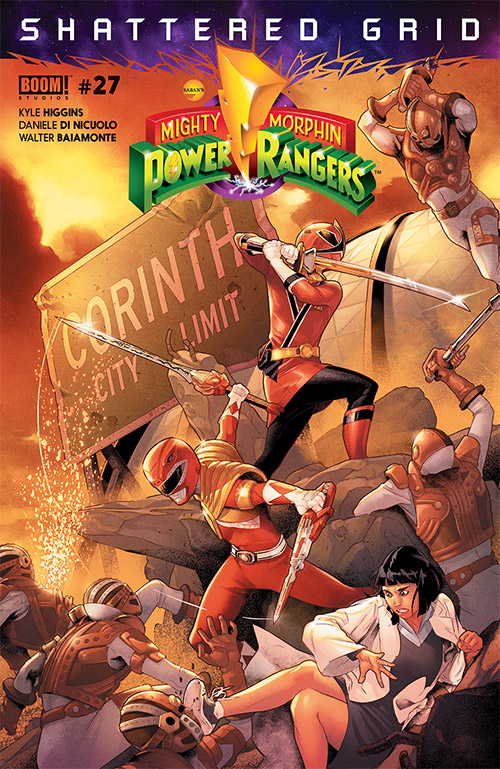 Mighty Morphin Powers Rangers #27
(W) Kyle Higgins, Ryan Ferrier (A) Daniele Di Nicuolo, Bachan (CA) Jamal Campbell
As Lord Drakkon's power and influence grows, the Power Rangers work with new allies from across time and dimensions, including Ranger teams such as Time Force, RPM, and Samurai, to craft a plan to fight back...but is it already too late?
In Shops: May 16, 2018
SRP: $3.99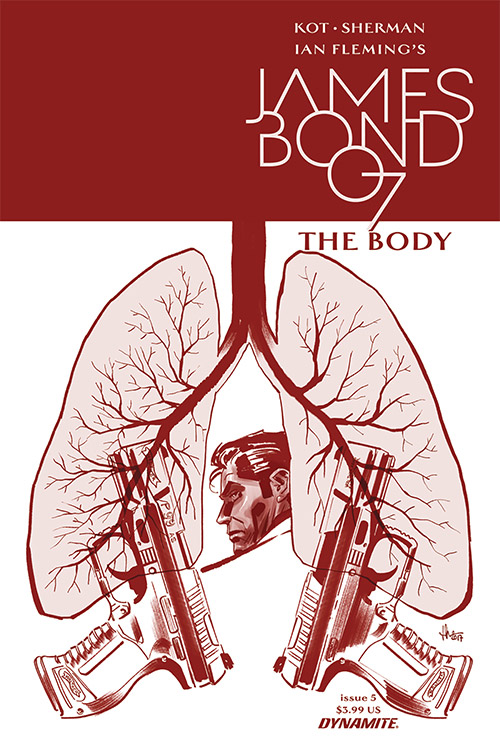 James Bond: The Body #5
(W) Ales Kot (A) Hayden Sherman (CA) Luca Casalanguida
The beatings. The virus. The assassin. The secrets. Everything comes together during a terror attack that may not even exist.
In Shops: May 16, 2018
SRP: $3.99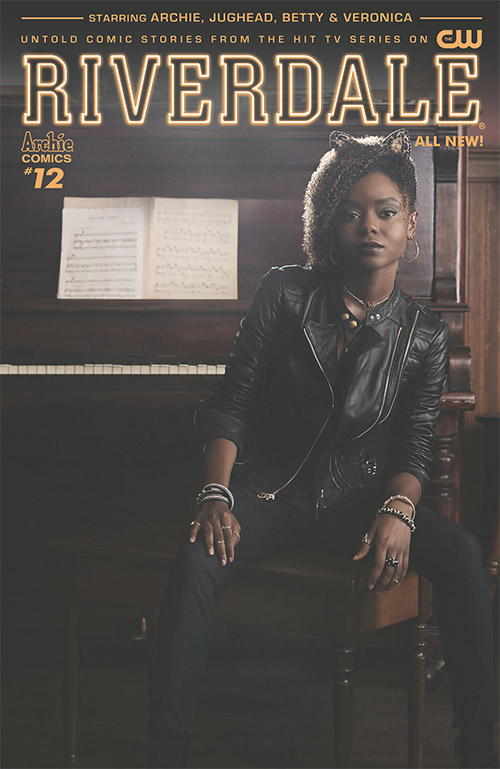 Riverdale #12
(W) Roberto Aguirre-Sacasa, Various (A) Thomas Pitilli (CA) Photo
From Roberto Aguirre-Sacasa and the writers of the new CW series Riverdale, this ALL-NEW, ongoing comic series features stories set in between episodes of the new CW TV series Riverdale.
In Shops: May 16, 2018
SRP: $3.99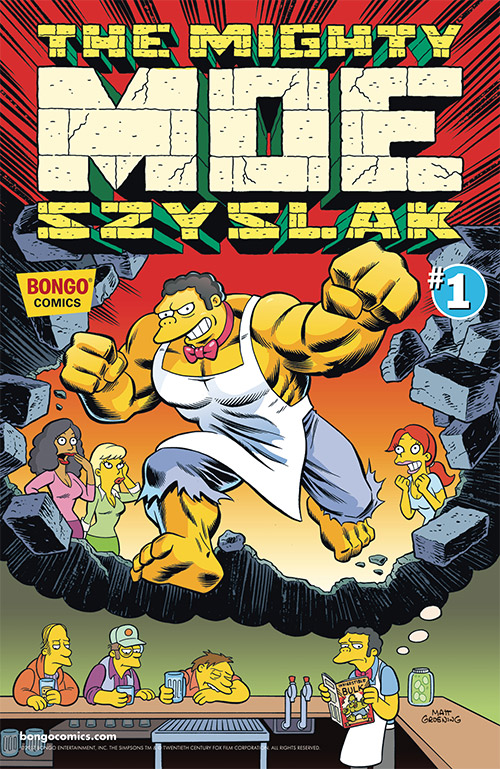 The Mighty Moe Szyslak #1
(W) Ian Boothby, Terry Delegeane, Tony Digerolamo, Dean Rankine (A) Mike Kazelah, Nina Matsumoto, Dean Rankine, Phil Ortiz (CA) Jason Ho, Andrew Pepoy, Nathan Kane
Springfield's belligerent bartender takes his best shot at a one-shot! First, Moe and Barney go on an excellent time-traveling adventure in search of love... and beer! Then, Moe goes in search of his long-lost, evil twin brother. And Moe waxes nostalgic over his lucky bar rag. All this and more Mighty Moe tales await you!
In Shops: May 16, 2018
SRP: $3.99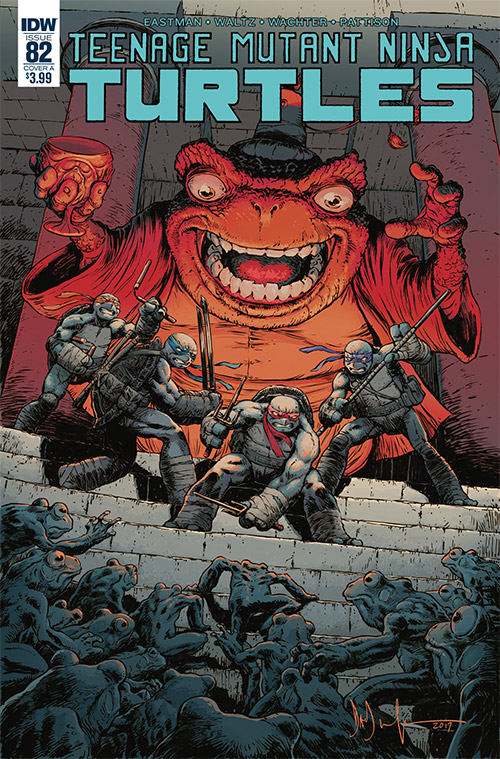 TMNT #82
(W) Tom Waltz, Kevin Eastman (A) Brahm Revel (CA) Dave Wachter
"Kingdom of Rats," Part 2. Rat King's sinister influence spreads, and New York City's most vulnerable are at risk! The Turtles search out the Rat King's family in a desperate attempt to find a way to stop him!
In Shops: May 16, 2018
SRP: $3.99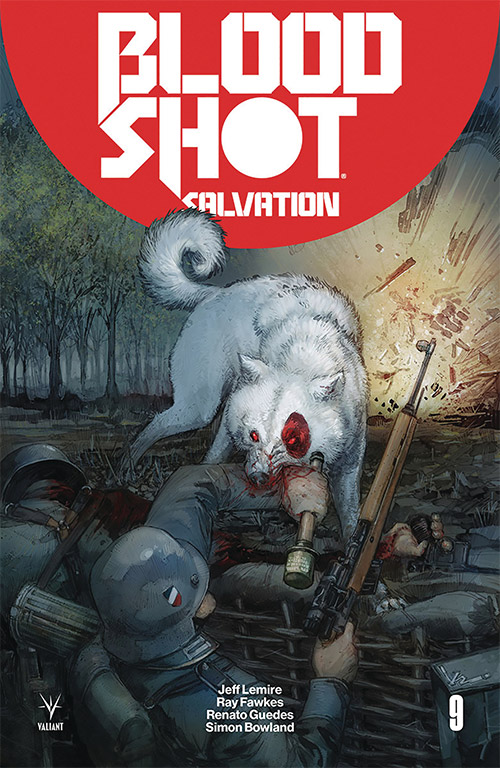 Bloodshot Salvation #9
(W) Jeff Lemire, Ray Fawkes (A) Renato Guedes (CA) Kenneth Rocafort
The origin of Bloodhound!
In the wire-strewn trenches of World War I, witness the true story of a good boy gone bad, as Eisner and Harvey Award nominee Ray Fawkes (Batman: Eternal) joins New York Times best-selling writer Jeff Lemire (Black Hammer) and astonishing artist Renato Guedes (X-O MANOWAR) for a special one-shot tale chronicling the never-before-revealed history of Project Rising Spirit's first prototype in nanite enhancement: the indestructible canine weapons unit codenamed Bloodhound! Before he found his place at Ray Garrison's side, Bloodshot's loyal companion learned the depths of mankind's inhumanity toward brother and beast alike on the battlefields of France. Now, as the Kaiser's war machine approaches, find out firsthand how a beloved comrade with four legs and a soul full of fury inspired a legacy that still stands after nearly a century!
In Shops: May 16, 2018
SRP: $3.99