#NCBD 5/2/18: FCBD's 10 Comics for New Comic Book Day!
May 02, 2018
Every Wednesday is New Comic Book Day (#NCBD) in comic book shops, where new comics release hit the shelves of comic book shops for eager fans to pick up and purchase. And this week is BIG....It's Free Comic Book Day week!
We've highlighted ten comics that are perfect recommendations for anyone looking to get into comics!
In this week's list for books coming out 5/2/18, there's definitely something for everyone: A new era dawns from the Avengers, the summer of events starts now in DC Nation (for only 25 cents!), Shattered Grid continues in Go Go Power Rangers, and more!

What will you be picking up at the comic shop? Let us know on Facebook or Twitter!
---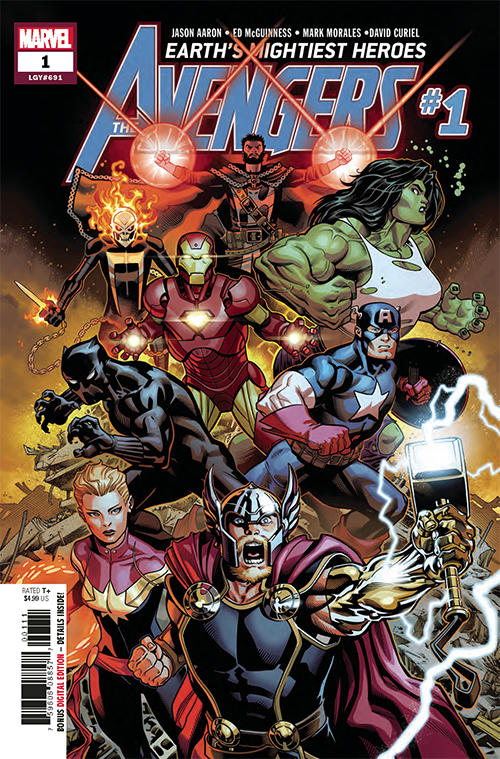 Avengers #1
(W) Jason Aaron (A/CA) Ed McGuinness
A NEW ERA DAWNS FOR EARTH'S MIGHTIEST HEROES -courtesy of JASON AARON and ED McGUINNESS!
Thor Odinson. Steve Rogers. Tony Stark. The Big Three of the Avengers are reunited at last! And just in time to save the world from total annihilation at the hands of their most powerful enemies yet: the 2000-foot-tall space gods known as Celestials.
Behold the coming of the Final Host.
Who will answer the call to assemble for a wild new era of Earth's Mightiest Heroes? Hint: one of them has a flaming skull for a head. And what strange, world-shaking connection exists between the Final Host and Odin's ancient band of Prehistoric Avengers?
Rated T+
In Shops: May 02, 2018
SRP: $4.99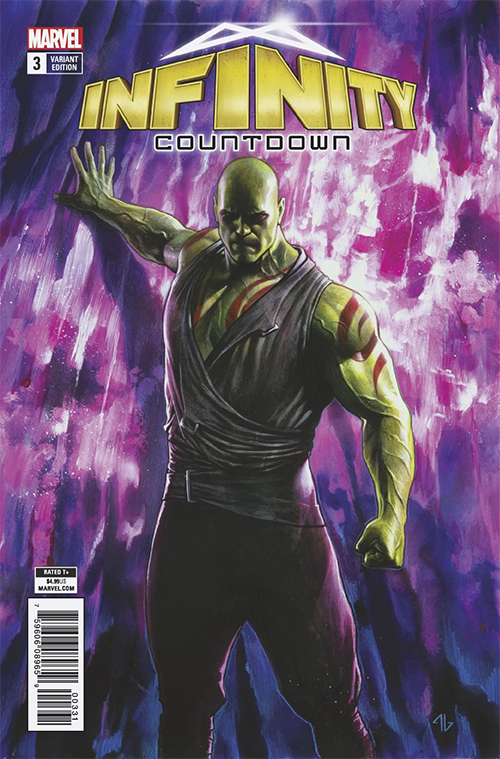 Infinity Countdown #3
(W) Gerry Duggan (A) Aaron Kuder, Mike Hawthorne, Mike Deodato (CA) Adi Granov
As the Guardians' last mission together draws to a close, the war for the Infinity Stones has only just begun! Adam Warlock continues to search for the Soul Stone but encounters an unexpected foe...the SILVER SURFER?! Keep your eyes to the stars as Marvel's biggest cosmic story continues!
Rated T+
In Shops: May 02, 2018
SRP: $4.99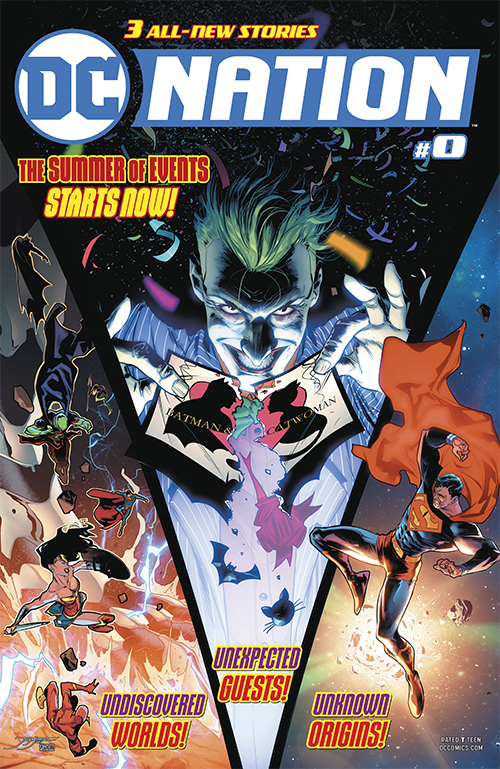 DC Nation #0
(W) Tom King, Scott Snyder, James TynionIV, Joshua Williamson, Brian Michael Bendis (A) Clay Mann, Jose Luis Garcia-Lopez (A/CA) Jorge Jimenez
Just in time for Free Comic Book Day, this special comic priced at just $0.25 features three brand-new stories from a lineup of superstar talent-and each tale serves as a prelude to some of the biggest DC events of 2018!
First, find out how The Joker reacts when he discovers Catwoman has turned her back on crime and plans to marry his archnemesis. Can the Clown Prince of Crime stand to see Batman happy? Writer Tom King and artist Clay Mann set up the events that lead to BATMAN #50!
Then, DARK NIGHTS: METAL shook the DC Universe to its deepest foundations-now it's time to rejoin legendary writer Scott Snyder, along with all-star artist Jorge Jimenez and co-writers James Tynion IV and Joshua Williamson, for the prelude to JUSTICE LEAGUE: NO JUSTICE! Discover what universe-shattering mysteries have emerged from the most wondrous and chaotic corners of the cosmos to hunt the Justice League in DC's summer blockbuster event!

And get your first glimpse at Superman's new world in this exclusive preview of the upcoming six-issue miniseries MAN OF STEEL, written by Brian Michael Bendis with art by José Luis García-López. With Truth, Justice and the American Way all under attack, both Superman and Clark Kent find there's never been a more important time to stand up for what they believe in.
SRP: $0.25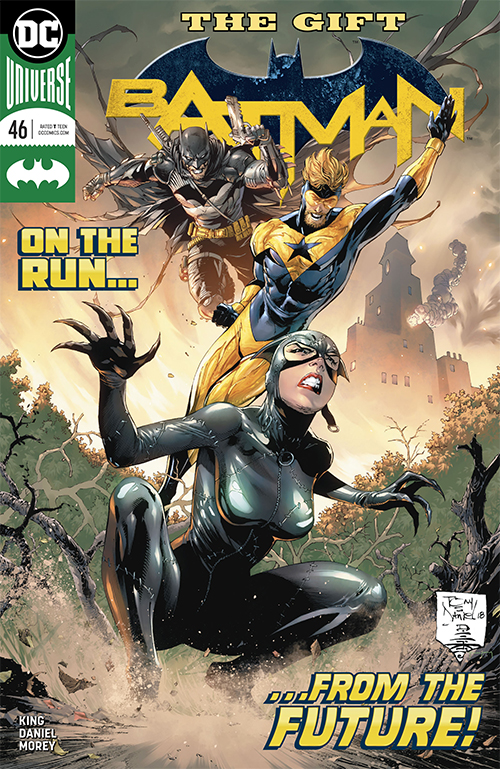 Batman #46
(W) Tom King (A) Sandu Florea (A/CA) Tony S. Daniel
"THE TRAVELERS" part two! Booster Gold's wedding present has screwed up Batman's past, and done even more damage to his present. Now, with the Caped Crusader himself refusing to cooperate, the only way for Booster to correct this runaway timeline is to get Catwoman on his side. But with her own past altered, can he make Catwoman recognize the qualities in her husband-to-be that brought them together in the first place? Plus, if Batman isn't doing his job, Gotham City may become way more dangerous than our bumbling time-traveler might be ready for.
In Shops: May 02, 2018
SRP: $2.99

Street Angel Goes To Juvie HC
(W) Brian Maruca, Jim Rugg (A/CA) Jim Rugg
Busted! Jesse "Street Angel" Sanchez, aka Shiraz Thunderbird, gets pinched and must do a stretch in Angel City's infamous juvenile corrections center, Alcatraz, Jr. For the Deadliest Girl Alive, three squares a day and a warm, dry bed ain't all bad. Jesse meets a girl gang, besties a superhero sidekick, pushes the lunch lady to the limit, and watches Harriet the Spy! Will juvie break our hero, or will "Shiraz Thunderbird" break OUT of Alcatraz, Jr.? STREET ANGEL GOES TO JUVIE releases alongside the Free Comic Book Day title: STREET ANGEL'S DOG!
In Shops: May 02, 2018
SRP: $19.99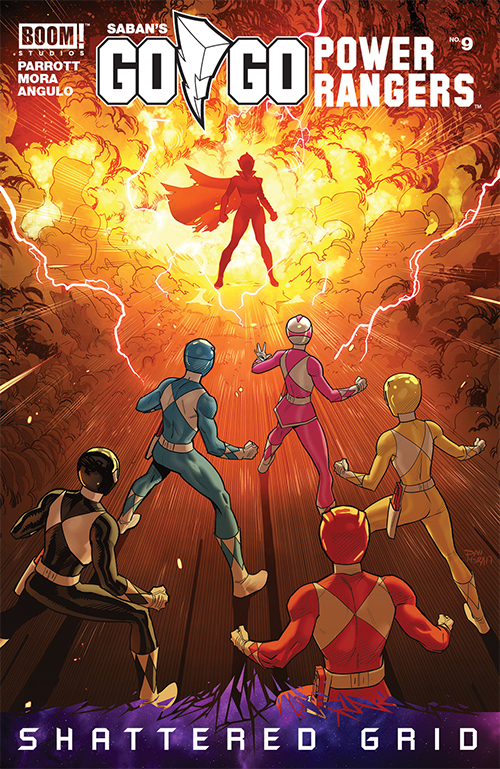 Go Go Power Rangers #9
(W) Ryan Parrott (CA) Miguel Mercado (A/CA) Dan Mora
As the Rangers deal with the fallout of Rita's sinister plan and Matthew's startling return, a new threat emerges with a shocking connection to Lord Drakkon.
In Shops: May 02, 2018
SRP: $3.99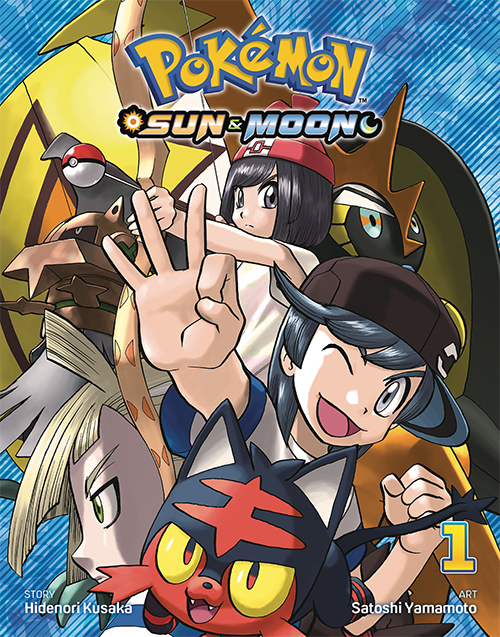 Pokemon Sun & Moon GN Vol. 1
(W) Hidenori Kusaka (A/CA) Satoshi Yamamoto
Moon is on her way to deliver a rare Pokémon to Professor Kukui in the Alola region when she meets his good friend Sun, a courier entrusted with a special Pokédex. Sun offers to safely deliver Moon to the professor's lab... But then they tangle with a group of grunts from Team Skull and are attacked by a mysterious Pokémon!
What is this sparkling stone the mysterious Pokémon leaves behind...?
For all ages.
In Shops: May 09, 2018
SRP: $4.99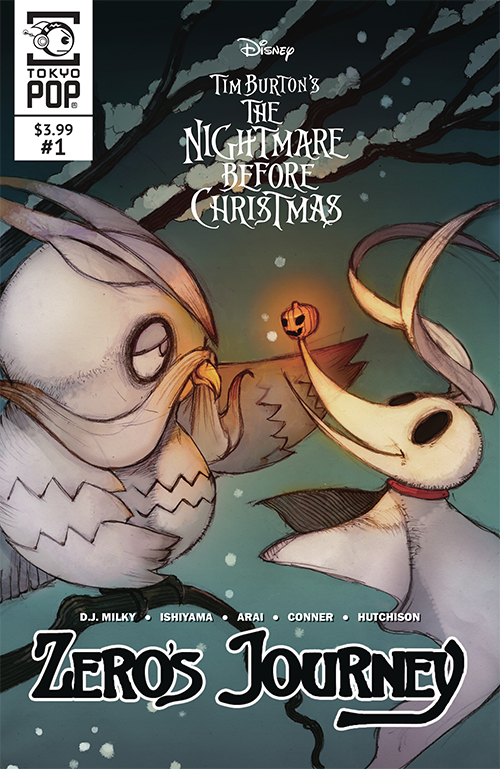 The Nightmare Before Christmas: Zero's Journey #1
(W) Dj Milky (A/CA) Kei Ishiyama
When Jack Skellington's faithful pet Zero gets lost, the ghost pup must get the help of the residents of Christmas Town to find his way back. With Halloween plans on hold while Jack mounts a search, will they be reunited in time to save both holidays?
In Shops: May 09, 2018
SRP: $3.99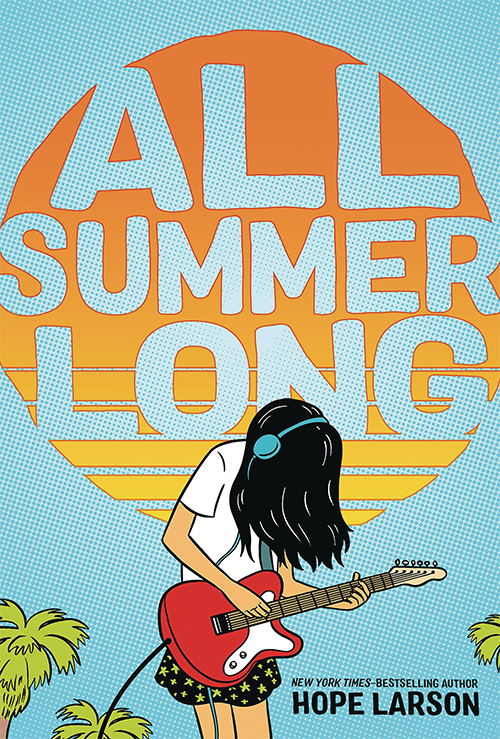 All Summer Long GN
(W) Hope Larson (A/CA) Hope Larson
A coming-of-age middle-grade graphic novel about summer and friendships, written and illustrated by the Eisner Award-winning and New York Times-bestselling Hope Larson. Thirteen-year-old Bina has a long summer ahead of her. She and her best friend, Austin, usually do everything together, but he's off to soccer camp for a month, and he's been acting kind of weird lately anyway. So it's up to Bina to see how much fun she can have on her own. At first it's a lot of guitar playing, boredom, and bad TV, but things look up when she finds an unlikely companion in Austin's older sister, who enjoys music just as much as Bina. But then Austin comes home from camp, and he's acting even weirder than when he left. How Bina and Austin rise above their growing pains and reestablish their friendship and respect for their differences makes for a touching and funny coming-of-age story. Available in softcover and hardcover editions.
In Shops: May 02, 2018
SRP: $12.99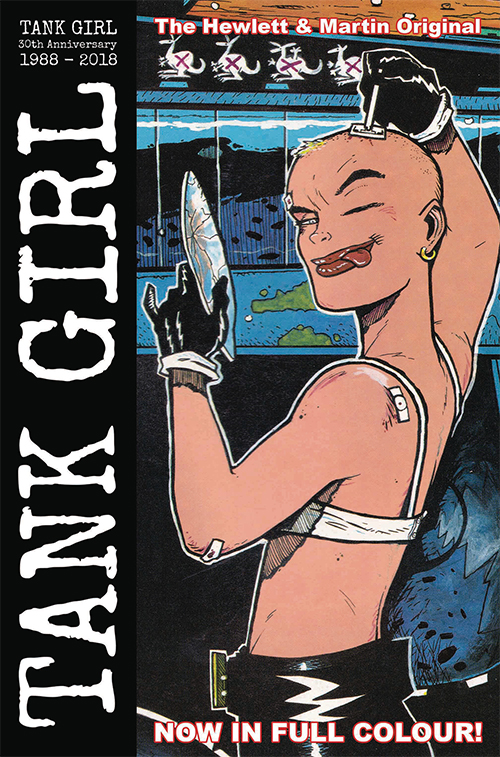 Tank Girl Full Color Classics 1988 - 1989 #1
(W) Alan Martin (A/CA) Jamie Hewlett
30 years ago, the dynamic partnership of Jamie Hewlett and Alan Martin created the first Tank Girl comics in glorious black and white. Now we present those punky, manic, seminal strips in full color, just as Hewlett and Martin would've liked to have seen them three decades ago
Compiled into six indispensable collector's comic books, these prestige editions come packed with contemporary covers, and rare and unseen artwork.
In Shops: May 02, 2018
SRP: $6.99