#NCBD 4/11/18: FCBD's 10 Comics for New Comic Book Day!
Apr 11, 2018
Free Comic Book Day was founded on the belief that there's a comic book perfect for everyone out there! Every Wednesday is New Comic Book Day (#NCBD) in comic book shops, where new comics release hit the shelves of comic book shops for eager fans to pick up and purchase.
We've highlighted ten comics that are perfect recommendations for anyone looking to get into comics!
In this week's list for books coming out 4/11/18, there's definitely something for everyone: celebrate 80 Years of Superman with a special hard cover, Captain America is finally Out of Time in issue #700, Sonic's new adventure continues in Sonic the Hedgehog, and more!

What will you be picking up at the comic shop? Let us know on Facebook or Twitter!
---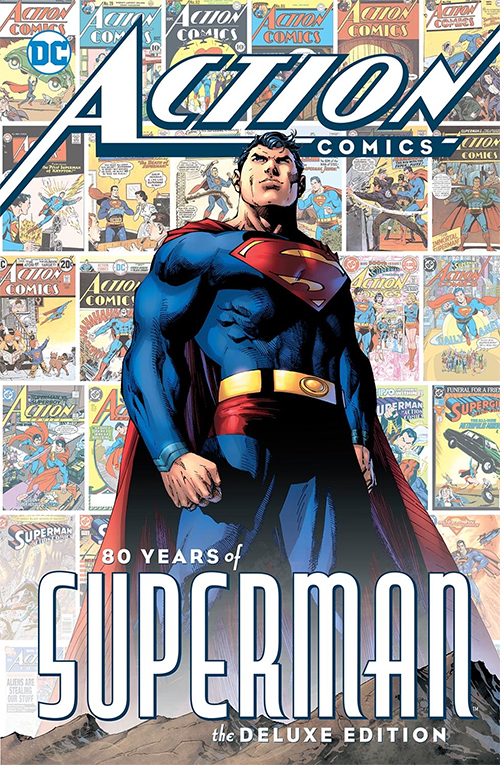 Action Comics: 80 Years of Superman HC
DEC170241

(W) Jerry Seigel, Fred Guardineer, Mort Weisinger, Don Cameron, Jerry Coleman, Otto Binder, Edmond Hamilton, Len Wein, Cary Bates, Marv Wolfman, John Byrne, Roger Stern, Joe Kelly, Grant Morrison, Paul Levitz (A) Joe Shuster, Fred Guardineer, Mort Meskin, Ed Dobrotka, Wayne Boring, Stan Kaye, Al Plastino, Jim Mooney, Curt Swan, George Klein, Carmine Infantino, Dick Giordano, Joe Giella, Gil Kane, John Byrne, Kerry Gammill, Dennis Janke, Bob McLeod, Ben Oliver, Neal Adams (CA) Jim Lee, Scott Williams

This year marks the 80th anniversary of Superman's debut in ACTION COMICS #1 - and DC is celebrating this date with the publication of the new hardcover ACTION COMICS #1000: 80 YEARS OF SUPERMAN! It's an extraordinary party as we revisit stories from across the decades, featuring key character debuts, essays and more in a collection curated by Paul Levitz!
Highlights of this collection include:
A new cover by legendary artist and DC Publisher Jim Lee
A never before unpublished twelve-page Golden Age Superman story believed to have been written by Jerry Siegel with art by the Joe Shuster Studio
Text pieces including: an editor's note by Paul Levitz, a tribute to ACTION COMICS by Laura Siegel Larson (daughter of Superman co-creator Jerry Siegel), an introduction by Jules Feiffer, plus essays by Tom DeHaven ("It's Superman!"), David Hadju ("The Ten-Cent Plague"), Larry Tye ("Superman: The High-Flying History of America's Most Enduring Hero") and Gene Luen Yang (SUPERMAN, NEW SUPER-MAN and the National Book Award finalist "American Born Chinese")!
The new five-page story "The Game," written by Paul Levitz with art by Neal Adams
The Superman stories from this collection include:
"The Coming of Superman," from ACTION COMICS #1, written by Jerry Siegel with art by Joe Shuster
"Revolution in San Monte," from from ACTION COMICS #2, written by Jerry Siegel with art by Joe Shuster
"The Terrible Toyman!" from ACTION COMICS #64, written by Don Cameron with art by Ed Dobrotka and George Roussos, featuring the debut of Toyman
"The Super-Key to Fort Superman," from ACTION COMICS #241, written by Jerry Coleman with art by Wayne Boring and Stan Kaye, featuring the first appearance of the Fortress of Solitude
"The Super-Duel in Space," from ACTION COMICS #242, written by Otto Binder with art by Al Plastino, featuring the debut of Brainiac
"The Supergirl from Krypton!" from ACTION COMICS #252, written by Otto Binder with art by Al Plastino, featuring the debut of Supergirl
"The World's Greatest Heroine!" from ACTION COMICS #262, written by Jerry Siegel with art by Jim Mooney
"The Superman Super-Spectacular!" from ACTION COMICS #309, written by Edmond Hamilton with art by Curt Swan and George Klein, featuring an appearance by President John F. Kennedy
"Superman Takes a Wife," from ACTION COMICS #484, written by Cary Bates with art by Curt Swan and Joe Giella
"If Superman Didn't Exist..." from ACTION COMICS #554, written by Marv Wolfman with art by Gil Kane
"Squatter," from ACTION COMICS #584, written by John Byrne with art by Byrne and Dick Giordano
"Ma Kent's Photo Album," from ACTION COMICS #655, written by Roger Stern with art by Kerry Gammill and Dennis Janke
"Secrets in the Night," from ACTION COMICS #662, written by Roger Stern with art by Bob McLeod
"A Hero's Journey," from ACTION COMICS #800, written by Joe Kelly with art by Pasqual Ferry, Duncan Rouleau, Lee Bermejo and others
"The Boy Who Stole Superman's Cape," from ACTION COMICS #0, written by Grant Morrison with art by Ben Oliver
Other key ACTION COMICS stories in this title include:
"The Mystery of the Freight Train Robberies," from ACTION COMICS #1, written by Fred Guardineer with art by Guardineer, featuring the debut of Zatara
"The Origin of the Vigilante," from ACTION COMICS #42, written by Mort Weisinger with art by Mort Meskin, featuring the debut of the Vigilante
"The Assassin-Express Contract!" from ACTION COMICS #419, written by Len Wein with art by Carmine Infantino and Dick Giordano, featuring the debut of the Human Target
ACTION COMICS #1000: 80 YEARS OF SUPERMAN HC (DEC170241) is a 384-page title.

In Shops: Apr 11, 2018

SRP: $29.99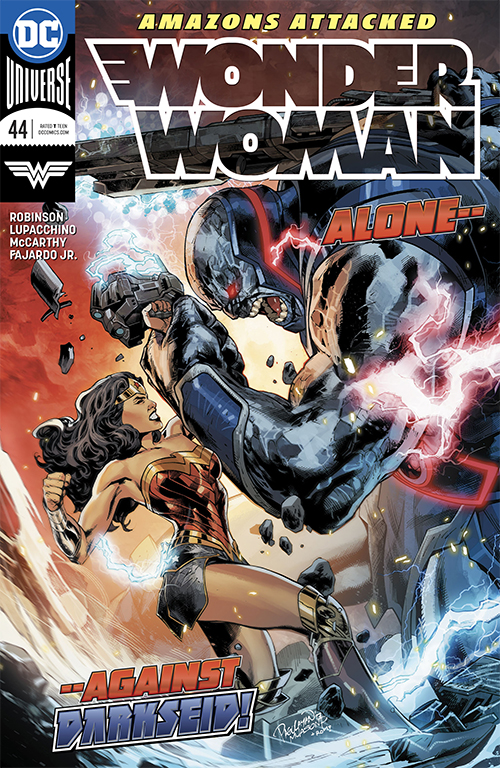 Wonder Woman #44

FEB180253

(W) James Robinson (A) Emanuela Lupacchino (CA) Carlo Pagulayan

"AMAZONS ATTACKED" part four! When last they met, Wonder Woman was robbed of a chance to meet Darkseid in single combat-and she's certain she'd be able to take him down. At last, she's going to get her wish-but with Darkseid at full power, is she still sure she'll survive?

In Shops: Apr 11, 2018

SRP: $2.99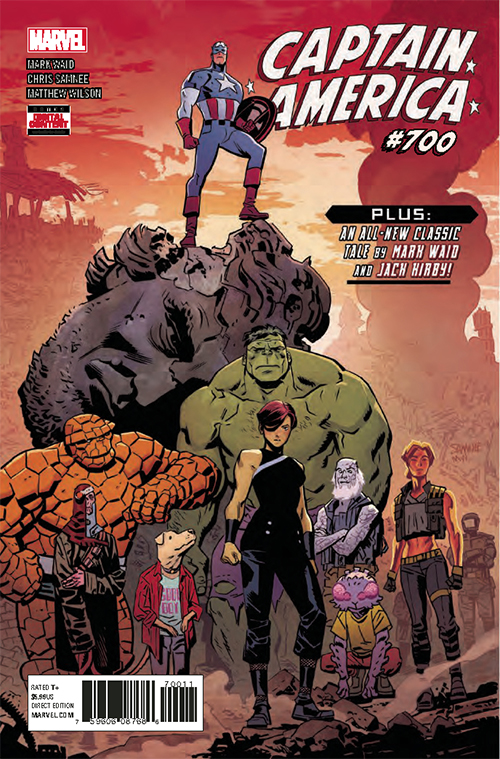 Captain America #700

FEB180754

(W) Mark Waid (A/CA) Chris Samnee

OUT OF TIME CONCLUSION!

Cap is finally "OUT OF TIME"!
• Frozen in time, awakened in a decimated future and once again a man out of his era, there is only one way for Steve Rogers to restore order and rebuild civilization-and that's to rule it as King Captain America! No dream, no hoax, no lie, this IS Cap and this IS happening, believe it or not!
• PLUS: Mark Waid delivers an untold tale from Captain America's past, featuring the classic artwork of Jack Kirby!

Rated T+

In Shops: Apr 11, 2018

SRP: $5.99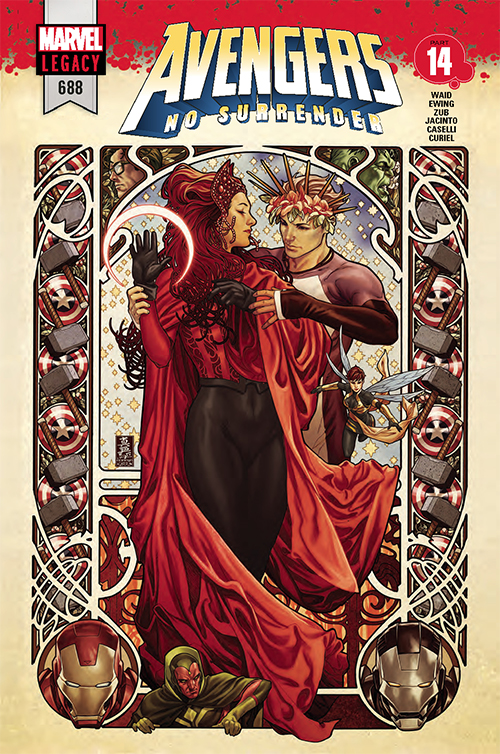 Avengers #688

FEB180788

(W) Mark Waid, Al Ewing, Jim Zub (A) Aaron Kim Jacinto, Stefano Casselli (CA) Mark Brooks

THE AVENGERS WEEKLY EPIC CONTINUES!

NO SURRENDER Part 14

As the final battle for Earth begins, one Avenger will sacrifice everything to give his teammates a fighting chance.

Rated T+

In Shops: Apr 11, 2018

SRP: $3.99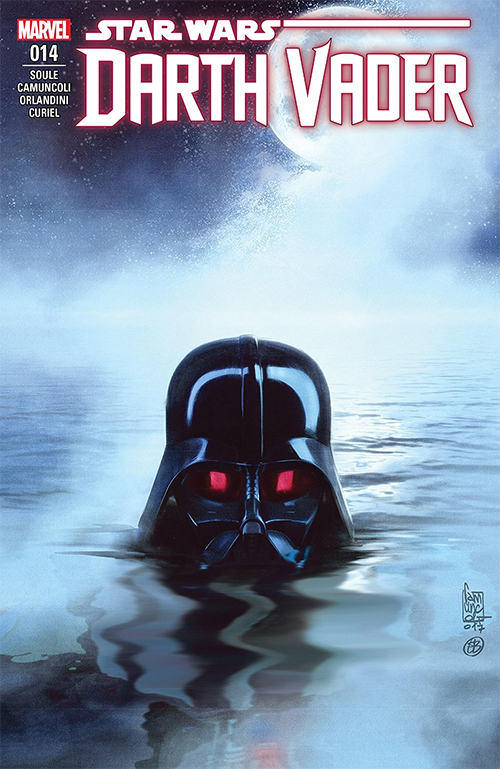 Star Wars: Darth Vader #14
FEB180908

(W) Charles Soule (A/CA) Giuseppe Camuncoli

Darth Vader continues his mission to bring Mon Cala to heel! As the Emperor grip tightens on the galaxy, no tolerance for rebellion can be afforded... especially not when being fomented by a surviving Jedi. Vader goes in for some wet work in this brutal story!

Rated T

In Shops: Apr 11, 2018

SRP: $3.99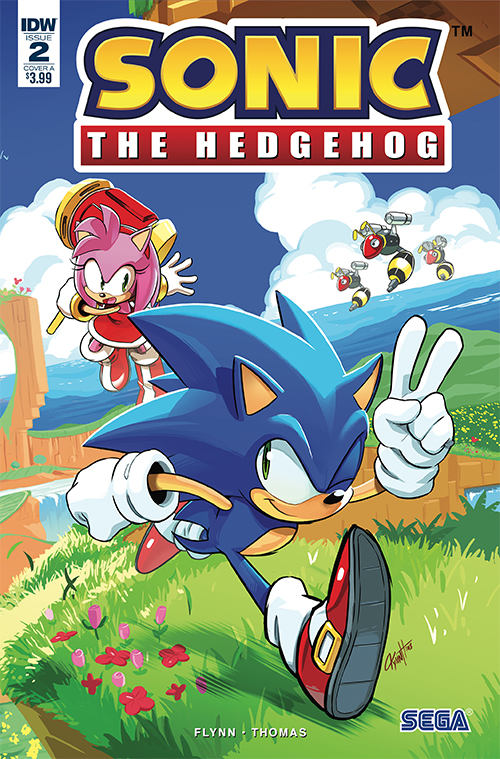 Sonic The Hedgehog #2

FEB180339

(W) Ian Flynn (A) Adam Bryce Thomas (CA) Tyson Hesse

Sonic's new adventure continues, and when he comes across another town in need of saving, his old pal Amy arrives just in time to join the fight! The banter is fun, and the stakes are high, but things get really serious when Amy presents Sonic with a big request: rejoin the Resistance!

In Shops: Apr 11, 2018

SRP: $3.99

Adventure Time Comics #22

FEB181245

(W) Brandon Zuern, Jamie Coe, Danielle Chenette, Reza Farazmand, Carissa Powell (A) Matt Frank, Jamie Coe, Brandon Zuern, Danielle Chenette, Reza Farazmand, Carissa Powell (CA) Kyle Smart

Ooo is being invaded by dragons and Finn and Jake are the heroes for the job! All seems to be going well until Jake tries to disguise himself as a dragon. It goes... poorly.

In Shops: Apr 11, 2018

SRP: $3.99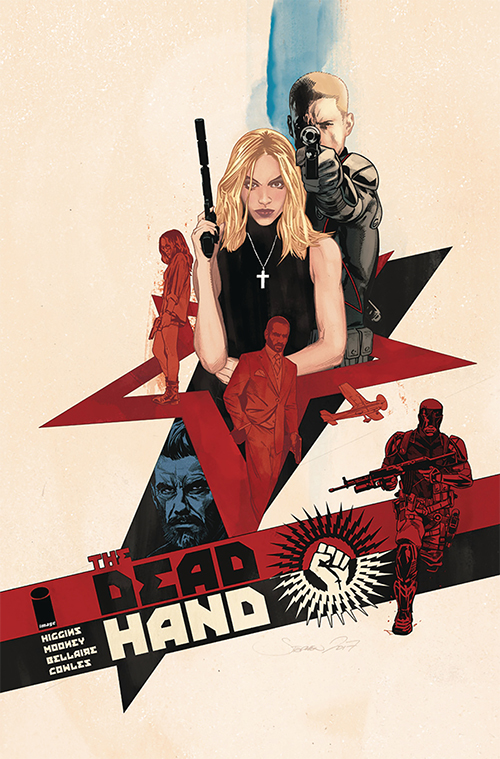 Dead Hand #1

FEB180506

(W) Kyle Higgins (A/CA) Stephen Mooney

"COLD WAR RELICS," Part One: Carter Carlson was a highly decorated operative during the Cold War. But in the fall of 1991, as the Soviet Union collapsed, Carter discovered a secret that not only changed his life... but also altered the course of history. Now, as the mysterious "Dead Hand" threatens to end the world once again, the only thing standing in its way is the relationship between an old spy and a little boy.

In Shops: Apr 11, 2018

SRP: $3.99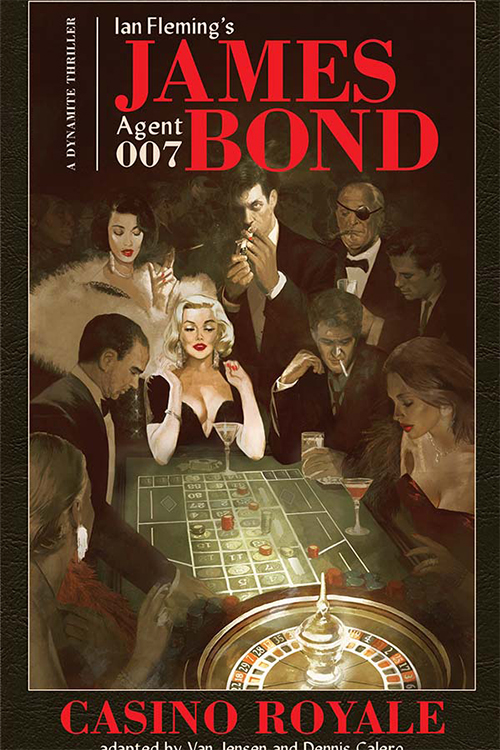 James Bond: Casino Royale HC

JUL171682

(W) Ian Fleming, Van Jensen (A) Dennis Calero (CA) Faye Dalton

Ian Fleming's literary debut of British Secret Service agent 007 is stylishly adapted to the sequential art medium by Van Jensen and Matt Southworth in the official James Bond: Casino Royale graphic novel. Sent to a French casino in Royale-les-Eaux, Bond aims to eliminate the threat of the deadly Le Chiffre by bankrupting the ruthless SMERSH operative at the baccarat table.

In Shops: Apr 11, 2018

SRP: $24.99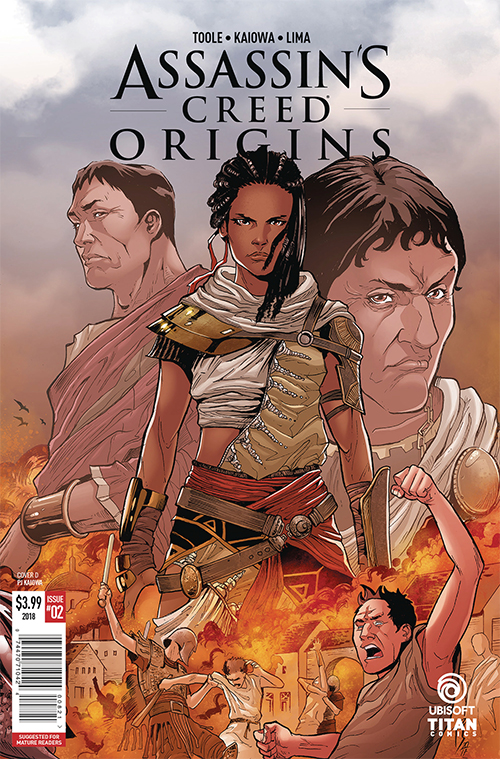 Assassin's Creed Origins #2

DEC171858

(W) Anne Toole (A/CA) PJ Kaiowa

Direct tie-in to the brand-new videogame, Assassin's Creed Origins! Witness the very beginning of the Assassin's Creed!

In Shops: Apr 11, 2018

SRP: $3.99