#NCBD 4/4/18: FCBD's 10 Comics for New Comic Book Day!
Apr 04, 2018
Free Comic Book Day was founded on the belief that there's a comic book perfect for everyone out there! Every Wednesday is New Comic Book Day (#NCBD) in comic book shops, where new comics release hit the shelves of comic book shops for eager fans to pick up and purchase.
We've highlighted ten comics that are perfect recommendations for anyone looking to get into comics!
In this week's list for books coming out 4/4/18, there's definitely something for everyone: the Green Goblin has returned in Amazing Spider-Man #798, the Dark Knight and Catwoman's wedding plans kick into high gear with Batman #44, and Dr. Eggman's latest plot has to be stopped once again in Sonic The Hedgehog #1!

What will you be picking up at the comic shop? Let us know on Facebook or Twitter!
---
AMAZING SPIDER-MAN #798
FEB180830
MARVEL COMICS

(W) Dan Slott (A) Stuart Immonen (CA) Alex Ross
"GO DOWN SWINGING" Part 2. Dan Slott's final Spider-Man story continues! The Green Goblin's returned, and he's exacting his ultimate revenge not only on Spider-Man, but on everyone the wall-crawler loves! Norman Osborn's offering no quarter, an ultimatum that threatens to finish Peter Parker once and for all!
BATMAN #44
FEB180164
DC COMICS

(W) Tom King (A) Mikel Janin, Joëlle Jones (CA) Mikel Janin

"SOMETHING BLUE"! Follow Batman and Catwoman on two separate but parallel paths as their wedding planning kicks into high gear. Selina picks out her dress, and Bruce starts to make arrangements for their new life together. But this being Gotham City, and they being Batman and Catwoman, you can bet that nothing will go as expected!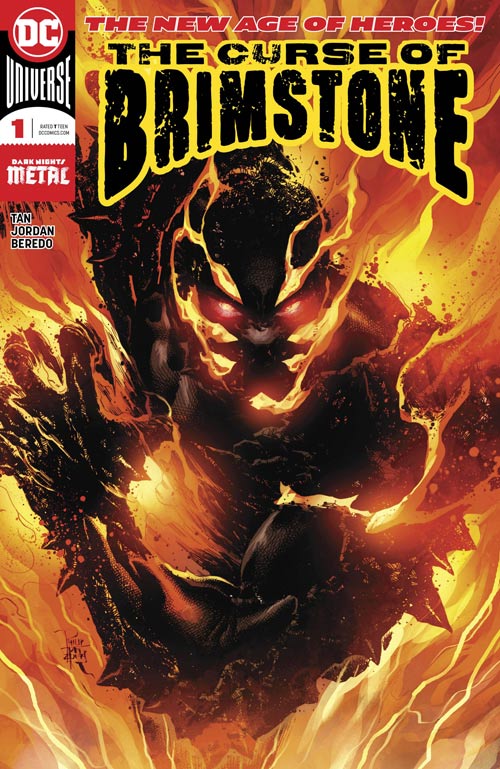 CURSE OF BRIMSTONE #1
JAN180237
DC COMICS

(W) Justin Jordan (A/CA) Philip Tan

Joe Chamberlain would do anything to save his small, forgotten town-even make a deal with the devil. But things get worse, and Joe finds himself cursed with the power of BRIMSTONE. With the power of fire and destruction coursing through his hands, Joe must now track down and destroy the demon he made his deal with before the power he now wields destroys the town he was trying to save. But as the fiery pain inside him grows, can this young man overcome his own demons before his power rips him apart from the inside out?
AVENGERS #687
FEB180785
MARVEL COMICS

(W) Mark Waid & Various (A) Paco Medina (CA) Mark Brooks

The Avengers Weekly Epic Continues! "NO SURRENDER" Part 13. The Avengers confront the traitor in their midst - but as the Earth begins to fall apart around them, their greatest enemy may be their best chance at survival.
ISOLA #1
FEB180500
IMAGE COMICS

(W) Brenden Fletcher, Karl Kerschl (A) Karl Kerschl, Msassyk (CA) Karl Kerschl

The captain of the Royal Guard has fled the capital city with the Queen of Maar, suffering under the effects of an evil spell. Captain Rook's only hope of returning Queen Olwyn to her throne and saving the kingdom from impending war lies on an island half a world away-a place known in myth as Isola, land of the dead.

SONIC THE HEDGEHOG #1
FEB180334
IDW PUBLISHING

(W) Ian Flynn (A) Tracy Yardley (CA) Tyson Hesse

SONIC'S RACING INTO A NEW ADVENTURE! After defeating the evil Dr. Eggman's latest plot, Sonic is racing around the world to shut down the robotic Badnik forces that are still attacking villages. But it's a big job for one person-even Sonic the Hedgehog! Fortunately, he'll have some help from his best friend: Tails!
AGENT 47 BIRTH OF HITMAN #5
JAN181521
D. E.

(W) Christopher Sebela (A) Ariel Medel (CA) Jonathan Lau

As the only remaining survivor of the Institute, 47's role as Dr. Ort-Meyer's weapon is put to use one last time on an impossible contract against a shadowy foe who controls their fates. The blowback against Diana pushes her to finally track down the last name on her list, triggering a series of disasters that sets her on her collision course with the Hitman.
WWE WRESTLEMANIA 2018 SPECIAL
FEB181188
BOOM! STUDIOS

(W) Ryan Ferrier & Various (A) Rodrigo Lorenzo (CA) Rahzzah

WrestleMania is the biggest event in the world of sports entertainment, and we're celebrating it with an oversized one-shot showcasing the biggest WWE Superstars! This year's special includes a closer look at one of the greatest matches of all time: Macho Man Randy Savage vs. Ricky The Dragonh Steamboat at WrestleMania III.
DISNEY PRINCESS #17
DEC171650
JOE BOOKS

(W/A/CA) Disney

Disney's beloved heroines have returned! Featuring laugh-out-loud stories from the worlds of Ariel, Belle, Rapunzel, Tiana, Cinderella, Aurora, and more, this charming ongoing series will make all your royal dreams come true.
MY HERO ACADEMIA VOLUME 12 GN
FEB181932
VIZ MEDIA
(W/A/CA) Kouhei Horikoshi

Class 1-A is working on developing their ultimate moves-a process that will test their strength and creativity in all-new ways! To help them out, Mei Hatsume, a student from the Support Class, is brought in to develop improvements to their costumes. The attention from Mei might be more than Midoriya can handle, but he'll need every edge he can get to pass the next hurdle for the students of U.A.-the Provisional Licensing Exam! For teen audiences.