FCBD18 Interview: TOKYOPOP Creative Team Discusses The Nightmare Before Christmas
Apr 05, 2018
Free Comic Book Day kicks off the newest Nightmare Before Christmas story arc from TOKYOPOP. Unfortunately for Jack Skellington, that means an unimaginable nightmare: losing his ghost pup, Zero!
Jack Skellington's ghost puppy goes missing just before Halloween, so Jack is forced to put Halloween plans on hold while he mounts a stop-at-nothing search to find his beloved pet. But will he find Zero in time to save Halloween? What about Christmas?
Told from Zero's point of view, this Free Comic Book Day title launches a 20-issue series run that explores Zero's adventures as he tries to find his way back to Jack. In our interview below, the Disney Tim Burton's The Nightmare Before Christmas: Zero's Journey creative team discusses this new story arc, its future manga and graphic novel collections, and why they love Free Comic Book Day!
---
Free Comic Book Day (FCBD): For those who might be new to your comic book, give us a quick rundown of the story.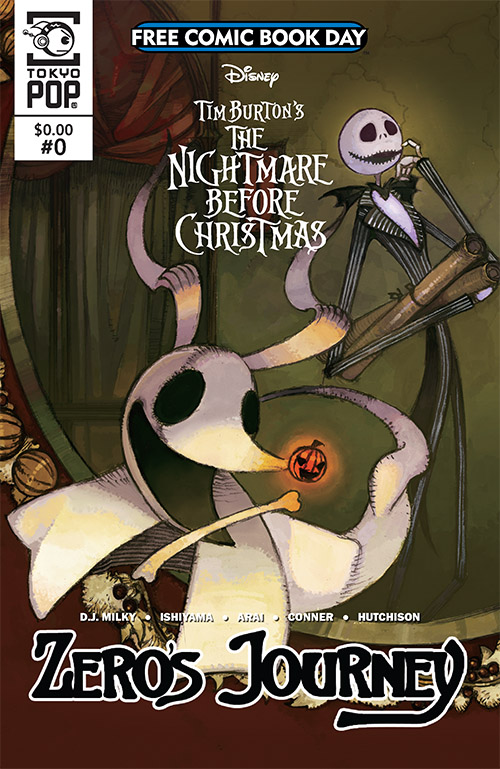 Kae Winters: Disney Tim Burton's The Nightmare Before Christmas: Zero's Journey is a brand new original story set in The Nightmare Before Christmas universe. When Jack Skellington's faithful pet Zero gets lost, the ghost pup must get the help of the residents of Christmas Town to find his way back! With Halloween plans on hold while Jack mounts a search, will they be reunited in time to save both holidays?
FCBD: What genre is your title?
Winters: Fantasy
FCBD: What has been your favorite part of the book or main character(s) to tackle?
Winters: The Nightmare Before Christmas is celebrating its 25th anniversary this year, and its popularity hasn't waned a bit since its release. There's such a huge cast of fascinating background characters and unique settings that it's an incredible opportunity to be able to explore them, giving fans a chance to go a little deeper into the world. Plus, we've always been a big fan of Jack Skellington's pet ghost dog, Zero, so we thought it'd be really cool to do a story from his perspective and get a chance to see the world from his point of view.
FCBD: What other titles would you compare to yours? "If a comic reader likes _______ , they should pick up my title?"
Winters: Disney Tim Burton's The Nightmare Before Christmas manga, and Disney Tim Burton's Alice in Wonderland manga
FCBD: Looking to the future, is there anything you can tease about what's upcoming for the title and its characters?
Winters: Along with #0 (that's our Free Comic Book Day issue), we'll be releasing #1 simultaneously for purchase, and the entire series will run for 20 issues total. Each set of five issues will be collected into full color graphic novels, and finally the entire series will be published as a black and white manga. There's something for everyone!
FCBD: What initially got you interested in comics? (or What is your favorite thing about working in comics?)
Kei Ishiyama: There were many comics at my home when I was a kid, so I read them regularly. That made me like drawing and I longed to see great works from professional comic writers.
D.J. Milky: I discovered comics via Japanese manga, which was really the first time I dug deep into the world of sequential art storytelling. Of course, I had read some comics in the US growing up, but really didn't fall in love with the stories until I encountered manga. The first two I loved were Parasyte and Slam Dunk. My entire career has been dedicated to finding new ways of bringing comics (with an emphasis on manga) to new audiences worldwide. Writing comics is liberating because you know the story will be brought to life by a talented artist – so an image stuck in your mind can become "unstuck" by the artist. Much in the same way a scriptwriter gets a thrill when seeing the story reach the big or small screen, we comic writers can experience a similar thrill when the book is published (digitally or in print).
Conner: I love visual story telling! Comics fill a magical place between text based/spoken stories and acting/film, by way of beautiful illustrations. The bright colors, dynamic characters, adventure, and humor in comics are what grabbed me and never let go!
FCBD: Many newcomers will pick up comics for the first time on FCBD—what was the first comic you remember reading?
Ishiyama: Ginga: Nagareboshi Gin by Yoshihiro Takahashi.
D.J. Milky: This may sound strange but my first comics were when I was very, very young and my family would sometimes eat at Bob's Big Boy, a restaurant in Los Angeles where I grew up. They had a free comic book that I think came out monthly, and I couldn't wait to be treated to a family dinner there so I could dive into the comic book.
Conner: Teenage Mutant Ninja Turtles Adventures #20 was my very first. That comic book was so influential to me - a definite game changer! Ask me about it at a convention sometime!
FCBD: Tell us why everyone should read comic books!
Ishiyama: Manga can tell stories visually in an easy-to-understand manner, so we can get to know various worlds with ease. Children can be inspired for their futures and discover new dreams to reach for. Adults can gain empathy, receive healing and grow as people
D.J. Milky: Comic books are a perfect cross between reading a novel and watching a movie or TV show. The visualization is there on the page for you, but there are still a lot of areas left for the imagination.
Conner: Everyone should read comic books because they are the perfect synthesis of narrative and illustration! Not only that, they are amazing for sharing thoughts and ideas! You can tell a story in 1 page or 500 pages! If you've had a bad day and you read a comic book - your day will be better - I guarantee it!
FCBD: What is your favorite part about Free Comic Book Day? What do you think is the best part of Free Comic Book Day?
Ishiyama: It's a great event that will hopefully make many people become familiar with manga. While web comics are increasing, I think the great point of the event is that there is manga in paper medium. It is easy to embrace regardless of age and sex.
D.J. Milky: Free Comic Book Day means free comics – so that's the best part! First of all, the price is right – free. Who doesn't love free? Second, the comics themselves feature a wide range of top quality works – something for everyone. For me personally, I love checking out what other talented writers and artists are up to – and this year it's particularly exciting for me since I know so many readers will be reading my work (it's also nerve-wrecking!).
Conner: I love the community aspect of Free Comic Book Day! Everyone comes out and celebrates together, searching for all their favorite titles! I especially love the chance to enjoy comics I may have not read before and to learn of new books coming out! I've never missed in participating in FCBD since the first one. It's the annual holiday for our art form and everyone can receive a gift for free!
I also think that for indie creators, it is the best opportunity to give out your work. If you do comics of any kind, contact your local shop and ask to set up and give out your home made mini comics. I'd done that for 9 years before being on an official FCBD book for the first-time last year.
I also love to see kids growing up, year after year. They'll say, "I have a drawing you did for me years ago framed in my room!" But now they're teenagers! It's amazing to be involved in the community line that!
FCBD: Where do you plan to spend Free Comic Book Day?
Winters: TOKYOPOP will be celebrating Free Comic Book Day at Hi De Ho Comics in Santa Monica for their mini-convention. There'll be publishers, creators, contests and of course, free comic books. Come say hi!
D.J. Milky: It depends where I am in the world at that time since I travel a lot, but I think I'll be lucky and home in LA then. That means I'll be at one of our local shops, perhaps at a small TOKYOPOP booth at the Hi De Ho in Santa Monica. There are so many incredible shops in the LA area – maybe this year we can hop around a bit and stop by some others, like Meltdown, Golden Apple, and others.
Conner: I have set up on FCBD for the past 7 years at one of the Mile High Comics stores where I live in Denver, CO. Their warehouse mega-store is the biggest comic shop in the world and a place of wonder.
Meanwhile, I have not been on a book as celebrated as Nightmare Before Christmas before. It's so exciting since it's my favorite Disney movie! I would love to hear from any shops who are interested in me joining them at dan@crazygoodcomics.com!