New Captain America Story Coming On Free Comic Book Day
Feb 28, 2018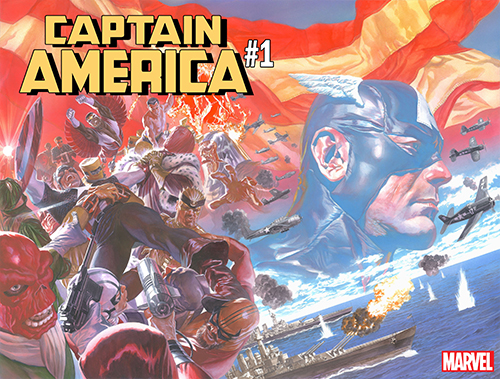 Captain America #1 cover by Alex Ross
New creative teams. New series. New directions. New beginnings. It all kicks off this July with CAPTAIN AMERICA #1 by Ta-Nehisi Coates & Leinil Yu!

"I think it's a really exciting time to be writing Captain America right now," said Coates. "The country is in an interesting place, and I look forward to inhabiting Steve Rogers' character - this guy who has been a sort of awkward fit for the world, out of time as people say. I hope fans are excited to see something different, and I think there are some really compelling villains old school Captain America fans and Marvel fans will be familiar with."

"Finding the right voice to tell the tales of Marvel's beloved characters is never an easy task, but when it came time to hire the new hand to guide Captain America, we just knew it had to be Ta-Nehisi Coates!" shared Editor-In-Chief C.B. Cebulski. "After re-inventing the Black Panther for the modern era, Ta-Nehisi now brings his sharp scripting sensibilities to Steve Rogers and his new place in the Marvel Universe. With Leinil Yu and Sunny Gho bringing all the incredible action to life in big, bold visuals, you will not be able to put this book down. And our launch is timed perfectly for release on the Fourth of July!"
Fans will be able to read the first Captain America story from Ta-Nehisi Coates and Leinil Yu in the Avengers/Captain America Free Comic Book Day issue, available May 5th – and can view the back cover art of the issue by Leinil Yu for the first time now!


For more information on CAPTAIN AMERICA, including an exclusive commentary from Ta-Nehisi Coates, visit The Atlantic.
For up-to-date information on all new #1 titles, visit http://marvel.com/marvel2018comics.
CAPTAIN AMERICA #1
Written by TA-NEHISI COATES
Art by LEINIL YU
Cover by ALEX ROSS
On Sale 7/4/18
FCBD CAPTAIN AMERICA #1
Written by TA-NEHISI COATES
Art by LEINIL YU
Cover by LEINIL YU
Available on Free Comic Book Day - 5/5/18