FCBD18 Interview: Shadow Roads Writer Discusses His Favorite Things About Comics
Mar 30, 2018
Cullen Bunn and Brian Hurtt have developed a flare for mythically infused adventure stories. Their popular series, The Sixth Gun, followed six wielders of magically imbued pistols across the Wild West in post-civil America.
Now, Cullen Bunn and Brian Hurtt are teaming up again to create Shadow Roads, a sequel series to The Sixth Gun. Shadow Roads follows a group of adventurers as they travel through the universe using a gateway called "the Crossroads," an attempt to prevent the impending destruction of all creation!
This new tale from the Oni Press creative duo is one you won't want to miss! Read our interview below with writer Cullen Bunn to learn about why he loves comics and what he's looking forward to on Free Comic Book Day! Then, click here to read through our PREVIEWS Prevue of the title!
---
Free Comic Book Day (FCBD): What genre is your title?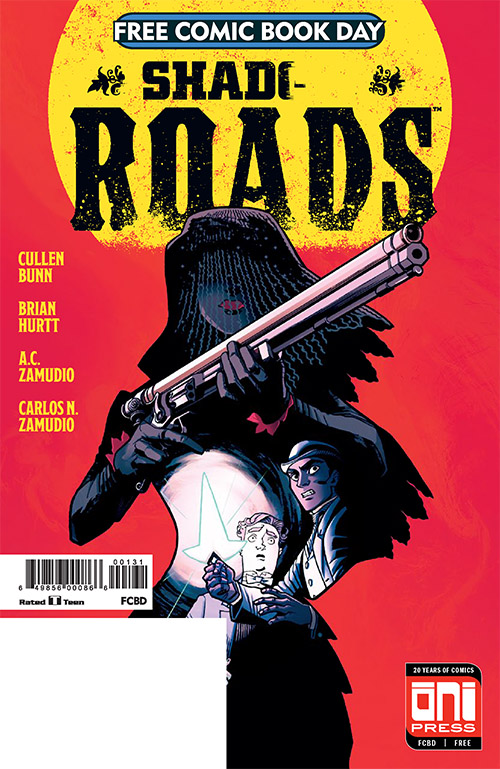 Cullen Bunn: Western and supernatural
FCBD: What other titles would you compare to yours? "If a comic reader likes _______ , they should pick up my title?"
Bunn: The Sixth Gun, The Damned, East of West, and Pretty Deadly.
FCBD: What initially got you interested in comics? (or What is your favorite thing about working in comics?)
Bunn: I've always loved to tell stories, and I've pretty much always loved comics, so this was a natural fit for me. When I was very young (pre-kindergarten), I was writing and drawing my own comics. I drew a monthly sci-fi comic for my friends when I was in the 5th grade. I created comics all through middle school. I even used the copier in my dad's office to print my own comics and sell them at comic book conventions when I was in high school. I've just always loved the medium. I've always felt it is a great way to tell stories and engage readers.
FCBD: Many newcomers will pick up comics for the first time on FCBD—what was the first comic you remember reading?
Bunn: AVENGERS #154 is the first comic I vividly remember reading. In that issue, Tyrak the Terrible battles and defeats the Avengers. Maybe I was just skimming pages. I'm not sure. But I thought Tyrak had killed the Avengers when I read that issue. He crushed Iron Man's heart. He sprayed the Wasp with poison. It was terrifying.
FCBD: Tell us why everyone should read comic books!
Bunn: There's a comic out there for absolutely every taste. Like superheroes? Well, of course there are comics for you! But that's really just the tip of the iceberg. There are action comics, horror comics, romance comics, comedy comics—you name it, there is a book out there for you.
FCBD: What is your favorite part about Free Comic Book Day? What do you think is the best part of Free Comic Book Day?
Bunn: There's always an excitement in the air around Free Comic Book Day. I love seeing people lined up to come in and grab a few comics. This is a great event for people who are considering getting into comics. Not only are there FREE books on hand, but many stores hold big sales, and this is a terrific time to meet other people who share your interests. I love that there are so many options for kids on hand. If you have kids, it can be fun for them, too. And—as a reader myself—I'm excited that so many of the free books aren't just reprint material. These are often new stories being released for the first time.
FCBD: Where do you plan to spend Free Comic Book Day?
Bunn: This year, I'm sticking close to home. I'm supporting my local comic book shop, The Comic Cave in Springfield, Missouri. Brian Hurtt (my collaborator on The Sixth Gun, The Damned, and Shadow Roads) will be joining me there as we celebrate the release of Shadow Roads, the sequel series to The Sixth Gun. As with the first issue of The Sixth Gun, we're releasing the first full issue of Shadow Roads as a FCBD release!