FCBD18 Interview: Aspen Creators Discuss the Emerging 'Worlds of Aspen'
Mar 29, 2018
Although we live in a world where technology is becoming increasingly ubiquitous, we remain off-put by the idea of it physically infiltrating humanity, becoming a somewhat inseparable entity from the human body. In J.T. Krul's Nu Way, he explores what happens to a society when technology can be used to better every aspect of your life, and the moral dilemma that comes along with it.
In Dissension, Jordan Gunderson brings a fresh take on a tale of invasion, featuring beautiful, but ruthless other-worldly creatures, and a psychologically gifted freedom fighter, pitted against each other in the war for Earth's survival…or destruction.
Both tales of emerging heroes in dystopian worlds are available in Aspen Comic's Free Comic Book Day title, Worlds of Aspen: Anniversary Edition. Read our interview below with the creators behind these dangerous worlds to learn more about what to expect in this Free Comic Book Day special. Then, click here to read through our PREVIEWS Prevue of the title!
---
Free Comic Book Day (FCBD): For those who might be new to your comic book, give us a quick rundown of the story!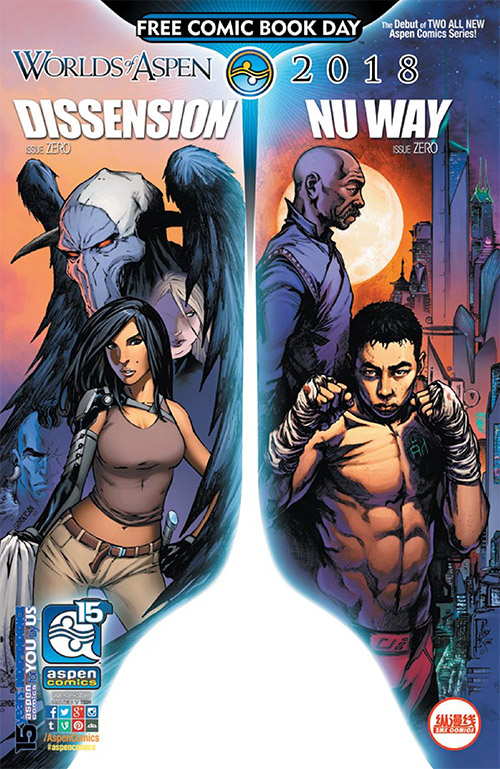 J.T. Krul: NuWay is a futuristic tale about people trying to maintain their humanity in a world dominated by technology. [In 2051,] the story centers on two lonely souls with a past connection trying to fight their way out of the slums and into a better life. Zihao is doing it literally, as an emerging contender in the arena, but he's gone about as far as his body can take him. Now, it's time to take the big step. By getting cybernetic upgrades, he'll finally be able to compete on the big stage... Cassi has used her body in other ways, using technology to perfect herself in every way. She's clawed her way up in the world of elites and has the penthouse to show for it, but is her ivory tower a palace or a prison?
Jordan Gunderson: The story centers on a character nicknamed "Delphi", who has been operating as a freedom fighter in the American Southwest during a war with China in the not so distant future. She has been rescuing refugees from the war-zone, trying to make a difference in her own way… Unbeknownst to Delphi, a band of angels has fled Heaven seeking a new refuge. The Earth has become their new home and humanity is regarded as a plague that must be purged. Their path forges ahead toward global genocide and it is yet to be decided if they can be stopped in time
FCBD: What genre is your title?
Krul: It is science fiction all the way.
Gunderson: Dissension: War Eternal can be classified as a blend of science fiction and fantasy with some apocalyptic elements thrown in for good measure.
FCBD: What has been your favorite part of the book or main character(s) to tackle?
Krul: First and foremost, I love world building, […but] the characters of Zihao and Cassi jumped right out at me. Something about these two people from the same poor background, who find each other again after their own trials and tribulations to get where they are. It's about how our experiences, the decisions we make define and shape who we become. It's about trying to maintain that inner-compass in the face of incredible adversity. That aspect has been very rewarding to explore.
Gunderson: One of my favorite parts of the book to illustrate would have to be the environments. Whether it be epic landscapes with towering snowcapped mountains, the ruins of a modern city or an alien moon, the settings for the book always present an opportunity to design something new and exciting.
FCBD: What other titles would you compare to yours? "If a comic reader likes _______ , they should pick up my title?"
Krul: It's got a certain street level vibe, like Daredevil, but no superheroes. Not a comic book, but some comparison to Blade Runner would be in the ballpark. In full disclosure, the first film is one of my all-time favorites, so naturally that kind of influence bleeds over into a project like NuWay.
Gunderson: I see the book having many different facets to it and blending genres that I have yet to see on the shelves. Our hope is that a unique storyline will really drive readership and give comic fans something they haven't seen before.
FCBD: Looking to the future, is there anything you can tease about what's upcoming for the title and its characters?
Krul: Zihao finds himself at something of a crossroads. His whole journey out of poverty has been building to this point, but he'll really struggle with whether or not he's ready to sacrifice part of himself to reach the next level. He's more than a fighter. He is a warrior, and with that comes a certain notion of the body as a temple. And, he just may not be willing to desecrate it with such upgrades… As for Cassi, she's already made that decision, so for her the question really boils down to - is it too late for her?
Gunderson: The Free Comic Book Day issue and issue #1 are really the tip of the iceberg for what is in store. As the story progresses, readers will journey from a small village in northern Alaska to the ruins of Las Vegas and even an alien moon. As for our main character Delphi, she will have to struggle with her developing gift of foresight and find a way to harness its potential if she is to prevent the coming apocalypse.
FCBD: What initially got you interested in comics? (or What is your favorite thing about working in comics?)
Krul: As a lifelong reader, the concept of actually writing them was something of a dream come true. As for the best part of business - that's easy. It's the people. Getting to collaborate with such talented artists (pencilers, inkers, colorists, letterers, editors) is beyond amazing. And, that includes the fans and retailers, too.
Gunderson: I became interested in comic books as a result of 90's animated cartoon shows. I loved watching X-Men, WildC.A.T.s, Batman and Spider-Man, so the transition to comics was an easy one to make. Once I began to read them, my imagination kicked in and the drive to create my own comics was born.
FCBD: Many newcomers will pick up comics for the first time on FCBD—what was the first comic you remember reading?
Krul: Easy - Uncanny X-Men #132. It belonged to one of my uncles. It was amazing. The Hellfire Club vs. the X-Men, and in the end, Wolverine was in the sewers below, down but not out. "You took your best shot. Now, it's my turn." It blew my mind and jumpstarted a serious comic addiction.
Gunderson: The first comic I remember reading was X-Men #1, the famous Chris Clairmont/Jim Lee issue. It was actually a while before I even started reading it, as it had a gatefold cover that I couldn't stop looking at!
FCBD: Tell us why everyone should read comic books!
Krul: The art. The story. The drama. The action. Why wouldn't everyone want to read comic books?
Gunderson: …There is a story out there for everyone. There are so many different genres, publishers, artists, writers and storylines, that there is never a dull moment when immersing oneself in a comic book. So whatever you are into or like to read or are drawn to via the art, there is a wealth of books at your fingertips just waiting to be discovered.
FCBD: What is your favorite part about Free Comic Book Day? What do you think is the best part of Free Comic Book Day?
Krul: My favorite part is talking with kids about comics and having them tell me about their favorite heroes. I'm not much of a sports person, but comics is one of those things that transcends age and gender. We might read different stories at different times, but the characters can resonate with us all. They are our heores. As for the best part of FCBD, it's the look on those kids' faces when they get a really cool sketch from an artist. Their eyes light up, and they can't stop smiling.
Gunderson: My favorite part about Free Comic Book Day is making all varieties of comics accessible to a large market of people. The event offers a chance to get a book for free where you would normally have to pay a 3.99 cover price. Bottom line, it gets comics into all types of readers' hands, and that makes it a great event.
FCBD: Where do you plan to spend Free Comic Book Day?
Krul: There's no shortage of great comic book shops in the greater Los Angeles area, and I always end up making an appearance at a few. This year, I'll be at…
Gunderson: For the past several years, I have been a part of the FCBD event at my local comic book store, Westfield Comics in Madison, Wisconsin. This year will be quite special, as my creator-owned project will debut, so I plan to split my efforts at the two local Westfield Comics locations and be in the store ready to sign and discuss the release of Dissension: War Eternal.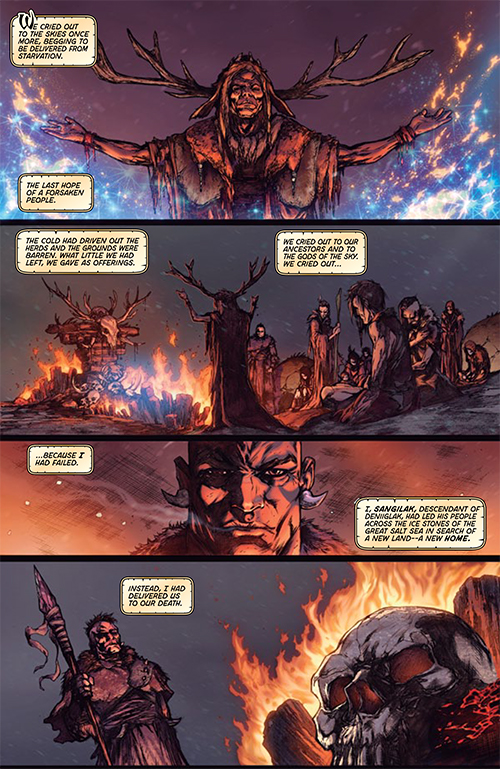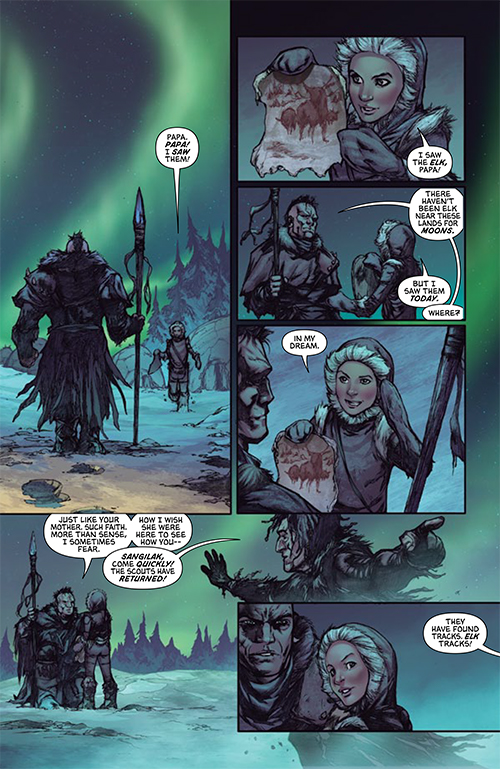 '