FCBD18 Interview: Tank Girl Celebrates 30 Years of Chaos
Mar 08, 2018
Free Comic Book Day is a celebration! And this year, Titan Comics will partner our annual celebration of comic books with their celebration of the 30th anniversary of Tank Girl!
For 30 years, readers have enjoyed the crazy antics of the beer-guzzling, tank-driving, completely unhinged, Tank Girl. There's so many things to love about her outrageous way of life… like the fact that she lives in a tank and dates a mutated kangaroo! As a celebration of all those lovable traits, Titan Comics has created A Brief History of Tank Girl, a comic that tells the tale of how she become the hot mess she is today.
Read our interview below with Chris Thompson, Titan's brand manager for the Tank Girl series, to learn more about what to expand in the pages of the jam-packed Free Comic Book Day special, and find out what Chris is looking forward to on Free Comic Book Day! Then, click here to read our PREVIEWS Prevue of the comic!
---
Free Comic Book Day (FCBD): For those who might be new to your comic book, give us a quick rundown of the story!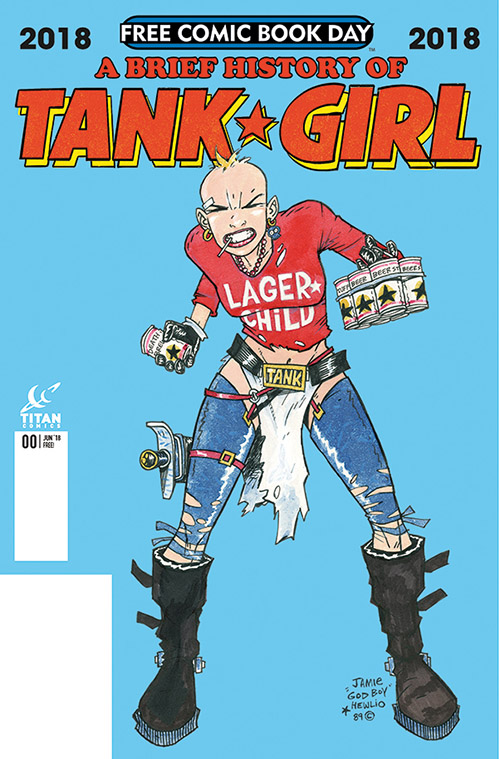 Chris Thompson: Our favorite beer-swilling, tank-driving anarchist first debuted 30 years [ago] in the pages of cult British magazine, Deadline. Co-created by Alan Martin and Jamie Hewlett, she has thrived under the guiding hand of Alan Martin who continues to write Tank Girl's zany adventures with her madcap cast of extras. Whether they're taking on mutants in the Australian Outback or flying into space, there's always fun to be had – and, best of all, you can jump in at any time!
FCBD: What genre is your title?
Chris Thompson: Tank Girl is unique. It takes a variety of inspirations to create something special and truly its own. She was the original Riot Grrrl and she moves with the times she's in. For those expecting something nostalgic in her 30th year, think again.
FCBD: What has been your favorite part of the book or main character(s) to tackle?
Chris Thompson: As a fellow Australian, I feel a certain affinity with Tank Girl. Being able to work with Alan Martin, Brett Parson and the other fantastic creators has been a real thrill, and definitely one of the highlights of working at Titan for me … It's like being part of a legacy that I know will run for so much longer.
FCBD: What other titles would you compare to yours? "If a comic reader likes _______ , they should pick up my title?"
Chris Thompson: Again, this is really hard. It's a bit of a cheat, but I'd say, "if a comic reader likes comics then they should pick up Tank Girl". Unlike other series, it's not too late, and every issue is a great jumping-on point. This FCBD issue is especially so, as it looks back to the past, while giving a clear feeling of the overall flavor of the series going forward.
FCBD: Looking to the future, is there anything you can tease about what's upcoming for the title and its characters?
Chris Thompson: In the same way as FCBD's Brief History of Tank Girl is an all-star jam book filled with different stories, you can look forward to more of that with June's Tank Girl All-Stars. Alan is using this 30th anniversary as a way to celebrate everything that came before, and propel us onward into a whole new series of wild adventures. Life begins at thirty!3
FCBD: What initially got you interested in comics? (or What is your favorite thing about working in comics?)
Chris Thompson: When I first got into comics, it was to occupy my time while I was visiting my Dad on the weekends. Actually, that was his idea first, but I soon got on board with it all … For better or worse it stuck, so you can imagine how my Dad feels now that I work in comics as well. Originally, he (and my mother) probably thought he was to blame, but now (somewhere deep down) I think he's become quite proud of the fact.
FCBD: Many newcomers will pick up comics for the first time on FCBD—what was the first comic you remember reading?
Chris Thompson: The first comic I remember reading was a Richie Rich comic when I was about four years old. I use the term 'read' pretty loosely, but you get the picture … As for the first comic that really floored me and made me a lifer? That would probably be Frank Miller's The Dark Knight Returns. Times have definitely changed but, as a twelve-year-old reading it for the first time, it was riveting.
FCBD: Tell us why everyone should read comic books!
Chris Thompson: Comic books take all the things you love and meld them into one amazing, creative, irreplaceable format. Unlike books, there's a visual feast on offer (alongside the words) and, unlike films, there's something to read as well. It makes readers out of those who are reluctant, and it enriches both your mind and your imagination. It's a small price to pay for that kind of entertainment – especially on something like Free Comic Book Day!
FCBD: What is your favorite part about Free Comic Book Day? What do you think is the best part of Free Comic Book Day?
Chris Thompson: I used to work in a comic shop, so my favorite part of Free Comic Book Day was always handing out the free comics. I love introducing people to the medium, and the enthusiasm was infectious (on both sides). These days I'm one level removed, but I know I'm still playing my part in getting comics into new readers' hands, which is still just as exciting as it ever was.
FCBD: Where do you plan to spend Free Comic Book Day?
Chris Thompson: At the comic shop – haha. I still love to see people getting their books and, if I'm honest, there's probably some I want myself. The beauty of comics is that it stays with you … even when it's your job.