FCBD18 Interview: Crime, Drama, and Coming of Age in Scout Comics' The Mall
Mar 09, 2018
Have you ever been to the mall and noticed a store that's always empty, and selling some weird thing? It never has any customers, but it never goes out of business. One of the central characters in Scout Comics' The Mall has an interesting theory as to why that might be: money laundering for illegal mob business.
Maybe not the reason the store selling mattresses at your local mall is still in business, but in this story, it's definitely the reason why the store selling organs is in business.
See, Gino Cardini was the head of the Cardini Mob Family. When he mysteriously died, his three illegitimate children each inherited a store in the mall. While the stores front as legal businesses, the real money is in the illegal businesses. The kids are thrust into a world of crime, all the while just trying to find a date to the dance.
Read our interview below with James Haick, creator and co-writer of The Mall, to find out more about what to expect in the pages of this coming-of-age crime tale, and how James will be spending Free Comic Book Day. Then, click here to look through our PREVIEWS Prevue of the comic!
---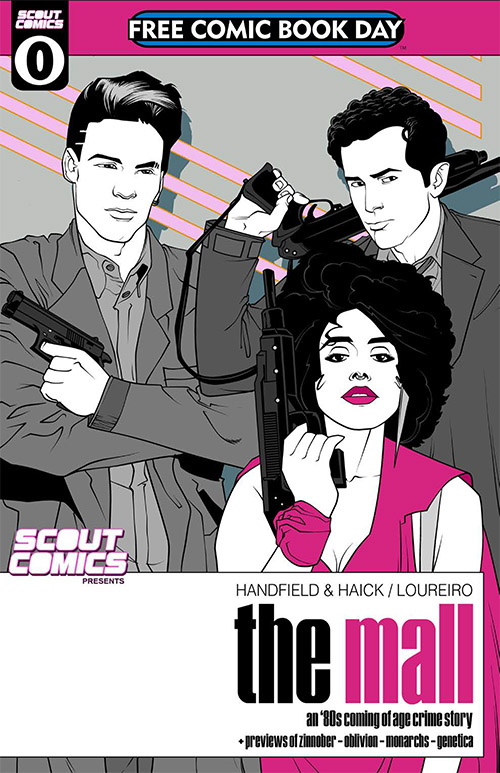 Free Comic Book Day (FCBD): For those who might be new to your comic book, give us a quick rundown of the story!
James Haick: The Mall is a coming of age story that takes place in mid-1980's at the height of popularity of indoor Malls. When the head of the Cardini Mob Family suddenly passes away, his three illegitimate children inherit stores within the mall that both legal and illegal businesses are run out of. It's a John Hughes movie that takes place in a The Godfather like environment. What will these kids decide to do with their inheritances?
FCBD: What genre is your title?
James Haick: Crime/Drama; Coming of Age story.
FCBD: What has been your favorite part of the book or main character(s) to tackle?
James Haick: Helping describe the mall itself has been a blast for me. Brings back a lot of memories.
FCBD: What other titles would you compare to yours? "If a comic reader likes _______ , they should pick up my title?"
James Haick: If a reader likes Mark Millar's 1985, Kill or Be Killed, or Papergirls I'm sure they will enjoy The Mall.
FCBD: Looking to the future, is there anything you can tease about what's upcoming for the title and its characters?
James Haick: Things happen quick and fast for our three main protagonists. It's going to be a consistent struggle to balance between their typical high school lives and their new organized crime businesses.
FCBD: What initially got you interested in comics? (or What is your favorite thing about working in comics?)
James Haick: I started collecting comics when I was 8 years old after my friend introduced me to them at school. I was hooked immediately. I loved both the art and storytelling from the get go.
FCBD: Many newcomers will pick up comics for the first time on FCBD—what was the first comic you remember reading?
James Haick: Web of Spiderman #93 by Alex Salavek. LOVED the cover.
FCBD: Tell us why everyone should read comic books!
James Haick: Comics to me are the greatest medium to tell a story when everything is firing on all cylinders.
FCBD: What is your favorite part about Free Comic Book Day? What do you think is the best part of Free Comic Book Day?
James Haick: Introducing comics to new readers and companies.
FCBD: Where do you plan to spend Free Comic Book Day?
James Haick: I plan on doing an instore signing in Lawrenceville, GA at Galactic Quest Comics.