Free Comic Book Day 2023 Library Partner Program
Dec 20, 2022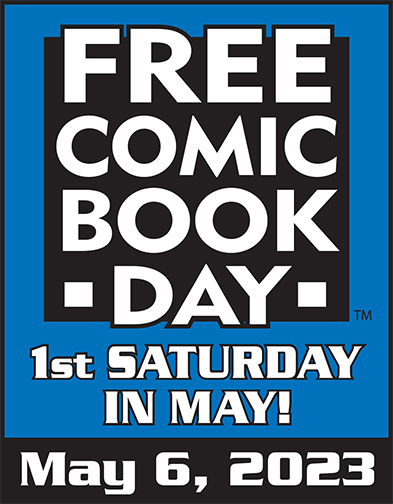 Thank you for your interest in becoming a Free Comic Book Day 2023 Library Partner.
Enrollment for Free Comic Book Day 2023 has closed. Due to overwhelming demand and our highest enrollment numbers to date, we've made the difficult decision to end the enrollment period early.
If you have already enrolled, you will be contacted in February 2023 with more information regarding your shipments.
If you have not yet enrolled, but wish to participate in FCBD 2023, we recommend partnering with a local comic book shop in your area to receive free comic books to give out to your patrons on Saturday, May 6, 2023. Use the Comic Shop Locator to find a shop near you.
The registration form for Free Comic Book Day 2024 Library Participation will be available in December 2023.
Due to the number of requests from libraries, and with the limited number of comics available, we urge you to work with a local comic shop near you if possible. To find a shop, use our Comic Shop

Locator service. Comic shops that display the "School/Library Partner" badge are great stores to contact.
Shortly after the conclusion of the enrollment period, we will contact you regarding acceptance into the program, as well as the quantity of comic books you will receive.
The below guidelines may answer most questions about what the program includes. However, if you have any questions that are not covered here or would like more information on the program, please email educators@freecomicbookday.com.
2023 Program Guidelines
Please Read Carefully:
When completing the enrollment form, please e

nsure we have

the

correct shipping

address

.

Packages are sent via UPS, therefore we cannot ship to a P.O. Box. A physical street address must be provided.

D

ue to shipping and customs logistics,

we

cannot accept enrollment from locations outside of the continental U.S.

Your shipment of comic books will arrive separately from your promotional package. We will provide email updates on approximately when to expect each package.
As a partner in this program, you will:
Receive 50 books per location to distribute on FCBD. You may request additional books, and we will do our best to accomodate as many additional requests as possible, but we cannot guarantee more than 50 comic books to each accepted location. Please note, if you are requesting for multiple locations with different shipping addresses, please fill out the form for EACH location.
Cross promote with the local comic book stores in your area.
Receive a FCBD Promotional Package. Specific contents of the promotional package are still being determined. The list of promotional materials will provided here once finalized.
Sign up for the Diamond BookShelf e-Newsletter. Our Diamond BookShelf e-Newsletter is geared to libraries and schools with information on expanding your collections, incorporating graphic novels into classroom cirriculum, holding events, and more! You can sign up with the following link: www.diamondbookshelf.com/subscribe.
Thank you for you for partnering with Free Comic Book Day and spreading the joy of comics and comic book shops!
If you have any questions, please don't hesitate to reach out to us at educators@freecomicbookday.com.