FCBD18 Interview: Papercutz Creative Team Talks Adventure and Peril in The Only Living Boy
Feb 08, 2018
What do a 12-year-old boy, a mermaid, and an insect have in common?
Seemingly nothing, but team them up and pit them against the Dreaded Lord Baalikar and the fiendish Doctor Once on a patchwork planet, and you're looking at the plot of Papercutz Free Comic Book Day title, The Only Living Boy.
We had the opportunity to talk to the creative team behind The Only Living Boy. David Gallaher and Steve Ellis walked us through what to expect in their comic book, their favorite things about comics, and what they're looking forward to on Free Comic Book Day! After you're done reading the interview, click here to look through our PREVIEWS Prevue of the comic!
---
Free Comic Book Day (FCBD): For those who might be new to your comic book, give us a quick rundown of the story!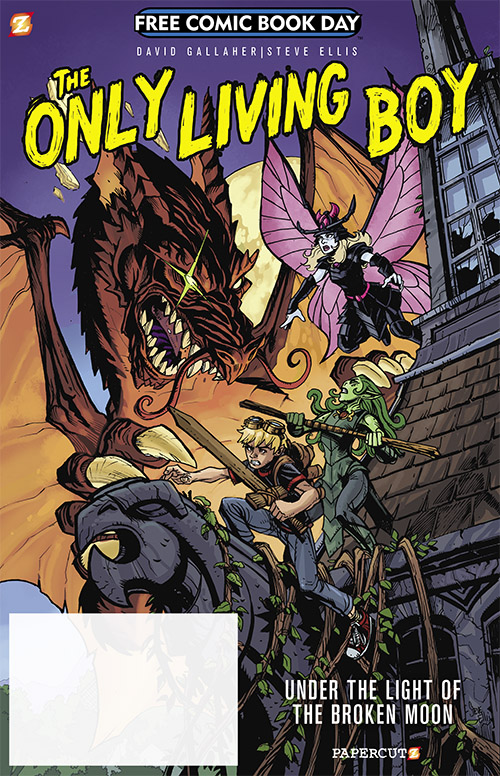 David Gallaher: On a desperate mission to save his new home from the tyranny of the Dreaded Lord Baalikar and the fiendish Doctor Once, 12-year old Erik Farrell joins forces with Morgan, a mermaid warrior and Thea, an insect princess on a fantastic journey into a world rife with peril and adventure. Along the way, Erik discovers the terrible tragedy that lead him to this patchwork planet.
FCBD: What genre is your title?
David Gallaher: Middle grade, adventure fiction.
FCBD: What has been your favorite part of the book or main character(s) to tackle?
David Gallaher: Writing Erik, Thea, and Morgan — as a trio — is so much fun. I love how each character has a sense of resilience and determination in the face of adversity, and how they each grow over the course of the series.
FCBD: What other titles would you compare to yours? "If a comic reader likes _______ , they should pick up my title?"
David Gallaher: The Only Living Boy is a delightful read for fans of Amulet, Bone, and How to Train Your Dragon.
FCBD: Looking to the future, is there anything you can tease about what's upcoming for the title and its characters?
David Gallaher: What we have on tap for Erik and Bear will keep a lot of readers on the edge of their seats. Plus, fans of the series are going to really love the developments in store for Morgan -- our fearless warrior -- as she navigates the emotional battlefield of actually caring for others. People should also keep their eyes out for the forthcoming Only Living Boy Omnibus-- which reveals some exciting new characters and creatures.
FCBD: What initially got you interested in comics? (or What is your favorite thing about working in comics?)
David Gallaher: I really love working with Steve Ellis, building these elaborate story worlds and unique heroes together. I think the best comic stories are really a team effort, and collaborating with other creators is really a huge perk of this job.
FCBD: Many newcomers will pick up comics for the first time on FCBD—what was the first comic you remember reading?
Steve Ellis: The Invincible Iron Man #102. It had a lot of things that intrigued my young brain. Frankenstein's castle, a futuristic warrior knight riding on a flying dragon-winged horse, a flying car, a character named the Dreadknight… plus Iron Man was 'Invincible' and that sounded cool!
FCBD: Tell us why everyone should read comic books!
David Gallaher: Comics are gateways to other worlds and other perspectives! What makes comics unique are how they help our brains process stories and time. Unlike film, for instance, comics unfold at their own pace. We control the rhythm of the story. Unlike my phone or my iPad, comics never need batteries. Unlike TV, I can fit a comic in my back pocket and take it with me wherever I go.
FCBD: What is your favorite part about Free Comic Book Day? What do you think is the best part of Free Comic Book Day?
Steve Ellis: I think my favorite part of Free Comic Book Day is talking with the younger fans. I love seeing the excitement and energy in their eyes when they receive a new comic. It's an amazing experience.
FCBD: Where do you plan to spend Free Comic Book Day?
Steve Ellis: For Free Comic Book Day, David and I will be at Comic Book Jones in Staten Island, followed by Aw Yeah Comics in Harrison, New York.