FCBD18 Interview: Founder of YouNeek Studios Discusses Malika: Creed & Fury
Feb 06, 2018
Across all industries, creators fight a never-ending battle to establish diverse representation. In the comic book industry, YouNeek Studios is using their platform to tackle that issue in a big way.
Their Free Comic Book Day offering Malika: Creed & Fury features two strong, African, female leads. Set in Abuja, Nigeria, Malika and Fury team-up, somewhat reluctantly, to combat a dangerous and growing terrorist group, known as the Creed.
Read our interview below with Roye Okupe, founder of YouNeek Studios and creator of Malika: Creed & Fury, to learn more about what to expect in the pages of the Free Comic Book Day title, as well as what inspires Roye's comics, and why he's looking forward to Free Comic Book Day! Then, click over here to read through our PREVIEWS Prevue of the comic!
---
Free Comic Book Day (FCBD): For those who might be new to your comic book, give us a quick rundown of the story!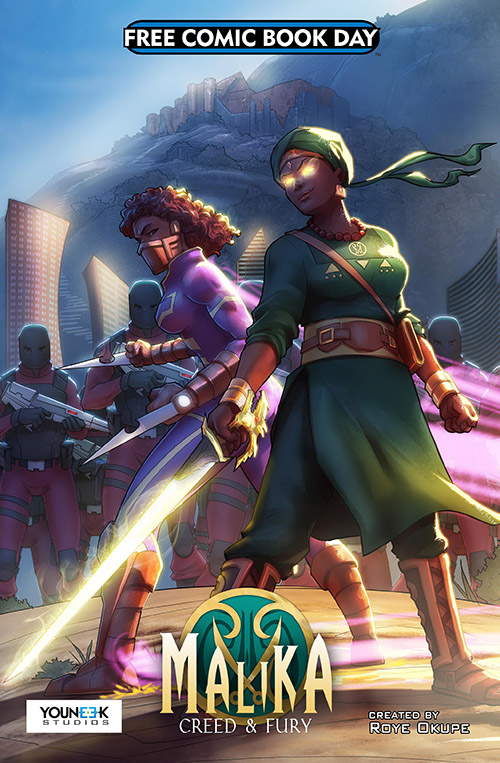 It's basically a buddy cop science fantasy featuring a pissed off, magical sword wielding, warrior queen and a kung-fu expert speedster, struggling to work together as they try to eradicate a group of dangerous anarchists. I dare you to not pick this up.
FCBD: What genre is your title?
Science Fantasy!
FCBD: What has been your favorite part of the book or main character(s) to tackle?
The dynamic between the two main heroes: Malika & Fury. Malika is from a world that's 500 years before Fury's time. That dynamic alone provides a unique backdrop for a story that'll keep readers engaged from page to page. Lastly, having two strong female leads handle bad guys is just amazing to read.
FCBD: What other titles would you compare to yours? "If a comic reader likes _______ , they should pick up my title?"
Hmmm. That's a bit hard. Here at YouNeek Studios our comics are really, well, "YouNeek." Till now, all our stories are heavily inspired by African history/mythology as well as current affairs and/or locations on the continent. This is something that you'd rarely see in comics. Which makes this one-shot an excellent pick up for people looking for something new and fresh.
FCBD: Looking to the future, is there anything you can tease about what's upcoming for the title and its characters?
Malika – Warrior Queen Part Two, the second graphic novel in the Malika series will be in stores the same day as the Malika – CREED & Fury one-shot. So, if you enjoy the Free Comic Book Day version, you'll be able to grab about 300 extra pages (spread across Malika – Warrior Queen Part One and Two) of Malika awesomeness.
FCBD: What initially got you interested in comics? (or What is your favorite thing about working in comics?)
I actually got into comics via animation. Saturday morning cartoons were my thing growing up. I loved shows like Justice League The Animated Series, X-Men, Spiderman, Static Shock etc. I grew up thinking it would be cool to create my own superhero animated movie. When I eventually became an adult, I decided it was time to chase my lifelong dream. However, animation proved too expensive, so I looked for a more affordable medium to begin telling my stories. And that's how I got into comics. I started reading old and current books, doing research and preparing myself. Once I felt I was ready, I launched a Kickstarter for my first Graphic Novel: E.X.O. – The Legend of Wale Williams Part One. The Kickstarter was successful and the book was featured on CNN, Forbes, The New York Times, The Washington Post and BBC within a year. It was then I knew I had something. Three successful Kickstarters later, I'm proud to say YouNeek Studios and The YouNeek YouNiverse is here to stay!
FCBD: Many newcomers will pick up comics for the first time on FCBD—what was the first comic you remember reading?
I believe it was X-Men. I was, as I mentioned, a huge fan of the animated series growing up. I think I must have read more than a few X-Men issues in-between classes in Secondary (High) school.
FCBD: Tell us why everyone should read comic books!
Because there's a story for absolutely everyone. It is one of the few mediums that can actually boast to do that. If you're looking for a specific kind of story, I bet you someone has written a comic about it.
FCBD: What is your favorite part about Free Comic Book Day? What do you think is the best part of Free Comic Book Day?
My favorite part is going to the store and getting to meet fans and actually signing books. The interaction with people that are actually reading your stuff is priceless. I think overall the best part of FCBD is the entire community (Old readers, new readers, young fans, old fans) coming together, bonding, celebrating and reading comics. It's just a beautiful thing.