#NCBD 1/3/18: FCBD's 10 Comics for New Comic Book Day!
Jan 03, 2018
Free Comic Book Day was founded on the belief that there's a comic book perfect for everyone out there! Every Wednesday is New Comic Book Day (#NCBD) in comic book shops, where new comics release hit the shelves of comic book shops for eager fans to pick up and purchase.
We've highlighted ten comics that are perfect recommendations for anyone looking to get into comics!
In this week's list, for books coming out 1/3/18, there's definitely something for everyone: new villains emerge in Batman And The Signal #1, Princess Leia, Rey, Padme, and others are featured in the new series Star Wars: Forces of Destiny, a new chaotic story arc begins in The Walking Dead #175, and more!

What will you be picking up at the comic shop? Let us know on Facebook or Twitter!
---
BATMAN AND THE SIGNAL #1
NOV170210
DC COMICS
(W) Scott Snyder, Tony Patrick (A/CA) Cully Hamner
Batman may own the night, but with new villains emerging during the day he needs an ally to defend the city when he can't. Only one teen is up to the challenge, Duke Thomas. After months of training, he's ready to step out of the shadow of the bat to become his own kind of hero. Meet Gotham City's newest protector: The Signal! Spinning out of adventures in ALL-STAR BATMAN and WE ARE ROBIN, comics superstar Scott Snyder and newcomer Tony Patrick take our young hero to new heights in this exciting miniseries with artwork by Cully Hamner.
STAR WARS: FORCES OF DESTINY #1
NOV170406
IDW PUBLISHING
(W) Elsa Charretier, Pierrick Colinet (A/CA) Elsa Charretier
The Star Wars Forces of Destiny initiative celebrates the inspiring stories of iconic heroes from a galaxy far, far away. Star Wars Adventures has joined the festivities with an exciting weekly series of comic books that explores all corners of the Star Wars universe, showing how choices both big and small ultimately shape the destinies of beloved characters, such as Princess Leia, Rey, Padme, Ahsoka, and Hera along with your soon-to-be favorites from The Last Jedi, Rose and Paige!
THE WALKING DEAD #175
NOV170604
IMAGE COMICS/SKYBOUND
(W) Robert Kirkman (A) Charlie Adlard & Various (CA) Charlie Adlard, Dave Stewart
"New World Order" Part One. New story arc. New friends. New enemies. New threats. It's a whole new world. Mature Readers.
GUARDIANS OF THE GALAXY #150
OCT170816
MARVEL COMICS
(W) Gerry Duggan (A) Marcus To (CA) Alex Ross
"The Return Of Adam Warlock" Part 1. That's right, as more and more parties take an interest in the Infinity Stones, a man with serious Infinity experience joins the fray! Plus: Nova Rocket leads the charge against the Raptors!
RISE OF BLACK PANTHER #1
NOV170915
MARVEL COMICS
(W) Ta-Nehisi Coates, Narcisse, Evan (A) Paul Renaud (CA) Brian Stelfreeze
SECRET ORIGIN OF THE BLACK PANTHER Part 1. Just in time for the highly anticipated film, witness the early years of the man who will come to rule one of the most scientifically advanced countries in the world! Wakanda has always kept itself isolated from Western society, but that's all about to change. Young T'Challa knows he is destined to become king, but when his father is brutally murdered by outsiders, he'll find himself taking up a mantle he may not be ready for. Experience never-before-seen drama from the reign of T'Chaka, the king whose death changes a nation's history forever. Learn about the mother T'Challa never knew. See how the world learns about this wondrous nation for the first time. Will the power of the Black Panther be enough to keep his country safe? Journalist Evan Narcisse makes his comics debut alongside acclaimed writer Ta-Nehisi Coates as they chronicle T'Challa's rise to the throne - and to the Panther legacy that made him an Avenger.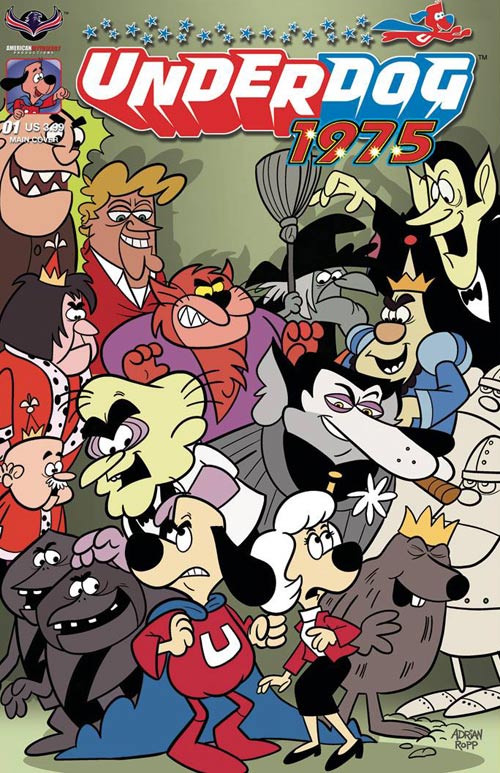 UNDERDOG 1975
SEP171111
AMERICAN MYTHOLOGY PRODUCTIONS
(W) Steve Skeates (A) John Albano (CA) Adrian Ropp
Holy dancing disco bellbottoms, Underdog! It's 1975 again! American Mythology has uncovered beautiful unpublished Underdog stories from the original Gold Key comic series that have never been seen before! These stories are by the original creative teams of Steve Skeates and John Albano and were discovered in a collector's stash. We've resurrected these archeological finds and given them some TLC to create Underdog 1975. We're also including some groovy reprint stories from the Gold Key series to make this a one-of-a-kind time capsule issue. Go back in time with us to a simpler era with incredible cartoon characters.

SIMPSONS COMICS: GAME ON GN
OCT171234
BONGO COMICS
(W) Matt Groening
The Simpsons have come to play, and they are breaking all the rules! First, when Mayor Quimby rescinds the order for Daylight Saving Time in Springfield, a loophole in the city charter causes a time zone free-for-all! Then Homer recalls his Happy Days when he had to choose between his high school sweetheart and a lovely young debutante, who also happens to be Mr. Burns' niece. Also, after Marge takes pity on him, Ned Flanders moves in with the Simpsons, and his goody good-diddly-ness, makes everyone as pleased as punch (except for Homer)! Get your "Game On!" with the Simpsons!
COSMO #1
NOV171231
ARCHIE COMIC PUBLICATIONS
(W) Ian Flynn (A/CA) Tracy Yardley
NEW ONGOING SERIES! "Space Aces" - Part One: Get ready for out of this world fun in the ALL-NEW sci-fi adventure series COSMO! Join Cosmo and his Martian crew as they find adventure and dangers in the deepest corners of space! Their latest mission turns into a much larger adventure when they stumble upon their most unique specimen yet: A panicked human!
DOCTOR WHO: THE TWELTH DOCTOR ADVENTURES — YEAR THREE #11
OCT171835
TITAN COMICS
(W) Richard Dinnick (A) Pasquale Qualano (CA) Blair Shedd
The Doctor and Bill are trapped between two dire opposing forces that should never have been brought together! It's going to take all their ingenuity to survive, never mind defeat the threat!
SECRET WEAPONS #0
NOV172021
VALIANT ENTERTAINMENT
(W) Eric Heisserer (A) Adam Pollina (CA) Raul Allen
Before the fall of the Harbinger Foundation... Before the opening pages of SECRET WEAPONS #1... Academy Award-nominated writer Eric Heisserer (Arrival) and legendary artist Adam Pollina (X-Force) present all-new, standalone prelude to the year's best-selling independent limited series! Meet high school senior Nikki Finch. She's a gifted athlete with an unusual set of medical ailments and high-aptitude test scores that have drawn the attention of an obscure and little-known NGO calling itself the Harbinger Foundation. With seemingly limitless resources at its disposal, the Harbinger Foundation has just offered Nikki a place in their newest class of recruits for a prestigious, but secretive, mission: to unlock her hidden potential via the invasive, dangerous and often deadly process known as "psiot activation."