YouNeek's Malika To Appear In Free Comic Book Day 2 Years In A Row
Dec 21, 2017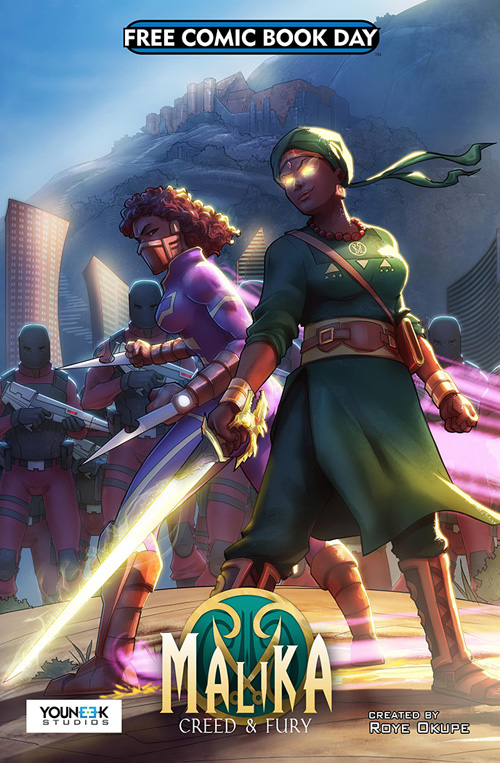 YouNeek Studios, the Maryland based graphic novel and animation company, has announced today that their hit graphic novel series, Malika, will be part of Free Comic Book Day this coming May! This time, as a One-Shot titled: Malika – CREED & Fury.
After making history by appearing in last year's FCBD event (with fans scrambling to grab copies as they ran out at quickly at several comic shops), Malika promises to be a fan favorite once again.
"While E.X.O. remains our flagship title, it is clear that Malika is quickly becoming a fan favorite not just amongst YouNeek fans, but comic book and fantasy fans in general. The Malika series is one that's very dear to my heart because while it's an epic fantasy story, it pulls a lot from African history. To be able to write a compelling story that not only entertains people but educates them about where I'm from is a huge blessing. " - Roye Okupe, Writer/Creator of Malika
With the Malika - CREED & Fury one shot, fans who visit their comic book shops to grab free comics during FCBD are in for a treat! Not only does this one-shot embody the epic fantasy fans have become accustomed to with Malika, but they also get to see her paired with another one of our amazing female superheroes, Fury. Seeing them both on the cover of the book should be enough to spark intrigue. You definitely don't want to pass on this one. Here's what Book Riot had to say about Malika from FCBD 2017.
"...None of the independent books really caught my eye until I noticed Malika... We need to bring attention to those, like Okupe, who are doing it right and support them in their endeavors to show those with the will to look, how massive and incredible and diverse the world is."
Malika CREED & Fury Synopsis
Following a 500-year absence, Malika mysteriously appears and is on the brink of yet another war. And this time, she has enemies she cannot predict, allies she refuses to trust and a world she cannot understand. The enemy is the CREED, a growing domestic terrorist group responsible for a devastating attack on Malika's former home. The ally is Fury, a masked speedster who knows more about Malika than she's comfortable with. And the world is 2024 Abuja, Nigeria. Removed 500 years from the time she remembers, can Malika find the courage to use her newfound power to save the descendants of her former people? Or will she allow her rage to consume and transform her into something else?