Free Comic Book Day 2018 Full List of Comic Books Announced!
Dec 19, 2017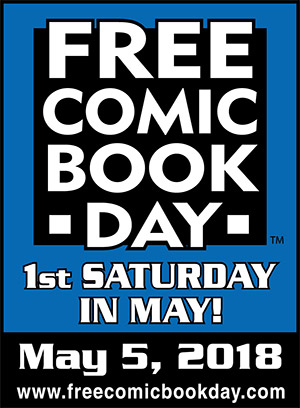 ---
Free Comic Book Day (FCBD) 2018 features an amazing selection of comic book titles for the industry's most anticipated annual event which happens Saturday, May 5th, 2018 at participating comic book shops worldwide.

Retailers on the Selection Committee chose fifty titles overall to be available on Free Comic Book Day: twelve Gold Sponsor comics and thirty-eight Silver Sponsor comics that give fans a great opportunity to discover new titles and genres. This year's announcement of Silver Sponsor comics includes such great titles as Adventure Time, Berlin, Infinity Watch/Spider-Man, Nintendo's Arms, Star Wars Adventures, and more.

"It's a great time to be a comics fan, and an even greater time to experience the medium of comic books for the first time during our 17th annual Free Comic Book Day," said Joe Field, originator of FCBD, and owner of Flying Colors Comics in Concord, CA. "The amazing line-up of titles, the great events staged by thousands of independent comic book retailers, and the enthusiasm of comic shop fans all over the world will make May 5, 2018 a great day to celebrate comic books!"

A complete listing of all fifty FCBD titles, including the twelve Gold Sponsor and thirty-eight Silver Sponsor comic books, can be found in the January issue of Diamond Comic Distributors' PREVIEWS catalog, on sale at comic book shops on December 27th, 2017.
Free Comic Book Day 2018 Gold Sponsor Comics
RIVERDALE
Archie Comics

MIGHTY MORPHIN POWER RANGERS SPECIAL


BOOM! Studios
OVERWATCH/BLACK HAMMER
Dark Horse Comics
TOP SECRET GOLD BOOK


DC Entertainment

COMICS FRIENDS FOREVER
:01 First Second

TRANSFORMERS: UNICRON: THE DARKEST HOUR #0


IDW Publishing

BARRIER #1
Image Comics

DISNEY PRINCESS: ARIEL SPOTLIGHT
Joe Books

MARVEL AVENGERS/CAPTAIN AMERICA
Marvel Comics

INVADER ZIM: FLOOPSY BLOOPS SHMOOPSY
Oni Press

DOCTOR WHO #0
Titan Comics

POKÉMON: SUN AND MOON / POKÉMON: HORIZON


Viz Media

Free Comic Book Day 2018 Silver Sponsor Comics
STRANGERS IN PARADISE XXV #1




Abstract Studios

MIRACULOUS ADVENTURES OF LADYBUG AND CAT NOIR




Action Lab Entertainment

RELAY #0




AfterShock Comics

HOWARD LOVECRAFT'S BIG BOOK OF SUMMER FUN!


Arcana Studios

WORLDS OF ASPEN ANNIVERSARY EDITION




Aspen Comics

LADY MECHANIKA


Benitez Productions

BONGO COMICS FREE-FOR-ALL


Bongo Comics

ADVENTURE TIME: FIONNA AND CAKE SPECIAL


BOOM! Studios

DIE KITTY DIE: I LOVE YOU TO DEATH


Chapterhouse Publishing

INVASION PROLOGUE


Chapterhouse Publishing

THE LEGEND OF KORRA/NINTENDO'S ARMS


Dark Horse Comics

SILVER #1


Dark Planet Comics

BOB'S BURGERS #1


D.E./Dynamite Entertainment

JAMES BOND: VARGR #1


D.E./Dynamite Entertainment

BERLIN #1


Drawn & Quarterly

WORLD'S GREATEST CARTOONISTS


Fantagraphics

GRAPHIX SPOTLIGHT: SPARKS


Graphix

THE METABARON BOOK 3: THE META-GUARDIANESS AND THE TECHNO-BARON PREVIEW


Humanoids

STAR WARS ADVENTURES


IDW Publishing

STREET ANGEL'S DOG ONE-SHOT


Image Comics

GHOST IN THE SHELL: GLOBAL NEURAL NETWORK PREVIEW


Kodansha Comics

THE WORMWORLD SAGA: THE JOURNEY BEGINS


Lion Forge

INFINITY WATCH/AMAZING SPIDER-MAN


Marvel Comics

THE TICK


New England Comics

SHADOW ROADS #1


Oni Press

THE ONLY LIVING BOY


Papercutz

2000 AD REGENED


Rebellion

SCOUT COMICS PRESENTS: THE MALL




Scout Comics

STARBURNS PRESENTS #1




Starburns Industries Press

A BRIEF HISTORY OF TANK GIRL




Titan Comics

THE NIGHTMARE BEFORE CHRISTMAS: ZERO'S JOURNEY CHAPTER 0




Tokyopop

ULTRA STREET FIGHTER II #1
Udon Entertainment

SPONGEBOB FREESTYLE FUNNIES




United Plankton Pictures

SHADOWMAN SPECIAL




Valiant Entertainment

MAXWELL'S DEMONS #1




Vault Comics

MY HERO ACADEMIA/RWBY




Viz Media

CRUSH




Yen Press

MALIKA: CREED & FURY




YouNeek Studios
Free Comic Book Day 2018 Educational Tools

DEFEND COMICS
Comic Book Legal Defense Fund

OVERSTREET GUIDE TO COLLECTING




Gemstone Publishing

For more FCBD news and updates, visit www.freecomicbookday.com and become a fan on Facebook at www.facebook.com/freecomicbook and follow on Twitter at www.Twitter.com/freecomicbook or Instagram at freecomicbookday.