Free Comic Book Day 2018 Gold Sponsor Comics Announced
Dec 14, 2017
The Free Comic Book Day (FCBD) Committee has selected the twelve Gold Sponsor comic book titles for the comic book industry's most anticipated annual event, Free Comic Book Day. FCBD happens each year on the first Saturday in May at participating comic book shops worldwide, with next year's event taking place on May 5th, 2018.
The titles were curated by over twenty comic shop retailers who make up the FCBD Selection Committee and the comics feature something for everyone: from superheroes, to popular films and television shows, to beloved video game franchises, and all-ages favorites. The Gold Sponsor titles come from the industry's top publishers, including DC Entertainment, Marvel Comics, Dark Horse Comics, IDW Publishing, Image Comics, Archie Comics, BOOM! Studios, First Second Books, Joe Books, Oni Press, Titan Comics, and VIZ Media.
"With 91 titles submitted from over 70 publishers, the FCBD Retailer Committee had to make some tough choices for this year's Free Comic Book Day," said FCBD spokesperson Dan Manser, "but we think retailers and fans alike will be thrilled with the sponsor titles chosen for 2018. Free Comic Book Day is the comics industry's most important event—a day to celebrate comic books and comic shops, and to introduce family and friends to the comics medium we all know and love. It's important that the titles reflect the varied interests of people coming into stores these days—and we believe there's a comic book for everyone this Free Comic Book Day!"
The full line-up of this year's comic books will be announced next week, when thirty-eight additional FCBD Silver titles will be announced on Tuesday, December 19th. A complete listing of all fifty FCBD titles, as well as two education titles about the industry, will also be found in the January issue of Diamond Comic Distributors' PREVIEWS catalog, on sale at all comic book shops December 27th, 2017.

For more FCBD news and updates, visit www.freecomicbookday.com and become a fan on Facebook at www.facebook.com/freecomicbook, follow on Twitter at www.twitter.com/freecomicbook, or Instagram at freecomicbookday.
---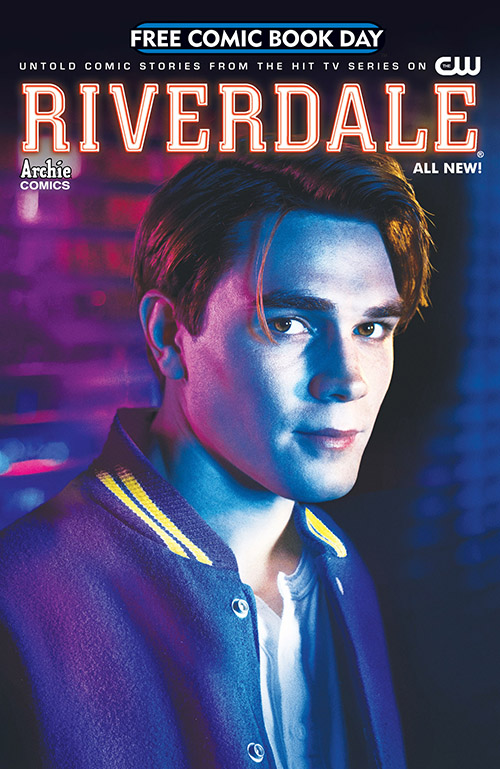 RIVERDALE
Archie Comics

(W) Roberto Aguirre-Sacasa & Various (A) Joe Eisma (CA) Photo

Set in the same universe as the hit CW series, this issue gives us a peek into all the secrets Pop Tate overhears in his day-to-day business, told through four vignettes in four different booths! Features reprint material.

Rating: TEEN

32pgs, FC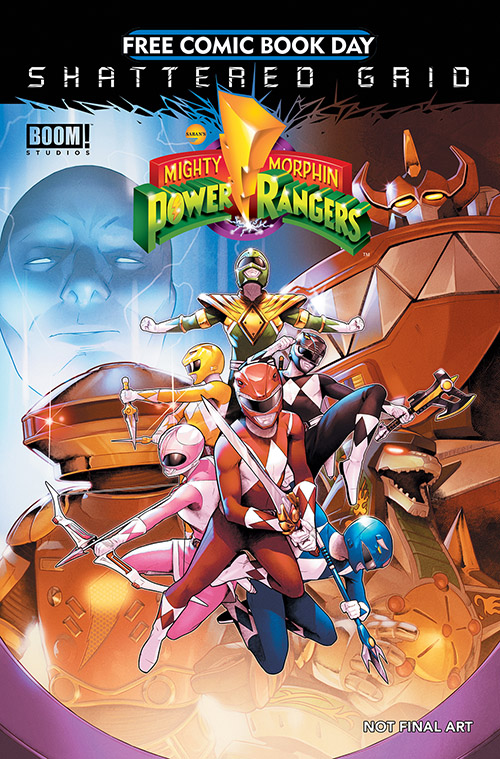 MIGHTY MORPHIN POWER RANGERS SPECIAL
BOOM! Studios

(W) Kyle Higgins, Ryan Parrott (A) Diego Galindo (CA) Jamal Campbell

Featuring an all-new, original Power Rangers story exclusive to this Free Comic Book Day issue that ties into the "Power Rangers: Shattered Grid" storyline in the pages of BOOM! Studios' Mighty Morphin Power Rangers and Saban's Go Go Power Rangers comic series! Zordon turns to the Morphin Masters for help in the Power Rangers' darkest hour as they battle Lord Drakkon — an evil version of Tommy, the Green Ranger, from an alternate reality — as he threatens every Ranger in all of existence.

Rating: TEEN

32pgs, FC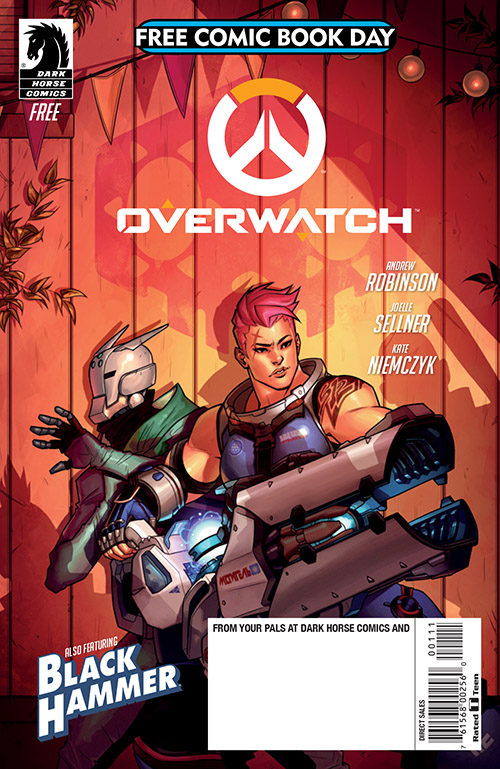 OVERWATCH/BLACK HAMMER
Dark Horse Comics

(W) Andrew Robinson & Various (A) Kate Niemczyk, Wilfredo Torres (CA) Kate Niemczyk

Two different worlds, two compelling tales! In Overwatch, agent Zarya is sent to eliminate an elusive hacker, and she is at her wit's end. She reluctantly teams up — and butts heads — with an omnic hacker. As they hone in on their target, Zarya realizes that she will have to reassess her worldview about omnics. Then, in the world of Black Hammer, but a thousand years in the future, a collection of teenage superheroes, inspired by the legendary heroes of Black Hammer Farm, are determined to solve the riddle of what happened to those last great heroes of the twentieth century.

Rating: TEEN

32pgs, FC
TOP SECRET GOLD BOOK
DC Entertainment

A special, top secret project too big to announce! Check back in with the February issue of PREVIEWS, and at freecomicbookday.com for future updates!
Rating: TEEN

32pgs, FC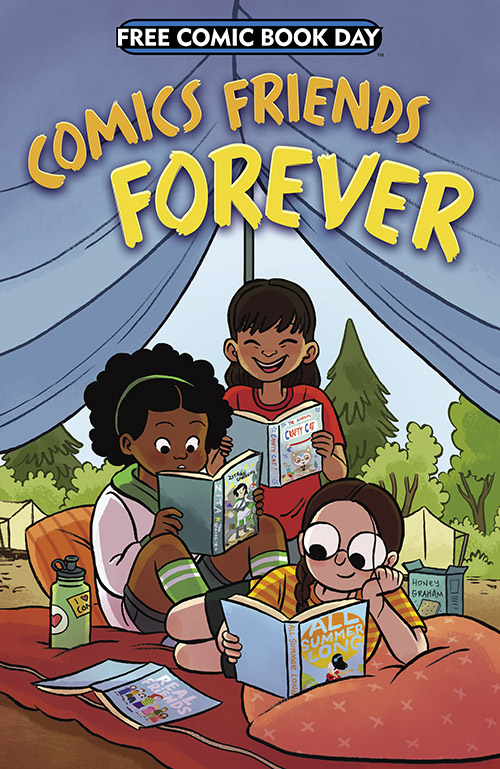 COMICS FRIENDS FOREVER
:01 First Second

(A) Vera Brosgol & Various (CA) Vera Brosgol

Comics friends forever! First Second presents an amazing Free Comic Book Day anthology that celebrates kids comics, girl power, and the amazing work of creators Vera Brosgol, Hope Larson, Charise Mericle Harper, Ben Hatke, and Shannon Hale and LeUyen Pham. Don't miss out on this comic filled with the power of friendship that's great for every kid reader in your store. Features reprint material.

Rating: ALL-AGES

40pgs, FC
TRANSFORMERS: UNICRON: THE DARKEST HOUR #0
IDW Publishing

(W) John Barber (A) Alex Milne (CA) Sara Pitre-Durocher

Not a whimper, nor a bang-the end comes with a squall of entropy shrieking from the ravenous maw of death itself. The message is clear: Unicron has arrived. The Transformers lock into a desperate bid to save Rom's homeworld from the world-killer — but why has Unicron chosen this world on his path to Cybertron... and Earth? The biggest story in the history of Transformers starts now: for Unicron's arrival can mean nothing less than the end of a universe.

Rating: TEEN

32pgs, FC
BARRIER #1
Image Comics

(W) Brian K. Vaughan (A/CA) Marcos Martin

From the Eisner Award-winning team behind The Private Eye, Barrier is an acclaimed five-part miniseries that finally comes to print exclusively from Image Comics. This massive, 53-page first issue will be available for free on Free Comic Book Day, with the next four issues being released weekly throughout the rest of May! Printed in its original "landscape" format (side-stapled for convenient shelving!), there are no plans for these print issues to ever be collected, so the only way to own your own copies of this groundbreaking story is by supporting your friendly neighborhood comic shop!

Rating: MATURE

32pgs, FC
DISNEY PRINCESS: ARIEL SPOTLIGHT
Joe Books

(W) Paul Benjamin & Various (A) Amy Mebberson & Various (CA) Amy Mebberson

The FCBD edition of Joe Books's best-selling Disney Princess comic puts the spotlight on Ariel for the very first time! Collecting both new and fan-favorite strips, this exclusive comic book will contain giggles aplenty as everyone's favorite mermaid seeks out sunken treasure, tries to figure out human gadgets and gizmos, and embarks on new adventures with Flounder and Sebastian. Featuring FCBD exclusive cover artwork drawn by Disney Princess artist Amy Mebberson. Features reprint material.

Rating: ALL-AGES

32pgs, FC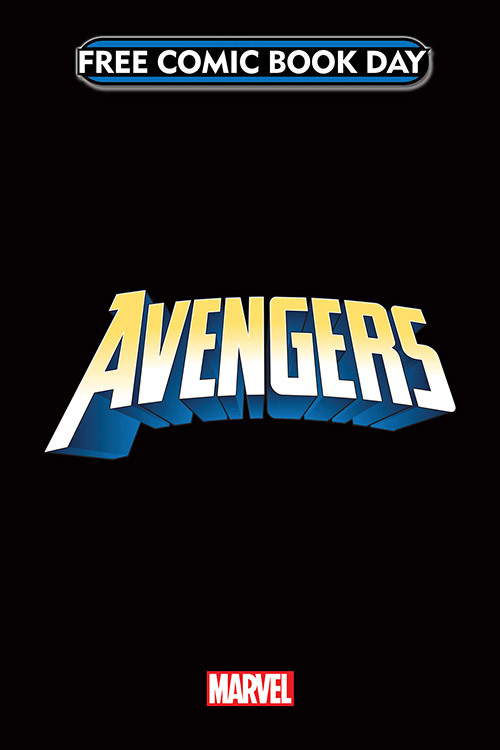 MARVEL AVENGERS/CAPTAIN AMERICA
Marvel Comics

Don't miss this year's Free Comic Book Day titles from Marvel, each featuring two 10-page stories that set the stage for upcoming game-changers in the Marvel Universe. Get ready as Heroes Assemble in the Marvel Universe! Please check back in the February issue of PREVIEWS and on freecomicbookday.com for future updates!

Rating: TEEN

32pgs, FC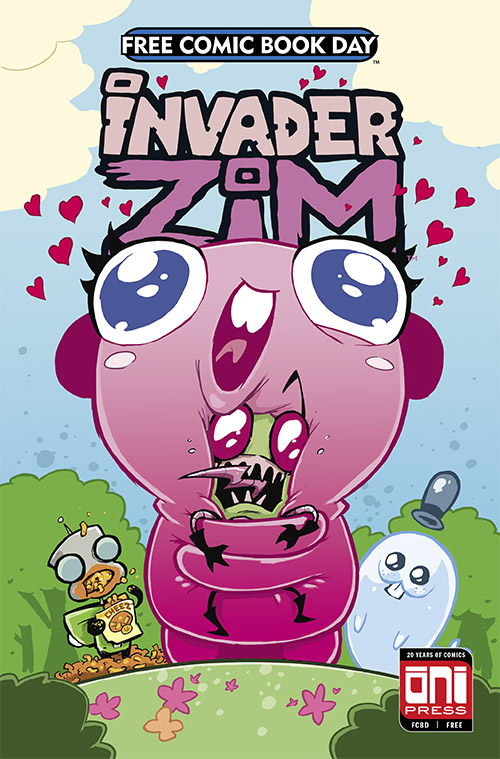 INVADER ZIM: FLOOPSY BLOOPS SHMOOPSY
Oni Press

(W) Jhonen Vasquez (A) Warren Wucinich, Fred Stresing (CA) Aaron Alexovich

Remember that funny green alien you used to watch on TV? No, not that one. No, no, the other green alien. Okay, it's ZIM, alright? Invader ZIM! Well, ZIM sometimes watches TV too! And sometimes it's bad TV. Very, very bad TV. So now, you can watch ZIM watching a very bad show called Floopsy Bloops Shmoopsy! All 385 seasons! 24/7! Never stopping! Features reprint material, Invader Zim #20.

Rating: ALL-AGES

32pgs, FC
DOCTOR WHO #0
Titan Comics

The all-new Doctor Who starts here!
Don't miss out on our colossal plans for 2018 – Everything begins in this amazing #0 issue! Featuring the first chapter in the new Tenth and Eleventh Doctor sagas, by new creative teams too electrifying to spoil here – plus tantalizing glimpses from across the Doctor Who comics universe, including your first look at the Thirteenth Doctor in comics!

Perfect for new readers and long-term fans alike, this is the ultimate jumping on point!
Rating: ALL-AGES

32pgs, FC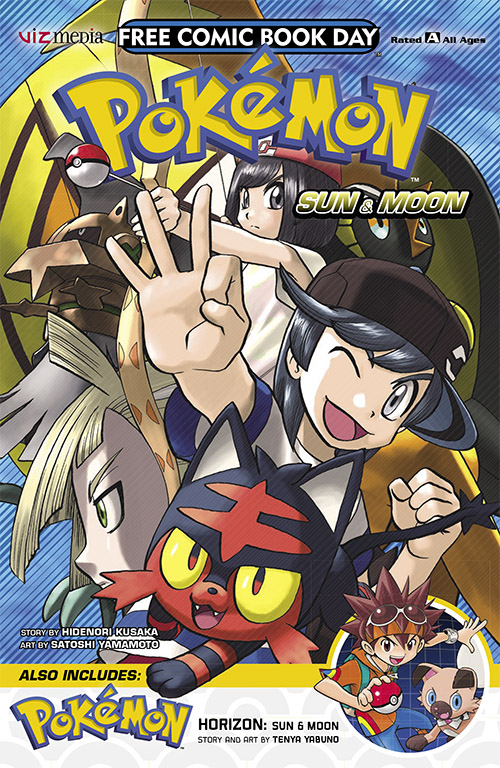 POKÉMON: SUN AND MOON / POKÉMON: HORIZON
Viz Media

(W) Tenya Yabuno, Hidenori Kusaka (A/CA) Satoshi Yamamoto

Pokémon Horizon: Akira's summer vacation in the Alola region heats up when he befriends a Rockruff with a mysterious gemstone. Together, Akira hopes they can achieve his dream of becoming a Pokémon Trainer and learning the amazing Z-move. But first, Akira needs to pass a test to earn a Trainer Passport. This becomes even more difficult when Rockruff gets kidnapped! Pokémon Sun & Moon: Sun dreams of money. Moon dreams of scientific discoveries. When their paths cross with Team Skull, both their plans go awry! Features reprint material.

Rating: ALL-AGES

32pgs, B&W