FCBD Comic Spotlight: Dark Horse's Buffy Season 8 Omnibus
Sep 12, 2017
On Free Comic Book Day 2017, Dark Horse released an all new vignette of our favorite Vampire Slayer. Now, see Buffy and the entire Scooby Gang take on the entre world in BUFFY THE VAMPIRE SLAYER SEASON 8 OMNIBUS on Wednesday, September 13.
After defeating the First, Buffy and the gang must reconcile with the new status quo: slayers. Everywhere! With so many new slayers becoming public, it's up to Buffy to lead them. As hard enough as that sounds, she has to deal with a new big bad, her overgrown sister, and the unique challenges that come with saving the world. Again.
BUFFY THE VAMPIRE SLAYER SEASON 8 OMNIBUS is available in stores on Wednesday, September 13--make sure you stop by your local comic shop to pick up your copy before they run out!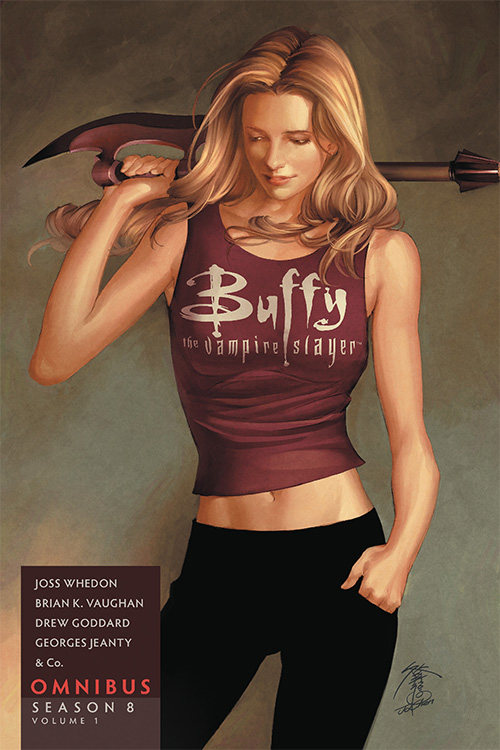 BUFFY VAMPIRE SLAYER OMNIBUS SEASON 8 VOL 01
MAY170072
DARK HORSE COMICS
(W) Joss Whedon, Brian K. Vaughan, Drew Goddard, Jeph Loeb
(A) Cliff Richards, Georges Jeanty, Andy Owens, Paul Lee, Karl Moline
(A/CA) Jo Chen
Series creator Joss Whedon brought Buffy the Vampire Slayer back to life with this comics-only follow-up to Season 7 of the television show. Aptly named Season 8, these comics are the official sequel to Buffy and continue where the live-action series left off with the Slayer, her friends, and their ongoing challenge to fight the forces of darkness. This oversized omnibus edition is one of two volumes that will contain the entirety of Season 8. Contains Buffy Season 8 Library Edition Volumes 1-2 (excluding sketchbook materials), all series covers (Buffy Season 8 #1-#20), the Willow one-shot Goddesses and Monsters, and the "Always Darkest" short from MySpace Dark Horse Presents #24.
---
You can find this and more at your local comic shop! If you're not sure where that is, you can use the Comic Shop Locator Service. Make sure you return to local comic shops on for events hosted by Marvel throughout the year including the launch party for MARVEL LEGACY on 9/27. You can find out more about these events by checking out the What's @ Comic Shops 2017 Event Card.