FCBD Comic Spotlight: Oni's Rick and Morty: Pocket Like You Stole It #1
Jul 07, 2017
On Free Comic Book Day 2017, Oni Press previewed an all-new RICK AND MORTY story inspired by Adult Swim's Pocket Mortys mobile game. Fans saw Morty run off to get help for a mermaid Morty before getting trapped by Rick.
This week, on Wednesday, July 5, Morty continues on his quest to free himself and all the other Mortys from the clutches of Ricks. Be prepared to see a bunch of wacky variations on our favorite duo--mermaid Morty was just the tip of the iceberg!
Stop by your local comic shop and make sure to grab a copy before they run out!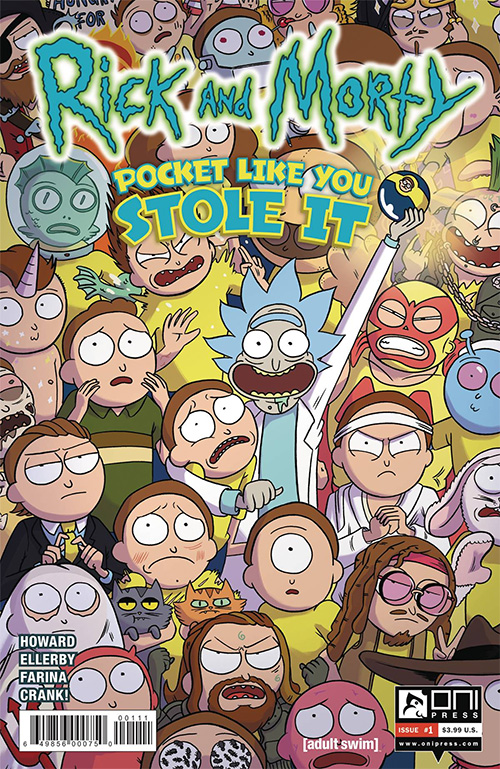 RICK AND MORTY: POCKET LIKE YOU STOLE IT #1
MAY171711
ONI PRESS
(W) Tini Howard
(A/CA_ Marc Ellerby
Rick and Morty: Pocket Like You Stole It is a new comic book miniseries based on the popular Adult Swim television series and inspired by the Pocket Mortys mobile game! In this five issue series, Morty is on a quest to free himself (and all the other Mortys) from the clutches of Ricks, who collect Mortys and force them to battle one another for schmeckles and glory. Along the way, he'll discover the grisly history of Morty battling, the dastardly lengths that Ricks are willing to stoop to in order to win, and perhaps... the strength in himself that's needed to free the Mortys once and for all?
---
You can find this and more at your local comic shop! If you're not sure where that is, you can use the Comic Shop Locator Service. Make sure you return to local comic shops on for events hosted throughout the year. You can find out more about these events by checking out the What's @ Comic Shops 2017 Event Card.