Spider-Man: Homecoming Captures the Essence of Comics' Favorite Teenage Superhero
Jul 06, 2017
Spider-Man is one of those characters hard to find the essence of: he's one of the funniest and most well-liked heroes in the Marvel Universe, but he's also a down-on-his-luck kid struggling to fit in and find love as a civilian. The Spider-Man and Peter Parker balance is comparable to other comic book characters, like a certain Dark Knight, and Spider-Man: Homecoming, for the first time, manages to get both done right.
Spider-Man: Homecoming is a new genesis for Sony's Spider-Man franchise and Marvel's Cinematic Universe. Seeing Tom Holland come into his own as a full-fledged Spider-Man signals the Universe is ready to grow and develop new and younger characters to resonate with audiences. Holland manages to capture the essences of both Spider-Man and Peter Parker, showing an emotional journey from newly-minted superhero to an independent wall-crawler extraordinaire.
Although Holland is the main attraction, the entire cast forms an ensemble of lovable and root-able characters. Making the setting Midtown School, where Peter has to interact with his peers constantly made characters like Ned, Flash, Michelle, and Liz shine in their own right. Michael Keaton as Adrian Toomes turned Vulture makes Spider-Man: Homecoming one of the best superhero films of them all--he brings a cadence to his character, a maturity and ferocity that comes from his extensive experience.
Spider-Man: Homecoming is a triumph for comic book fans--it perfectly blends the core essence of Spider-Man as originally intended by Stan Lee and Steve Ditko and modernizes it for a new audience in the context of the Marvel Cinematic Universe. It's definitely a film fans shouldn't miss.
Starring Tom Holland (Spider-Man), Michael Keaton (Vulture), Zendaya (Michelle), Jacob Bateman (Ned Leeds), Laura Harrier (Liz Allan), TOny Revolori (Flash Thompson), Bokeem Woodbine (Shocker), Maria Tomei (May Parker), and Robert Downey Jr. (Iron Man), Spider-Man: Homecoming releases July 7, after Free Comic Book Day. Directed by Jon Watts, the film is based on the iconic Spider-Man franchise from Marvel Entertainment by Stan Lee and Steve Ditko.
Before seeing Spider-Man: Homecoming, make sure you stop by your local comic shop to get to know the character before the movie.
---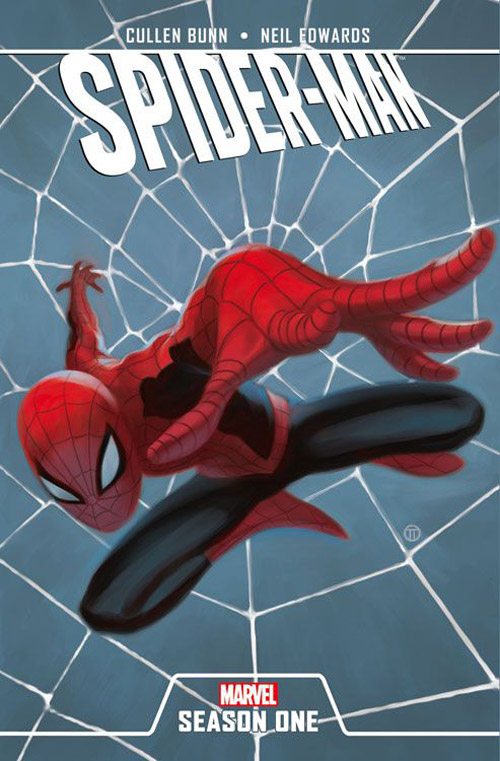 Spider-Man Amazing Origins
Spider-Man's origin has been retold many times over many decades and now Marvel has created the ultimate origin story collection with Spider-Man: Amazing Origins (MAR171167). Taking a look into Spider-Man's past while maintaining its relevance for a modern audience, this jam-packed trade will take Spider-Man from shy science student to web slinging wall crawler. Plus fans will get a whirlwind re-introduction to Spider-Man's classic rogues gallery including fan favorites like Doc Ock! Everyone knows that with great power comes great responsibility, but now you can learn what led Spider-Man to become the hero he is today.
Spidey, Vol. 1
A throwback to the adventures of young Peter Parker, Spidey volume 1 (MAY160932) is the perfect book for first-time fans of the Web-Head looking for a primer on the classic hero. With action, adventure, and comedy in equal measures, Robbie Thompson and Nick Bradshaw take Peter back to high school as he learns to balance his heroics and his homework. Being a part-time superhero is harder than expected and Peter is in for trouble as he takes on Sandman, The Vulture, and even Doctor Doom!
Spider-Man Vs Vulture
Long-time Spider-Man foe The Vulture is making his feature film debut in Spider-Man: Homecoming, and now you can learn more about this mysterious winged menace in the new collection Spider-Man Vs Vulture (FEB170992). Rounding up some of the best Vulture tales, this trade paperback is the perfect place to learn all about the fearsome Adrian Toomes. Following Toomes' rise to villainy and his battle to claim the skies of New York City, this collection ranges from his first appearance back in 1963 and into the 2000s as Toomes cements his place in Spider-man's rogues gallery.
Amazing Spider-Man Epic Collection: Great Responsibility
Travel back to where it all began with the Amazing Spider-Man Epic Collection: Great Responsibility (SEP161147). This collection of classic Stan Lee and Steve Ditko comics lay the groundwork for Spider-Man: Homecoming as Peter takes on the biggest challenge of all – high school. Featuring the first appearance of core Spider-Man characters Gwen Stacy and Liz Allan, plus the landmark story Master Planner Saga and an epic showdown with the Green Goblin, this is the perfect collection for readers interested in the classic high school days of Peter Parker.