Wonder Woman May Stray Slightly From the Comics, But the Film is a Triumph for Fans and DC
Jun 01, 2017
"If you need to stop an asteroid, you call Superman. If you need to solve a mystery, you call Batman. But if you need to end a war, you call Wonder Woman."
Gail Simone's words have never rung truer now that Wonder Woman is set to release in theaters Friday, June 2. The film, which pits Diana--the Princess of Themyscira destined to become Wonder Woman--against the fires of World War I, shows exactly how necessary our hero is, both to the characters in the film and fans across the world. Comic fans are no strangers to the woman hailed as one of the best characters in the entire industry. Unlike Supergirl or She-Hulk, there is no male analog or counterpart to Wonder Woman: she's wholly unique and stands head and shoulders atop other characters as a role model for fans of all genders and ages.
The film takes certain liberties with her comic book origins: no longer are the five Olympian goddesses--Artemis, Athena, Demeter, Hestia, and Aphrodite--the matriarchs of Paradise Island and neither does Steve Trevor crash on the island during World War II. Instead, the Island is created by Zeus after Ares was defeated in an uprising millennia ago is disturbed when Trevor crash lands during World War I, leading to an impressive fight between the Amazons and the German army pursuing Trevor.
Amidst all the fighting, Gal Gadot as Wonder Woman brings the most heart and humanity to her character. Just as she was the highlight of Batman vs. Superman, she continues to be the highlight of the entire Wonder Woman film. Within the movie, there's a scene about five minutes long--it's the first time we really see Wonder Woman fight and inspire those around her to good in the world. Those five minutes are among the best in cinema, let alone other superhero films.
Wonder Woman, while taking liberties with the character's origin from the comics, is a triumph for fans and DC. It's one of the best films in the current iteration of the DC Expanded Universe and hopefully signals that Justice League will follow suit with Wonder Woman's tone and storytelling.
Starring Gal Gadot (Diana Prince/Wonder Woman), Chris Pine (Steve Trevor), Connie Nielsen (Queen Hippolyta), Robin Wright (General Antiope), Danny Huston (General Erich Ludendorff), Elena Anaya (Maru), and Lucy Davis (Etta Candy). Directed by Patty Jenkins, the film is based on Wonder Woman from DC Entertainment.
After seeing Wonder Woman, you can head to your local comic book store to celebrate Wonder Woman Day on Saturday, June 3. Participating retailers will be giving free comics away to fans!
---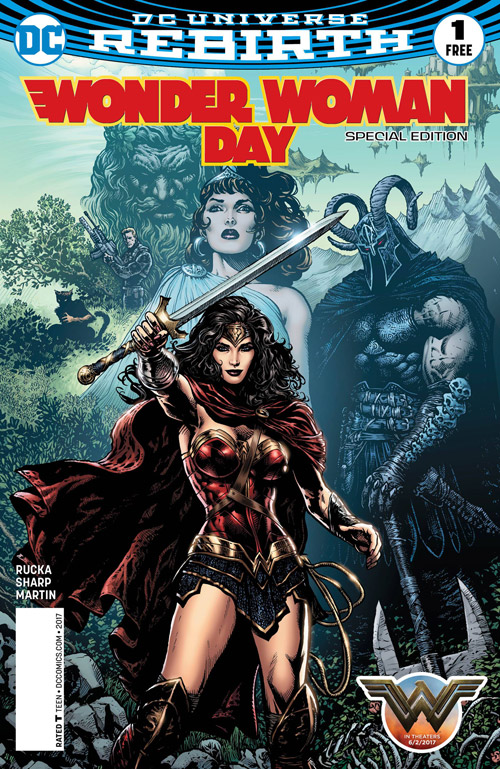 WONDER WOMAN DAY SPECIAL EDITION #1 reprints WONDER WOMAN #1 by writer Greg Rucka and artist Liam Sharp.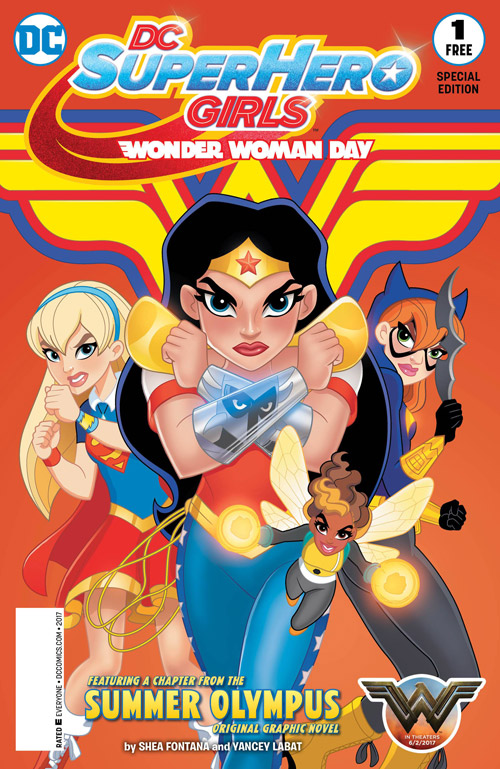 DC SUPER HERO GIRLS WONDER WOMAN DAY SPECIAL EDITION #1 features a chapter from the upcoming DC SUPER HERO GIRLS VOL. 3: SUMMER OLYMPUS, written by Shea Fontana with art and a new cover by Yancey Labat.
---
Be sure to head to your local comic shop on Saturday, June 3 to participate in the event! If you're unsure where your local comic shop is, use the Comic Shop Locator Service.
Free Comic Book Day was only the beginning! There's more planned for the rest of the year with special events, movies, and more! Keep up to date with the best times to return to local comic shops with the What's @ Comic Shops 2017 Event Card--ask your local retailer ahead of time if they're participating in these events!