FCBD Comic Spotlight: DC Comics' Wonder Woman Annual #1
May 31, 2017
On Free Comic Book Day 2017, DC Comics gave us a glimpse at Wonder Woman's origins with their FCBD WONDER WOMAN issue from Greg Rucka and Nicola Scott!
This week, on Wednesday, May 31, see Wonder Woman's first meeting with Batman and Superman, along with three other stories, in WONDER WOMAN ANNUAL #1 at local comic shops! This special oversized issues features four stores from various top-tier creators and something fans of the FCBD issue won't want to miss!
After checking out WONDER WOMAN ANNUAL #1, make sure you return to your local comic shop on Saturday, June 3 to celebrate Wonder Woman Day!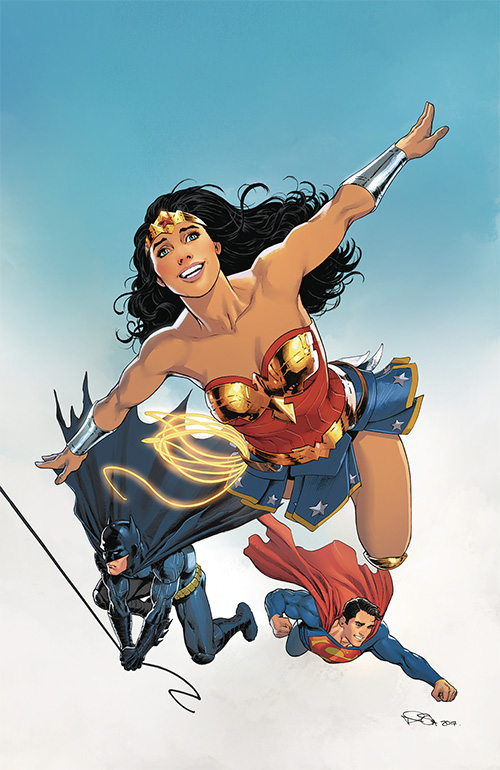 WONDER WOMAN ANNUAL #1
MAR170352
DC COMICS
(W) Greg Rucka, Vita Ayala, Michael Moreci, Jackson Lanzing
(A) Claire Roe, Stephanie Hans, Collin Kelly, David Lafuente
(A/CA) Nicola Scott
WONDER WOMAN ANNUAL #1 will feature four tales by a variety of artists and writers including the team behind "Year One"!

First, in the days after "Year One," Diana comes face to face with Superman and Batman for the first time in a story by writer Greg Rucka and artist Nicola Scott.

Then, Wonder Woman has to go to the nation of Markovia and stop King Shark from being executed for a crime he did not commit in a story by writer Vita Ayala and artist Claire Roe.

In the third story, an old ally of Steve Trevor's has summoned Wonder Woman to his village to save it from his cursed monster form. This story is written by Michael Moreci with art by Stephanie Hans.

And in this annual's final tale, Wonder Woman assists A.R.G.U.S in bringing down a large Kaiju monster that's on its way to the American coastline but will Wonder Woman change alliances once the monster starts speaking a language she understands? This story is written by Collin Kelly and Jackson Lanzing with art by David Lafuente
---
You can find this and more at your local comic shop! If you're not sure where that is, you can use the Comic Shop Locator Service. Make sure you return to local comic shops on for events hosted throughout the year. You can find out more about these events by checking out the What's @ Comic Shops 2017 Event Card.