Wonder Woman Is One of the Best Reviewed Superhero Films, See What Critics Have To Say
May 30, 2017
The first reactions to Wonder Woman are in! Here's what some of the critics had to say:
From Variety:"It says quite a lot about the general tenor of the DC cinematic universe that a film set in the trenches of WWI, with a plot revolving around the development of chemical warfare, is nonetheless its most cheerful and kid-friendly entry."
From Buzzfeed: "What's striking about Gadot's turn in the spotlight in Wonder Woman, beyond its milestone status as a female-centric studio superhero feature directed by a woman, is the movie's sense of elated lightness."
From Entertainment Weekly: "'Wonder Woman' is smart, slick, and satisfying in all of the ways superhero films ought to be. How deliciously ironic that in a genre where the boys seem to have all the fun, a female hero and a female director are the ones to show the fellas how it's done."
From USA Today: "It's an action film, a romantic comedy and a coming-of-age story and a period piece and a war movie all in one. Above all, it's a hopeful story about humanity."
From The Wrap: "Diana's scenes of action are thrilling precisely because they're meant to stop war, not to foment it; the idea of a demi-god using love to fight war might sound goofy in the abstract, but Jenkins make the concept work."
From Associated Press: "She is the perfect Wonder Woman — a true blue hero who's as believable in her bafflement of women's fashions and social mores as she is dead-lifting a tank and swatting away machine gun fire with only her arm cuff."
Starring Gal Gadot (Diana Prince/Wonder Woman), Chris Pine (Steve Trevor), Connie Nielsen (Queen Hippolyta), Robin Wright (General Antiope), Danny Huston (General Erich Ludendorff), Elena Anaya (Maru), and Lucy Davis (Etta Candy). Directed by Patty Jenkins, the film is based on Wonder Woman from DC Entertainment.
After seeing Wonder Woman, you can head to your local comic book store to celebrate Wonder Woman Day on Saturday, June 3. Participating retailers will be giving free comics away to fans!
---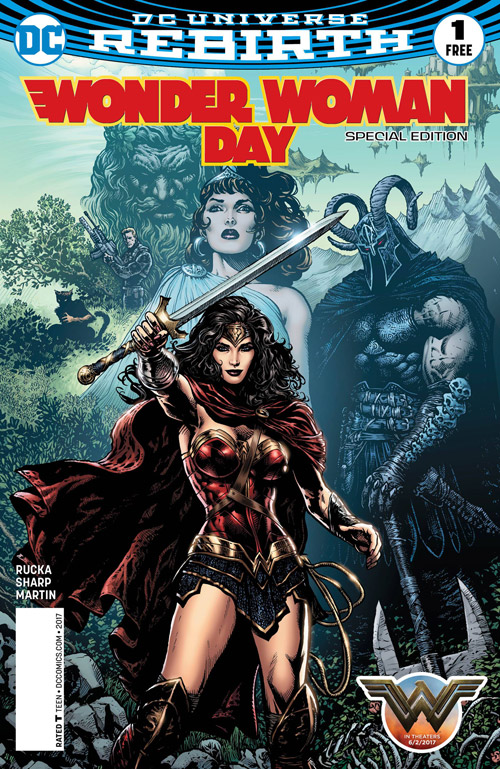 WONDER WOMAN DAY SPECIAL EDITION #1 reprints WONDER WOMAN #1 by writer Greg Rucka and artist Liam Sharp.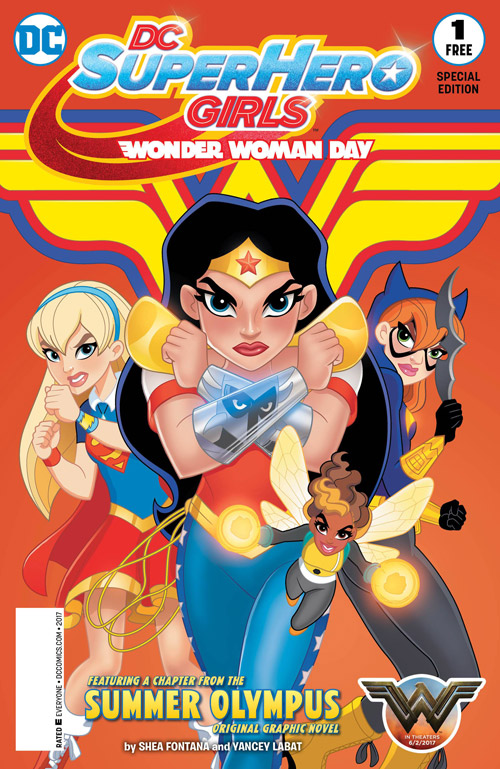 DC SUPER HERO GIRLS WONDER WOMAN DAY SPECIAL EDITION #1 features a chapter from the upcoming DC SUPER HERO GIRLS VOL. 3: SUMMER OLYMPUS, written by Shea Fontana with art and a new cover by Yancey Labat.
---
Be sure to head to your local comic shop on Saturday, June 3 to participate in the event! If you're unsure where your local comic shop is, use the Comic Shop Locator Service.
Free Comic Book Day was only the beginning! There's more planned for the rest of the year with special events, movies, and more! Keep up to date with the best times to return to local comic shops with the What's @ Comic Shops 2017 Event Card--ask your local retailer ahead of time if they're participating in these events!