Pirates of the Caribbean: Dead Men Tell No Tales Captures the Spirit of the Franchise
May 25, 2017
There are few films that capture the spirit of comic books if they're not direct adaptations: the grandeur, the wild characters, and the intense story lines are all hallmarks of the major story lines fans have come to love from comics. Pirates of the Caribbean is a franchise that fits perfectly in the comic book realm: an eccentric, enigmatic main character in Jack Sparrow who plays by his own rules, a stalwart ally in William Turner, and Elizabeth Swan who holds the entire ship together. Perhaps comic fans could make a comparison with another famous trinity...
Since the first film came out in 2003, the franchise has expanded beyond all expectation. The most recent film Pirates of the Caribbean: Dead Men Tell No Tales captures the spirit of the franchise and spins a tale worthy of comics as Jack Sparrow, Henry Turner, and Carina Smyth seek the lost Trident of Poseidon.
Unlike the previous film On Stranger Tides, there are clear connections to the original trilogy of films that heighten the amount fans with feel invested when it comes to these new characters on their journey. From the very beginning of the film, fans will have a clear reason why they should care whether or not our characters succeed in finding the Trident of Poseidon and it becomes clear exactly how difficult their journey will be.
Javier Bardem brings a reinvigorated villain in Captain Armando Salazar that has more malice than even the original Hector Barbossa. Salazar actually feels like a tangible threat throughout the film, as evidenced by Barbossa's fear of him. And when a Pirate Lord, who once was a living skeleton and has crossed the doors of death twice, is afraid of something, that's key that we should be as well.
Everything considered, Dead Men Tell No Tales is a strong addition to the Pirates of the Caribbean.
Starring Johnny Depp (Jack Sparrow), Javier Bardem (Armando Salazar), Brenton Thwaites (Henry Turner), Kaya Scodelario (Carina Smyth), Kevin McNally (Joshamee Gibbs), Geoffrey Rush (Hector Barbossa), and Orlando Bloom (Will Turner), Pirates of the Caribbean: Dead Men Tell No Tales comes out on May 26.
Before seeing the film, check out the Pirates of the Caribbean stories available at local comic shops and pre-order the Disney Pirates of the Caribbean: Dead Men Tell No Tales graphic novel adaptation of the film at your local comic shop this month!
---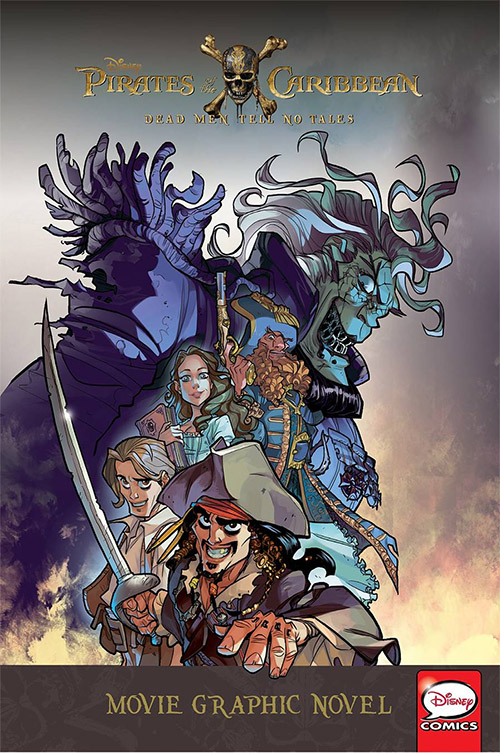 DISNEY PIRATES OF THE CARIBBEAN: DEAD MEN TELL NO TALES
APR171808
JOE BOOKS
(W/A/CA) Disney
Captain Jack feels the winds of ill-fortune blowing strongly his way when deadly ghost sailors, led by the terrifying Captain Salazar, escape from the Devil's Triangle bent on killing every pirate at sea-notably Jack. Jack's only hope of survival lies in the legendary Trident of Poseidon, but to find it he must forge an uneasy alliance with Carina Smyth, a brilliant and beautiful astronomer, and Henry, a headstrong young sailor in the Royal Navy. Fans excited for this new voyage will love the graphic novel adaptation of Disney Pirates of the Caribbean: Dead Men Tell No Tales drawn by Disney's own master artists.
---
All of these comics are available at your local comic shop! To find a comic shop near you, visit Comicshoplocator.com!